Here we have collected the best Christmas gift ideas for baby. If you're looking for baby inspiration and Christmas gift ideas, look here. It's no secret that kids today often get a lot of Christmas presents. They get Christmas presents from grandparents, parents, and others who know the child.
That's why it can be hard to come up with the right Christmas gift ideas if you already have a lot, or simply have trouble coming up with more Christmas gift ideas for baby. We've tried to make that easier, by making this list of lots of Christmas gift ideas for baby. Here we have listed fun and educational toys that are especially useful for the little ones between 0 -1 years.
Christmas gift ideas for babies can be something they enjoy most right now, like a rattle or teething toy. It's great to give a Christmas gift that will be an instant success. On the other hand, it can also be great to give gifts that baby can use in the long term. For example, it could be a bubble toy, or a teddy bear or doll. Children develop all the time, so it's good to come up with Christmas gift ideas that are both a hit here and now, but also Christmas gifts that can be used in the long term.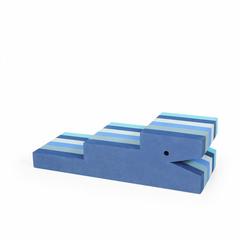 Bobbles motor toys
Bobble's motor toys are a brilliant Christmas gift idea for both babies and slightly older children. The blocks are made of durable EVA foam and can last for years of play. Bobbles can be used for a myriad of games as it appeals to children's imagination and develops their motor skills.
Toys for the bath
Toys in the bath only make showering more fun. With bath toys, there are plenty of reasons to splash around! This Christmas gift idea for baby can be used for many months or even years.
Baby's first toboggan
Although Christmas isn't always white, there's a good chance it will be sledding weather in January or February. That's why a toboggan is one of the most popular Christmas gift ideas for baby
Clothes - always a good Christmas gift idea!
One thing is certain, and that is that babies need new clothes all the time. So new and stylish clothes in the right size are almost always a good Christmas gift idea for babies, and children in general.
At Kids World they have a great selection of baby clothes in all the great brands, such as Hummel, Joha, Mikkline etc.
Sansegynge
A sensory swing is a great Christmas gift for baby. Even if your baby is a newborn, he or she can still get a lot of pleasure from the swing. It stimulates the sense of balance. Often, the swing's movements calm the baby. The swing can be used well into childhood, as it's just a really nice way to swing!
Christmas gift idea: Motor toys for baby
Motor toys encourage movement and stimulate baby's senses. That's why it's one of the great Christmas gift ideas.
There are a variety of motor toys for baby that develop the senses and motor skills. Motor toys for baby are challenging as they can be played with in many different ways. In this way, baby is encouraged to use and develop his body, and the will to move forward.
Go to the webshop and choose from lots of motor toys
Promotes motor development
Make play more fun
It's an educational toy
Make it more fun for little ones to lie on their tummies
Viga walking trolley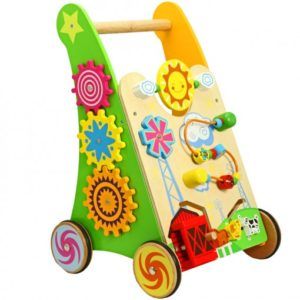 The walkers have fun buttons that can be turned, ball tracks and other toys in bright colours. The Viga walker develops both gross and fine motor skills as it has many exciting details. If your baby is around 7-8 months, a baby walker is guaranteed to be one of the best Christmas gift ideas for baby. This is the age when most babies try to stand up.
Special discount for you!
If you sign up for our newsletter, you will receive a discount code that gives you 10 % on this nice Viga Stroller
[newsletter_signup_form ID=2]
Bamse
Doesn't every child love a cute teddy bear? The soft friends are always a welcome gift. Baby's favourite teddy bear can be used for comfort or as a lovely sleeping companion, providing lots of reassurance.
When choosing a teddy bear for your baby, there are many lovely teddy bears that are produced from organic raw materials and are therefore suitable for the very young. A teddy bear is one of those Christmas gift ideas for baby that never seems to go out of fashion.
A soft doll - one of the best Christmas gift ideas
For the little ones, a baby doll would definitely be a good Christmas gift idea. Many children probably find that they can't get enough dolls. Especially if your baby is approaching the age of 1, the doll is sure to capture his or her interest. For little ones, it's recommended to start with a soft doll that's just right for cuddling.
If you want to see more dolls, then you should jump to our list of many different dolls. → Go to the list HERE.
Rubens child Cutie: Doll Karla
Rubens Barn Cutie measures 34 cm, and is available in four different versions. The Cutie version is slightly smaller than the traditional Ruben Barn doll, and is therefore easy to handle for the little ones.
The doll has big eyes and seems very lifelike. Here you get a doll in good Swedish quality, and of course completely without harmful substances or chemicals. The dolls are approved for use from 0 years, and therefore one of the good Christmas gift ideas for baby. Karla costs DKK 399.
Little red doll carriage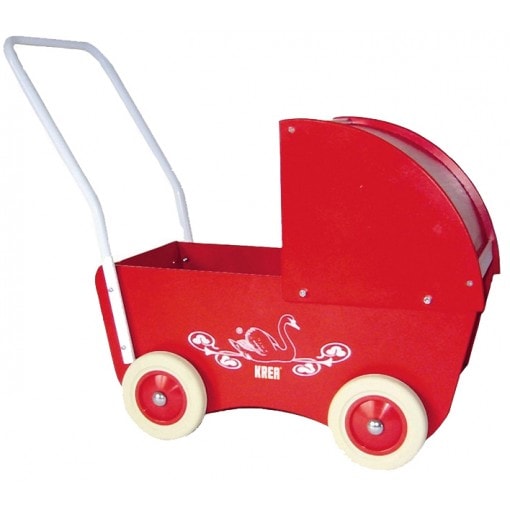 A doll's pram is a great gift, and something that most children play with a lot. The doll's carriage is especially fun for children when they are around 1 year old. Then the doll really needs to be put down for a nap, and maybe taken for a spin afterwards.
A suitable doll's pram for the little ones could be this little red doll's pram from Krea for DKK 399.
Doll's bed
Many children love a doll's bed, which makes it a great Christmas gift idea. It looks cosy in the nursery and it's also nice to put the doll in the doll's bed for a nap. Especially if it comes with a mattress and bedding, so that the doll's bed is nice and soft to lie in.
Smallstuff doll bed
Price 589,95 kr.
Choose from several colours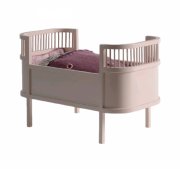 This cute doll bed from Small Stuff is a popular doll bed, because of the nice design. The doll's bed is in great holbar quality, as it is made of wood.
Included in the price is a soft cotton mattress that fits perfectly. If you would like a doll's bedding and blanket, these can be purchased separately on Gucca. The doll's bed measures 28x52x34 cm, and has a lying area of 49 cm.
See many more doll beds on our list of the best doll beds here
High chair for baby
When baby can sit up on her own, she will really enjoy getting into a high chair and joining in at the table. Most babies start using their high chair when they are around 5-6 months old, as this is the age when they can sit steadily. However, some high chairs can be used from newborn with the included newborn set. In short, this is a highchair that attaches to the highchair so baby can join in at the table straight away.
If you are in doubt about which high chair is the best Christmas gift for your baby, you can HERE see a review of the best high chairs for baby.
Tripp Trapp chair from Stokke
The classic high chair from Tripp Trapp can be found in many Danish homes. It's Danish, durable design at its best, and certainly one of the long-lasting Christmas gift ideas.
The Tripp Trapp high chair is among the best high chairs for children, which is why it is often found under the Christmas tree. The height of the seat and footrest can be adjusted to fit baby perfectly. The chair has been thoroughly tested and meets all current safety requirements.
The high chair is available in many beautiful colours. Dimensions: 78 x 49 x 46 cm, Weight: 7 kg
Baby seat for Tripp Trapp chair and newborn booster seat
If you buy a new Tripp Trapp high chair, you will be happy with the baby insert at the beginning. It's fitted with a buckle to prevent baby from falling out.
The baby seat fits chairs from May 2003 onwards.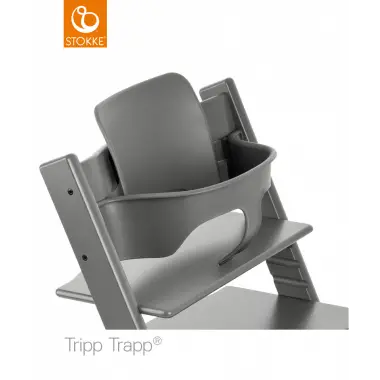 Newborn booster seat for Tripp Trapp high chair means baby gets to enjoy the chair even before he or she can sit independently. Baby can sit in the bouncer, and be around the table, even if she is still too small to sit on her own. With the tilt chair, you get a chair that can be used from newborn upwards.

Popular Christmas gift idea for baby - Sophie Giraffe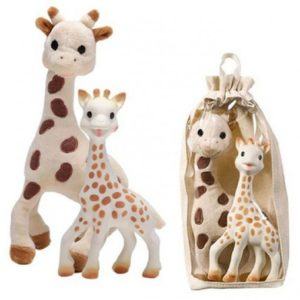 Sophie la Giraf One of the best-selling toys for baby, and a very popular Christmas gift for baby. The original model Sophie the Giraffe has been sold in more than 20 million copies. In addition, a lot of the various newer models have also been sold.
Sophie giraffe toys have become so popular for several different reasons. First of all, it is because Sophie the Giraffe is extremely soft and comfortable for children to suck on. The long giraffe neck with ears and horns works perfectly to scratch those sore gums.
In most places the giraffe costs around 200 DKK.
Get unique discount on Sophie Giraf
We have secured a good deal with Sundleg.dkso you will receive a discount code of 10% if you sign up for our newsletter.
[newsletter_signup_form ID=2]
Playmat
A play blanket, or activity blanket as it is also called, is another great Christmas gift idea for baby. Of course, there are different times when babies start using their play mat, but most babies enjoy it from around 2 months up to around 1 year. Depending on which play mat you choose, the mat can also be used afterwards as a floor mat in the nursery or play corner.
Fisher Price Playmat for baby
Fisher Price makes really good toys for babies and children. The brand is known for making high-quality baby toys that challenge baby and encourage lots of play and development. The colourful play rug from Fisherprice has lots of great colours that are fun to look at. There are nice characters hanging that baby can grab, and feel.
Price: 477 kr.
---
If you're looking for more great activity blankets for baby as a Christmas gift, check out our list of the best play blankets for baby.
---

Beautiful wooden activity stand
A nice activity stand is another great Christmas gift idea, especially if your baby is not that old. You can change the toys on the activity stand. That way the toys stay exciting.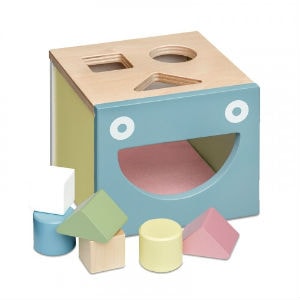 Putte in box
A put in box is a great toy as it is fun for almost all babies, even if they are at different stages. Putty in a box trains fine motor skills and understanding shapes and colours.
Putte in boxes come in many different shapes and colours, and there is almost one for everyone. You can also choose between wooden or plastic boxes, depending on your preference. If you choose a wooden put-in box, the blocks are also great for stacking and playing many other games. That's why it's a great Christmas gift idea.
Rangle
One of the slightly smaller gifts, which is good for the little babies of 0-3 months.
Choose for example this organic rattle from Wooly Organic. The shape and light weight of this rattle make it perfect for little ones to hold. Plus, it has a cute little teddy bear head. The rattle makes funny rattling sounds when you shake it.
Price: 179 kr.
 Baby bouncer
Many parents are happy to have a bouncer for their baby. Most babies love to sit in their bouncer and it is also very practical when baby needs porridge.
Tiny Love Bouncer (also a lift)
Super useful chair from Tiny Love, which you can use in several ways: rocking chair, cradle and lift.
At the same time, the bouncer has a cradle to keep baby entertained. It can play 9 sweet melodies. The chair can vibrate, which is soothing for many babies. Set at 749 DKK at Pixizoo.
→ See many more fine slanted chairs here
Christmas gift ideas for baby
On this page, we have listed a lot of Christmas gift ideas for baby that you can choose from as the cozy holiday approaches. One of the great things about finding Christmas gifts for baby is that they don't just have to be toys. Especially for the smallest babies, practical things are also really good Christmas gift ideas for baby. Practical Christmas gift ideas for baby could for example be a high chair, a cot, a baby car seat or something else that you need. It can be a great joy for family and friends to enrich your family with the practical and useful Christmas gifts for baby.
If you're looking for Christmas gift ideas for baby, take a look at this list. You might also find something you can use on other starter pack posts that are all about lots of gift ideas for babies and children.
https://startpakke.com/wp-content/uploads/2017/03/logo.jpg
0
0
Maria
https://startpakke.com/wp-content/uploads/2017/03/logo.jpg
Maria
2017-07-25 10:02:29
2017-09-21 12:05:47
Christmas gift ideas for baby 0-1 years | Christmas gift ideas 2017