Christmas is approaching and everyone is looking for Christmas gift ideas, or a wish list we could call it, for the little ones. But it can be challenging as a parent to think about what toys would be nice right now, or it can just be hard to think of the right gifts. We've tried to make that easier by listing a bunch of super great Christmas gift ideas for little ones between 1 - 2 years old. All the toys on the list have been selected to be particularly suitable for this age and the developmental stage that children are at now. Of course, all children are different and have different interests. So while a doll may be the best gift for one child, it may not be for the next. Maybe you can find out what your child wants by watching what she plays with now. Maybe it's the building blocks that are a hit, or maybe it's the wilder games that are fun. Then a trampoline or swing set might be the thing.
List of Christmas gift ideas for children 2017
On the list we have chosen to mention Christmas gift ideas in different price ranges. It is not always the most expensive Christmas gift is the best. That's why you'll find gifts from around DKK 100 up to around DKK 4,000. If you don't find the right gift on the list of Christmas gift ideas for 1 - 2 year olds, then you should almost look at some of the many other posts are on Startpakke about toys and what is good for different age groups. >>Go to our big toy guide to find out more. Remember that when you buy Christmas gifts for kids online, the vast majority of stores offer an extended return policy. So even if you buy the Christmas present in November, you can often exchange it right up until 24 January if it's not a hit after all, or perhaps because your junior has received two of the same Christmas present.
Stableblocks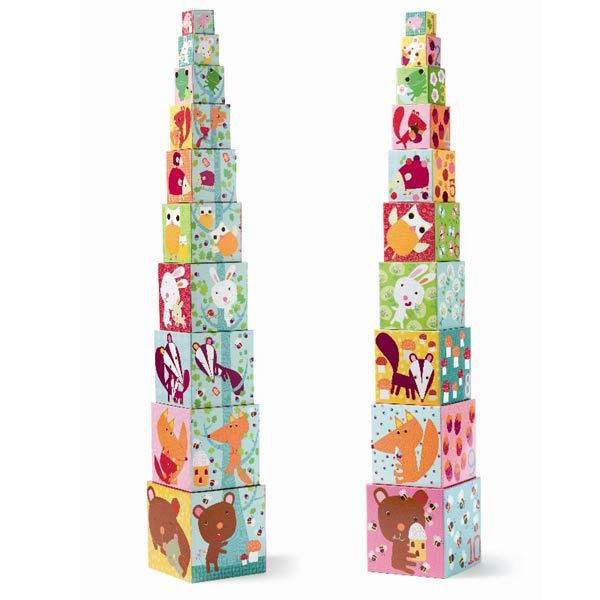 Stacking blocks are fun for children aged 1 - 2 years. They can be stacked on top of each other, put inside each other, and even have funny pictures or numbers on them. Stacking blocks help with coordination and balance. And they're not the most expensive to buy, considering how much fun the kids get out of them.
Play kitchen
A play kitchen is one of the great Christmas gift ideas. The play kitchen invites lots of fun and role play, and there is plenty of opportunity to supplement the kitchen with various pots and food. A play kitchen is a great Christmas gift, as it is a game that will be fun for years to come.
Having trouble finding the right play kitchen? Then go to the list of the best play kitchens 2017 here.
Tool bench
Does your boy or girl have an inner craftsman in them? Or maybe he's just a real arrow-finger? There's plenty of fun and games to be had with this tool bench. It can be screwed, hammered and worked on.
The tool bench is made of wood and can last for years of play. Buy a workbench from Hape here. 799,95 kr. (category: role play)
 Lego Duplo - build, construct and play well!
Lego stands for play well. And it's fair to say the little ones do with their popular Duplo Lego bricks. The blocks are a good size, so they pose no danger to even young children of 1 year. The Lego Duplo bricks feature a host of fun characters, colours and more. In other words, there's plenty of scope for letting your imagination run wild.
When you buy the farm you get 121 blocks. The child learns to construct and build
3 buildings
Fences
Mini Tractor
Animals
Minifigures
A lot of fun accessories
Choose from many other fun Lego Duplo variants here.
Rocking chair - one of the most popular gift ideas
A swing set in a larger or smaller version can be found in many Danish homes and in almost all playgrounds. Swinging is just fun, and that's probably why a swing set is one of the most popular Christmas gift ideas. Swing sets come in many different qualities, sizes and materials. You're sure to find just the right swing set for Christmas by taking a look at our list. >>Go to list of best swing sets
Rocking stand with slide
This fun swing set has both a swing and a slide. Although it is a wooden swing set, it is not the most expensive on the market. The stand also has a fun play tower for children to climb up.
The nice swing stand can be bought at Only4kids and costs 3.999 DKK.
A cute doll
A doll is another great Christmas gift idea. Dolls come in many sizes and varieties. For the little ones around 1 year old, a soft doll that's easy to cuddle can be nice. This means a doll with a fabric body.
When children are 2 - 3 years old, they can benefit a lot from a doll that can do a bit more and comes with various accessories.
Cute dolls from French Corolla
These fine dolls are designed and produced in France. The dolls are a good Christmas gift for children from around 18 months, but can also be used before that, as they are nice and soft. The dolls measure 30 cm and are therefore a good size for the youngest. The doll has a mild vanilla scent, which is the same scent used in aromatherapy. The scent is said to create inner peace. (The scent is of course approved and tested for harmful substances. )
>>If you want to see more dolls, go to our list HERE, where you can see many more cute dolls

Doll carriage
A doll's pram is another great Christmas gift idea. The doll can sleep comfortably in the doll's pram and it's fun to roll around in. Don't forget to buy a doll for the doll's pram 🙂
Smallstuff doll carriage - cute wicker doll carriage
Smallstuff doll trolley is a great Christmas gift. With its curved, soft shapes and retro-inspired design, it's both beautiful to look at and fun for little ones to play with. The Smallstuff doll carriage is available in several colours. Shown here in natural colour. See all colours here.
Read also: wooden doll's pram | See which doll's pram to choose
Doll's bed
Another great accessory for doll play. The doll's bed fits perfectly in the nursery, where it looks cosy and encourages lots of play with the doll. The doll's bed has space for both doll and teddy bears to take a nice nap. There are many different doll beds to choose from, depending on the style and look of your nursery. >>See the most popular doll beds here
Kids Concept wooden doll bed
Here is a really nice doll's bed with a star at the end. The bedding and pillow must be bought separately. The doll bed is painted white, and can last for many years of play. The neutral look fits perfectly in almost every child's room. And it doesn't matter that this Christmas gift doesn't cost a fortune at DKK 329.95.
Sandbox - a great Christmas gift
Almost all children love to play in the sandbox! Although a sandbox is one of the bigger investments, it is also something that will be spent many pleasant hours in. Sandboxes come in many different designs and materials. Sandboxes in pressure-treated wood have a good durability, and with minimal maintenance can withstand the Danish weather for up to 20 years. >>Read: How to have a healthy and safe sandbox
Sandbox in wood
Lovely wooden sandbox. It is made of soft wood with rounded edges. Under the colourful boards there is space to store children's toys so they don't get lost. The wood is FSC-certified, which means that no more wood has been felled than the forest can reproduce. The sandbox is sustainable.
Sustainable production
Incl. cover and ground cover
Round edges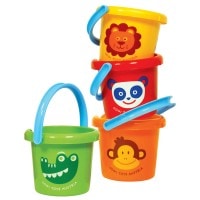 Toys for sandbox
Make sandbox play even more fun with lots of sandbox toys. Then there's plenty of opportunity to scoop the sand into buckets, or make pretty sand cakes. Children of almost all ages love to play in the sandbox. It's both fun and challenging.
Playhouse - A unique Christmas gift idea
One of the most special Christmas gifts is a playhouse. A playhouse offers hours of fun and games. Wooden playhouses are superbly equipped to stand outside in the Danish weather for many years. Safety-treated wood is especially durable with minimal maintenance.
Read also: how to get the kids out and playing! 10 fun outdoor games
 Playhouse wooden
This classic playhouse is a really nice Christmas gift. The playhouse is made from sustainable materials, so nature has not suffered during production. The playhouse is made of cedar wood, which is resistant to fungus and rot. Cedar is very durable, and easy to maintain. You can choose to paint the playhouse a nice colour, or simply give it a primer. Set at Sundleg for 2.999 DKK.
Clothes - a useful Christmas gift
New clothes are great, and kids outgrow them quickly and need something a size bigger. New clothes or shoes for next season are therefore almost always a good Christmas gift idea for babies, and children in general.
At Kids World they have a great selection of baby clothes in all the great brands, such as Hummel, Joha, Mikkline etc.
Running bike
A treadmill can be a great gift for a child aged 1.5 - 2 years. At this age, he or she has a pretty good handle on walking, so it's a fun challenge to move forward on the bike. For the youngest, you can choose a bike with 3 or 4 wheels, so it's easy to keep your balance. For the child who is almost 2 years old, a 2-wheeled one might work. Of course, it all depends on what the child prefers. Either way, a treadmill is a great Christmas gift for children aged 1-2.
Black wooden running bike from Krea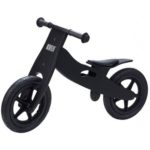 Good running bike from Krea, recommended for children from 2 years. The bike is in black wood and a good choice as the first running bike for your child. The bike normally costs 679 kr.
If this runner is under the Christmas tree, Christmas is guaranteed to be a success. The bike has puncture-free tyres and a front reflector to keep your child visible in traffic.
---
How to choose the best Christmas gift 2017

When choosing a Christmas gift for your 1 or 2 year old, it is of course a good idea to first review their current toys. This could be toys they have received as a birthday present, or perhaps a Christmas present from one of the other years. If there's something they don't play with anymore, you might consider donating it to charity, selling it, or maybe just packing it away for a while. As you go through the toys, notice which toys he or she is currently spending the most time playing with. If you find toys similar to this, then it will most likely be one of the good Christmas gift ideas for children aged 1 - 2.
Why it's a good idea to buy Christmas gifts online
Many parents buy Christmas presents for their children online. There's no need to queue in crowded shops, and it's easy to keep track of Christmas ideas and wish lists. On the wish list, you can easily link to the toy your child wants for his or her birthday. At the same time, you can often save money by buying Christmas presents online. They are often sold at a lower price than in a physical shop. At the same time, it is quite easy to keep the packages hidden from the children, because you cannot see what is inside when they come from online shops. During the Christmas season and the big sales of Christmas presents, several toy shops offer to wrap the presents. It's another great way to save time and enjoy Christmas shopping. It's great to find great Christmas gift ideas for children and see the joy in their eyes when they open their Christmas presents.
https://startpakke.com/wp-content/uploads/2017/03/logo.jpg
0
0
Maria
https://startpakke.com/wp-content/uploads/2017/03/logo.jpg
Maria
2017-07-26 07:21:05
2017-09-21 12:05:08
Christmas gift ideas 1 - 2 years | A lot of good Christmas gifts for the 1- 2 year old 2017