A gift calendar for children is possibly the best thing for children in the month of December!
But do you think it can be a challenge to find 24 good gifts for this year's gift calendar? Then read on!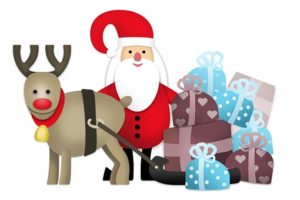 We have gathered the best and cheapest gifts for children on this page. Whether you're making a 24-gift children's advent calendar or a four-gift advent calendar, you'll find great ideas here.
Just follow the link via the "buy here" button and you'll be taken to a world of the best gifts for children.
When you give your children a gift calendar, they wake up to a little present every day, which makes them incredibly happy. Plus, it's just a really nice tradition.
Many children receive a gift calendar in December. A gift calendar consists of 24 small gifts that the child can open every day in December until 24 December, which is Christmas Eve. A gift calendar usually contains small, fun things for children to enjoy.
Where to buy cheap calendar gifts?
You can buy cheap calendar gifts at Gucca, which has a large category of toys for under 50 DKK. If you buy all your gifts here, you'll get them delivered together, which is easier than going through all the shops. Buy toys for Gucca here. 
You can also choose to buy the calendar gifts in a ready-made gift calendar. This is often a cheap and very easy solution. It could be, for example, the popular gift calendar for children from Lirumlarumleg. 
Calendar gifts or Advent gifts?
There are, in general, two kinds of gift calendars: calendar gifts and advent gifts.
If you give calendar gifts, you give 24 small gifts every day in December until Christmas Eve. The gifts are not very expensive, but rather small, fun things that you can enjoy.
If you give Christmas presents, the child gets a present every Sunday in Advent. There are a total of four Sundays in Advent. This is an opportunity to give slightly larger gifts, or to choose them a little more carefully. If you would like to see suggestions for Christmas gifts in different budgets, you can view them here.
Why give children a gift calendar?
A gift calendar helps to mark the days leading up to Christmas, creating a little extra Christmas spirit in the run-up to the big day, which is Christmas Eve. Many children are going crazy with excitement in the run-up to Christmas, and this is where the gift calendar can help make the wait easier. The Christmas stocking and 24 little presents tradition made its way to Denmark in the 1970s and is believed to have originated in the United States. Since then, it has become more common to give your child a Christmas calendar, which is why it is now an entire industry.