On this page you'll find a huge guide to toys by age. It can be hard to navigate the huge range of toys online when choosing a new toy for your child or grandchild. That's why we've tried to make it easier by putting it all in one place.
---
Toys for newborn and baby
Little babies love colours and shapes that stimulate their senses. It's important for their development.
Around 3-4 months of age, babies start to become much more aware of their surroundings, and any toy that is, for example. is easy to grab is usually a hit. You can easily buy really nice toys online for newborns and babies - for example here.
---
Toys for child 1 year
The first year of a child's life is when the most development takes place compared to the rest of life. You will therefore find that your favourite toys are constantly being replaced in the first year.
We've made a guide on which toys are a hit for the first year of a child's life. You can use the guide for inspiration for a birthday, christening or just a small token of appreciation. You can easily buy great toys online for 1 year olds - like. here.
---
Toys for child 2 years
At this age, language development takes a huge leap. Children go from being able to say single words to putting sentences together and expressing their needs and wishes more clearly. Interest in books with more complicated stories increases, and the child can join in simple games, such as turn-taking. You can easily buy super cute toys online for 2 year olds - such as. here.
---
Toys 3 years
At the age of 3, the child enters kindergarten and the interest in playing with other children is very high. At this age, it is important to continue to challenge motor skills and still play games.
It's been proven that children with good motor skills have better learning abilities, so there are many reasons to get started with fun motor games.
You can easily buy toys online for 3 year olds - for example. here.
---
Toys for 4 years
With school just around the corner, it's a good idea to practise sedentary games. For example, beading, or drawing in a colouring book.
At this age, it is also not too early to introduce the child to numbers and letters. Perhaps he or she can learn to write his or her own name.
---
Toys 5 years
The guide to choosing toys for 5 year olds is an overview and descriptions of a child who greatly loves being outside, and therefore many outdoor toys for 5 year old children are a hit. Click on the link below to go to the guide. Online you can also find a lot of great toys on the webshop here.
Trampoline (read about trampolines here – buy trampoline for 5 year old here), rocking stand (read about swing stand here), Doll's House (buy wooden dollhouse here), Toy Cars and Sand Toys.
---
Toys 6 years
This age particularly exciting because children start school. At this age children are better able to immerse themselves, for example in board games, more complicated puzzles or similar. Motor challenges are still a hit, so bikes, trampolines etc. are good toys for 6 year olds.
---
Toys 7 years
Children aged 7 love toys that they can immerse themselves in. That's why the guide to toy 7 includes lots of toys where you can be creative, like drawing and painting. Puzzles and board games are also a hit for 7 year olds.
---
Toys 8 years
The 8 year old child is curious to learn more about the world around them. They understand more abstract things such as the solar system. It's a good age to play games and learn more about the universe and wildlife.
---
Toys 9 years
The 9 year old children love to play team sports such as football. It is also the age when books, playstation and using jewellery are popular.
See our guide to especially good toys for 9 year olds.
---

Toys 10 years
A 10 year old is independent and enjoys reading books, playing computer games, watching TV, drawing and hanging out with friends and now boyfriends. If you need inspiration for great gift ideas for a 10 year old, check out our guide.
shortcode 7
---
Popular toys for children 1 year to 4 years
Toys - birthday wishes 2 years
Toys - birthday wishes 3 years
Toys - birthday wishes 4 years
---
Outdoor toys
How to choose toys
Indoor toys
Why it's smart to buy toys online
When you buy toys online, you can easily create an overview of many products from different
dealers. If you're lucky, you might find the same toy at a cheaper price on another site. When you buy toys online, you can choose the best toy for your child or grandchild at your leisure.
On this page you will find:
Toys by age
Links to retailers selling cheap toys online
A lot of good advice about buying toys
If you are making a wish list for your child, perhaps for a birthday or Christmas, you can easily link to what your child wants. That way it's easy to get the shape and colour of the wish list right.
When you buy toys online, as with everything else, you have a 14-day return policy. Most online stores offer a longer return period during the Christmas period, so you can buy your Christmas presents in good time.
How to choose the best toys for children
When choosing a toy, first and foremost choose according to the age of the child. If you are buying a toy for a child under 3, it should not contain small parts that pose a choking hazard. Secondly, it should be a toy that stimulates and develops the child so that the toy is a hit.
Last but not least, consider whether the parents have any special requests, or perhaps the child has a particular interest or film that they love.
What are good toys?
Good toys are naturally fun for children to play with, while stimulating and developing their senses. For example, motor toys are generally very good toys. This is because the toys are made of different colours and materials that stimulate the child's development.
Many parents are also starting to appreciate toys that are organic and, of course, free of any harmful substances. If you want to buy healthy toys without chemicals, simply buying Danish will go a long way. Toys on the Danish market are tested and approved for sale.
A great offer of toys for the 1 year old and 2 year old.
---
3 gifts that are always a hit
If you're still on the fence, here are 3 versatile gifts that are almost always a hit.
A book with beautiful pictures (cardboard books for the youngest)
Reading books is healthy, fun and enjoyable. At almost any age, children can learn a lot from books. The very young practise learning new words, and looking at pictures and colours. Of course, older children are still learning new words, but here it's also an exercise in sitting still and concentrating. Later, reading aloud can help the child learn to read.
Buy cheap online: Buy books for the little ones here. 
Children can almost always use an (extra) teddy bear or doll. Teddies are great for comforting and cuddling when needed. The teddy can also come to the nursery or kindergarten if it is needed one day. Doll play is also popular and fun for children of almost all ages. Teddy bears and dolls are almost always among the favourite toys.
See our great guide to which doll to choose.
A drawing book with crayons or markers (can be used from 8-9 months and up)
Drawing and being creative is always fun. That's why a drawing booklet with matching crayons or colouring pencils is almost guaranteed to be a hit. It's also a great gift because you can easily use more than one colouring book. Crayons and colours wear out over time, so it's always good to have some fresh ones.
Buy cheap online: Find a large selection of colours and drawing books here. 
---
Find great toys online at Lirumlarumleg, which has a large selection of great toys.
---
High quality healthy toys. Sundleg specialises in great natural toys for children and babies aged 0 to 5 years. Visit their stores in Køge or Næstved, or easily buy the toys online at Sundleg.dk
Best toys for the little ones: Click here to go to the shop.
---
Birthday wishes for kids - best toys for the little ones
Children love having a birthday, and of course it should be celebrated in style. Here we have chosen to list a lot of birthday wishes for children that you can use as inspiration for the birthday.
It can be hard enough as a mum or dad to come up with just the right wishes, and perhaps even harder as a grandparent, friend, or other family member who wants to give just the right gift. Usually kids have a lot of ideas for what they want, but the submarine or iPad doesn't always fit the budget 🙂
Read on for inspiration on what birthday wishes for children would make a great gift.
---
Birthday wishes 1 year - best toys for 1 year old
The first birthday is something very special. At this age, the birthday usually means more to baby's family, rather than baby himself, who doesn't always understand what's going on. For the first birthday, many people give a slightly more expensive gift than usual, as it is a very special day.
Role play and recognisability
At the age of one, children begin to understand more and more about themselves. It may no longer be enough for toys to be rattled around or easy to pick up. Babies at one year old start to play role-playing games, i.e. imitating adults. Good role play is kitchen play, puppet play or perhaps washing clothes or emptying the dishwasher. This play continues to be fun up through childhood, where children will continue to try to imitate what the adults are doing.
Children also love recognisability, which is why a birthday train is a great gift. The train can be brought out every year with a new number inside.
Difficult to calm down
Because so much happens at that age, many children can find it hard to settle down when they need to sleep.
The book "The rabbit who wanted to sleep" is written by author, behaviourist and coach Carl-Johan Forssén Ehrlin, who uses a brand new reading method to lull children safely and gently to sleep. Since the book was published, many parents have reported positively on its impact.
Good birthday wishes 1 year
Here we have written a list of the hottest toys for children aged 1. The toys are good for both birthday or Christmas gifts. You can use the list as inspiration if you don't know what to get your child.
Click on the points to read more.
Of course, you can also read our great guide to birthday gifts for 1 year olds, where we expand on the points and suggest examples. You'll find the link at the top of the page.
---
Birthday wishes 2 years - best toys for 2 year old
A child who turns 2 can do many things, but is still a small child. At this age, language develops a lot and the child gradually learns to do many things for himself. For example, to get dressed and undressed, to say when he is hungry or thirsty and so on.
Play alongside each other
The 2-year-old needs a challenge in his play. According to Helen Lyng, a network health nurse, it is important for the 2-year-old child that parents participate in play. You don't have to play "together", but you can play alongside each other.
The child can, for example, make lovely food in the play kitchen, which mum and dad "eat" and say mmm, that tastes good.
Parents with children of this age often find that their child is much more interested in what mum and dad are sitting with than their own toys.
Good birthday wishes for a 2-year-old could therefore be toys where the adults can participate in play, and be part of it.
Birthday wishes 2 years
Play kitchen. Kitchen games are still popular. Kids can cook for mum and dad and stir pots just like the grown-ups. Complete the play kitchen with nice play food. >>Buy play food here. 
Tool bench and tools. When your boy or girl sees the adults repairing the home, she'd love to help out with her own clothes.
Building blocks. Blocks are a hit. They can be assembled, stacked and put into things. Great toys.
Outdoor toys. At the age of 2, children can motor much more than a year ago. Take advantage of it with a fun running bike or maybe a trampoline.
---
Birthday wishes 3 years - best toys for 3 year old
By the time a child turns 3, a lot has happened in their development. Firstly, the interest in playing with other children has grown a lot. At the age of 3, it has become easier to play more together, and take part in fun role-plays such as mum, dad and kids.
Electric car - a very special gift
An electric car has become one of the big gift ideas in recent years. There are many different varieties, colours and models to choose from, so there's something for everyone. Most children will love to race around in their very own electric car. It can be used in the garden for a fun ride. Once he or she learns how to start, brake and drive, the pride will never end.
You can find a great selection of electric cars at Only 4 kids. Go to store. 
A new world of toys
A 3 year old is also considered to be above the age where all small parts are eaten and therefore prohibited among toys. This means that a whole new world of toys opens up; beads, Barbie dolls, detailed car tracks and much more.
---
Birthday wishes 4 years and up
When you turn 4, it's not too early to start introducing letters and numbers. You can get lots of good books with numbers and easy arithmetic, which are great for preparing your child for the idea of maths and counting. The same is true with letters.
Maybe the child shows interest in it and wants to learn to write his own name. At this age, ta
l and letters are still part of the game, so it's about taking advantage of it and introducing it as something fun and exciting.
Learn the time with a toy clock
A toy clock to learn the time is also a good idea to introduce at this age. It's both practical if your child knows the time, and it's a great success experience for a little boy or girl to learn something new.
Board games
Role play is also still a hit, so Barbie dolls and accessories are sure to be popular. Board games where you can be together as a family are also a good gift at this age. For example, an old classic game like block masters, or UNO. If you're looking for toys online, you're sure to find the right game.
Electronics
If you're into electronics, an iPad, Nintendo, or Playstation children's games will also bring joy. They can play on their own, with mum and dad or with friends from nursery.
Gift ideas 4 years
Wallets with letters and numbers
Toys for learning to write and count
Toy clock where you can learn the time
Barbie doll
Board games
Games for Nintendo or Playstation
---
Boys' toys and girls' toys?
Many toy sites have split categories so you can search for specific boys' or girls' toys. Here at Startpakke.com, we've chosen to do things differently.
We see all children as individuals who need to get to know themselves based on their personality and interests. That's why we don't recommend searching by category, but rather by your child's age and interests.
---
Baby toys - Buy the best baby toys online
When you have a baby, it's also important to have some suitable baby toys. Little babies love colours, shapes and feeling different materials. Exploring different sensations stimulates their development.
As you know, babies investigate things by putting them in their mouths. This is important for their development, so it's a good idea to make sure baby toys can be easily cleaned. Of course, baby toys should also be approved and not contain small parts or any harmful substances.
Motor toys
Motor toys are incredibly popular for children and babies. It's fun to move and children are challenged by using their bodies.
Read much more about motor skills and motor toys here.
Good motor toys are for example balls and a tumletop.
The best toys for baby
If you need inspiration to find the best toys for your baby, we've put together a list. Babies are stimulated by colours, shapes and sounds. Things that move and play music are also always a hit.
Lamaze toys
Motor toys / Sense toys
Bolde
Tumletop
Uro
Read about the best toys for baby below.
Lamaze
If you don't know which baby toy to get, you can start by looking at Lamaze baby toys. Baby toys from lamaze are in bright, clear colours and the toys crackle or rattle when baby grabs them. Usually there is a hook or similar on the toy so it is easy to hold and can easily be hung up in the pram for example.
Sensory toys
Motor toys for babies are also always a hit. Anything that encourages baby to move forward, lie on his tummy and grab things is basically a motor toy. Sensory and motor toys develop baby's senses and encourage him to develop.
Balls in all shades
Another great baby toy is something that's almost completely simple, though - balls! Balls in different shapes, sizes, colours and materials are a great toy for baby. Balls can be twirled, grabbed, rolled etc. Roll a ball gently over baby's body to stimulate the senses. If you have a larger ball, for example a beach ball, you can place baby on his tummy or back on the ball and gently roll it back and forth.
Tumletop
The tumbler is a toy for babies that can be used at home, but is also very popular in institutions. The tumbler stimulates the baby's balance by making the baby spin around at different speeds.
Uro
A cradle may not be a toy in itself, but rather a form of entertainment for baby to look at. Babies love to look at things in motion, which is why all babies love a crib. You can hang it over the changing table or playpen so he has something exciting to look at.
At the same time, a uro is a nice decoration in the children's room. Many people choose to buy a crib that matches the theme or colours of their child's room.
Toys for baby: when?
In the first weeks, baby does not need toys. Talking to mum and dad and looking around at the world is enough stimulation. When baby is around 6-8 weeks old, interest in toys starts to grow. She learns to grasp, and wants to explore different shapes, colours and materials.
After that, the interest in toys grows and develops all the time. Change toys regularly to keep your baby interested. For example, you can pack some of it away and change what's on display. That way she won't get tired of playing with the same thing all the time.
---
Rocking chair with toys
If you need your baby to be entertained while you're having a bath or a cup of coffee, a bouncer with toys might be a good idea. Here, baby can sit and relax and look around while there are toys to look at.
→See our long list of the best baby bouncers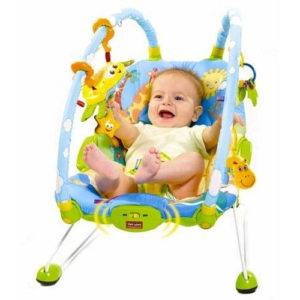 ---
Cheap Toys - Buy quality toys online
If you're looking for cheap toys, you're sure to find them among the huge selection online. At Sundleg they have a huge selection of cheap toys and baby equipment in general. Besides being cheap, there is a focus on quality. Here you will find many of the most popular toys for dear children, which are sure to make great gifts for Christmas or birthdays.
Go to Sundleg and buy toys online
Another place that sells lots of cheap toys online is the webshop Only4Kids. Here they have toys in many different categories:
Toys
Children's bicycles
Skate & scooters
Vehicles
Sports and games
Outdoor play
The Children's Room
In this webshop you are guaranteed to find the toy you are looking for at an affordable price. Be sure to check out their large selection of trampolines and swing sets under the outdoor toys category.
Go to Only4Kids and buy cheap toys online.
Buy toys used
Another way to acquire play equipment cheaply is to buy it second hand. Many children have had toys lying around their room that, for one reason or another, they have never really played with.
On sites like Den Blå Avis, GulogGratis or ReShopper (an app) you can find a huge selection of used toys at a really cheap price. Besides the price, there are other advantages to buying second-hand. You save the environment because things are used for a longer time, instead of being thrown away. Some people also think that used toys and clothes have the advantage that additives and the like have evaporated from the product.
---
Trampoline - a big hit for kids of all ages!
Trampolines are one of the toys that have really become popular in recent years. Trampolines are available in many sizes and price ranges. If you have the space then a Pro Line trampoline is recommended.
You can choose from the following types of trampolines:
Mini trampoline (from 12 months)
Sea trampoline
Buried trampoline
Small trampoline
If you want to know more about trampolines, read our big guide to the best trampolines for kids. You'll find the guide HERE.
Buried trampoline
A buried trampoline does not stand on top of the ground, but is buried in the ground so that the trampoline frame itself is flush with the ground.
There are several major advantages to a buried trampoline. Firstly, safety is significantly better. Most trampoline accidents happen precisely when children fall over the edge and leave on the hard job. With a buried trampoline, this is avoided. Safety nets can still be fitted for the best safety.
In addition, the trampoline cannot blow away. In recent years, Denmark has been hit by several violent storms that have blown trampolines off course. This is both dangerous and impractical. You don't have to worry about that with a buried trampoline.
The trampoline also doesn't need to be moved around when it's time to mow. A trampoline is heavy and moving it can be almost an impossible task.
A big trampoline that takes away the view of your beautiful beds - no way! Bury the trampoline so it doesn't obscure the landscape.
Security is significantly higher
It can't blow away
It should not be moved when mowing grass
It does not spoil the landscape
Read our instructions for burying a trampoline HERE.
---
Outdoor toys
Outdoor toys are a huge category within toys. However, making the garden or terrace more child-friendly is a great idea. Children usually love to play outside and it's good for them to have fresh air and a lot of sensations from nature.
Here we review the most popular outdoor toys of 2017.
Outside there are lots of fun things to play with. It can also be fun to investigate insects and other animals found in nature. One way to do this is with an insect box, where children can get up close and personal with the animals found in Danish nature.
Sandbox - a great place for outdoor play!
A sandbox can be used by children of almost any age. Sandcastles need to be built and sand cakes need to be baked for the gold medal. You can get sandboxes in many sizes and qualities. If you want to know more about how to keep your sandbox healthy and safe, read on →How to keep your sandbox healthy and safe.
Sandboxes are available in almost all nurseries, kindergartens and schools. It is and will be a wonderful game where creativity can run free. At the same time, it is a game that can be played alone or with other children. Playing in the sandpit is most fun in spring or summer, when it is nice and warm. Make sure you place the sandpit in the shade. Especially in the hot afternoon hours when the sun is baking. If you don't have a shaded area, it's a good idea to set up parasols.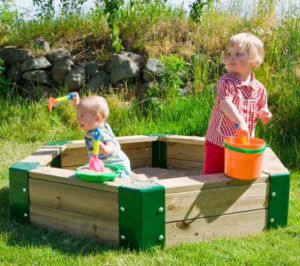 In winter and autumn, the sand can get cold to sit on and children risk getting cold.
To get more out of your sandpit, you may want to buy one with seats that keep both children and adults dry and comfortable. When winter is at its coldest, most children don't use the sandpit. Both because it is cold to play outside and because the sand gets cold and damp.
When the sandpit is not in use for a long time, it should be covered with a cover, lid or net. This prevents animals from entering the sandpit and minimises dirt and leaves in the sand.
Sandbox play is always fun and creative
You can play both alone and together
Cover the sandpit in winter
Place the sandbox in the shade.
---
Swings - play for children of all ages
Turn your garden into a playground with a swing set. The kids will love swinging on it at weekends and after school or nursery. A swing set is always fun for the kids to play on and can go a long way.
If you don't have the space for a swing set, you might be lucky that your grandparents do. Children love to play outside and it's healthy for them too, so why not make outdoor play even more fun with a swing set.
Wooden swing set - Buy swing set online
Swing sets are available in many qualities and models. If you choose a wooden swing set, you will get a good quality one that will last for many years. Especially if you choose pressure-treated wood.
Pressure-treated wood has undergone a chemical treatment in the process, which makes the wood incredibly durable and hard-wearing for the Danish weather conditions.
Rocking stand with slide
For extra fun, choose a swing set with a slide. This is great value for money, as it gives the children plenty of time to play.
On a swing set with a slide and two swings, like the model shown, there's also plenty of room for children to have playmates or neighbours over.
Rocking frame strengthens balance
Most children love to swing, and it's also a great game from a motor point of view. Swinging develops children's sense of balance and strengthens their physical and walking abilities, which is ultimately good for learning. So there's more than one reason to buy a swing set.
A swing set does not have to be expensive
Luckily, you don't have to make a big dent in your confirmation savings to spruce up the garden with a swing set for the kids. You can get pretty good swing sets for under £2,000. Especially if you're willing to compromise on the fact that it might not come with a play tower or slide.
You can find cheap swing sets in our article about swings. Read more here.

For the little ones: Sensory swing or baby swing
The very small babies, who can neither sit stable, nor walk yet, should of course not be spoiled for a swing ride. Luckily, you can get swings made for small children.
A baby swing is a swing where the child sits safely in a small seat from which they can not slip. They sit a bit like in a high chair. Baby swings can be used from when the child can sit up on their own, up to around 2 years old, depending on how big the child is.
If you are looking for a baby swing, you can find the 3 best here. 
Sansegynge
A sensory swing is a large round swing that children can use from newborn. The swing can be hung both outside and inside, and is great for very young children.
The rocking movements are soothing for many of the little ones, which is why the sensory swing has become a popular baby equipment.
Read more about sensory swings here.
Playhouse - a great place for the kids to play!
A playhouse is one of the slightly bigger investments. On the other hand, it is also one of those things that can be used for many years to come. The playhouse quickly becomes a wonderful place for children to spend time. It's a little sanctuary where the adults don't call the shots. 🙂
When choosing which playhouse to get for your children, you obviously need to consider how much money you want to spend on it. You can get cheap plastic playhouses, which can work very well. They are not as durable, of course, and the colour is likely to fade in the sun.
If you choose a wooden playhouse, you'll usually have to spend a bit more. A wooden playhouse is more durable. On the other hand, it also requires some maintenance to keep the wood healthy.
Playhouse in wood
A wooden playhouse looks nice and cosy in the garden, and has a good durability. The wood needs to be maintained at least once a year. It's a great activity to do with the kids.
Robust and sustainable wooden playhouse that is beautiful and aesthetic. This playhouse is from the brand Axi Playhouses.
It is produced from high quality Asian cedar wood. The materials are 100% sustainable. This means that for every tree cut to produce the playhouse, a new one is made.
Cedar is a very durable wood that is naturally protected against fungi, insects, rot, etc. If you maintain the playhouse, it will stay beautiful for many years. The wood is natural, so you can choose to paint it if you wish. The playhouse has waterproof roof panels and is covered with waterproof varnish.
With this playhouse, your children will have a real house where they can spend many pleasant hours.
The playhouse can be purchased for DKK 2,999 at Sundleg. Go to dealer.
Cheap plastic playhouse
If you are looking for a cheap playhouse, you should consider a plastic playhouse. Plastic is a cheaper material than so much else, and the price of the playhouse will therefore be lower.
You can easily find a plastic playhouse for cheap that is still super sturdy and of good quality. Plastic playhouses differ from wooden playhouses in several ways.
Advantages of a plastic playhouse:
It's cheap
Has nice colors
Can be used both indoors and outdoors
Requires minimum maintenance
Easy to assemble
No splinters or the like.
Plastic playhouses have beautiful, eye-catching colours that kids are sure to love. Plastic does not require maintenance in the same way as wood. Simply washing the playhouse with a good soap and water every spring will keep it looking good. What's more, a plastic playhouse is easy to assemble. And there are no splinters or the like for children to scratch.
Another very big advantage of plastic playhouses is that they can be used indoors in winter. This way, children can enjoy their playhouse all year round. Simply wash the house, take it apart and put it up in the living room or children's room, or wherever you want it to be.
Playhouse Garden House
Retailer: Only4kids
Price 1.649 kr.
Very cute green house with nice little fence, so the children also have "their own garden". All doors and windows can be opened in the playhouse, which makes it even more fun for the children to spend time in the cosy playhouse.
Specifications:
Size: 190 x 127 x 118 cm
Net weight: 18,7 kg
Gross weight: 21,3 kg
Playhouse in EVA foam
Retailer: Only4kids
Price 599 kr.
Very nice and colourful playhouse, just big enough to be the children's favourite place in the garden or living room.
The playhouse consists of sheets of highly durable EVA foam. The material is also known from the popular foam toys from Bubbles. 
The house is easy to assemble and disassemble. This playhouse can therefore be used all year round, because in winter it can simply be moved into the living room.
Swimming pool - healthy and fun toy for the summer
When it's hot, a swimming pool for the garden is a great idea. It's pretty easy to get started using your children's pool. It doesn't take much preparation to buy one. A small pool of less than 50-100 litres doesn't require any special precautions or anything like that. It's basically just a matter of inflating it, filling it with water and it's ready for the kids to dip their feet in.
If a pool is going to be larger than 5000 litres, there are some things you need to keep in mind.
EU rules require large pools to be free of phalates if they are to be used by children aged 0-3 years. So check before buying if the pool is free of phalates.
On the small pools it is not a legal requirement that they must be without phalates, so therefore it is not always stated. Ask the dealer if you are in doubt. Swimming pools, and toys in general, should preferably be free of phalates which are one of those boring chemicals.
Cheap baby pool
This pool is 21 litres and can be used from 0 years. It is a small pool that is ideal for the very young. The pool is available in blue or pink.
It costs only 49 kr.  You can buy this pool here.
Swimming pool for older children (from 3 years)
If you're looking for a slightly larger pool that can accommodate more children, this pool is a good choice.
The pool is of strong quality and it is large enough to accommodate 3-4 children at the same time.
Set at 279 kr. You can buy this pool here.
Bicycle for children
Something children love - it's when there's speed. That's why a treadmill is a great toy for children around 3 years old. Depending on your child's height and development, 2-3 years old is a good time to buy a treadmill. At this age, it is too early for the child to ride a real bike with two wheels and pedals, but at the same time the child has a good enough balance to play on a treadmill.
The running bike is great for outdoor play where she can get around quickly. It can also be used when mum or dad goes for a run and the baby wants to join in.
You can see the best bikes for kids here
A treadmill is a healthy toy: strengthen your balance
On a treadmill, several movements need to be coordinated, so it's a good way to strengthen coordination and balance. For very young children, a four-wheeled bike is a good idea as it is very stable and cannot tip over. This could be a puky treadmill, for example.
Good preparation for a real bike
Although a road bike is different from a real bike because it doesn't have pedals and can have 3 or 4 wheels, it is still a good preparation for a day of riding a real bike. Most children learn to ride a real bike when they start school, which is around the age of 5-6. Until then, a racing bike is a good way to get your child used to riding on 2 wheels.
Puky running bike with 4 wheels
Price: 525 kr. Age: from 1 year.
This four-wheeled bike is stable on the ground and can therefore be used by very young children up to 1 year. Available in several fresh colours, this is a really good quality bike.
Bicycle in wood
Wooden running bikes are also very popular. Wood is a durable material and also makes for a very light bike that is easy to balance on.
Nice black wooden running bike from Krea
Great cargo bike at a good price, but still in durable quality. The running bike is in black wood, and a good choice as the first running bike for your child. The running bike is on the cheap end of the scale, but you still get a really good bike where your child can learn to keep their balance, and get off nice and fast.
The running bike has puncture-free tyres and a reflector at the front so your child can be seen in traffic.
Age: from 2 years
You can buy the running bike from Krea here
Bicycle helmet must be worn
Why not teach your child right from the start that the bike helmet goes with the bike. Put your child's helmet on when he or she is going to use their bike, so it immediately becomes a natural part of cycling. Children's bike helmets come in a variety of bright colours and with different characters. So your child can associate the bike helmet with something good right from the start.
You can buy bike helmets in different sizes and there are many approved and safe bike helmets for children. You can buy bike helmets for children here.
---
What are good toys?
This is a very broad question, and it is therefore obviously difficult to give a concrete answer. Nevertheless, good toys have some common features that we will mention here.
The first, and possibly most important, thing is that the child finds the toy fun to play with. It goes without saying that if the child does not play with the toy, it will sit on the shelf or in the cupboard collecting dust, and then it is obviously not a good toy. But how do you find the good toys that your child wants to play with? Read on to find out.
The child thinks it's funny
It is instructive
Develops imagination/motor skills
Does not contain harmful chemicals
Durable
Educational and developmental
Toys that are educational and developmental for the child are usually the most popular. An old assumption is that play and learning are mutually exclusive, but we now know that's not true. In fact, children learn about the world through play. It is therefore very important that children are allowed to play.
To make the toy challenging enough, you need to make sure it is appropriate for the age of the child. You can use our great guide for this. At the top of the post, you'll find links to categories where we've categorised toys and toy types by age. After all, there's a big difference between being 1 and 3 years old. There is a huge development in the first year of a child's life. That's why parents see how toys need to be replaced on a regular basis. At times, some toys are more exciting than others.
Motor skills
As you know, motor toys develop motor skills. This can be both gross and fine motor skills.
Gross motor skills are developed by playing tumbling games such as jumping, running, rolling and walking. Fine motor skills are developed through other more sedentary activities such as building with Lego, stacking blocks and making bead boards.
Free from harmful substances
Yes this is obviously something most parents value highly. It should go without saying, but unfortunately it doesn't always. If you buy toys online from good retailers, you're safe from harmful substances in your child's toys. There are now many toy retailers who have made it their focus to sell toys without chemicals and harmful substances. These include The World of Children, Sundleg and Children in balance. 
Durable toys
Last but not least, the toy must of course be durable. If you buy good quality toys online, you will definitely get durable toys. This is especially important with outdoor toys that also need to withstand wind and weather.
Durable toys could be, for example, wooden toys. See list of good wooden toys HERE.
---
Organic toys - healthier and more durable toys
More and more parents are starting to buy organic toys for their children. This applies to both organic wooden toys, as well as ordinary toys. Sales of organic food have increased significantly in recent years, and now organic toys are also becoming more popular.
For a product to be called organic, both the product and the production process must meet specific requirements. There must be no harmful substances involved and the environment must be affected as little as possible. There are several advantages to buying organic toys:
You avoid harmful substances
Healthy toys for baby
Good and durable materials
Minimum environmental impact
If you're looking for organic toys, it's a good idea to check out stores that sell toys online. There are many shops that have a different selection than the usual physical toy shops.
One example is Sundleg, which sells toys online. Go to Sundleg.
---
Doll and doll carriage
Playing with dolls and doll carriages is a game that almost all children love. It allows them to imitate what adults are doing. Generally speaking, there are two types of dolls: soft dolls and advanced dolls.
Soft doll for the youngest (1-3 years)
For the smallest, I would recommend a soft doll that has no mechanical features. This means a doll with a soft body that is easy to hug. The soft dolls are best for the youngest children of around 1 year. By the time the child is 3, he or she is big enough to play with dolls that can do a bit more than a soft doll. This could be eating, crying or peeing.
The first doll
Many give the first doll as a 1st birthday present. It's a great gift because that's the age when many children get interested in dolls and doll play, where the doll has to be put down, eaten, slept, changed, etc. Just like a real baby.
Choose a soft doll as the first doll
Choose a doll that does not have mechanical functions
Give the first doll when the child is around 1 year
Doll for children 3 years and up
Doll play changes around the age of 3. Here, the dolls acquire personality, and don't just sleep or eat. The dolls are invited to the table and may be told secrets. The doll becomes a good friend who can comfort and help the child.
For this age, many children also start to use a lot of accessories for the doll. For example, the doll needs a change of clothes, a pacifier and all the other things that children know about themselves.
Accessories for dolls
Accessories for the doll can be just about anything that children know from their own lives. A bicycle helmet for the doll is also something the children themselves know from when they are out cycling.
The accessories for the doll help to make play more fun and lively.
See much more accessories for dolls here.
Doll carriage
The doll's pram is something special. It's a very special toy that the vast majority of little boys or girls play with a lot. Most of us remember the doll's pram from our own childhood, which is why many parents also get up to the task of choosing just the right doll's pram.
Doll carriages are available in different sizes, materials and of course prices. If the doll's pram is for a small child of around 1 year old, a small wooden pram that is stable and can withstand being pushed around is probably best. '
At times, children of this age can drive the doll carriage quite violently, so it may be a good idea to buy a doll carriage with rubber wheels to protect the floor.
A classic doll carriage, this little red doll carriage from Krea. It has been produced for many years, and many children have had a lot of fun riding around with it. The doll carriage is a good size for the smallest children of about 1 year and up to about 3 years.
Fine doll carriages
Not only are dolls fun to play with, they also look really cute in the nursery. They can almost be a little decoration in themselves. A classic wicker doll's pram with cute fabric and lace stands out from most other doll's prams.
The model shown has rubber wheels, so it is almost silent when pushed around. The doll's pram is really nice and will certainly bring joy to a little girl or boy.