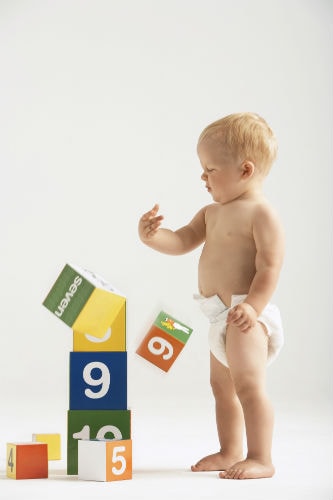 What does a 2 year old play with: On this site you will find lots of great toys for a 2 year old.
If you're looking for the perfect birthday gift, Christmas present or a gift for a completely different occasion, you've come to the right place!
On this page we have listed a number of the best and most popular toys for children aged 2.
Table of contents
Here are the best toys for a 2 year old. Click to read more about the toys. Hopefully you'll find just the right toy to give to your child, or maybe grandchild or other.
List of the best toys 2 years
Here we have gathered all the best toys for a 2 year old. Buy toys online from the many retailers. Next to each gift idea, you will find an example as well as the price of it and where you can buy it. You're sure to find a great gift on our list: Toys 2 years.

Tool bench - for dexterous children
When it comes to putting up shelves or assembling furniture, you can almost be sure of little bystanders who want to help! Most kids love tools and this cool bench really gives them a chance to show off their skills. Shown here is a 'luxury' wooden version, but they are also available in cheaper versions. See them all at Coop.
Cleaning trolley for children
Is there anything better than a child who loves to clean? Let your child practice with this fun cleaning trolley. Cleaning will literally be a breeze! A perfect Christmas gift for a 2 year old.
Play kitchen and play food for the little chef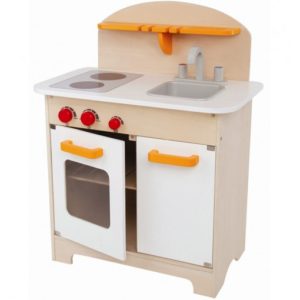 Play kitchen is popular for children in many ages, which is why we have also mentioned it here. Let your little one cook delicious food for the whole family in their very own play kitchen!
If there's some fun play food in the kitchen, kids can spend hours cooking in the kitchen.
Salad bowl. Fun and educational wooden toys.
Popular wooden play kitchen
In the kitchen game, the child of 2 can imitate the adults, which is always a fun game. Children learn through play, and a play kitchen is a great way to get to know the different foods. For example, choose the wooden play kitchen shown with a stove, sink, cupboards, 2 hotplates and a spice rack. 1.049 kr.
Rubens child dolls
Rubens child dolls are different from so many other dolls, which is why they are so popular with children. The dolls have a realistic look, and are either boys or girls with all the trimmings. They also have different skin tones.
The dolls have a small weight in them, which makes them feel like real babies. Rubens baby dolls are Swedish made and are known to be very safe and suitable for children of all ages. All dolls have names. There are many Ruben Barn dolls to choose from. See a great selection of the popular dolls right here Rubens child dolls here 
Dolls and doll carriage
Playing with dolls is a great game for children of almost all ages. It's a fun role play game where children get to imitate what adults are doing. For small children of 2 years old, I would recommend a soft baby doll, without mechanical features. It is best for very young children to use their imagination as much as possible. They can do that with a soft doll. If you are looking for the best doll for your boy or girl, you should read our great article on dolls here: → Find the best doll: list of good dolls 
Soft baby doll - little cute doll
Good offer for my first doll. 179 kr. Buy here.
Cute dolls in three different variants. The dolls can open and close their eyes and are lovely to cuddle. The dolls fit perfectly in the little red doll carriage from Krea (see it here). If you want to read more about the cute dolls, you can see price etc. here 

Smallstuff doll carriage - cute wicker doll carriage
Price 769,95 kr.
Retailer: Gucca
Mattress included, bed linen to be purchased separately
Very cute and durable wicker doll carriage. With its fine design, the doll's carriage is both beautiful to look at and fun to play with for the little ones. The wheels are rubberised so the doll's pram won't make noise or scratch the floor. The Smallstuff doll carriage is available in several colours. Shown here in natural colour. See all colours here.
Wooden doll carriage | See which doll carriage to choose
See more dolls here
Sebra wooden doll carriage
Sebra doll carriage is a popular doll carriage. It is beautiful and decorative, and has a durable design. The wheels have rubber edges, so the floor is not scratched when driving with the carriage. Price 869,95 kr. Buy this cute Sebra doll pram here The doll carriage is also available in grey and pink!
Moover doll carriage
Very stable doll carriage that can withstand most things, even if the carriage is occasionally driven a little fast. The doll carriage is made of birch veneer, which is a soft and durable wood that is super good for toys. The trolley can be used from the age of 10 months, and there is room for both small and large dolls in the trolley. A small heart is carved into the shell, which looks great. Price 579,95 kr.Designed by Kåre Tofte. Also available in red! Buy the fine Moover doll carriage right here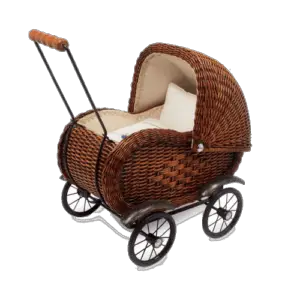 Retro doll carriage
Here's a slightly different doll carriage with a retro-inspired look. The doll carriage is made of wicker and is very stable to ride. The doll carriage is both nice and fun to play with. It's not a cheap doll carriage, but on the other hand one you don't see every day. You can buy the cute doll pram right here
Doll carriage with antique look
Another different doll carriage. This one with an antique look. The doll's carriage itself is made of wicker, and the carriage and fabric are decorated with lovely ruffles. The handlebars bend slightly, which gives it a really nice look. You can buy this doll trolley here for 499 kr. 
Classic doll carriage with big wheels.
Here's another adorable wicker doll's pram, with fine white fabric with ruffles. If you're looking for a doll's pram that doesn't look like any other, this is a good choice. The doll's pram is especially good for slightly older children as it has a little height. The doll's pram has rubber wheels so it runs quietly. The price is 1.149 kr. You can see more about the nfine doll trolley right here
[collapse]
Good toys are outdoor toys: children love to play outside!
Udeleg is a hit for 2 year olds who have mastered walking and running. Children aged 2 are becoming more and more independent, and can do a lot both motorically and linguistically. Here we have chosen to highlight swing sets and trampolines that both develop the child and provide lots of fun. If you're looking for a larger gift that your child can enjoy for years to come, a swing set with a slide is a great gift for a 2-year-old.
→ 10 fun outdoor games for kids
---
Rocking stand with slide
On a swing set, the child can play for hours while strengthening her motor skills. She's sure to love climbing up the slide herself, and enjoying the high speed on the way down. By the age of 2, your child is big enough to sit on a real swing - not a baby swing.
which are good for the very small babies / children.
Wooden rocking chair
Shown here is a really good wooden swing set. The swing set is in a really durable design, and is produced in pressure-treated wood that requires a minimum of maintenance.The swing set is produced in Sweden by a manufacturer known for quality products that are of course safety approved and completely free of hazardous substances and harmful chemicals.
See more swing sets here
Rocking stand with slide
Fun swing set that also has a slide and a play tower. The swing set is made of wood, which is a good and durable material. For the price of DKK 3,999, you get a really good swing set. >>Read more and buy it here. 
Plate swing
Here is a very affordable swing for only 129 kr. The swing can easily be hung from a tree for the kids to play on. The simple design challenges children's balance and there are lots of ways to play. Read more and buy here. 
Small plastic swing set
Here's a perfect little swing set for the little ones. The swing set doesn't require much maintenance other than wiping it down once in a while. Plus, it's easy to move around when mowing the lawn. The swing set is a good choice as a first swing set. Price 1.499 kr. Read more and easily buy the swing stand here.
 Large play frame with swing, slide and play tower
Here is a slightly larger swing set, at a good price of 2.149 kr. The play frame has two swings, a slide, a play tower and space for a sandbox underneath. All in all a play structure with space for several childrenand the possibility of many hours of play. All materials are included, as well as a detailed guide for assembling it. Read more and buy the rocking chair with free shipping here.
Rocking chair with challenging climbing wall
Here you get a swing set made of the really durable pressure-treated wood. It can keep looking good for up to 20-25 years when left outside in the Danish weather. The swing set is made in Sweden, and is manufactured in an environmentally friendly way. The price is 3.098 kr. Read more about the swing stand here
Baby swing
A baby swing is good for the little ones who can't quite balance themselves yet. This swing can be hung both indoors and outdoors, and costs DKK 499. The swing can be mounted in the ceiling or a door frame. See more about the swing and buy here. 
See 3 of the best baby swings here.

Swing stand with slide and double swing
A very affordable swing set with steel frame. On the swing set there is a double swing, so it will be extra fun for two children to swing. The stand is mounted with spikes in the ground so that it stands firmly. The price is DKK 1,954. Read more and buy it here. 
[collapse]
Trampoline
Trampolines are incredibly popular for children, and they can be found in many gardens around Denmark. On the trampoline, children strengthen their balance. If you get really good, you can eventually learn more complicated tricks, which make the game even more
challenging.
For a 2-year-old, however, simply jumping up and down on the trampoline will be enough of a challenge. You can get trampolines in many sizes and qualities. If you have the space, a large Berg trampoline is a great investment. Berg has been manufacturing trampolines for over 30 years and are experts in the field.
Click here and see cute mini trampolines!
Mini trampoline with Thomas Tog 
Here you get a fun trampoline, which is ideal as a first trampoline at the age of 2. The trampoline strengthens your child's balance, coordination and strength right from the start. And it's really cute with the Thomas Train! Price 649 kr. Buy Thomas train trampoline here. 
Gurli Gris Trampoline that makes sounds
Fun trampoline with Gurli Gris, known from TV and Netflix. The trampoline can make funny sounds when you jump, which is a sure hit with a 2 year old. It's one of the best mini trampolines as it has a handle to help with balance. Price 768 kr. Buy the cute Cucumber Pig trampoline here.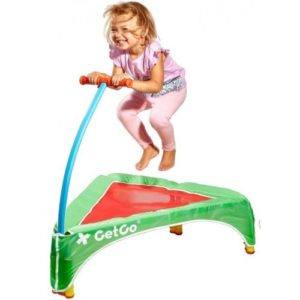 Foldable mini trampoline with handle
This lovely mini trampoline is safety tested and perfect for 2 year olds. The great thing about the mini trampoline is that it folds up so it doesn't take up much space and can be easily packed away. Price 849 kr. Buy it here
[collapse]
Running bike
Retailer: Sundleg
Price 679 kr.
At the age of 2, the child begins to be stable enough to ride a 2-wheeled treadmill. It is very demanding on balance and a new way of moving.
As the child moves forward on the bike, he has to coordinate his movements, which is healthy for both physical and mental development.

Jumping animal / jumping cow
Retailer: Sundleg
Price 279 kr.
At the age of 2, it makes motor sense to play on a bouncy animal, or bouncy cow as it is also called. The child is big enough to reach the ground with his feet when sitting on the bouncy castle, and can also climb up and down from the bouncy castle himself. Children love to jump and play in motion, which is why the bouncy castle is a great gift for a 2 year old.

Click to see more fun bouncy animals here
Green jumping cage from Krea
Fun bouncy cage in green from the brand Krea, which makes lots of great toys for kids. When children jump on the cow, they develop their motor skills and get a better balance. You can buy this cute green bouncy cow here
Hippo: blue hippo
A really cute hippo in several colours. A slightly different bouncing animal that kids will definitely love. The bouncy animal is a great way to develop children's motor skills, and develop the desire to move. You can buy this funny hippo here
Pink horse - a fun jumping animal
Fun jumping horse or maybe a donkey? The jumping animal can take up to 40 kg of load, so just get started. You can buy this colourful bouncing animal here
[collapse]
Signboard
A drawing board is one of those smaller gifts that will nevertheless provide hours of fun and creative play. You can draw on the board and erase it again immediately. A drawing board is a great way for the child to be creative, and get better at drawing. At the same time, the board has the advantage that you can't draw on furniture and other things that mum and dad would rather not have coloured in with markers. This nice drawing board has 4 fun stamps, and the drawing can be erased by simply pulling the button on the side. It has a cushion at the back so it's nice to sit on your lap. Read more and buy this great drawing board right here. 
Much more toys 2 years
Scroll down to find even more toys that are especially good for 2 year olds. All toys are of course approved for children under 3, and without small parts. In addition, the toys challenge both language and motor skills, which are rapidly developing at this age.
Hammerboard
A hammerboard is great for strengthening hand-eye coordination and cooperation. The little nails have to be hammered into the board, which is both fun and also makes a lovely sound which is almost certainly a treat for a 2 year old. Plus, there's plenty of fine motor skills practice when placing the nails in the little holes. You can buy a hammerboard right here 
LEGO Duplo
These popular blocks have been played with by children for many years. The blocks are extremely durable and almost impossible to wear out. Lego Duplo is a really good toy for 2 year olds as it challenges fine motor skills while allowing for imagination and creativity. There are many fun Duplo packs to choose from, so there is sure to be one to suit your child. See all Lego Duplo products here. 
Bath toys - make bathing more fun
Taking a shower is not always easy. Certainly not for every 2-year-old. But with some fun bath toys, bath time suddenly becomes more exciting. At Children in Balance, we've found that there are a variety of bath toys to choose from, all suitable for 2 year olds and of course, free from chemicals or other nasty substances. For example, you can buy these fun fish for just £59 that look like they dance when they get in the water. See swimwear here.
Sjove magnets with farm theme
If there's one thing kids love, it's animals. These delicate magnets are sure to be a hit with children aged around 2. They can be used to decorate the fridge, or perhaps put up on your child's own magnet board. Putting them up on the fridge, and taking them down again can certainly go a long way. It's also a great way to learn new words and talk about the animals in the pictures. Buy the cute magnets at Børnenes Kartel here. 
Memory games with fruits and vegetables
A memory game is brilliant for this age. This wooden memory game is filled with nice pictures: The memory game trains the child's memory, recognition skills and of course the opportunity to learn a lot of new words. A 2 year old child cannot play the memory game alone, but can learn a lot from playing it with an adult. Buy the cute memory game here.
Xylophone - music is healthy!
Children love music. It encourages them to dance and move, which naturally develops their motor skills. Singing and playing instruments at the same time gives children the opportunity to learn the rhythms of language, and thus become faster at learning new words and phrases. At the age of 2, language is developing rapidly, and an instrument such as a xylophone is a great gift to give, and a toy that will no doubt be played with a lot. Buy the fine xylophone here. 
Wooden blocks from Design Letters
The beautiful blocks can be played with in a myriad of ways. They can be stacked into a high tower, or laid side by side. The numbers are printed on them, so they're great for learning to count. Children may be able to count to three at first, but learning to count to ten is surprisingly quick. The blocks let children use their imagination, and they're just super cute and good quality. Buy the great blocks here. 
A playhouse - with electronic bell and table/bench set
A playhouse in the garden is perfect for 2 year olds and up. The playhouse provides the setting for many hours of play in the garden, and is also ideal for several children to play together. This beautiful plastic playhouse requires almost no maintenance and is easy to assemble. The playhouse quickly becomes a children's sanctuary where play and imagination run wild. See this, and more great playhouses right here. 
Rocking horse - great toy for 2 year olds
A rocking horse is another of those toys that have been used and loved by children for ages. Playing on a rocking horse imitates riding a real horse, perhaps in the Wild West! Either way, the game is good for motor skills as the sense of balance is exercised as the child rocks back and forth. See the cutest rocking horses right here. 
Model Wax
Model wax is another type of toy that really appeals to the imagination. Modelling wax comes in beautiful colours and you can shape whatever you want. At Children in Balance you will find lots of modelling waxes and accessories. Buy modelling wax here
A child of 2 years much more stable on his feet, than a child of 1 year. He has learned to run, to walk both forwards and backwards, and generally moves quickly and steadily through the world. The child's fine motor skills have also improved. She can put beads on a string, or hit the nails on a hammer board.
Beautiful climbing frame - a special gift
Safety approved and stylish toys
Price 2.649 kr.
If you're looking for a special gift, this decorative and stylish climbing frame with slide is in a league of its own. The climbing frame not only meets but exceeds EN71-8:2003 safety requirements. It has high quality texture finish for extra nice look
The climbing frame helps children develop cognitive and motor skills.
Features
The dome is with a 1.20 m. long sky blue slide.
The dome exceeds the requirements of the European standard.
Delivered flat packed and pre-drilled with easy instructions.
Easy to assemble (approximately 2 hours for 2 adults)
Good gift ideas for a child of 2 years
Toys where she can use her hands to create something are a great gift idea for a 2 year old. It could be a wallet, for example, or fun colours for her to play with. A train set is fun for this age, and can be used for years to come. Scroll down to see our list of great gifts for 2 year olds.
Motor toys 2 years
Motor toys are good for almost all ages. Children love to use their bodies and it's healthy for them to move and strengthen their coordination and balance. In the list of toys for 2 year olds, we also made sure to mention toys that also challenge motor skills.
Good toys for a child of 2 years
Children of 2 years old are slowly entering the familiar age of independence. That means she knows what she wants - and, in particular, what she doesn't want. It's therefore a good age to make play part of various practical chores. A toy vacuum cleaner, play kitchen and other things that the child knows from home are good toys for this age. Doll play is often very popular for the 2 year old. Dolls are both boys' and girls' toys. The dolls need to be changed, fed and put to bed.
https://startpakke.com/wp-content/uploads/2017/03/logo.jpg
0
0
Maria
https://startpakke.com/wp-content/uploads/2017/03/logo.jpg
Maria
2017-06-07 11:01:39
2020-05-26 09:00:31
Toys 2 years | The best toys for children 2 years | Buy toys online