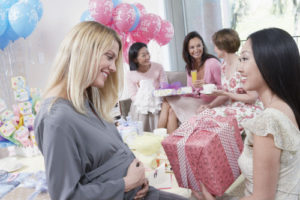 Looking for baby shower gifts? Here we have collected a lot of ideas for inspiration.
Find the best baby shower gift for a cozy day!
On this page you will find a list of the best baby shower gifts so you can have a really nice day with your pregnant friend, daughter or whoever is the centre of the baby shower you are going to.
A baby shower is an American phenomenon that has seriously found its way to Denmark. It's a fun party thrown for the mother-to-be.
According to tradition, a baby shower should be a surprise for the mother-to-be. The party is held during the last weeks before the due date.
Here we have collected lots of inspiration for the best baby shower gifts for both mom and baby
The best gifts for baby shower
Here we have listed the best and most popular gifts for a baby shower.
Photo book (gift voucher available)
Give your friend a great opportunity to immortalise beautiful photos from pregnancy and newborn baby in a photo book. A photo book is a book you design yourself, filled with the best photos. The book will be a wonderful memory for life.
A photo book is one of the most popular baby shower gifts as it is very personal.
Pampering for mom
When you've been pregnant for months, a little pampering and relaxation is really needed. Treat the mum-to-be to a good dose of me-time before baby arrives and it's all about nappies, breastfeeding and sleep.
For example, buy a nice facial - who doesn't want that?
Lovely baby blanket
Having a special baby blanket is worth its weight in gold when you have a newborn. You can easily use more than one baby blanket, as babies often yawn or have accidents on their blanket. A nice baby blanket could be this one in organic wool, for example. Super nice and really soft!
A bleaching
It might sound crazy, but a cake made of diapers is a really popular gift for a baby shower. It's an American phenomenon that has found its way to Denmark. A diaper cake is a bunch of diapers rolled up to form a nice cake. A fun and creative way to give the new mother a lot of diapers for the little one.
You can buy a ready-made cake at Babyshower.dk, or make it yourself.
Toys for newborn baby - gift ideas
It's often a bit more fun to give toys as gifts than many of the other things that might be on your wish list. That's why we're starting with the fun baby gift ideas. There are some toys that are more obvious to give to a newborn than others. Here you have some great gift ideas.
Mega popular gift idea for baby - Sophie Giraffe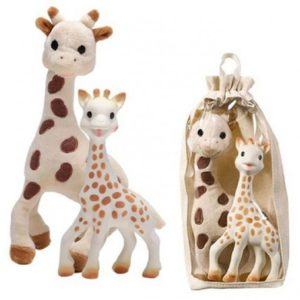 One of the best selling toys for baby is Sophie la Giraffe, or as we would say in English, just Sophie the Giraffe. More than 20 million copies of the original model have been sold, as well as a lot of the various newer models.
A big reason why so many have been sold Sophie giraffe toyis of course that it is a super good toy. In most places, Sophie the Giraffe sells for around 200 DKK.
We have secured a good deal with Sundleg.dk, which means that if you sign up for our newsletter, you can receive a discount code of 10%!
[newsletter_signup_form ID=2]
What to give as a gift for baby shower? There are many great options for giving a gift to a newborn baby and his parents. We've looked at some of the best gifts for baby showers.
Every child loves a cute teddy bear
Who doesn't love teddy bears, and many babies quickly find that a teddy bear is one of the best things. Perhaps the teddy bear you give at the baby shower will become her favourite toy, which she will later take with her everywhere. Below are some selected options for buying a good teddy bear for the newborn. Of course, there are many more options around the web.
Super soft hippo
Very cute and nice hippo in blue-green from Danish Maileg. The hippo is 100% cotton and can go in the washing machine on gentle cycle.
Price: 169 kr. Buy it here
Wild Repuplic teddy bear - support a good cause
It is super soft and in nice quality. Part of the proceeds from the sale of these teddy bears, Wild Republic donates to a girls' home in India, set up by the founder of Wild Republic. Price: 119 kr. Buy it here
Sansehund
Very cute little teddy bear that looks like a dog. It has different types of fabric and colours, which is great for little babies. A cute gift for baby showers!
Rattles and teething rings are super toys for little babies - an obvious gift for baby showers
Already after 2-3 months, after a newborn has come into the world, a rattle is a good toy. We have found some great gift ideas in the field of rattles.
Organic rattle from Wooly Organic. The unique shape and light weight of this rattle makes it perfect for little ones to hold. Price: 179 kr. Buy it here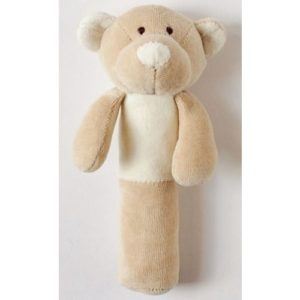 Rattle that stimulates several of baby's senses. The rattle has a mirror so baby can see himself. A fun rattle that's perfect for little hands. Price 129 kr. Buy it here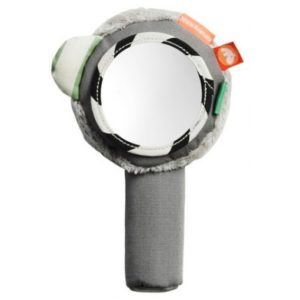 Skwish keys - award winning baby toys
Award-winning, classic rattle that all babies love. The thin elastic bands are easy to grip and the balls make a lovely rattling sound as they rattle back and forth. The little balls at the end are for baby to suck on, and the colours stimulate the senses too. This rattle is sure to be a success. If you prefer a more neutral look, the skwish key is also available in a wooden colour. A great gift for a baby shower, as it can be used just a few weeks after birth.
Skwish rattle in natural colours. Price 249 kr. Buy it here.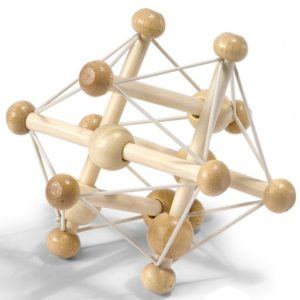 Putte-i-kasse - Good toys and a great gift idea for baby
A put-in box is a great gift to give because it can be used immediately and for years to come. To start with, the toddler can look at the blocks and see the different colours.
Around 2 months of age, many babies learn to grasp things. Then baby can take the blocks and feel how the different shapes feel. When the baby is 1-1.5 years old, he learns which holes the blocks go into. This is a game that can be fun to play over and over again... Many hours can be spent playing this challenging put-together game.
Nice putty in box in pastel colours. Price 259 kr.  Buy it here.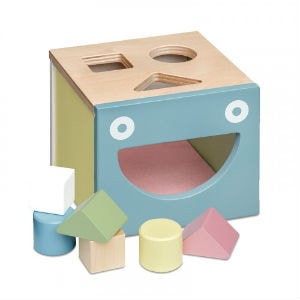 Putte in box with fun function: tilt the plate so that all the blocks fall out. Then they are ready to be put back in the holes. Price 319 kr. Buy it here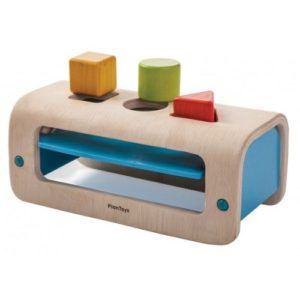 Birthday Train
A birthday train gives joy every birthday for many years. Each year, you change the number on the train and place it on the table. Children love routine and familiarity, so they're sure to love seeing the train arrive and knowing it's their birthday. A birthday train is a super nice gift for christenings and baby showers.
→ Choose from many different birthday chairs here. 
---
Teddy bear who can play a tune
Babies like recognizability. It creates security and helps them get to know routines. A little teddy bear that can play a tune can be part of the naptime ritual. Of course, the teddy bear is also great for cuddling and snuggling. It's a great gift idea for newborn babies.
Swan in organic cotton
Cute swan playing the finest tune. Made from 100% organic cotton, the filling is grain extracted and 100% phthalate free. Price 229 kr. Buy it here
---
Soveugle - can play in 3 levels
Cute sleeping owl that makes soothing sounds when babby is sleeping. The owl is made in delicate colours so baby can relax and shut out sensory input when it's time to sleep. The owl can be set to play in three levels. Price 299 kr.
---
Tiger from Teddycompagniet - really soft
Little cute tiger from Teddykompagniet. It plays a calm tune when you pull its tail. Price 189 kr. Buy it here.
Good games for a baby shower
Good games for a baby shower are fun for both the mother-to-be and the guests. The games should be fun and easy, and they should help create a good atmosphere for the party. Here are some ideas of what to come up with:
Guess how many cm. there are around the belly
Guess baby's length and weight at birth
Guess baby's birthday
Write a greeting to the mother on small cards that she can only open after the birth
Put 10 baby things on a table for 10 seconds, cover them up and see who can remember them.