What does a 5 year old play with: When choosing the best toy for a 5 year old, it should be something that challenges both imagination and learning. At this age, your child is absorbing knowledge and will soon be ready to start school. A 5 year old plays with toys, learning new numbers and letters. Many children at this age are also keen on ball games and board games, preferably in the company of adults. It teaches children about rules, and about winning and losing.
Scroll down and see the best toys 5 years
Toys for boys and girls 5 years
When we look at toys for 5 year olds, boys' toys and girls' toys also become more topical. Children are interested in the differences between the sexes and are working on finding their own role. At this age it is a good idea to pay extra attention to the toys we choose and encourage children to play with. Does the girl get a football and the boy a bead board? Or do you prefer the more traditional? Children are finding their place in the world and developing their role in social settings with other children. It is a good idea to be open to the child's interests and let him or her continue to use his or her imagination and play with the best toys.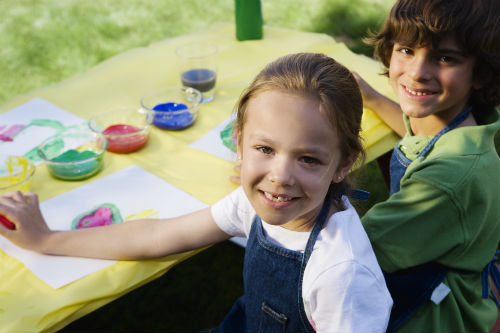 What does a 5 year old play with?
A 5 year old child has a great sense of responsibility and can more easily cope with smaller children who cannot do the same as them. Empathy develops a lot at this age, which is why role play with dolls is still a hit. Dolls' houses, dolls' carts, play kitchens and other role-playing games still interest many children.
When the child is 5 years old, she usually moves from kindergarten to SFO. Here there are lots of new toys, both outside and inside. Many of the same things are still fun as when she was 4, but of course at a higher level. The thing about good toys is that they can be used at different ages. The first letters the child learned can now be turned into words. Continue to use letters and numbers as part of play.
Engaging with other children, such as in a game with fairly simple rules, like football, dodgeball or something else, is also a hit with many 5-year-olds. Outdoor toys in general are a hit with many 5 year olds. It's the last time in kindergarten and children are absorbing knowledge. There is plenty of time to learn and be part of the daily tasks at home. Good games for a 5 year old don't have to include toys. Helping with the washing up, or hanging up clothes, is also a game for the 5 year old.
5 years - Time for the first bike
When the child turns 5, many children start to be able to ride a bike by themselves, on a real bike with pedals. When choosing a bike for your child, make sure you choose the right size. The child should be able to sit on the saddle with their feet flat on the ground. At first, you can use training wheels, and later a broomstick at the back, so that the child gradually learns to ride a bike by himself.
When buying your first bike, you should visit Cykelpartner. Here you'll find a great selection of bikes for children of all ages, as well as the best bike helmets. Go to bicycle parts here and buy bicycles and bicycle helmets.
See our articles about bicycle helmets for children here and here. 
Good toys 5 years
On this page you will find lots of examples of good toys for 5 years. Among them we would like to highlight dress-up dolls, baby and child dolls, doll house, doll carriage, stove with household utensils. Cars, farm with animals, teddy bears, guns, lightsabers, toolbox/carpentry bench. Scroll down and find examples of all these toys 5 years.

Draw and paint
Being creative and drawing and painting is a great game for children aged 5. It is a game that they can play freely at their own level, so there is no question of being too young or too old to draw. The Faber markers shown are particularly good for children to draw with, as they don't dry out as quickly and are good to hold. They can be bought at Gucca toys right here
Scooters
A scooter is perfect toy 5 years. It develops balance and motor skills, while allowing you to move quickly. Standing on a scooter is a different technique from both a treadmill and a normal bicycle, and therefore requires something completely new from the child. Children aged 5 love speed and playing outdoors is always a hit. This scooter is from Børn i Balance and costs DKK 749. It folds up and is of good quality and has the CE mark. Buy the scooter here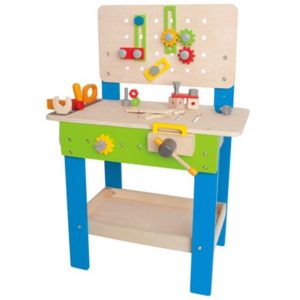 Tool bench
Imitating adults is still a hit with the 5 year old. A large wooden tool bench is therefore something that can be used for many hours. 5 year olds have a good grasp of fine motor skills, so there's plenty of opportunity to screw and hammer away. This tool bench from Hape comes with a lot of tools. It is made of wood, so it is stable and can withstand many hours of play. At Coop Toys you can find the nice tool bench from Hape under the category role play. 
Building set - strengthens fine motor skills
The kit is the perfect complement to the tool bench. It provides ample opportunity to develop and strengthen fine motor skills. There is no limit to how much the little craftsman can repair with this fun wooden building set. You can see the kit here.
Click here to see many more tools for the small craftsman!
Wooden toolbox
A good, solid wooden toolbox is something every craftsman needs. Here you'll find a hammer, a paintbrush, a yardstick and much more. Perfect toys that can withstand as much as real toys. The toolbox is made of wood. (Age: from 3 years) The entire toolkit costs DKK 259.95 and can be purchased here.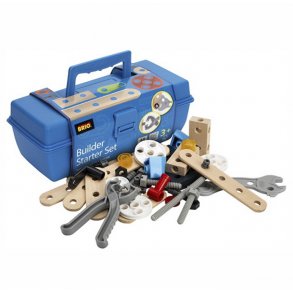 Brio toolbox - with many parts
A really exciting toolbox with lots of tools and equipment. It all comes in a handy toolbox that can be closed and carried around. Suitable for children over 3 years. A great toy to practice coordination and fine motor skills. Set at 209,95 kr. here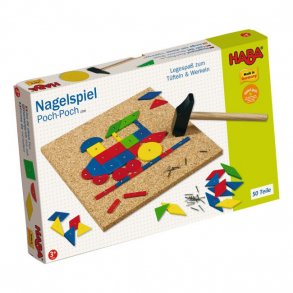 Classic hammer board - good for children aged 5
This hammer board is made for the slightly older children. By hammering the pieces, you can create a picture. The hammer board is therefore effective in strengthening both coordination and developing the imagination. Buy the fun hammer board here
[collapse]
Board game or card game 
Playing cards together is a fun activity to do with your 5 year old. He or she is now big enough to bear with the younger children if they can't quite remember the rules. It's fun to play board games or card games, especially if it's with an adult. A year-old is old enough to learn the rules of card games, and it also provides a good opportunity to learn how to win and lose. A good game to start with could be Sorteper, which can be bought at Gucca for only 49,95 kr. - click here to go to Gucca.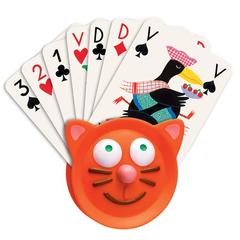 One way to make the card game a little more fun for the 5 year old could be with this card holder, which costs only 39,95 kr. at Lirumlarumleg. As well as helping kids keep track of cards, it's also fun to use when playing cards. Buy the card holder here
Click here to see more games ↓
Award winning sensory play from Djeco
Reach into the bag and let the child guess what they feel. A great game for children aged 3 and up, and would also make a great toy for a 5 year old. The game has won awards as it trains children to feel their senses. Sold at Lirumlarumleg for DKK 249.95. Buy it here
Great game - from 5 years
Here's a great game for 5 year olds. The game got 5 stars by Politiken, of their review of children's games. It is a board game where you play with the wolf and the 3 little pigs from the well-known story. If you want to read more about the game, you can find it at Lirumlarumleg right here 
Learn the animals of the world - put them on the map
This game is really educational and at the same time fun toy 5 years. The object of the game is to find out where in the world the animals live. Another great game from Djeco. Has been seen at Lirumlarumleg, under toys 5 years - find it here 
[collapse]
Dollhouse
A doll's house is a super gift for the year-olds. Girls in particular might be very happy with a doll's house. At that age, they are big enough to keep track of furniture and decor, and the little dolls are ideal for playing the classic role-playing games that children know from their own everyday lives. A dolls' house comes in many sizes and qualities, depending on your budget and the amount of space you have.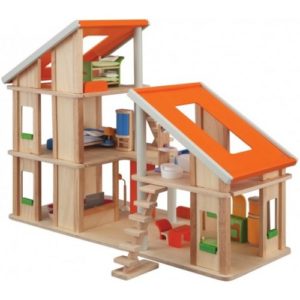 The first we have chosen to highlight here is probably the "ultimate" wooden dollhouse with two floors. It is made of environmentally friendly materials, and is in many ways a very good toy. However, the doll's house is not at the cheap end with its price of 2.499 kr. See more about the dollhouse here
If you are into cheaper or smaller dollhouses, we can recommend these nice ones, which can be bought at Børnenes Kartel. Both dollhouses are in white wood with pink roof and doors. It will both decorate the room and be fun to play with.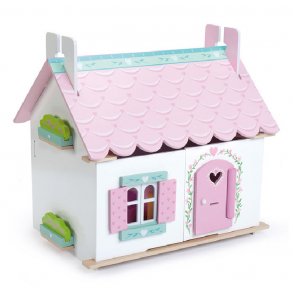 The dolls can do everything children know from their own everyday lives; cooking, going to work, going to bed and so on. Of course, you can buy very nice equipment to match the house. Buy the nice dollhouse here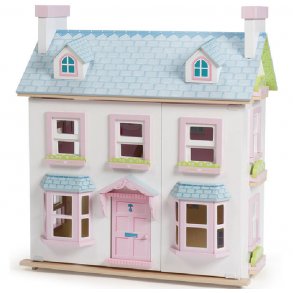 The last dollhouse we mention here is another of the larger dollhouses. It is a multi-storey house with very nice details, such as the two shingles and windows in the roof. Besides being a great toy for a 5 year old girl, it is also a very durable toy that will no doubt be played with for many hours. The doll's house is made of wood and is a really beautiful house. A great house if only the best is good enough for the dolls.  See the beautiful dollhouse here. 
See more dollhouses - click here
Dollhouse with solar cells and windmill
Here is the house of the future. It supplies itself with electricity via solar cells and wind turbines. Ample opportunity to play for hours. The dollhouse can be closed by folding up the side. The house comes with dolls and furniture. Set for DKK 799 at Sundleg. See more here
Sustainable dollhouse
The cute doll's house is perfect as a child's first doll's house. It is quite neutral in its decor and design, and will therefore fit in almost any child's room. The doll's house is made in a sustainable way, minimising environmental impact. See more about the house here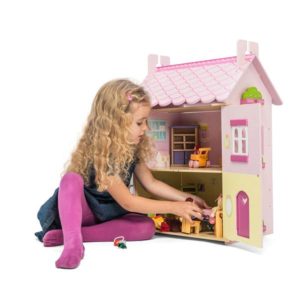 Dream house from Le Toy Van
Le Toy Van makes the most beautiful dollhouses, with the finest details. This dolls house is called the Dream House, a name that suits such a nice house. All windows and doors can be opened. A pack of 32 pieces of furniture is included when you buy this dolls house. So there is plenty of opportunity to start furnishing. Dolls must be purchased separately. Is seen for 1.259 kr. right here
[collapse]
Outdoor toys: sandbox, swing set and swimming pool
Getting outside and playing is still a hit at this age. Swinging and developing their motor skills is still something children love to spend time doing. If you have a garden, a sandpit, swing set or swimming pool can still bring lots of fun and play.
Rocking stand
A swing set is a great Christmas or birthday present for a 5 year old. Swinging is fun and when you are 5 years old you can swing high, jump off the swing and see how far you can go. It's probably one of those games that we all remember from our own childhood. Swing sets come in many sizes and qualities. If you want it to last for many years, we recommend going for one in pressure-treated larch. Larch is both soft and durable, making it the most popular wood for outdoor toys like swing sets and sandboxes.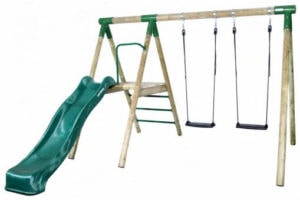 This swing set has 2 swings and a slide. It is made of pressure-treated wood, and is both safety and quality approved. It is manufactured by the Swedish company Hørby Brok, which is known for making quality products. The rocking chair costs 4,399 including delivery to your address. Read more and buy here.
Click here to see more swing sets!
Swing stand with slide: 1 swing 
If you have more space, consider a swing set with a slide. There are several different models.
There is also a fun play tower for children to climb on.
The nice swing stand can be bought at Only4kids and costs 3.999 DKK.
---
Plate swing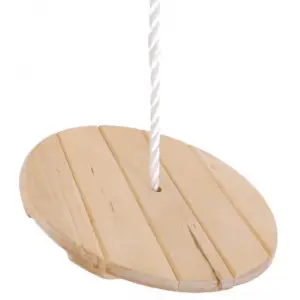 A plate swing can be hung in a solid tree. The platter swing can be used in many different ways, and therefore places different demands on children's balance than a traditional swing.
Wooden plate swing. Hang it in a tree and let the kids swing without having to buy a swing stand. 
The plate swing is seen at Sundleg. Price 129 kr.
---
Small plastic swing set for the little ones
Cute little swing set ideal for the little ones. It is made of plastic which requires a minimum of maintenance. On the side of the slide there is also a basketball goal, so the little ones can practice scoring goals.
The rocking chair is perfect as the first rocking chair.
Price 1.499 kr.
---
 Rocking chair with slide and play tower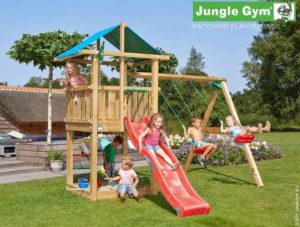 Large play frame with slide and play tower. Under the tower is a lovely shaded area where you can choose to make a sandpit, den or perhaps a grocery store? The play frame is at the affordable end, and costs 2.149 kr.  Read more and buy it here.
Rocking stand with tough climbing wall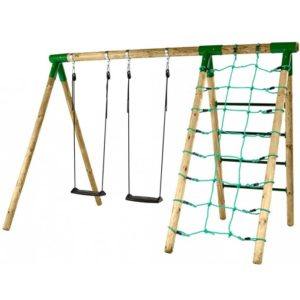 Made with a pressure-treated frame, this swing set can last for years of play. The swing set is produced by a company called Hörby Bruk, which is known for producing approved, healthy quality products. Set at 3.098 kr. Read more and buy here.  
Baby swing - a little swing for the little ones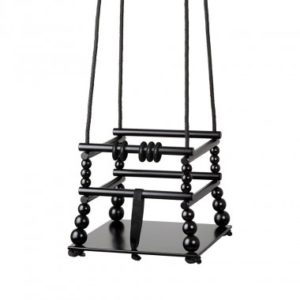 Baby swings have hoops so baby sits comfortably and securely in the swing. This Done by Deer model can be used both indoors and outdoors. Hooks are included so it can be mounted in the ceiling or a door ridge. Set at 499 kr. Watch it here.
Swing stand with slide and double swing
Fun swing set with slide and a double swing with space for two children. The swing set has a durable steel frame and spikes are included to keep it stable. The price is 1.954 kr. Read more and buy it here. 
Affordable swing set with two swings
Sturdy, classic swing set with two swings for just DKK 1,024. The swing set is tested and checked. Read more and buy it here.
[collapse]
Sandbox
Playing in a sandbox is a game that stays fun throughout childhood. The game is always different, as the texture of the sand changes according to the weather. This beautiful sandbox is one of the best on the market at 999 DKK. The sandbox is hexagonal, which gives it a slightly different look. It is made of strong pressure-treated boards that have a long durability, even in Danish weather. The corners are made of sturdy UV-resistant plastic, so they won't be bleached by the sun and thus dull to look at. Go to dealer.
Many more sandboxes - click here
Sandbox table - for sand or water! 
This table is a different way to play with sand. Water can also be poured into the table, so there's plenty of variation. It can also be used as a regular picnic table by folding the lid over the sandpit. A small table that can bring a lot of joy. L 1.05 x W 0.89 x H 0.49m. Price 1.199 kr. Go to dealer.  
Square sandbox in wood
Beautiful sandbox in Nordic design that looks great in the garden. The sandbox has seats so children can sit comfortably while playing with sand. 120 x 120 x 24 cm. Set at 1.299 kr. Go to dealer 
Sandbox with smart sunshade
This sandbox is a great solution if you have no shaded areas in the garden. Here, the sandbox is shaded from the sun. L1.20 x B1.20 x H1.10m Set for s 1.599 kr. Go to dealer.
Sandbox with lid
Here the seats are used as lids. It is made of larch wood, which is a very good type of wood for sandboxes. Price DKK 996.90 at 10-4 DIY store.
[collapse]
Toys for the sandbox
Playing in the sandbox is hardly fun unless there are exciting sandbox toys. That could be a digging cow for the sandbox, like these two. They're a bit big, so there's plenty of room for sand in the holder at the front.
Trampoline
In recent years, trampolines have become one of the most popular toys for children, both young children and especially children aged 4-5 and up. The game is fun for older children as they can become really good at jumping. Children aged 5 love to jump, and a trampoline gives them plenty of opportunity to do so. Buy the best trampolines here.
Click here and see many more trampolines!
Swimming pool
Soaking or playing in a pool seems to be part of summer. Nevertheless, it's a great toy for 5 years. Playing with water is almost always a hit, especially when you can splash away as you please because you're out in the garden. This large 937 litre children's pool has plenty of space for children aged 4-5 and up. The pool is recommended from 3 years. a. (set at 279 kr) You can buy this pool here.
If you are looking for a smaller pool, you can see see many more pools here
Play with letters and numbers
It's not long before a 5-year-old starts school, so it's an obvious age to introduce the child further to numbers and letters. It's a whole new and big world for children. Some children catch the interest immediately, others need a little more time. Either way, it's a good idea to introduce this world through play. Children learn when they play, and the two things are inextricably linked.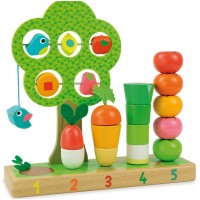 Learn to count - get interested in numbers and maths
Learn to count with this fun tree from Vilac. Count the vegetables and add up the numbers to see how much it adds up to! The tree is fun and entertaining for children aged 5, and might be a particularly good toy for children who don't yet find numbers and maths the most interesting. The tree is seen for 329 DKK at Sundleg. Go to dealer
Learn to count with Mr Beard
Mr. Beard is a well-known and beloved character from Danish children's television. Mr Beard often appears on Ramasjang, which many children watch after school or when they come home from SFO. The well-known character will make it more fun and easier for children to catch the interest in learning to count. This game is particularly good because it is obvious to play it with mum and dad. The game is seen for just 109 kr. at sundleg. Watch the game here. 
Magnetic letters - 83 pcs.
A whole 83 letters, giving ample opportunity to spell and write words in e.g. the fridge or other magnetic letters. It could be a great way to learn how to spell your own name, or other names in the family. The magnetic letters are seen for 149,95 kr. at Lirumlarum play. Find them here 
https://startpakke.com/wp-content/uploads/2017/03/logo.jpg
0
0
Maria
https://startpakke.com/wp-content/uploads/2017/03/logo.jpg
Maria
2017-08-23 10:46:47
2020-05-26 09:44:29
Toys 5 years | The best toys for children at 5 years