It's time for a children's bike 4 - 5 years old, when the running bike may be getting too small or your child needs an extra challenge. A 4-year-old child's bike is a great way to get around and can be used later to get to and from school and the day-care centre. Take a look here and find the right bike for your child.
Maybe it's your child's first bike with pedals, or maybe it's time for a bigger bike that fits better. After all, they grow fast, dear children. Whatever the reason, you can read about the different models on this site and find the right one for you.
What size?
As all children are different in height and weight, the size of bike they need will be very individual. As a general rule, the child should be able to sit on the saddle with both feet flat on the ground. This is especially important for the youngest children, for whom riding a bike and balancing on two wheels while pedalling is still new.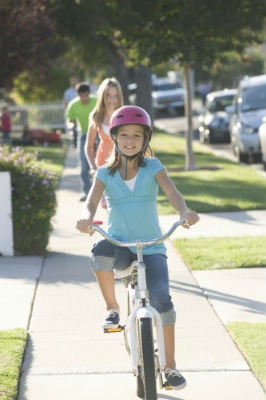 At this age, the size that fits varies greatly. You need to measure the child's inseam to assess the size of a child's bike 5 years. To do this, measure the inside of the leg from the crotch down to the heel.
If the child is just 4 years old, a size 12″ inch may be appropriate, but otherwise 14/16″ will be suitable in most cases. Make sure the bike fits when the seat and handlebars are fully down. This will allow the child to grow with the bike and use it for as long as possible.
Buy the bike online and save money
Fortunately, it's easy to find bikes in the right size if you choose to buy online. Here are detailed instructions and a good overview of bikes in different sizes.
When you buy online, you'll probably pay a lower price than in physical stores, as there are not the same shop costs.
If you are unlucky and end up buying the wrong size, remember that you always have a 14-day right of withdrawal when shopping online.
Below you will find various good but cheap bikes for kids, which would be perfect for children aged 4 - 5 years.
Children's bike 4 years
This bike is from the brand Puky, which generally just makes really good bikes for kids, both running bikes and those with pedals. As you can see, this one also has nice details like a bell and a little flag that are sure to raise some eyebrows in the nursery or after-school club.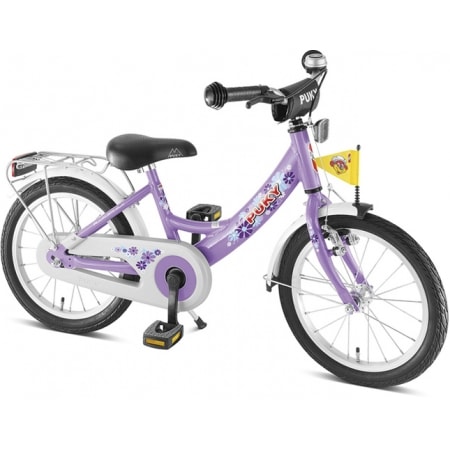 Red children's bike
A perfect bike in red that can be used by both boys and girls because of the red colour. It is therefore good if you think that the bike will be used by both your children who may have different genders.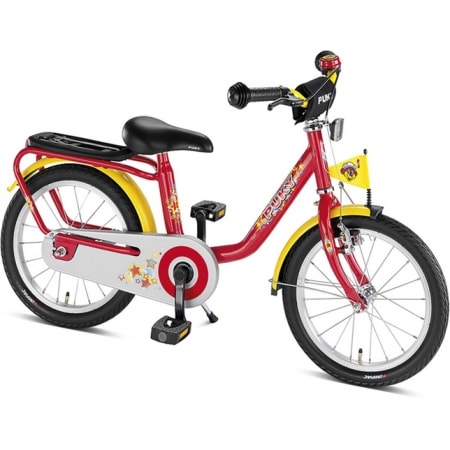 Beautiful children's bike with stars and bike basket
Does your child need a bike that's a little out of the ordinary? Then this model is perfect. It has pretty stars on the wheels and a front basket for your doll or teddy bear to take on a ride. In addition, the bike also has support wheels, which will make your child feel safe on the ride and also not end up falling.
A nice girls bike that is even an affordable children's bike 4 years.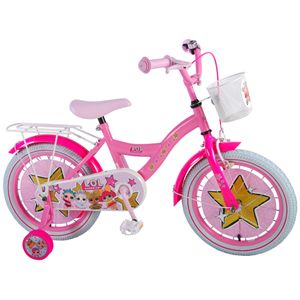 Beginner bike size 4 - 6 years
A nice bike from the good brand Mustang. At the back there is a luggage rack and at the front there are gears and a bike basket. It is usually at the age of 5-6 years that the child starts to be able to handle the gears on the bike, and so this bike is a really good beginner bike.
Beautiful girls bike that can be the means of transport to and from school.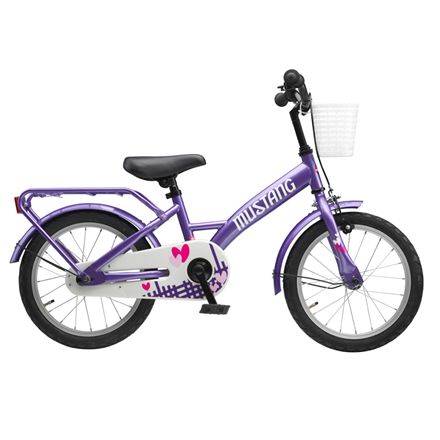 Cycling to and from school?
If your child is 5 and about to turn 6, it's time to start school or SFO. At this age, mastering a bike is almost part of Danish culture. There will probably be bike rides and camp trips during the school years where your child will need to be able to ride a bike. It is therefore a good idea to introduce the bicycle to the child around the start of school at the latest.
How quickly he or she learns to ride a bike can vary greatly. But usually it's faster if the child could already ride a running bike with two wheels, as it places the same demands on balance as a normal children's bike.
A scooter to complement
Today, you see almost as many children on scooters as on a regular bike. On a scooter, you don't use quite the same technique, but riding it really trains your balance. Many children get around quickly on their scooters, so it is recommended that they ride with bike helmet to protect their precious head. Scooters for children are fun for many children of this age.
However, it is a good idea that the child has both a regular children's bike 5 years with pedals and a possible scooter as a supplement. At school there will probably be trips and outings where the children have to cycle and it would be a shame to be completely outside.
Bicycle with gears
the gears make the bike heavier and also make the bike harder and more complicated for the child. Therefore, it is usually best to wait until the child is 5 - 6 years old and has a good grasp of cycling. Many of the bikes on this site therefore have 3 - 5 gears, which is a good place to start using gears.
Cycling as part of everyday life
Once the child has mastered the technique of cycling, there are still many things to learn about traffic and the other cyclists, cars and pedestrians on the road.
That's why it's a good idea to start moving around in traffic at an early age, and many are happy to introduce a scooters as early as 2-3 years old. This can be very enjoyable for the child and reinforces their ability to ride on two wheels.
https://startpakke.com/wp-content/uploads/2017/03/logo.jpg
0
0
Maria
https://startpakke.com/wp-content/uploads/2017/03/logo.jpg
Maria
2019-05-14 12:35:41
2020-05-26 08:42:41
Children's bike 4 - 5 years