With a bedside crib cot makes it easy to co-sleep with your little one. Baby is safe and safe in his own bed, but still close to mum, which makes it much easier to breastfeed and listen to baby at night. Here we take a look at the many retailers of bedside crib baby beds, and which ones are right for your home, needs and budget.
A bedside crib baby bed is a small baby bed that can used in the first months of baby's life. Usually up to baby weighs 9 - 10 kg., but otherwise you have to judge when baby is too big or too far along motor skills to sleep in the cot.
How long can baby sleep in his cot?
Such a baby bed is not secured with bars, as a cot. You can therefore expect to use it for about the same amount of time as you you would use the cot before putting the bottom down.
However, the bed is indispensable in that particular period, as small babies under 6 - 7 months often wake up several times a night and need milk.
A bedside crib usually measures around 70 - 80 cm in length. This is about the length of a baby for less than 1 year.
When to buy a bed for your baby
There are many variants on the market, and in many price ranges. The difference between them is often the design or small details that can be practical for some.
So here you have to decide with yourself what matters most to you and your budget. After all, remember that this type of cot is not for special use long, so maybe it doesn't have to be the most expensive model. The cheap models are are made of fabric and are easy to set up and take with you.
If design and quality are important to you, consider a of the more expensive wooden versions. These may be a little heavier, but on the other hand stable and they also look a bit nicer in the home.
Take a look at the selection below and click through to the baby bed that looks best to you. Remember, when you buy online, you always have a 14-day return policy.
Baby bed Alfred Side by Side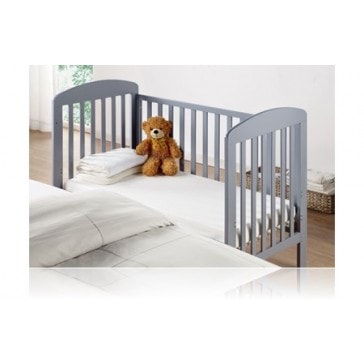 Very cute bedside crib baby bed in wood. It measures 40 x 84 cm.
The bed can be adjusted in several heights to fit mom and dad's bed. It is securely attached to the big bed so baby can sleep safely. This model has wheels, so it's super easy to move around if you need to.
Leander Side by Side bedside crib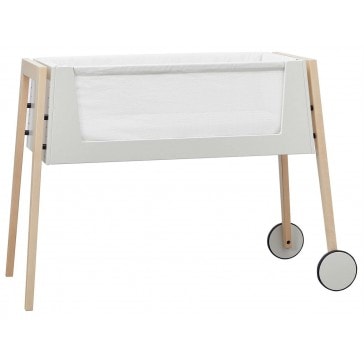 This great new product from Leander takes the concept to the next level. This baby bed is quality - and design-wise just a step or two ahead of all other models on the market.
It has nice details, a soft mattress and bed frame, and it's nice and sturdy in solid wood. However, the price is also higher than other bedside crib baby beds, as it costs 2,499 DKK.
Cheap bedside crib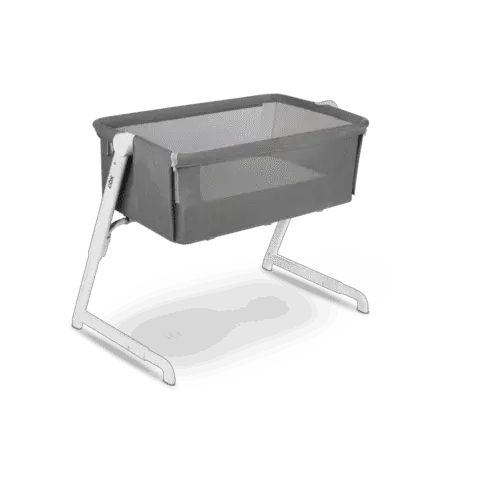 Very cute and easy bed that you can buy easily and quickly online at Babysam. The bed has a smart design that allows it to stand right up to mum and dad's bed. The legs are positioned in a way that it doesn't take up too much floor space.
How it works
In short, the baby bed is a kind of cradle, but where the one side can be removed or zipped down. The bed can then be placed very close to your own bed.
It is important to fasten the bed to your own bed so that you don't risk a crack where baby can fall and sit in pinch or hit himself. So remember to check that your new bedside crib baby bed is clean can actually be fitted to your own bed before you buy.
If you prefer to use it as a regular cradle you can just put the side back on. Most variants also come with a smart travel bag, so you can take it with you on your travels. So baby has a safe and familiar place to sleep even when you're out.
Bedside crib mattress
A mattress is included when you buy a bedside crib. It is not the softest mattresses, and you may find it uncomfortable. But remember that babies don't weigh much. And if the mattress is too soft it can end up a choking hazard.
If you find the mattress too hard, consider adding an extra one. But most of the time it's not necessary.
Read also:
https://startpakke.com/wp-content/uploads/2017/03/logo.jpg
0
0
Maria
https://startpakke.com/wp-content/uploads/2017/03/logo.jpg
Maria
2019-04-26 10:53:06
2019-05-10 13:32:15
Best bedside crib baby bed