Before plastic was invented, almost all toys were made of wood. Wooden toys are both durable and attractive. Even if it's used every day for years, it can still keep looking good. Old wooden toys can often be found among your own toys from when you were a child. Wooden toys have always been popular, and still are today.
If you're looking for wooden toys, you've come to the right place. Here we've compiled a list of the most popular wooden toys of 2017. Browse through the list and see if you find what you're looking for, or find inspiration for what wooden toys you want.
A good gift for both Christmas and birthday
Wooden toys are almost always a good idea as a Christmas or birthday present. It has a good durability and it is often pretty and decorative. Many parents also like wooden toys because they don't have to worry about nasty chemicals like plastic softeners etc.
Wooden toys are also widely used for outdoor toys. The best and most durable sandboxes, swing sets and playhouses are made of wood. This is because wood can be treated to withstand the Danish wind and weather.

List of selected wooden toys 2017
Below you will find our list of selected wooden toys. All toys are made of wood, of course, and in fine quality. The toys are among the most popular wooden toys.
Use the list as inspiration, or to find just the right gift, or maybe just because junior needs a new and exciting toy.
---
Play kitchen in wood
A wooden play kitchen is a great wooden toy. It's a bit more durable and stable than other materials, and it's more lifelike.
Hape play kitchen
Retailer: Sundleg
Price: 1.049 kr.
Very nice play kitchen in wood. The kitchen has a stove, oven, cupboard, sink and spice rack.
The play kitchen has been voted the best play kitchen among many others. See our article on play kitchens here. 
Playtoys Nova Kitchen
Retailer: Børnenes Kartel
Price: 999,95 kr.
News!
Small kitchen in eco-friendly materials. Wooden play kitchen for children in modern design. The manufacturing process is environmentally friendly throughout and the kitchen is coloured with fruit dye. Dimensions: 48 x 29.5 x 63 cm.
---
Wooden toys: food
Of course, every kitchen needs food. Fortunately, there is a lot of nice food that is also a wooden toy. Food in wood looks very real. It can withstand years of play and doesn't easily lose its colour or become misshapen. In addition, a whole collection of wooden toys is great fun for children to play with.
Hape wooden toys: wooden toys
Retailer: Sundleg
Price: from 20 kr. and up
Hape wooden toys have everything your heart desires in food. Children can learn about the different foods from a very young age. The wooden toys are of good quality and very durable.
Large selection of wooden toys
If you're looking for a larger selection, you should almost stop by Lirumlarumleg. It's many parents' favourite place to buy toys online, as they have almost EVERYTHING. You'll also find a great selection of wooden toys.
Retailer: Lirumlarumleg
Price
---
Wooden toys baby
Baby wooden toys are durable and good quality for baby. Here we've listed popular baby toys where you're sure to find just what you're looking for.
Putte-i-kasse
A put-in-box is a classic wooden toy. Babies can play with the box as soon as they learn to grasp the blocks. Later, they may start stacking the blocks, and around the age of 1, many children start practising putting the blocks in the right holes. This is a great challenge for babies and they learn about colour and shape.
Why wooden toys for baby are popular
Many people buy wooden toys for babies because they make great gifts and are very durable. Plus, you don't have to worry about harmful chemicals, such as phalates, found in plastic. However, you still need to keep an eye on what paint has been used on the product. You can read information about paint and find other information about the product in the description.
Always remember, however, that toys sold and produced in Denmark must meet high standards for safety and content. So you will always be fairly safe when you buy Danish.
Wooden toys are often pretty and decorative
Wooden toys for baby are durable
Get rid of harmful chemicals
On this page, we only link to retailers that sell high-quality wooden toys that meet Danish requirements.
---
Rattle in wood
A rattle is one of those wooden toys that almost every baby should have. Making the rattle make sounds when you rattle it is a big hit with babies.
Rattles in different colours and shapes help stimulate baby's development. Baby makes the rattle say sounds by itself, which makes it great fun for little ones.
Baby's very own jokes. Set at 99,95 kr. here.
---
Birthday Train
A birthday train is certainly something most children will find fun. Each year you can change the number to tell you how old he or she is.
As we all know, children love routine and familiarity, and every child will love having their birthday train come out every year when it's their birthday. As a child, there's almost nothing bigger than having a birthday, so of course it should be celebrated in style.
Hand painted birthday train
Retailer: Sundleg
Price: 379 kr.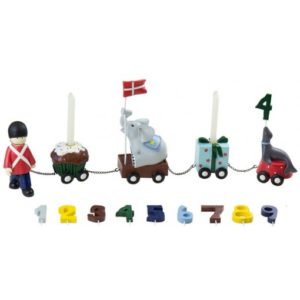 The birthday train shown is hand painted, and therefore a really nice decoration in the children's room, or as said as table decoration on the birthday table.
The birthday train is made of wood, and is in super good quality. It's not really a wooden toy, as it's mostly made for table decoration on the birthday table.
---
Organic wooden toys
Organic wooden toys, and organic toys in general, are becoming more and more popular. Many parents are keen on organic food, so why not also buy nice organic toys?
Advantages of organic wooden toys
No harmful substances
Healthy toys for baby
Good materials
Minimum impact on the environment
In this day and age, many parents are becoming increasingly aware of the environment and how to minimise its impact. The things we buy affect the environment, so we think about what we buy. Sales of organic food have increased significantly in recent years and now toys seem to be following suit.
For example, buy this beautiful organic putte-in-box. It's made from sustainable materials and the paint is, of course, completely free of harmful substances.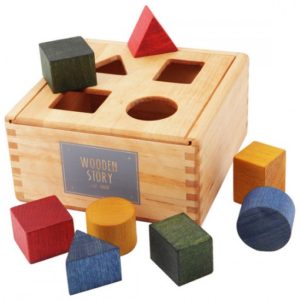 Organic put-in-box
Retailer: Sundleg
Price: 349 kr.
If you are looking for more organic toys, you can read our article on the subject.
Read: Organic toys and bedding
---
 Doll carriage
Dolls and doll carriages are another example of classic toys that are fun to play with for many years. If you're not sure which doll is best for your boy or girl, you're sure to find inspiration in our great guide to choosing a doll.
Of course, every doll needs a doll's pram. You can choose from several different wooden doll carriages. One of the most popular wooden doll carriages is the Krea doll carriage.
Krea wooden doll carriage
Retailer: Sundleg
Price 399 kr.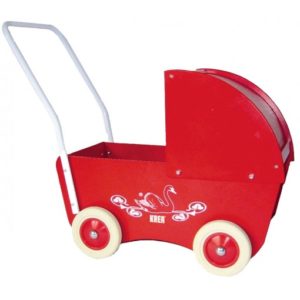 The doll's pram is not very big, and therefore good for the smallest. The classic design of the doll's pram has made it one of the most popular doll's prams for many years.
Red doll carriage from Viga
Retailer: Sundleg
Price 599 kr.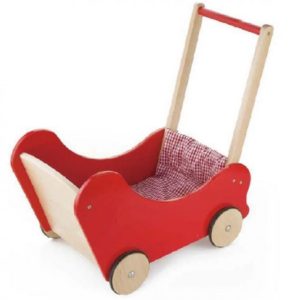 Very stable doll carriage that can also be used as a walker. Rubber wheels reduce noise and scratches on the floor. The doll's pram is a popular gift idea.
---
Activity stand
Most babies have an activity stand. It stimulates babies' senses and encourages them to play and grab toys. It's also nice that baby can sometimes lie and snuggle on the play mat while mum or dad is having their coffee.
Wooden activity stands have recently become very popular. They have a nice design and it's possible to change the toys regularly, so baby doesn't get bored. You can even stick the activity stand on top of a play mat. See the best play blankets here. 
Activity stand in wood from Lilliputiens
Retailer: Lirumlarumleg
Price 399 (without pendant)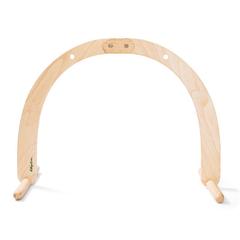 Activity stand in wood with a nice stylish look. You can choose which toys you want to hang on it. When the toys are changed regularly, they stay exciting for baby.
Wooden activity stand from Moulin Roty
Retailer: Lirumlarumleg
Price 399 kr. (without pendant)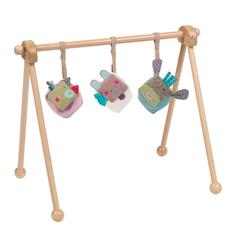 Popular wooden activity stand. Looks great in baby's play corner. There are hours of fun and play with this stand. It comes without attachments, so you can choose what you want to hang on it.
---
Baby toys in wood
If you're looking for wooden baby toys, you're sure to find a great selection in the various stores that sell toys online.
---
Hammerboard
Most children find a hammerboard a fun toy. It can make noise and at the same time it trains their hand-eye coordination.
Retailer: Børn i Balance
Price 129 kr.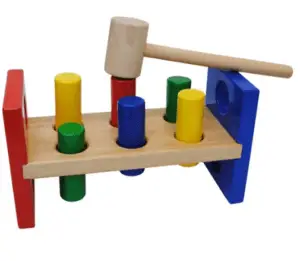 ---
Musical Instruments
Wooden musical instruments are always a popular gift. There are many different kinds, and children love to play music, and create their own sounds / noise.
Playing musical instruments improves fine motor skills and the musical and creative sense. It's also good practice for school age, when, as you know, you have to go to music lessons.
Xylofon
Retailer: Lirumlarumleg
Price 169,95 kr.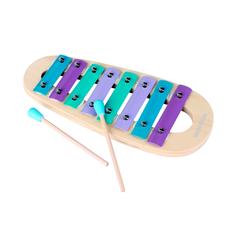 Vilac piano in red
Vendor: Children in Balance
Price 599, 95 kr.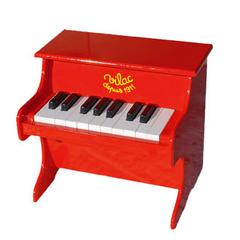 This nice little piano has become very popular with families. It looks both pretty and decorative, plus it provides hours of entertainment. The piano is available in both red and black.
---
Puzzles in wood
Wooden puzzles are yet another popular wooden toy. It comes in many varieties, shapes and colours.
https://startpakke.com/wp-content/uploads/2017/03/logo.jpg
0
0
Maria
https://startpakke.com/wp-content/uploads/2017/03/logo.jpg
Maria
2017-05-21 12:26:59
2017-08-23 12:21:49
Wooden toys | Lots of nice wooden toys