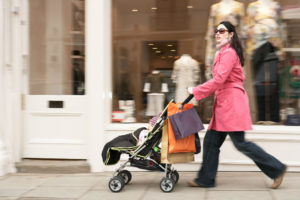 A sibling pushchair is very practical if you have two children with a small age difference. Typically under 3 years. With a good sibling stroller, both children can rest on the trip. On almost all models, it is possible to put a lift on one side for a baby and a stroller seat for the big one. Sibling pushchairs are of course also ideal for twins.
Here, we take a look at sibling gifts that you can buy from online retailers. 
The advantage of buying a pram online
When you look for sibling strollers online, you get a much wider selection than in stores. In fact, there are many dealers where you can switch with a single click and maybe find a better stroller at a better price. When you shop online, you can buy sibling strollers from brands that are not typically found in stores, for example the popular Bugaboo strollers.
Be extra careful when reading the description, and remember that price and quality are almost always linked. There are many price levels for sibling pushchairs, and you need to consider how much you will need the pushchair and what your budget is for it.
Here we've looked at a wide range of sibling pushchairs / twin pushchairs and looked at their advantages, disadvantages and quality in relation to price.
Bogaboo Donkey Twin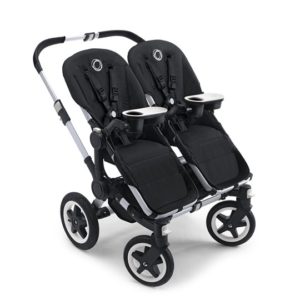 Lovely sibling stroller from the popular brand Bohaboo. The stroller has a sunshade that can be pulled out and protects against the weather. The fabric is wind, water and oil resistant. The backrest can be adjusted in height so that the stroller grows with the child. A super smart detail. Of course, the seats can be fully reclined, so there is plenty of opportunity for a comfortable nap for the child. There are 5-point harnesses that are easy to fasten, and you can easily reverse the seats if you want the children to face the person driving the stroller. There is a relatively large basket under the stroller, so there is room for groceries, for example. It is very easy to turn the stroller as it has 360 degree swivel wheels. The Bogaboo stroller is very easy to fold and can be quickly converted from a double to a single stroller should the need arise. A practical detail if you only have one child with you on a trip. Rain cover included in the price. The Bogaboo Donkey Twin is available in many colours and costs 13,999 DKK. You can find the Bogaboo Donkey Twin at Babyshop right here.
Maxi-Cosi Danafor2 - a cheap sibling stroller
 This smart double stroller from Maxi-Cosi is practical and very comfortable for both children and the driver. At the same time, it is a cheap carriage at just under 4000 DKK.
Easy to fold,
Easy adjustment of seat position
Swivel castor which can also be locked
Two large baskets for goods
Adjustable headrest
Large canopy protects from sun and wind,
5-point harness and safe centralised braking system.
The maximum weight per seat is 15 kg, which means that for most children it can be used up to the age of 4-5. A lovely twin folding stroller where children can both nap, as the seats can be fully reclined, but also sit comfortably when out and about. The disadvantage of this stroller must be that the wheels are quite small. It can therefore be heavy to drive if you have two large children + goods. It also rides best in town on even terrain. The Maxi-Cosi twin folding stroller costs DKK 3,999 and can be found at Babyshop right here.
Gotland Double Stroller 2017 - Good big wheels - very good for the price!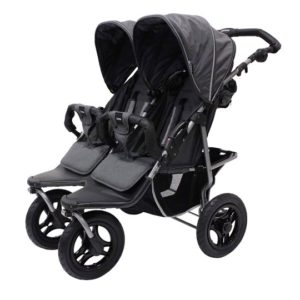 This nice twin folding stroller from Carema is super cute and very functional for the family with two small children. With lifts sold separately, the stroller can be used from birth and up to 25 kg per seat. The stroller has good and large wheels, which make it easy to drive around with, even on uneven terrain.
The seats can be adjusted to suit whether the child is sleeping or sitting up and watching. There are puncture-free tyres and 360-degree swivel wheels, Large sunshade that covers against both sun and wind. The stroller has 5-point harness, basket for goods and then the handle can be adjusted according to height. Nice detail if mom and dad have different heights. A nice and comfortable twin folding stroller, where you get a really good stroller for the money. The Carema pushchair can also be used as a sibling pushchair.
The Gotland Double Stroller is available in black, grey and blue and currently costs DKK 2,956. at Babyshop here.
Trille Moon - very cheap infant stroller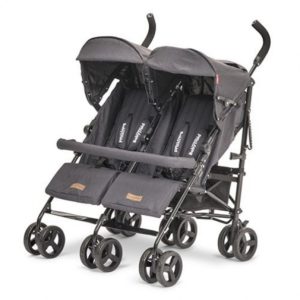 The twin folding stroller from Trille is both practical, easy to handle and provides good comfort for the children. It doesn't weigh much, making it ideal for wet trips and for carrying in the car. A smart umbrella stroller for the two little ones!
The stroller is equipped with a 5-point harness, which ensures that the children are securely fastened. It is possible to remove the front bar if necessary. The children can then climb in and out themselves. The twin folding stroller from Trille has a load capacity of 15 kg per seat. The frame is made of lightweight steel with a removable shell, built-in sunshade and a shopping basket. The backrest of the stroller can be adjusted to three positions and can also be fully reclined if a rest is needed. The stroller has a sleeping height of 84 cm and costs just DKK 1,499. You can buy the Trille Moon twin folding stroller in both black and grey denim right here.
Maclaren Stroller, Twin Techno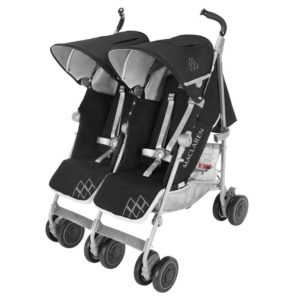 This double folding stroller from Maclaren is an English brand and is without doubt a stroller where quality, safety, comfort, functionality and driving characteristics are well thought out and there are lots of nice details. The stroller can be used from newborn with a lift that can be purchased, as the seats can be adjusted in 4 positions and thus lie completely down. Thus perfect for siblings. This means that the Maclaren pushchair can be used as a twin or sibling pushchair. To increase safety, there is a 5-point harness, a water-repellent cradle with UV sunshades, reflectors, and swivel front wheels so the stroller can easily turn 360 degrees. They can also be locked if driving on uneven terrain. There is head and shoulder support, shopping basket, rain cover and shock absorbing suspension on all 4 wheels.
Each seat has a load capacity of 15 kg. The stroller costs DKK 3,699.95. You can buy the Maclaren twin folding stroller right now here.
Baby Jogger City Mini - popular choice of stroller for siblings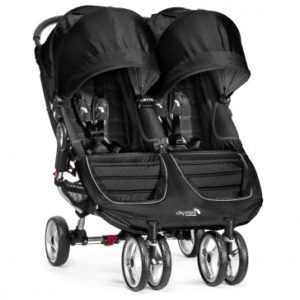 The Baby Jogger City Mini twin stroller is a good quality stroller with a focus on design, mobility and function. Baby Jogger can be used as a twin or sibling stroller.
The trolley is easy and quick to fold and take on the road as it is supplied with a patented quick-fold system. It can therefore be folded with just one hand.
The ventilated seats can be fully reclined, allowing the stroller to be used right from birth with an accompanying lift. Very handy if you have a new baby while the older one is under 3 years old. The stroller has non-puncture tyres and a windowed canopy that has three steps. To increase safety, a 5-point harness is installed. Baby Jogger also has a shopping basket and a pocket behind the seat for small items. It is a twin stroller with a high handlebar and good legroom for the person driving the stroller. The Baby Jogger City Mini costs 4.798 kr. and you can buy the twin folding stroller right here.
Mountain Buggy Duet - Luxury for your golden nuggets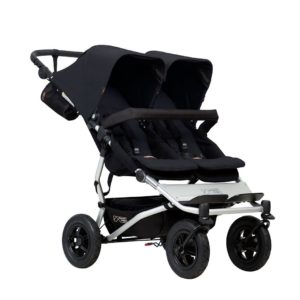 The Mountain Buggy twin folding stroller is a New Zealand brand that doesn't compromise on quality. It is the right stroller for you who want luxury for the kids.
It's a classic sibling pushchair that can be used as either a twin or a sibling pushchair. At the same time, it takes up no more space than a normal pushchair. A great advantage when you're out shopping, for example.
It's practical and easy to ride on all types of terrain. The trolley has a sturdy frame and is easy to carry in shops, for example, as it is very narrow. The large solid wheels are a big advantage.
The Mountain Buggy has an adjustable backrest so that it can be used from newborn with a matching lift. There is a removable safety bar, a shopping basket, a bottle holder, front wheels that can turn 360 degrees or lock if there is uneven terrain. Practical and nice details. There is also a 5-point harness with a cradle and UV sunshades. The Mountain Buggy Duet twin folding stroller costs DKK 6,399.95 and can be purchased right here. It is not a cheap trolley, but it has good usability and quality.
 Bumleride Indie Twin - another luxury car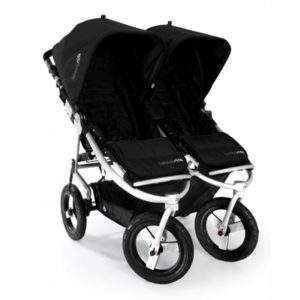 The Bumleride sibling pushchair is a combination pushchair that can be used as a twin pushchair or as a sibling pushchair. Here we have a stroller that is for the "luxury animal" . Nevertheless, you get good quality for the money.
It is a cart in a strong frame equipped with pneumatic wheels, which makes the trip more comfortable without too many bumps. In the Bumleride pushchair, the back can be fully reclined if a nap is needed. It also has adjustable footrests to fit different sizes. The Bumleride twin folding stroller has a sleeping height of 95 cm and costs DKK 7,499. You can buy the stroller in Jet Black and Silver Black right here.
Søpushchair

 
As parents of two or more, there's extra to keep an eye on and extra to carry on the go. A sibling stroller makes it easier for you, as a parent, grandparent or nanny, to keep track of the kids.  
It is difficult to walk with two strollers at the same time, and therefore there are developed, incredibly smart sibling strollers, which is a stroller that can hold two children at once.  
Søprams for two
A sibling pushchair is a pushchair that can hold a baby and an older child, and you can also get pushchairs that are completely identical in their seats, for children who are not separated by long distances, or who may be twins.  
A sibling pushchair is ideal if you need to manage several children at once. And just like a regular stroller, there are different strollers for siblings, with different needs. There are strollers where the seats sit next to each other and where the seats sit in a row, one in front of the other. There are even pushchairs where the children can sit opposite each other, making it easy to keep an eye on them in a "who's done what" situation.  
Easy and safe
With a sibling stroller, it's easier to keep track of the kids. Even though a new baby has been born, it doesn't mean that big sister or big brother can 100% take care of themselves. In fact, it's often the older siblings who are at risk after the little brother or sister takes over the pushchair. They need to be taught quickly about traffic and how important it is to look out. If the little one starts crying in the pushchair, there may be less focus on the bigger child, and where is that little hand when we have to cross the road?  
With a sibling stroller, you can keep track of both children and move freely in traffic without having to keep track of multiple devices around you. It's both easier and safer for your children with a sibling pushchair.