It's the first day of school and the butterflies are flying. It's a big day to start school and most of us can still remember the excitement of the first day of school. To mark the start of school, we've written a little about how you, as a parent, can best help your child have a good and safe start.
Lower expectations
There's a lot to get used to when you start kindergarten. Everyday life is more structured and there is less time for free play, as well as less adult contact than children are used to in kindergarten. So don't set your expectations too high, but be prepared for your child to find it hard to settle into the new rhythm. For some children, the reaction may also come at a later stage.
Did you have a good day at school, honey?
Feel free to ask how the school day went and if your child had a good time. If you notice that your child is doing well and sleeping and eating as she usually does, this is usually a sign that everything is as it should be. Don't pump your child for information if she doesn't feel like sharing. Then you risk just being told what you want to hear. Let your child come to you herself if there is something she wants to talk more about.
Get used to letting go more...
This is possibly the biggest adjustment of sending your child to school. You can no longer expect a report on your child's doings during the day. Show trust in your child, the school and the class teacher. Make sure your schoolchild can tie his or her own shoes, zip up his or her own jacket and bring a packed lunch every morning. In this way, you support your child to become more independent and equipped for the new demands.
Have your equipment in order: ready, ready school start!
To be as ready as possible for the start of school, your child needs to have their equipment in order. It's both a fun and exciting way to prepare for the start of school. As a minimum, you will need:
School bag
Pen case with contents
A writing pad
Lunch box + water bottle
Read books with your child
Reading books together will help your child learn about letters and numbers, and about the world in general. It's also a great way to train your child to sit still and concentrate for longer periods of time.
If he only bothers for 10 minutes, that's fine. Reading books shouldn't become a chore. A little is better than nothing, as it will make the transition to homework reading more gentle. If your child will be starting school after the summer holidays, you can find lots of great books for schoolchildren in the Gyldendal Children's Book Club.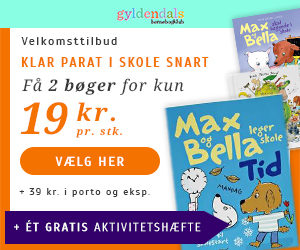 At Gyldendals Børnebogklubber, they've put together a selection of fun books to introduce your child to life at school. Choose from well-loved classics and new classics or fun activity books that are also educational.
Welcome offer: right now you get 2 books for only 19 DKK each + a free activity booklet! Become a member now
You can get more inspiration at parentsfidus.dk, firstschoolday.com and in these free booklets.
Sources:
The Parents' Handbook
School and Parents
https://startpakke.com/wp-content/uploads/2017/07/1673805_udvalgt.jpg
726
1500
Maria
https://startpakke.com/wp-content/uploads/2017/03/logo.jpg
Maria
2017-07-31 09:29:38
2017-09-21 12:10:36
How to give your child a good start at school - Help your child through the start of school