When it comes to finding toys for a 1-year-old, you should look for toys that challenge both motor skills and the senses. The 1 year old child has outgrown baby toys such as rattles and teddy bears with sounds. The toy should challenge in a different way, as the child becomes more curious as he reaches different developmental stages. Girl toys for 1 year olds can be toys where, for example, balance is challenged, it can be fine motor skills practice or toys that just help to make the child feel safe.
On this page we have collected inspiration for girls' toys for 1 year olds, so there is plenty of opportunity to find great gift ideas for the big 1 year birthday or for this year's Christmas presents. Read more here.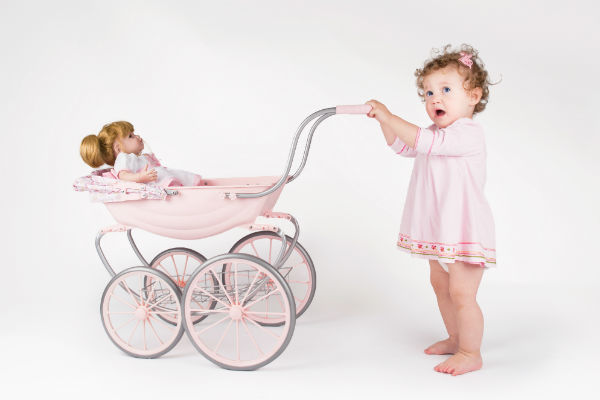 Popular girls toys 1 year
Most 1 year olds find music super interesting, as many are good at putting on moves at an early age. Ideal girls' toys for 1 year olds might include musical instruments where the child can help create the sound. 1 year olds begin to understand when sound disappears and how sound reappears by doing something active. Popular girls' toys for a 1 year old can also include dolls' prams, pushchairs and stacking blocks. Anything that can strengthen balance and motor skills is ideal. In addition, fine motor skills can be addressed with playpens, sensory books or exciting toys for the bath. Read on and we'll give you some great inspiration for girls' toys for 1 year olds, to help you stock up on birthday presents or Christmas presents this year.
                                                          Carolle Baby Doll
Super cute baby doll from Carolle measures 30 cm and is ideal as baby's first doll. Carolle is a French company known for adorable vanilla scented dolls. It is the doll's vinyl that has fragrance added, which is of course tested and approved. This also means that the dolls do not contain phthalates and meet Danish requirements. The doll's body is soft and the filling is sewn well into the doll so it can't just fall out. The doll has nice details and this model is dressed in a nice ballerina suit with shoes and hair ribbon. The fine Carolle dolls can be found at the retailer LirumLarumLeg right here.
Find the right baby doll
Dolls are and will be a hit among girls toys 1 year. However, dolls are for all children regardless of gender. Already at the age of 1, many children start to get interested in dolls, as it looks like a baby. There are many different kinds of dolls available. When finding the first doll for your child, it can be a good idea to choose a doll with a soft body, as it is easy for the child to carry and is also very huggable. At the same time, the doll does not need to be able to do anything, as the child uses its imagination at an early age. Find the right doll for your child's age. Read more here.
The classic doll carriage from Krea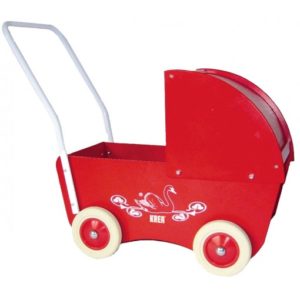 Here is the red classic wooden doll carriage from Krea. Super cute design and very durable. The doll carriage is ideal as the first doll carriage, as it is not so big and is easy for the child to ride with and to strengthen the balance. The doll carriage is PVC free and costs 399 kr. at Sundleg here.
                                                   Xylophone from MaMeMo
Beautiful Xylophone in real girl colors with two sticks. This Xylophone is made of wood and metal and is super entertaining girls toy. There is a nice sound that even the fellow listeners can stand to sit and listen to. The Xylophone itself measures 29 x 13 cm. and gives a breath of fresh air to music-loving children. Find musical instruments as inspiration for girls' toys for 1 year olds at the retailer Children in Balance here.
Bath toys from Sophie La Girafe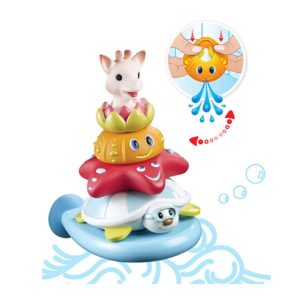 Entertaining bath toy representing a pyramid of different sea creatures. The sea creatures are shaped like rings with a Sophie Giraffe on top. Here the child can practise stacking the rings on top of each other. As a fun touch, one of the sea creatures can splash water. The toy can be attached to the bath or shower wall using suction cups. Super entertaining girls toys for the 1 year old when the bath should be fun play. Find bath toys from Sophie La Girafe at the dealer here.
                                                           Activity centre in great colours from Hape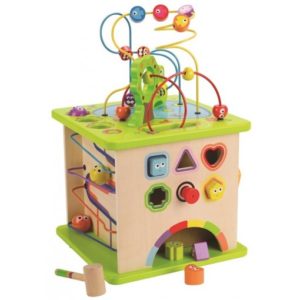 Fun activity centre as a matter of course for girls' toys for 1 year olds. Here there is ample opportunity for an entertaining and very educational play where the child is challenged in fine motor skills. There is both the classic playground, a ball maze and several fun challenges for the child. The activity centre and other playpens can be found at the dealer right here.
My first book - Animal children of the jungle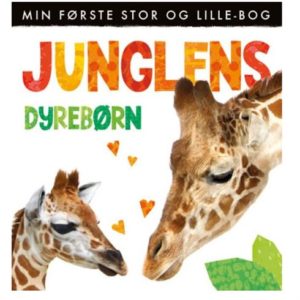 Nice book that has both large and small pages, where the small pages are with animal children and the large pages are with adult animals. Ideal inspiration for girls' toys to play, discover and learn. Here the child can practice his eye-hand coordination, as the large and small pages must be put together correctly. Animal names and sounds can be practised with the child to reinforce vocabulary. Super nice book as good learning. This book about the jungle animal children or other nice books can be found at the dealer right here.
                                                    Colorful stacking blocks from DJECO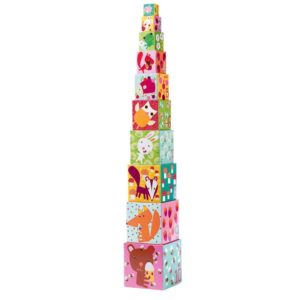 Girls' toys for 1 year olds should include stacking blocks to practice fine motor skills. These blocks also allow the child to practise colours and the names of different animals. The blocks can be stacked so the child can see the different patterns and then the blocks can be assembled so they can be easily packed away. Children of 1 year will enjoy stacking the blocks and then knocking them over again. Fun girls' toys for 1 year olds to practice and play to the gold medal. The stacking blocks can be found at the retailer Sundleg here.
Wooden go-cart from Bloomingville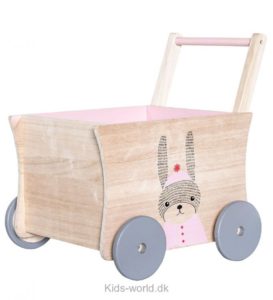 Cute and very feminine stroller in natural coloured wood with fine print on the side. The stroller has a sturdy handle so it is easy for the child to get the balance and walk with the stroller. There is a large compartment for girls' toys, so everything is with them on the trip. Super stroller to teach the child a steady walk and at the same time looks great in the nursery. Find the cute Bloomingville stroller at the retailer Kids-World here.
You can also get more inspiration for different strollers here.
https://startpakke.com/wp-content/uploads/2017/03/logo.jpg
0
0
Maria M
https://startpakke.com/wp-content/uploads/2017/03/logo.jpg
Maria M
2017-09-14 11:36:11
2017-09-14 11:36:11
Girl Toys 1 Year - The Best Girl Toys for 1 Year Olds 2017