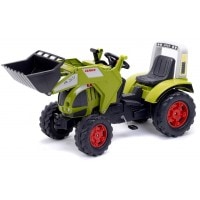 A pedal tractor is a really fun toy for children. Here you'll find out a bit about what a pedal tractor is, as well as a few suggestions for the best pedal tractor for kids. A pedal tractor is a tractor that is big enough for your child to sit on and pedal around, just like a small bicycle. The pedal tractor is a good for children to develop motor skills, as it trains both coordination and balance. At the same time, it's great fun, as the vast majority of children love tractors and other large machines.
See our picks for the best pedal tractor for kids below!
What is a pedal tractor for children?
In short, a pedal tractor for children is a tractor with pedals so you can ride it just like you would a tricycle. The tractor has much better balance than a two-wheeled bike, so it can easily be used by children from 2 - 3 years, depending on their development and interest in the pedal tractor. A tractor with pedals is really fun to ride.
The perfect outdoor toy
As a pedal tractor is bigger than so many other toys, it is perfect for outdoor use. It's fun to drive around the garden, and it gives children good exercise, unlike, for example, an electric car, where the child sits quite passively.
Pedal tractor with front bucket
A nice green pedal tractor for children, this model with a front bucket that makes the pedal tractor extra fun. The tractor has a comfortable seat from which the child can sit and pedal. The vehicle has large, powerful wheels, the front two of which are swivel wheels. The tractor can thus be steered with the steering wheel. A fun pedal tractor for children that is easy to get around on, even on uneven terrain. This tractor has a very authentic look and will no doubt bring excitement to the tractor-loving child.
Pink tractor with pedals
Very nice pink pedal tractor that will surely bring excitement. The pedal tractor is different from many other versions, precisely because of the fine color that suits girls well. The real princess tractor is purchased with a trailer, so the child can transport toys or other things around in it. It is from the Falk brand, which is known for producing high-quality toys. It is seen for DKK 719 at Only4kids.
Large Ranch Tractor with front bucket, trailer and digging crane
This pedal tractor seems to have everything you could want. It has both a front bucket, trailer and a large digging crane. So there's plenty of opportunity for digging and gardening. If you choose this tractor, you get a lot for your money. It has powerful wheels and can get around the lawn without any problems. This tractor with pedals is suitable for children from 2 - 5 years. The tractor develops children's motor skills, coordination and much more, and is sure to provide hours of play.
Truck with pedals
This truck is a fun alternative to the pedal tractor. Shown here in red and in the Ferbedo Renault Magnum model, which is a faithful replica of the real thing. The truck has pedals so the child can move forward using the pedals just as if it were a bicycle. The truck has a comfortable seat for the child and they ride on stable, large wheels. The truck is perfect for summer holidays. It is available at Only4kids for 1.266 DKK.
Pedal tractors from Falk Toys are the best pedal tractor for children
When buying a pedal tractor for your child, it is recommended to look for the brand of the pedal tractor. A tractor with pedals can be compared to a bicycle, which must be produced in good quality to withstand playing and fun outside. Unfortunately, you see several very cheap pedal tractors that are not made in good quality and therefore probably will not last as long. Here we have chosen to recommend pedal tractors from the brand Falk Toys.
Falk Toys is a Dutch company founded in 1947. Since then they have specialised in producing and designing outdoor toys for children aged 1 to 7, including the popular pedal tractors. All Falk Toys products are made in France and meet very high quality standards. All toys undergo thorough testing and of course meet EU safety requirements. The pedal tractors from Falk Toys are sold at Sundleg and Only4kids.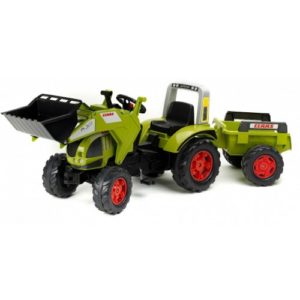 Pedal tractor from Falk Toys
This pedal tractor is from one of the many great products from Falk Toys. It has both front bucket, and trailer. The child sits comfortably and safely on the seat, and can effortlessly pedal. The pedal tractor here is suitable for children from 3 - 7 years, but can in some cases be used earlier, if the child is for example taller than average. It can be purchased from Sundleg - click here.
Outdoor toys from Falk Toys - Pedal tractors, ATVs and excavators
Here we have chosen to highlight a number of the best outdoor toys from Falk Toys. If you've been considering a pedal tractor, other toys in this category might also be a hit for your child or grandchild.
Yellow excavator and helmet - perfect for playing in the sandpit
This beautiful excavator is sure to be a hit with any child who loves big machines like tractors and digging cows. The child can sit on top of the excavator and control the front via handles. This way, a lot of sand can be moved around. A fun game that can pass a lot of time. There is a small trolley on the back of the digger, so there is also room to move things around. The digger has a good balance and does not tip over. With the accompanying helmet, there is everything you need to play and dig.
Excavator as tank
A nice orange excavator in really good quality. It is made in France and comes from the brand Falk Toys. The excavator has a good balance, and can easily withstand the child digging sand. The gramko is built in the way that it has 4 wheels on each side, which hang together in the same way as a tank. The top can rotate, so it is easy to move the sand around.
Green helmet for worker / woman
If you want to play realistically, this cool helmet is the perfect way to protect your head while you work. Children love to imitate what they see, and with this helmet they can look exactly like those working outside. The helmet can be adjusted to fit the child's head and can be adjusted as the child grows.
Tank for pedal tractor
This tank can be mounted on the back of Falk Toys pedal tractors. This way the child can drive around with a tank in which to store various things. The tank can be opened at the back with an easy locking mechanism that even children's hands can master. Inside the tank there is plenty of space for other toys or whatever the child wants to transport around. The tank is easy to attach to the pedal tractor, and then it's just a matter of pedalling away. It has a total of four wheels, so it stands firmly and can also take those sharp turns. A really fun accessory for a pedal tractor. Set for DKK 657 at Only4kids.
Trailer for pedal tractor with pig, cow & sheep
For farm play, this trailer with animals is the perfect toy to accompany the pedal tractor. The trailer comes with three farm animals that can be inflated. The animals fit perfectly on the trailer, which can be attached to the back of a Falk Toys pedal tractor. See examples of these further up in the text.
Other pedal vehicles - Pedal car

&

pedal go-kart
In addition to the pedal tractor, there are several other vehicles with pedals. It's a really great toy if you have a garden or area where the kids can ride it around. Pedal vehicles such as pedal tractors, pedal go-karts or pedal cars are great outdoor toys for children who have not yet mastered a two-wheeled bike. On a pedal vehicle you have a much better balance as it has four wheels. At the same time, it's a lot of fun to ride around on a tractor, car or something else. Pedal riding is a really good motor training in coordination and balance, and of course good preparation for when you have to ride a bike. It is healthy for children to move, which they get plenty of opportunity to with a pedal vehicle. Here we have chosen to mention a number of good pedal vehicles that children can ride around in the garden.
See great pedal vehicles for kids to ride around the garden. ↓
Elitetoys Hot Rod pedal car in metal
Really cool car made of metal. It gives the car a super nice retro look, which is great for use outside, but also inside if you have the space for this. The wheels are rubber coated so they won't scratch floors when used indoors. The car is made of 100% metal. The front has nice lights for decoration, and the side of the radiator has fire painted on it, so it looks like the car is really going full speed ahead. A great pedal car for your child to whizz around in.
Fire truck in metal - cool painted truck
Another cool car in retro look. This fire truck is made of 100% metal. On the sides it has a small ladder, so you are not in doubt what it is used for. The fire engine runs when the child steps on the pedals. In the front there is a nice shiny bell that children can ring when they need to put out the fire in a hurry. The car is made in a high-quality, realistic design. A fun and nice gift that children can use for many years. Suitable for children from 2 years.
Pedal go-kart for children
A go-kart has been a hit for children for many years. They are often seen in after-school clubs and kindergartens, as it is a really great outdoor toy. A go-kart has solid wheels, and a really good balance. You steer it by pushing the pedals and turning the steering wheel. Choose from many different go-karts at Only4kids.
General outdoor toys - What you need to know
Here we have briefly summarised what to look for when buying new outdoor toys.
Toys must be able to withstand wind and weather
It does not contain small parts that are dangerous for the little ones
Outdoor toys 2 years should be up to fun games in nature
If you don't have a garden, your child can still get great enjoyment from outdoor toys. Just make sure it's the right size to take to the playground, the beach or somewhere else.
When buying outdoor toys, it doesn't matter which one you choose. First of all, the toy must be suitable for outdoor use. This means that it should be quite strong in the materials. That way you avoid dirt and grime in the toy, which can make it not work. In addition, it should be able to withstand a good water and moistureas the toy will inevitably be exposed to this outside. Outdoor toys are often stored in boxes or sheds in winter, where conditions are not necessarily dry. So choose toys with a good shelf life. Last but not least, it should of course be fun to play with outside, and lend itself to sjove outdoor games, for example like the pedal vehicles we have mentioned here.