Car track and toy cars - a popular Christmas and birthday gift
A car track and toy cars have for many years been a very popular gift for children. There are for many hours of play. and children can collect several toy cars.
There are really many car tracks to choose from, and the same goes for toy cars. On this page, we have taken a look at some of the many different types of car tracks and toy cars.
Toy cars, car tracks and car garages
If you're looking for toy cars or a fun car track for kids, you've come to the right place. Here we've taken a look at what you can get for your money. We look at the expensive toy cars like Bruder, but also highlight super cheap options like a car track made out of tape!
See more about all this further down in the text
Car carpet
Car lane tape
Car track for small children
Car track for big kids
No car track without toy cars. We therefore also get into some toy cars. Among them
Small toy cars
Toy cars in metal
Cars toy cars (the popular movie)
Remote controlled toy cars
Garage for toy cars
Wooden toy cars - best toy cars for the little ones
These little wooden toy cars are really good for the little ones. They are not so heavy and therefore easy to handle. The cars are made of wood, which is a natural material. They are sold at Sundleg, which only chooses toys without boring chemicals and other things you don't want to find in toys for little ones. Therefore, you can let your paw play with these cute cars with a clear conscience.
Small wooden toy cars - only 59 kr.
Cute toy cars in beautiful natural colours.The cars have four wheels so they can easily roll. The cars have no loose small parts. They have a hole in them which works perfectly as a handle for little hands. These cars for kids are definitely one of the most cute and beautiful toys for the little ones.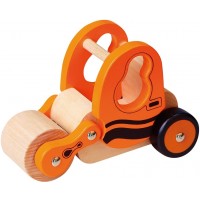 Orange Road Roller
A really nice wooden toy car, from the brand Viga. The drum can be used to smooth asphalt, and is perfect for road work. The car is very light, and easy for the little ones to handle and move around. This wooden toy car is really good quality and can last for many hours of play. It can also easily withstand a little throwing. See also all the other toy cars from Viga by clicking on the button.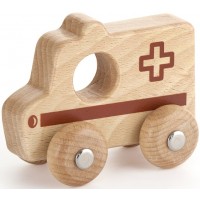 Ambulance - wooden toy car
Another nice toy car in beautiful natural colours. The ambulance is flat and has soft, round shapes. It's perfect for little ones who still put everything in their mouth or hammer it into things (sometimes even their own head). Simple and beautiful in design, this is a super quality toy.
Car Track Tape - make your own car track without tipping over it!
I think we all know the problem of children's toys taking up more and more space in the home. The worst is when you trip over it, or stub your toe on a train - a car track, for example. Luckily, there's a solution to how you can easily make a car track that you can't trip over at all. That's right, car lane tape!
Donkey Floor Tape - make a car lane on the floor
It hardly gets any easier. Put this speech on the floor, and presto, you have a smart car track. The tape is just like painter's tape, only a little wider. The car lane has crosswalks and pedestrian crossings. To make the car lane a little more fun, you can add signs and, of course, lots of cars. A single car is included in the package.
Car lane tape is a very space-saving way to have a car lane. The tape is easy to remove again.
Car carpet
If junior needs a blanket in his room, and would also like a car track - why not kill two birds with one stone and buy a blanket with a car track on it?
A car track carpet is a great invention as all kinds of toy cars can run on it. At the same time, it is possible to have a larger car track this way, as it does not take up much space.
Beautiful carpet
A nice carpet with a car track on it. The car lane has a long road, roundabout, pedestrian crossing and a car park. The carpet is great as a decoration in the room and it is fun to drive with the cars on the carpet. Price: 599,95.

Playmat with pictures
There are several variants of car track carpets. This car track carpet is one of the more colorful carpets that will definitely be fun to play on. The carpet has many fltote and fun details. On the carpet there are pictures of houses, lakes and other details that make playing more fun.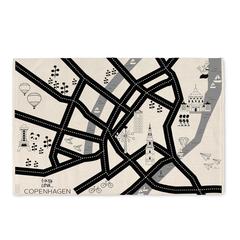 Playmat with roads
Another car mat in a more neutral design. It can be used in the children's room, also when the children grow up. The carpet has drawings of other things on it, which makes it fun to drive around the landscape.
Bruder toy cars - the best cars for children over 3 years
Bruder toy cars are cars of really good quality. The cars are very realistic in their expression, and are therefore very popular with children who have a love for cars.
The toy cars are great for use in the sandbox, or in the children's room.

Toy fire engine with light and sound
Very nice, red fire truck from the popular brand Bruder cars. The fire truck can say like a real siren, which is the sound children know from the street and play. The style can be folded out so that all fires can be extinguished. The fire truck can even spray with water! A really nice Christmas or birthday present for children. 639, 95 kr.

Green tractor with barn
Another of the very nice toy cars from Bruder. . The tractor has many functions. These include a front loader with "arm" and a grab that can be tipped, sunroof that can be opened in the roof and a trailer with tip load and with adjustable sides so that it can be driven with a high load. A very nice toy that can be used for play as well as decoration.
Cars toy cars
Since the popular movie Cars was released in 2006, it has been very popular. Because the film is so popular, a lot of toys have been made with the cars from the film Cars.
Here we have collected some of the cute toy cars made after the movie Cars.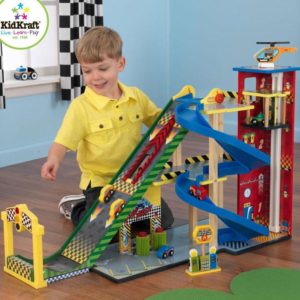 1
Spiral ramp, where cars can hurtle quickly downwards
2
Steep car ramp where cars really get going. Perfect for racing
3
5 vehicles included for the car ramp
4
The cars fly fast over the ramp
Fantastic big car ramp with 5 toy cars. Hover over the bumps to see the cool features.
Giant car frame from Kidkraft - favourite place for all toy cars
Remote controlled toy cars
Remote controlled toy cars are something that can go a long way. It is especially good toy for the slightly older children who have the skills to control the car. Remote controlled toy cars are suitable for children aged 5 and up.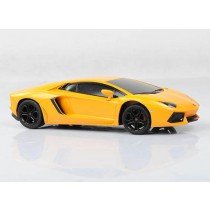 Remote controlled Lamborghini
What's cooler than your very own remote-controlled Lamborghini? This remote control car for kids is super cool and there will definitely be racing around the house with this top model. The car can drive forwards, backwards, left and right. The car has lights in the headlights. Battery for the remote control: 2 x AA battery (not included) and Battery for the remote controlled car: 3 x AA battery (not included).
Car size: 20 x 9,5 x 5 cm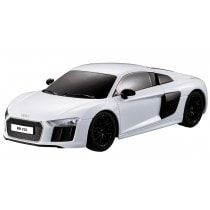 Remote controlled toy car - Audu R8
Another really nice remote controlled toy car for only 249 kr. This is the fashion Audi R8 - a super nice car that can race across the floor. It can drive forwards, backwards and turn to either side. The car has an independent suspension system, which means it can drive over small bumps. It is made with official license from Audi!
Remote controlled car size: 18,4 x 8,5 x 5,3 cm. Car and remote control use a total of 5 x AA batteries (to be purchased separately)
Why do children love to play with car tracks and toy cars?
For many generations, toy cars have been one of the most popular toys. You could almost say that a toy car is a small symbol of childhood. There are several things about playing with car tracks and toy cars that make children love it.
Firstly, children can recognise the cars from their own lives. They drive cars themselves with their mum and dad, and see cars on the road. The joy of recognition is great for children, and a fire engine or truck in the toy collection is therefore almost always a big success.
A car track provides the fun framework for play, while still allowing plenty of opportunity to be creative and use your imagination. It's healthy for children to make up their own rules for play, and playing with cars on a car track gives them plenty of opportunity to do so. Cars can race, drive slowly, drive to school or nursery, or all sorts of other things that children know from their own everyday lives.
Are toy cars and car tracks for boys or girls?
Both boys and girls play with cars!
Many see cars as the classic toy. And many boys have a large collection of cars in their room. But as the difference between women's and men's roles in the home and the workplace evens out, there is now nothing unusual about a girl playing with cars. The same is true, of course, with boys and dolls. Children play with toys in their own creative way.
Electric cars - for the little speedster
If your child just loves cars and speed, consider an electric car. It's a great way to get around quickly.
Golf with good engine and traction
Retailer: Only4kids
12V motor
Price 1.649 kr.
Very nice electric car, suitable for children over 3 years.There is plenty of opportunity for play and fun with this electric car. It can play music from the stereo! Because the car is made of sturdy quality, it can easily whizz across grass and dirt.
It has traction on both rear wheels. In addition, there is a built-in battery indicator.
Remember... Consider before buying an electric car
The most common prices for electric cars are somewhere between DKK 2-3,000. Therefore, it is a good idea to consider some things carefully before buying, as it is a major investment.
Is your child over 3 years old?
The vast majority of electric cars contain small parts and are therefore not recommended for children under 3. In addition, a child over 3 years old can better handle the car and has the motor skills to steer it.
Does your child love speed?
If you have a child who is just getting the hang of things, be prepared to help your child get started with the electric car. Don't be disappointed if your child isn't super excited about their electric car to begin with. Give it time. If you have a little speedster, then an electric car might be the perfect gift.
Do you have a garden or other private area to drive in?
Electric cars may only be used in private areas. Junior is therefore not allowed to use his electric car as a means of transport to and from kindergarten or school. So if you don't have a garden yourself, ask friends or family to allow the electric car to drive in their garden.
Will there be room for one or two children in the car?
If your little brother or sister would like to come along too, a car with two seats might be a good idea. Check this in the description.
Choose the best toys - use our great guide!
If, like many others, you're not sure which toy is best for your child or grandchild's age, check out our big toy guide. Here we look at which toys children learn the most from 0 - 10 years.