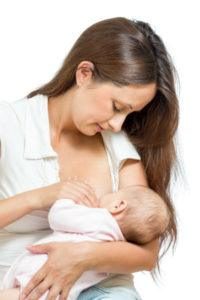 Wool nursing pads are really smart as the wool keeps the breast warm, thus preventing breast inflammation. At the same time, wool is a natural material that feels good against the skin. In addition, a wool breast pad can be used throughout the breastfeeding period, which is very environmentally friendly.
However, there are several types of wool nursing pads, and here we have taken a look at the different versions and prices of wool nursing pads.
Find the right nursing pad for you
Almost no two mothers have the same needs or desires for their nursing inserts. Fortunately, there are many to choose from. In addition to wool, there are also cotton or disposable nursing pads. Which kind is best for you depends on your preferences and, of course, how much milk leaks from the breast.
Good breast pads are essential as they keep the breast dry and warm, preventing breast inflammation and general discomfort. Nursing pads are one of the breastfeeding accessories that are good to have bought before birth. Suddenly milk is flowing and it's nice to have breast pads ready.
Best wool nursing pads from Joha

These delicious Nursing pads in wool from Joha, are probably the most popular wool nursing pads. They are thin and comfortable to wear. The wool warms well, but without being too much. At the same time, it can absorb a lot of moisture. Be aware, however, that they are not waterproof, so if you do a lot of napping, a disposable soother inside is best.
The advantage is also that it is more economical and environmentally friendly to use the same nursing inserts all the time. Wool nursing pads are easily rinsed by hand and left on the heater to dry the next day.
Nursing pads in wool from Joha: Soft Wool
These wool nursing pads are slightly thicker than the ones mentioned above, and are the so-called "soft wool". They are incredibly soft. Because they are extra thick, they are well suited for winter use. Wool nursing pads are brilliant if you've suffered from mastitis, as the wool keeps your breast warm and dry. These wool nursing inserts are seen at Babygear.
Nursing pads in wool / silk from ImseVimse
Wool/silk is very soft and delicious. It feels a bit thinner and more exclusive than pure wool, but still has the same delicious properties. These nursing pads let the skin breathe, and help prevent clogged mammary glands. At the same time, the soft material feels very comfortable against the skin. Especially at the beginning of breastfeeding, the nipples hurt and the skin can feel sore. That's when comfortable nursing pads like these are worth their weight in gold. They are from the ImseVimse brand, which also makes a cotton version. See more here.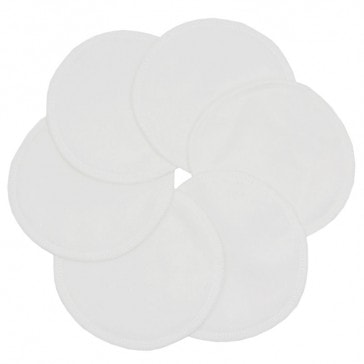 Disposable inserts - the smart solution

Disposable liners are the most practical if there is a lot of milk coming from the breast. You put them in your nursing bra and throw them out when they feel wet. This will typically be 1-2 times a day, but it varies greatly from woman to woman. The great thing about disposable sanitary pads is that the milk can't leak through. They can be bought cheaply online, for example from Babygear, but otherwise available in grocery stores.
Why should I use a nursing pad?

A nursing insert is an insert that is placed between your breast and your bra or shirt when you are breastfeeding. It is available both as a disposable insert and as a reusable insert. The reusable ones are usually made of wool or silk, for the best comfort for your breast. The nursing pad is used when breastfeeding to make sure you don't get milk stains on your clothes and wet and irritable nipples. Especially in the beginning of your breastfeeding, your breasts will release milk between feedings, they do this because you overproduce milk before you know your baby's feeding rhythm. A reusable wool nursing pad will ensure that you avoid a lot of laundry, and uncomfortable episodes of sore nipples.  
Keep warm with a wool nursing pad
A wool nursing cover will not only help you keep your clothes milk-free, it will also help you keep warm around your nipples. The warmth is important for your breasts as it helps stimulate milk production, and a warm wool nursing pad also reduces the chance of getting breast infections, or clotted milk that will bother you and breastfeeding. A wool nursing cover can absorb a lot of milk compared to other models, ensuring a longer period of dry and comfortable breasts. Wool nursing pads are recommended by both maternity nurses and midwives, as their warming properties are clearly recommended in a nursing pad, along with their absorbent properties.  
How to use a nursing insert?

 
Nursing pads come in many different shapes, but are usually a round or oval shape that fits between the breast and the bra or sweater. During the day or night, the nursing cover will absorb the milk it leaks and can then be changed as needed. Although the nursing pads are made of wool, they can usually be washed in the washing machine and are therefore easy to get clean and ready for use again.  
Breast care kit - smart starter kit for good breastfeeding

Breastfeeding is hard work and it's easy to get sore nipples and maybe even sores or cracks.With this breast care kit you get what you need to relieve sore breasts, or prevent sores and other discomfort. The set includes 2 daytime and 6 nighttime breast pads.
The set also includes 2 thermal pads to keep your chest warm and help prevent chest infections. The warmth also helps the milk to flow more easily. In addition, you get an indispensable nipple cream that heals and prevents sores and sore nipples.
You also get a nice, handy bra clip that attaches to the bra on the side you'll be nursing on next. It's important to breastfeed on both sides and to empty your breast completely. The clamp helps your breastfeeding brain to keep track. Buy breast care set
3 things you can't do without when breastfeeding
Breastfeeding is certainly hard work, but still a great desire and need for most mothers. Breastfeeding is healthy for both mother and baby, so you should prepare yourself as well as possible.
1. Lanolin cream - prevent and relieve wounds
A lanolin cream or nipple cream is indispensable for sore nipples. It's really useful right from the start, so pack it in your bag for the hospital.
2. Drinking bottle - you need to drink plenty when breastfeeding
Breastfeeding makes you very thirsty and your body needs litres of water every day to produce milk. For some people, it feels like a spoonful of sand is put in your mouth every time you feed your baby. It is not uncommon for breastfeeding mothers to drink up to 4-5 litres of water a day. You may also want to fit a cup holder to your pushchair so you always have your drinking bottle to hand. See different cup holders here.
3. Easy and healthy snacks - quick calories
When you are breastfeeding, you need about 500 kcal more than normal. This is because your body needs lots of energy to produce milk for your baby.
It is therefore a good idea to stock up on easy and healthy snacks, such as protein bars or other types of bars. With a newborn on your arm, it's not always easy to find time to whip up a meal, so find some easy, healthy snacks that you can easily take on the go.