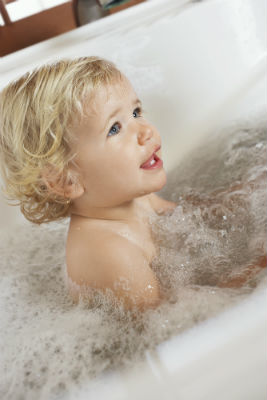 Bath toys for kids, make bathing a breeze! When kids go to the bath, it's just a little more fun if there are some great toys to play with. Many children don't necessarily like being in the bath, let alone having their hair washed. Luckily, the best bath toys for kids can make bath time a lot more fun. On this page, we have tried to give you an overview of what bath toys for children there are to choose from and what you should be aware of when buying bath toys.
Scroll down to see the best bath toys for babies and the best bath toys for children
Bath toys for the little ones: bath toys for baby
The smallest babies cannot yet sit in the water themselves, but must either be held or lie in a bath chair. That's why they don't need many bath toys, other than what floats around them. The bath toys in bright colours catch baby's attention and make bath time an exciting sensory experience. With the right bath toys for baby, you can count on him needing a good nap after his bath. 🙂
Rattle for the bath: bath toys that can rattle
Good swimwear for the little ones could be, for example, this cute rattle with a green animal on it. The rattle is super easy for little fingers to grasp, and it even makes sounds when you shake it. The rattle is made of quick-drying material and is seen at Children in Balance. Buy bath toys here
Liquid fish 59 kr. 
One of these colourful, floating fish is a great bath toy for a baby. The fish is easy to grab and has big eyes. The fish has weight at the bottom so it swims upright in the water, just like a real fish. See more about the fun floating fish here. 
Sophie Giraph bath toy
Sophie Giraph toys have become known and popular all over the world. It is made of the softest natural rubber, completely free of harmful chemicals. Sophie Giraph has also developed this cute giraffe bath toy, which floats on top of the water. You can safely let your baby chew on this bath toy. Set at Sundleg for 179 kr. - Go to retailer here
Bath duck from Hevea - Natural rubber
This cute bath duck is one of the latest bath toys for children, made of natural rubber. It's completely additive-free, and made from only one natural material. Nothing happens by sucking on this bath duck. The bath toy floats on top of the water and has no place for water to accumulate. The bath toy is seen at Babygear - see more here.
Fun bath toys for 1- 3 year olds
When children are 1-3 years old and have started nursery or kindergarten, the need to take a bath undeniably increases. When the little ones come home, there's sand in their hair and mud on their legs. With some really fun bath toys, it becomes a lot easier to lure children into the bath - sometimes daily. Here we've rounded up the best bath toys for kids aged 1-3.
Bath Blocks - stick together when wet
BathBlock are fun bath toys for children, and the blocks stimulate the imagination and provide countless opportunities for play. The blocks stick together when they get wet, and can mostly also be stuck to the damp tiled wall in the bathroom. They are almost like magnets when they get into water. All in all, a great bath toy for kids. See more editions and buy here
Draught animals
These little animals are the cutest bath toys. You can pull them up so they swim quickly through the water and splash. Once kids figure out how to pull them up, they'll be swimming for the gold. Buy the draught animals here. 
Bathing Suit
Here's the perfect bath toy for the child who loves her dolls. This doll is made especially to go in the bath. It dries super fast and has no holes or anything where water can hide. The doll is a good size to take to the bath as it doesn't take up too much space. Buy the swimsuit here
Sailing boat - sustainable wooden beach toy
Children's bath toys don't have to be plastic. Plantoys has made a range of really nice wooden boats that work perfectly as bath toys for 1 year +. The boat can float on top of the water and the size is perfect for a little hand. Plantoys bath toys have undergone a sustainable production process that causes as little damage as possible to the environment. You can choose between several versions of Plantoys bath toys for children here
Natural rubber bath toy - fine little hedgehog 
If you are looking for natural rubber bath toys for children, Sundleg has several to choose from. This cute hedgehog is 100 % natural rubber, making it a great bath toy for both big and small. This hedgehog swing is both organic, handmade, sustainable, and so is of course completely free of chemicals and harmful substances. You can buy this bath toy for children with a clear conscience. See more here. 
Fishing pole and animals that can spray
This children's bath toy is especially good for children aged 2 and up. Catching the little animals with the fishing rod challenges their motor skills, and it's even more fun when the little animals can splash with water. This fun bath toy is sold at babygear - go to store
Bath toys that really make bath time fun!
Once in a while it's fun when something a little different happens in the bath. With bath toys for kids that are a little out of the ordinary, bath time can be a really fun sensory experience that kids and adults can enjoy.
Bath water colour
This fun bath toy colours the water yellow, blue or red! The 39 DKK package contains all three colours. When the bath water colour gets into the water, it starts to sizzle and bubble, slowly colouring the water. And don't worry...it won't colour your skin. 🙂 The bath water color is seen here 
Soap with colour - award winning soap without parabens
This soap is a little more fun than a traditional soap. It colours your skin when you wash. This bath toy makes bath time a little more fun, and kids love to dye themselves. The colour doesn't stick to the skin and it's dermatologically tested. Buy the colour soap at Babygear - go to store
https://startpakke.com/wp-content/uploads/2017/03/logo.jpg
0
0
Maria
https://startpakke.com/wp-content/uploads/2017/03/logo.jpg
Maria
2017-08-16 13:10:16
2017-11-16 08:46:14
Bath toys for children - Go happy in the bath