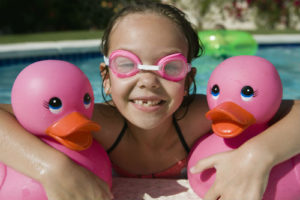 A fun beach animal for children is a great idea to bring to the beach. It's both fun to have around as a toy, but also acts as a practical safety measure for children when they're in the water. It helps them stay afloat and makes it easier to keep an eye on them in the water.
Read about alternative or complement to the bathing animal such as the smart SwimFin for children
What you should consider before buying a bath animal for children
Before you decide which bath animal to buy for your child, there are several things you should take into consideration. The size of the bath is probably the most important. A large bath animal seems like a fun idea, and will definitely be a hit to play with, for several children at once. But remember that a big bath animal also needs to be inflated, and that can take time. For really big bath animals, you may need a pump. A small bathing animal is quick and easy to inflate, but may not offer the same opportunities for play.
A bath ring - for both adults and children
A bath ring is also a good option, as its function is similar to that of a bath animal. A bathing ring is - as the word suggests - simply a ring that you can put around your waist when you go swimming. This allows you to splash around with your feet, while being held up by the bathing ring. A bathing ring is a more versatile solution that also appeals to slightly older children or adults. Bath rings are available in many sizes.
When buying a bath animal, it is a good idea to read the product description and check that the bath animal is free of phthalates and other undesirable substances.
The best bathing animal or bathing ring for your child or you
Bathing animals come in a wide range of colours and fun designs. It's a good idea to consult your child to make sure you find the best bath toy for them. If you're buying a bath ring for yourself, check the size before you buy to make sure it's big enough for adults.
Cute bath duck - bath animal and bath ring in one
A bathing animal is an obvious choice for a trip to the beach. It's fun to take into the water because you can lie on top of it and float around. At the same time, it provides good, practical safety for children when they are swimming, as a bathing animal makes it easier to feel safe in the water. A bathing animal is both playful and practical. This one is as fun, as it is shaped like a cute bath duck.It has an opening so you don't have to put it over your head, but can just "squeeze" it on. It's both a bath animal and a bath ring in one. Seen at Lirumlarumleg.
Very large bathing animal - big enough for both adults and children!
If you want to create a little attention around yourself, unicorn beasts are a good choice. It's a bathing animal that you can take into the water and swim around on. It's very large and can easily fit an adult as shown in the picture, but can of course also be used by children. The bathing animal is very colourful and you probably need a pump to get air into it if you don't want to lose your breath completely. It is seen for 599,95 kr. here.
Big shark - a fun bathing animal with handles
This cool bathing animal inflates easily and your child has a great playmate for the pool or beach. This shark can be used for play or as a support if your child feels more secure with something to hold while playing in the water. The shark has a practical handle, which makes it easier to carry around the shark and have it with you in the water. Buy the shark or another bathing animal right here.
Beautiful pink bathing animal
Very nice bathing animal that the children can sit on and have fun when they are in the water. It should be a swan or a flamingo. The long neck acts as a handle for the child when he or she sits on the bath animal. Seen at Sundleg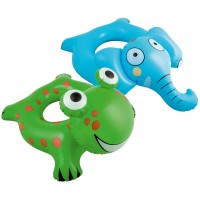 Bath rings for children - a frog or an elephant
Here is a fine bathing ring, which is also shaped like an animal. The bathing ring is practical for children as they can wear it around their waist and then hold themselves above the water and feel safe that way. The bathing animal is designed for children who will definitely find it funny that the bathing ring is shaped like an animal. Seen at Sundleg.
Bathing wings - when learning to swim
If your child is not yet comfortable swimming in the water, a pair of swim wings is a good investment. It helps your child stay upright and is a great support when learning to splash around in deeper water. They give the child a sense of security and extra support. The wings are ideal to use at home in the pool at home in the garden, or at the swimming pool, as a good support and a safe start. The wings can also be taken on holiday. You can buy the swim wings for less here. 
A beach animal is handy for the beach or pool
To make playing in the water really fun for children and adults, a fun bathing animal or bathing ring is a great way to go swimming when you're at the beach. A bathing suit also provides safety when the child is bathing, as it works well to hold on to and more easily stay afloat. In addition, it is easier for parents to keep an eye on their child at all times when they have a large bathing animal with them. A good tip is to tie a string in the bathing animal which also sticks to the child. This avoids the dangerous situation where a child chases its bathing animal out to sea and ends up getting too far out.
Bathing wings or life jacket as alternative or supplement
To keep children extra safe when swimming, you can buy a life jacket or wings, either as an alternative to the bathing suit or as a supplement if you want to take all your equipment to the beach. Of course, even if your child has the right swimming gear with them, it's still good to keep a constant eye on them. That's why it's also a good idea to buy a brightly coloured swimsuit or wings, so that children can be easily spotted among the many other bathers.