Baby's changing area is a place where you spend many hours together. Here you can find ideas and inspiration on how to create a safe and cosy changing area.
Playground furnishings should include: 
Click on the points to read more.
The changing table is placed on a changing table or changing commode. It is a piece of furniture with extra depth and width, so there is plenty of space to place both changing pad, nappies and wash basin.

Newborns have an average of 12 nappy changes a day. So create a good changing area that's cosy for baby and you.
Stable and good changing table!
Starpakke recommends this spacious baby changing unit from Florian. The price is 1.795 kr. Here you get a nice changing area with plenty of space. The stable changing table with plenty of space ensures that safety is top notch.
The changing table has a large spacious cupboard with storage space. There are also three open compartments for creams and other items.
The changing table has a wide changing space of 88 cm. With a regular changing pad of approximately 65 cm in width, it leaves plenty of space to place the washbasin.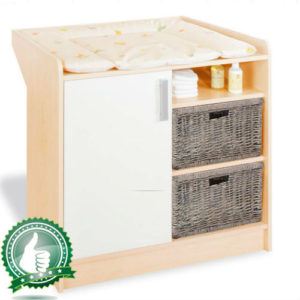 1795 kr.
The pushchair can carry the child up to 3 years. When the baby no longer needs the changing space, the changing table can be converted into a regular chest of drawers that fits neatly into the nursery.
Also available in white. There is a cot in the same style at My Own World.
See our reviews of other baby changing tables further down the article.
Playground equipment
Arrange the changing area so you have everything you need within easy reach. The changing table or chest should be stable and fit in with the decor of the nursery.
Tip: Buy a cot and changing table together and save - click here to see offers. 
Here we have compiled a complete list of everything you need to think about in your changing area. So you can focus on the birth and the time ahead with a newborn.
Playground furnishings should include: 
Baby's changing table is often placed in the nursery, bedroom or even has changing space in the bathroom.
The playground must be used immediately
Review your changing area layout before birth. Buy a changing table and have your changing area ready before baby arrives, as you will need to use it as soon as you get home from hospital.
Which changing table you choose depends on how much space it can take up and how much it can cost. If you have the space, you'll be happy with a changing area that has room for a washbasin, nappies and clothes. It's easy to have everything within easy reach.
5 tips for safety in the changing area
According to the National Board of Health, falls are the second most common accident involving children in the home. This is often due to a poorly designed changing area or lack of supervision at the changing area.

Choose a good and stable changing table. The best changing table has plenty of space so the baby is not too close to the edges.
Have everything you need within reach. The playground decor should contain everything you need. If the changing area is not in the bathroom, keep water in a basin next to it. It's a good idea to keep small items in a basket by the changing area.
Never leave your child alone in the changing area. If you have to leave the changing area, put your baby on the floor where it is safe. Never turn your back either. Babies can make sudden jerks and, in the worst case, fall from their changing position.
Choose a changing mat with high edges. En changing pad where the sides are higher than the middle, makes it harder for your child to tumble away.
Always keep an eye on your child. Your child is guaranteed to be faster than you think. If you need to reach for something or move your attention for a moment, always keep a hand on your child.
Sources: the Danish National Board of Health and the Children's Accident Fund. 
Puslebord
Here's a list of some popular changing tables and chests. It is important that baby's changing space is placed on a solid piece of furniture that is not unstable or wobbly. As babies get older, they lie more uneasily on their changing surface. So it's nice to have a durable changing surface.
How long should the baby be changed?
A changing table should be used for the first 3 years of your child's life. So buy a changing table in a design you won't get tired of looking at. You can get a changing table in girls' colours, boys' colours or a completely neutral one. The advantage of choosing a neutral changing table is that you will have a dresser that can be used in every room of the house.
If you choose a pink changing table, it will look great in a girl's room. Babies like colour, so many children find it fun if their changing table has colours or patterns. It makes changing room decor a little more fun.

Starpakke recommends!
We recommend this nice changing table from Florian. It costs 1.795 kr.
The changing table has a spacious cupboard and 3 shelves with storage space. On the shelves you have easy access to creams, baby nail scissors and whatever else you need. The changing table is wide enough to fit nappies, a washing tray and everything you need in your changing area.
In the picture, it is a very wide changing pad that takes up the entire changing space. Most changing mats are around 65 cm wide.
Take off the changing mat and turn the changing station into a regular piece of furniture when the baby is no longer being changed. The changing table is also available in white.
The chest measures: w 88 cm, d 78 and 47 cm, h 90 cm. The baskets are not included, but must be purchased separately. It is possible to buy the cot in the same style as the changing table.
Buy the changing table here at My Own World. 

Cuddly chest of drawers
A changing table has both changing space on top and typically 3-4 drawers underneath. This is extremely practical, as you get plenty of storage space in the drawers.
When you no longer need the changing table, you can usually convert the changing table into a regular chest of drawers.With a changing table, you therefore get two pieces of furniture in one.
A good solid changing table usually costs a little more than a changing table. That's because you get more storage space. There are drawers in a changing table where baby's clothes, bedding and towels can be stored. This is undoubtedly the biggest advantage of a changing table.
A changing table usually requires a little more space in the home. You therefore need to consider how much space you have for the changing area.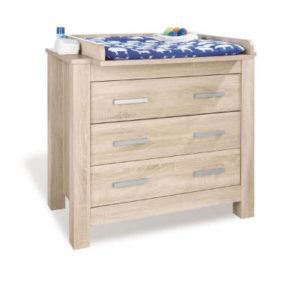 If you love romantic style and are expecting a baby girl, this changing table is perfect. It's pink and has the finest princess details. It's one of the best changing tables, and a great changing space. The quality is top notch, and if you buy the changing table from My Own Worldyou get a 10-year warranty.
With this changing table, your child will have a unique changing area.
It is possible to buy an entire furniture series in this style at My Own World. So you can decorate a real princess room.
The commode costs DKK 6,959 and can be purchased here. 
Shower in the bathroom
If you have space, it's nice to have a changing area in the bathroom. There's easy access to water, which you always need when changing a nappy. There's also a mirror that babies like to look in.
If you don't have room for a changing table in the bathroom, it doesn't have to be a problem. It's largely a matter of habit. If you don't have a changing area in the bathroom, you will need a basin that you can use to fetch water when it's time to change.
A wall-mounted changing area saves a lot of space and is practical for bathrooms where space is often at a premium. Another advantage of a wall-mounted changing table is that it doesn't cost that much. A wall-mounted changing area does not leave as much space for changing room furnishings. It can be nice to have an extra table available on the side if your changing area is wall-hung. 
If you have a wall-mounted changing station, the changing surface folds up when not in use. In the beginning, when changing a lot of nappies, it is a good idea to expect to have the tray turned down all the time. On average, a newborn uses 12 nappies a day, and many of them need to be changed at night.
Buy this model at Pixizoo 1.199 kr.
The wall-mounted changing unit can support a child up to 15 kg. A clever feature is that there is a damper on the closure so you don't wake the baby by folding up the changing table. There is a small shelf above the changing table with space for a few items.
Make sure you have a table or access to water close to the changing table.
Buy wall-mounted changing space here.

Cushion for changing area
The changing mat is an integral part of baby's changing area decor.
A changing mat differs from an ordinary pillow by having a recess where the baby lies. The baby does not roll away so easily when lying on the changing mat. The cushion is comfortable to lie on and looks great on the changing table.
Several cushions have a water-repellent surface, which makes them easy to wipe and maintain. The cushion keeps your baby comfortable and soft during nappy changes.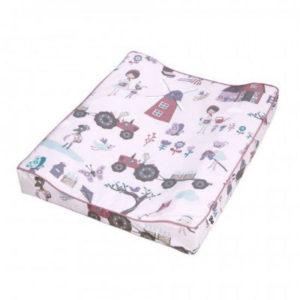 Cushions come in many colours and styles, so there's something for everyone. The cushion is part of the changing room decor, and the nursery in general, so think about what colours you want.
If you buy the changing mat before you know the gender of your child, you may want to find a changing mat in neutral colours. Then it will suit both sexes. However, there are clearly more changing mats on the market in either girls' or boys' colours.
A changing mat for the baby to watch while being changed. For the first few weeks, this is not necessary as baby will prefer to look at mum or dad anyway. When baby is 3-4 months old, a cradle in your changing area is worth its weight in gold. 
Especially at the age when the child has learned to turn around, a crib cradle is a good idea. At this age, most babies don't necessarily find lying still that exciting. And it's nice to have something to look at.
This cute slider from Kongens Sløjds is sure to grab and hold baby's attention. It also makes a great decoration in the nursery.
See more nappy changing cradles here.

Diaper
One thing that you will definitely and undoubtedly need at your changing station is: diapers! And lots of them.
Diapers are available in different sizes. Size 1 is the smallest, and is used by most newborns. No. 2 is slightly larger, etc.
Depending on the brand, they vary slightly in size and fit.
Libero nappies are slightly smaller in size, while nappies from Vores (the Fetex brand) are slightly larger.
Baby starter packs with nappies
To find out which nappy is best for your baby, download the many free baby starter packs. A baby starter pack often includes samples of nappies. For example, the baby starter pack from Rema 1000 contains a pack of their nappies.
Diaper pail and diaper bags
Used nappies should be easy to dispose of once you have changed your baby. There should be no need to walk away from your baby's changing table when disposing of nappies. Optimally, there is space for the diaper pail right next to your changing table or changing table chest.
Free diaper pail
In the starter pack from Babysam you get a free diaper pail, as well as refill bags. See all starter packs here.
The Babysam starter pack nappy bin is odourless and easy to put nappies in. It takes a little practice to change the bag, but it's pretty easy once you get the hang of it.
If you find the diaper pail too cumbersome, or you don't want to pay for refill bags, ordinary diaper bags can also be used. Buy them at your local supermarket. Around 300 bags cost around 30 DKK.

Sink
If you don't have a changing area in the bathroom from which you can reach the sink, use a wash basin.
In a head/tail dish there are two compartments: one for the head and one for the butt.
An ordinary small tray bought in the supermarket is also fine. Wash the dish regularly with soap and never use the water more than once.
Washcloths, towels and creams
Always keep clean washcloths and towels in your changing table. The storage space on the changing table and in the drawers quickly fills up with necessary items.
How to protect baby's delicate skin
For the first while, it's best to wash baby's delicate skin with soft foam cloths and clean water only. If possible, try to pat the skin rather than wipe it. Newborn skin is very delicate and quickly becomes red and irritated, which is obviously not comfortable for your baby.
Red bottom - what do I do?
If your bottom gets red, try a little zinc ointment or bepanthen. You get a free sample of both creams in the baby starter pack from Matas. To be extra gentle, wash your bottom for a while with cotton pads instead of foam cloths. You can buy them at Matas and all supermarkets.
It's a good idea to buy baby-only towels that are only used for nappy changes. Change them frequently and always wash them at 60 degrees. Coops have a great selection of inexpensive towels.
Cloth diapers
Cloth diapers are indispensable. They're used to put under the head if baby is yawning, or as a swaddle if it's very hot. They can be washed at 60 degrees and are soft and comfortable against baby's skin. Get 15-20 cloth nappies before baby arrives. They'll get used.
In the past, cloth nappies were always white, but now they come in many decorative patterns and colours. There's plenty of opportunity to find just the cloth nappies you like best.
https://startpakke.com/wp-content/uploads/2017/03/logo.jpg
0
0
Maria
https://startpakke.com/wp-content/uploads/2017/03/logo.jpg
Maria
2017-03-07 10:52:05
2017-08-22 11:36:17
Playground: decorate a cosy and safe playground