Lego Duplo Farm is a great toy for the little ones. The bricks are larger than traditional Lego, so they pose no choking hazard, and the size is perfect for little hands.
Lego Duplo appeals to children's imagination as they can build anything out of the bricks. The farm is filled with fun animals and farm accessories. The farm goes with all other Duplo products, so there's plenty of opportunity for creativity and fun with the bricks. If you would like more Duplo blocks to go with the farm, take a look further down the page.
When can children play with Lego Duplo?
The blocks are perfect for children aged 2 - 5 years.
The blocks are so big that they do not pose a choking hazard, so children can easily play with them before they are 2 years old as it says on the package.
For a 1 year old, it can be fun to put the blocks together and take them apart again. Around the age of 2, the child learns many more words, and has a handle on role-playing and different situations. At this age, Lego Duplo becomes a lot of fun to play with.
What you get when you buy Lego Duplo Farm
Price 549, 95 kr.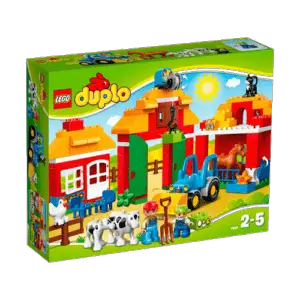 When you buy the farm you get 121 blocks. The child learns to construct and build
3 buildings
Fences
Mini Tractor
Animals
Minifigures
A lot of fun accessories
Lego Duplo tractor - perfect for the farm
There's plenty of opportunity to expand the farm with lots of vehicles and other fun things to make the farm fun to play with. Also included is a tipper that can be mounted on the back of the tractor, as well as a cow, shelter, hay rack and fence. There are 29 pieces in total.
Small tractor
This nice Duplo tractor comes with blocks with fruit on them, which can be transported back and forth on the tractor. A great addition if the big farm needs to be expanded.
The box contains 12 pieces, including 2 small figures.
Why Lego Duplo is a good toy
Lego stands for "Play Well", and that sums up the philosophy behind the popular bricks. The well-known brick was launched in 1958, and since then the range has grown and grown.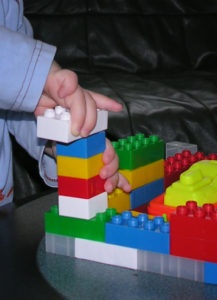 Lego Duplo is the same principle as the classic Lego brick, only bigger and therefore easier for little hands to handle.
But Duplo is not just blocks. You can find the fun Lego Duplo Farm, which includes both characters and animals, in addition to blocks to build the farm.
Follows the child's development
The genius of Lego is that it follows the child's development. The child can play with the blocks in the way that suits his/her stage of development.
Playing with the blocks is therefore fun for both a 2 year old and a 4 year old, as they simply play in different ways. There is no right or wrong way to play with the blocks.
Setting the imagination free
You can build anything you want with Lego bricks. It could be a tall tower or a house. The bricks can also be sorted into colours and shapes or used to learn and count. The possibilities are endless, which is perhaps why Lego bricks have twice been nominated for toy of the century.
Strengthens finmotirikken
Putting the blocks together, taking them apart, building high or long - all strengthen your child's fine motor skills and help her understand relationships. As she practices, she'll only get better at building with the blocks, making play even more fun.
The perfect gift
If you're considering Duplo as a birthday or Christmas present but aren't sure, you should check out our Ultimate Toy Guide.
Here you will find lots of suggestions for toys for children aged 0-10 years.
https://startpakke.com/wp-content/uploads/2017/03/logo.jpg
0
0
Maria
https://startpakke.com/wp-content/uploads/2017/03/logo.jpg
Maria
2017-07-13 10:19:49
2017-08-23 12:30:03
LEGO Duplo Farm | Hours of fun with LEGO Duplo Farm!