Finger gloves for children are especially handy during the transition period. Small finger gloves are not as bulky as mittens, making them great to wear in autumn and spring. They are also handy for short trips or to and from the car.
Here we have taken a look at different finger gloves for children. If you're not sure which one to choose, read the next section before you decide.
Choice of finger gloves for children
Read here about choosing finger gloves for children
Age - how old should you be for finger gloves?
For children under 2 years, mittens will almost always be a better choice than finger gloves. This is because finger gloves can be incredibly difficult to get on little fingers. But from around nursery age, finger gloves are often a good idea and the child can quickly learn to put them on themselves.
Type of glove
Please note that there are several different types of finger gloves for children. Some are so-called magic gloves. This means that they adapt to the child's fingers. This is often a good choice if you are looking for thin mittens. However, be aware that if the magic gloves are too big, they will not fit well.
Thick finger gloves with lining
The option of lined finger gloves is a great alternative or complement to mittens. They are good for transitional periods, but can also be used on mild winter days or as changing gloves.
Ski gloves - for the big kids
Ski gloves are thicker and are also waterproof. They are equipped with reflectors and rubber in the palm. They are indispensable for skiing, but also extremely practical for very active children who love to play outside in snow and cold weather. The thick ski gloves are best suited for children aged 10 and up, as well as adults.
Cheap finger gloves - buy several at once and save
In this pack you can save by buying several finger gloves at once. Unfortunately, children often end up losing their finger gloves. Either one or both. This is probably because the finger gloves are not that big, and easily fall out of a pocket or similar. This problem can be solved by buying five pairs at once! They are magic gloves that fit all children. The package can therefore be purchased if you have several children. Set at Babyshop for 129 kr.
Striped Reima finger gloves
Practical finger gloves from Reima made of 75% wool, 22% acrylic, 2% polyamide and 1% elastane. They are very breathable and are super practical because they are so light. Perfect finger gloves for the transition period. As the mittens are made of wool, it helps to regulate the baby's warmth. The Reima mittens are available in several stylish colours and sizes and cost DKK 149. at the retailer Babyshop here.
CeLaVi finger gloves for children
Lovely mittens from CeLaVi which are made of 70% wool, 20% nylon and 10% elastane, and therefore do not scratch. The mittens are on the thick side, but without being as warm as big mittens. The mittens are both nice and warm, and can give a lot in the fabric, but without stretching. The wool mittens have a rib edge at the wrist itself, which makes the mittens fit snugly without tightening on the child's wrist. CeLaVi wool mittens are available in a wide range of colours and sizes. The mittens cost just DKK 49 and can be purchased at dealer Babygear right here.
Cute mittens with pom pom
Cute mittens with a small detail on one hand. They fit well with a rib at the wrist. The three little pompoms give them a cute and feminine look. Seen at Babyshop.
Reima Tec gloves / thick finger gloves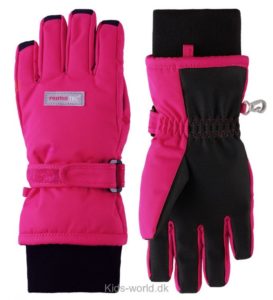 These finger gloves can also be called ski gloves or just gloves. They are from Reima Tec and have a column pressure of 12,000 mm, which is very high. The gloves are very suitable for skiing holidays or for the very active child. The gloves can be tightened with Velcro so they are snug. There are reinforcements on the inside of the entire hand and reflections on the back of the hand itself, which provide good visibility if the child is cycling. They are best suited to children of school age and above, as they quickly become too bulky for little ones. Available in several colours retailer Kids-World here.
Melton finger gloves
Smart and practical gloves from Melton in a nice quality and a design that fits most. The finger gloves are available in several colours and sizes to match your child's winter wardrobe. It is also possible to find mittens from Melton, which are also of a very good quality for the price. These gloves cost DKK 79.95 and you can find the full range of Melton gloves and mittens at retailer Kids-World here.
Finger gloves for children
When the weather changes and it's time for colder weather again, it's important to be prepared with good, dry and warm clothes for your child and that includes gloves. Finger gloves for children are an essential tool to keep your child warm and dry. Even though the weather offers cold and wet days, it shouldn't stop your child from having fun on the playground. That's why it's important to make sure you have the right clothing for your child.
Finger gloves or mittens?
There are different tools to keep little fingers warm and finger gloves for children are just one of them. In addition, you can also get mittens in delicious qualities, and mittens are also a good tool for small children including babies. Children's finger gloves are especially good for older children who are playing and doing all sorts of things in the playground. Children's finger gloves give children the opportunity to hold and grip things better, where gloves can be a bit more difficult.
That's why hats are great for small children, and especially for use in the pram.
Finger gloves for children in different versions
Just like for adults, finger gloves for children are available in different versions and with different warmth levels. Gloves for children should be adapted according to whether they are for the chilly days, or will be used for snow and sledding. Therefore, finger gloves for children are available in both thin and thick versions and have different levels of water repellency. You can get finger mitts for kids in thin knit form, which protects from the cold but at the same time is easy for the kids to move in. In addition, finger gloves for children are available in different colours and patterns. Thick mittens like slices are finger gloves that are great for snow and sledding, have a higher level of water repellency and keep fingers warm for longer than the thin knit gloves. Sliced mittens can be a little more difficult for the child to move in, but their function in keeping the fingers warm is on the other hand top notch and these mittens are in addition a lot more durable than the thin finger mittens.