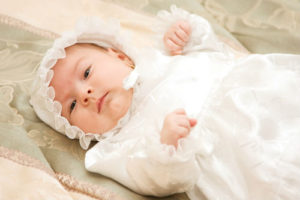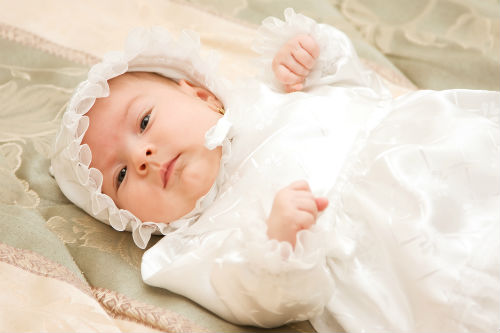 When the little one in your family or circle of friends is getting their name, you want to find a special gift that stands out from the usual events like birthday presents. The closest members of the family will usually go for a more personal gift, with the child's name and date of baptism engraved, for example. But it is possible to find a special gift without it necessarily being personal. We've put together 10 great ideas for christening or naming gifts, so you can find inspiration for just the right gift.
See the best christening gifts further down the page
We'll show you some of the best christening or naming party gift ideas, so you can find the perfect present for the new addition to your family or circle of friends. The 10 gift ideas we've chosen to showcase are all within different price ranges, so there's something to choose from for every budget. Read more here.
What to give as a christening present?
Buying a gift for a christening or naming party can be a very individual matter. You could say that on average a christening gift costs a little more than the traditional gift for a birthday, as it is a bigger event. But it also depends on the relationship with the baptised child. A gift for a christening will typically be between 300-500 DKK. However, gifts from close relations such as grandparents, godmothers/fathers and godparents will typically be slightly higher, as many times it is a more personal gift that is given by them, such as a piece of jewellery, a silver-plated shoe or a gift with an engraved name.
What exactly you have in mind when choosing a gift is also very individual. Many people follow the wish list of the baby, while others choose to find a gift on their own initiative. A christening gift does not have to be a personal gift, but it may be an idea to find a gift that you would be happy with if you had a new baby. If possible, choose a gift that the child can use over a long period of time, as the child takes many major developmental steps in the early years.
Get inspiration for your christening gift below. We've come up with 10 of the best gift ideas to pamper a little wonder. Check out the great gift ideas and find your nearest retailer under each link.
Kids Concept Playground Box
Super cool playpen shaped like a truck. It is made of lime wood, plywood and stainless steel with water-based paint. The truck has removable wheels on the truck itself and the load. The barn itself functions as a playpen with a removable lid. Included with the cradle are six blocks, each with a different colour and shape, which fit into a different hole in the truck bed. There is space in the cab of the truck to put small dolls or figures, so it can also be used as a regular car. Very functional and ideal as a christening gift for both sexes. The truck is available in both Light Blue and Pink.
What do you want to be when you grow up?
Nice book with 365 questions where you can ask your child a question every day of the year and follow your child's answer through 3 years. Fun idea as the answers will definitely be different from time to time. The book allows you to have a conversation with your child and just talk about the feelings and thoughts behind. The pages of the book are divided so that there is one day per page, with the question itself at the top. Then below, there is space to write three answers. Super ideal christening gift or gift for a naming party.
Kapok Junior duvet from Cocoon
Super nice junior duvet with 100% natural and organic kapok fibres. The duvet measures 100 x 140 cm. It can be washed at 60 degrees and tumble dried at max 40 degrees. The duvet filling of kapok fibres is insulating, temperature regulating, anti-bacterial, hypoallergenic, breathable, moisture wicking and then it is 100% organic and sustainable with pure natural fibres. The duvet is a year-round duvet and can therefore be used all year round. This is definitely the best duvet you can find for your little loved ones. There are also baby duvets, pillows and junior duvets available in 100 x 130 cm.
BRIO Stroller
Classic stroller ideal for the child who is learning to walk. The walker has lacquered metal handles and an adjustable brake to adapt to the child's speed. The stroller has space for your favourite toys to be carried around. A pushchair is especially good for stimulating gross motor skills and the sense of balance. Super nice gift idea so the cart can be ready for the child has taken his first steps. The BRIO walker is available in black and red.
Bobbles - Fun motor toys
Bobbles are brilliant tumbling toys for children of all ages. This hedgehog from Bobles has a sound box, so funny rumbling sounds are made when the hedgehog is activated by movement. Twirl the hedgehog back and forth or tip it over when it stands up. For example, your child can lie on their tummy on top of the hedgehog and roll back and forth or get a good massage on their back. This hedgehog helps to stimulate the child's sense of touch. All Bobles furniture is made of a strong EVA foam that is free of dangerous phthalates. This Bobles hedgehog is available in several colours.
Dining set for the very first meal
Here is a super nice dining set from Bloomingville made of bamboo and harvested with a sustainable method. The dining set has nice motifs with cute little animals and includes a space plate, a regular plate, a cup, a bowl, a spoon and a fork. The set is dishwasher safe. It is available in the colours Cream/Black, Cream/Pink and Cream/Light Blue. The dining set is an ideal christening gift, so that the child can be ready for the more solid food around the age of 6 months.
By folding high chair
Smart children's chair from By Klipklap in a nice grey colour. The chair is made of 100% Oekotex certified cold foam, which helps to give the child support and a good seating comfort. The chair is upholstered in a durable 100% polyester fabric that is also easy to maintain. The seat height is 14 cm, making it easy for the child to sit and stand up from the chair on their own. The chair has a smart little pocket on the side for storing a teddy bear or book, for example. The By Klipklap children's chair is available in many different colours and also in an XL version with a seat height of 23 cm.
Goose from MAGNI
Super cool walker/walker in a complete design. The walker is made of metal, but with seat and steering wheel in hard plastic. Rubber wheels are fitted so that the walker is easy on the floors at home, but it can also be used outdoors. The car is particularly good for challenging children's motor skills and stimulating their imagination and senses. The walker is recommended from the age of 1, when the child can sit stably on its own and has built up its balance. It is available in White and Black, but there are also other designs to choose from within the walkers.
Good classic children's books
Good books for sleep, fun song books for fun time or story books for learning. Books are a big gift hit for christenings or namings. There are many different books and they all contribute something to the child's learning and development. Here are two great ideas for brilliant books for the little ones.
"The Elephant Who Wanted to Sleep" is a bedtime book written by author and behavioural scientist Carl-Johan Forssén Ehrlin, who uses a very special way of telling the story to help children relax and hopefully fall asleep faster and stay asleep all night. In short, the story is about a baby elephant who takes the child on a sweet journey through a magical forest. The book has 32 pages and is recommended from around 2 years old.
"Halfdan's ABC" is a true classic written by Halfdan Rasmussen. It takes the child on a journey of rhyme and rhyme through the letters of the alphabet from A to Å. The book has fun illustrations and is truly a book that the child will love to be read to. It is simply a must in the bookshelf and a super nice christening gift.
Birthday train from KIDS by FRIIS
Very cute hand painted train made of ceramic. The train has motifs of H.C. Andersen leading the way, followed by carriages with Thumbelina, The Princess and the Pea, The Ugly Duckling and finally The Fire Eye. The train itself is put together with small chains and will decorate any birthday table. Two of the carriages can hold small candles and another carriage can hold the accompanying numbers from 0-9, depending on how old the child is. This is a brilliant christening gift, so the birthday train can be inaugurated for the very first birthday. There is also a version for girls and birthday trains in several other designs.