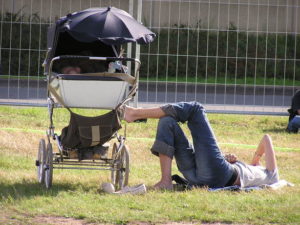 If you're looking for a cheap pushchair, there are plenty to choose from. Just because the pushchair is on a budget doesn't mean it's bad.
Scroll down and see where you can find a cheap pram for sale
It's no secret that there are many great-looking strollers that aren't among the cheapest. Before you make the big decision on which stroller is best, it's worth considering the cheap strollers. This is because there is no compromise on either safety or ease of use.
If you want to buy a good and new trolley for your baby, which is also a cheap stroller, it is recommended to take a closer look at Babytrold pram. Strollers and prams from this brand are not only tested and safety approved to the smallest detail, but it is also Danish design and quality. Babytrold pushchairs cost up to DKK 4,999.
If you're looking for an even cheaper pushchair, take a look at pushchairs and prams at Babysam. There are a number of cheap prams from different brands, including very compact and practical prams.
If you could consider a slightly more expensive but organic stroller, check out the range at Abeunger.
Here we've gathered some of the BEST and cheapest strollers you can buy online...!
What to consider before buying a pushchair
Fortunately, there are lots of pushchairs to choose from, especially if you also look online. Many baby shops sell nice and safety-approved ones, which are even sold at a lower price in the shops. Just because a pushchair is cheap doesn't mean it isn't good. That's why we've put together a selection of cheap pushchairs from various online retailers.
Before buying a stroller, it is important to consider the following:
Large capacity or combi?
Fixed wheels or castors?
Colour and design
Should the stroller be bought new or used?
See our picks for the best cheap strollers here ↓
Safe and durable Babytrold pushchair for 4.999 kr. Available at Coop
For under 5,000 you get a brand new pram here. The stroller is durable, stable and not least safe. You get a lot for your money. This cheap pram has a large 95 cm sleeping area. When you buy this pram you get a safe and good pram, which has passed all safety tests and has received good test results in safety, durability and ease of use. Included in the price is both a changing bag and a carrycot!
A great choice if you're looking for a cheap pushchair that you still want to buy new.
A popular and good value stroller with a nice design and large sleeping area.
If you choose a Trille pushchair, you really get a lot for your money. It's light and compact, and has lots of smart features. It is, of course, safety approved.
The pushchair has double supportive brakes, which ensure that it stays firmly on even uneven terrain, or in the bus. The large stroller body is supported with a solid frame, so durability is top notch. The height of the pushchair handle can be adjusted, as is known from more expensive pushchairs such as Emmaljunga. The sturdy shell is equipped with ventilation and a sun canopy. A wonderful stroller that can be used both in town and in the country.
Hauck 3-in-1 combi stroller
Cheap pram for only 3.499 kr. Incl. lift, stroller and baby car seat!
A super compact combi-vong with 3 wheels, which is really easy to get around with and fold up. If you're looking for a solution where you get an affordable stroller, pushchair and car seat, then the Hauck combi stroller is definitely worth a look. When baby is too big for the pushchair, it can easily be converted into a stroller. Due to the frame construction with three wheels, the stroller can easily turn 360 degrees. If your little one falls asleep in the car, there's no need to wake him or her. The car seat simply clicks onto the frame, so you can easily drive off with baby sitting safely in his car seat. The combination car is available from Coop.
Cheap pram and pushchair for DKK 3,999. Recommended by netsundhedsplejerske.dk!
Beautiful and user-friendly combi stroller with reversible seat, non-puncture wheels and 4 position settings. An affordable stroller recommended by onlinehealthcare.com for its practical details. Among other things, the reversible seat is a big advantage. For the little ones it is nice to turn with the front facing mom and dad, and in this way experience the world in a safe way. When the child grows up, the seat can simply be turned around. The stroller box is very light and practical, so this cheap stroller is easy to get around with. As it is a combi stroller, the carrycot does not have a large sleeping capacity. Included in the price are both the stroller part and the pram.
Stroller box for baby jogger
Beautiful pram with nice details. The price is 3.399 kr.
This stroller has reversible handlebars, which is a big advantage. Parents can then decide whether to turn the child one way or the other. The stroller has three reclining positions and can be fully reclined. Included in the price are both the lift and the stroller part. So you get both a stroller and a cheap pram in one. There is a spacious shopping basket underneath the stroller. The non-punctured wheels ride well in town as well as on rougher terrain. The total weight is 13 kg, which is at the light end. A good choice of cheap pushchair where you get a lot for your money. Shown here in a fresh red colour.
Smart and compact stroller box to be used with Casablanca Stroller for 2.499,95 kr.
The carrycot has a lying height of 81 cm. (inside), and it comes with a carrycot, cover and mattress! The price is 899, 95 kr.
Another smart solution for a cheap stroller. This pram box is from the brand Casablanca. Often the cheap prams like this are from a brand you haven't heard of before, but that certainly doesn't mean the brand isn't popular in other countries. This cheap pram is of excellent quality, and a good choice for a pram that doesn't take up a lot of space or cost a lot of money. The frame has swivel wheels, so it's easy to get around.
Organic stroller | Stroller Pro Koala
Available at Abeunger.
This pushchair is called Varius Pro, and is a lightweight pushchair that is very easy to get around with. It's great if you live in a big city, as it can turn around in almost no space. The two swivel front wheels are perfect for when you need to turn around inside a shop. However, if you need to walk on uneven surfaces, the wheels can also be locked. The pushchair has a fixed lift. Despite the pram's rather small size, it has a large sleeping area of 98 cm.
The uniqueness of this wagon is that it is free from harmful substances and that your baby can lie in a carriage made only with certified natural materials. All in all, a great stroller for the conscious parent!
All materials are 100% naturaleven:
organic cotton fabric from controlled organic cultivation (Global Organic Textile Standard - GOTS)
cork as thermal insulation at the seat and at the handlebars
wood at the reinforcements in the seat
coconutmattress for a healthy back
100% pure organic wool as filling material
How to find a cheap pram for sale
Advice to make a bargain and find a cheap stroller!
If you want one of the prams like Emmaljunga or Odder, which is not usually a cheap pram, here are some tips on where and how to get it. If you're willing to compromise on smaller details, it's possible to buy a nice pram on sale.
Buy a cheap stroller on sale

Look for discontinued models on sale at the end of the season
January and summer July/August are peak sales seasons in virtually all sectors. Both web shops and physical stores need to get rid of old models and clear out before receiving new goods.
It therefore pays to plan the purchase of a pushchair.
You might be lucky to get a cheap Emmaljunga pram for 6.000 kr. However, be aware that there aren't many colours to choose from, as shops often only have a few models marked down. Plus, of course, you have to be ready to pounce without too much thought. You can look for cheap prams on sale in the usual baby shops such as. Babysam or Ønskebørn.
Cheap, used pram
If you're open to buying your pushchair second-hand, there can be a REALLY big saving. Some people only use their pram for a few months before switching to a pushchair. Others have bought the wrong one and are selling the pushchair to buy a new one.
Check the different pages regularly to spot the good offers first.
Look for a used pram on these pages
Den Blå Avis (dba.dk)
Yellow and Free
Reshopper (an app)
Find a discontinued model
Sometimes there are a few models left from last year. They need to be sold to make room for the new ones. So if it's not important to you that your pushchair has the latest colour from this season, there can be some really good money to be made here.
Pixizoo sometimes buys up leftovers, which are sold at a cheap price.