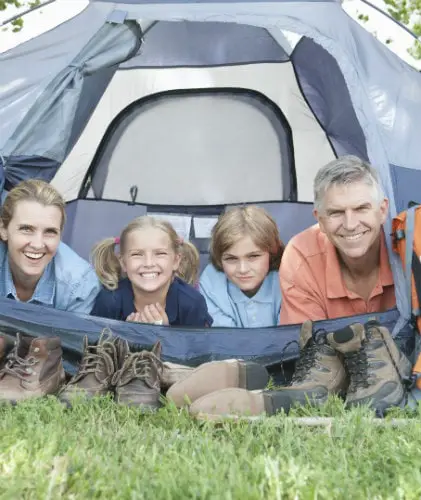 Play tents, or tipis as they are also known, have become very popular. They're great to have in a child's room, as they give them their own little space away from others. On this page, we've gathered the best play tents and tipis for kids, so hopefully you can find just the right one for your girl or boy.
Scroll down to see the best play tents and tipis for kids
Why play tents and teepees for children are so popular as gifts
When it comes to choosing just the right birthday or Christmas present for the little one, the choice often falls on a play tent or teepee for children. Most children love to be inside a cave, and perhaps especially if mum and dad can squeeze in too. It's a great place to read books and chat, but it can also be nice to retreat and be yourself if you need to. When choosing a play tent, or teepee, for children you need to consider how much space you have and what your requirements are for colour and design.
Indian types
Here is a tepee designed after a real Indian tepee. The opening can be closed with velcro and there is a window with a net in the side. The fabric itself is water-repellent, so this tipi can be used both indoors and outdoors. So the little Indians can really play in nature. There is a bottom in the tipi. The base has a diameter of 140 cm. Set at 449 kr. here 
Princess tent with insulated roof (keeps out the heat)
The princess can stay in this nice play tent. The tent is particularly suitable for outdoor use as the roof is insulated. This way, the play tent does not get too hot, which is a risk often associated with play tents for children. The tent is designed like a real princess castle. Available for DKK 399. here.
Ridderborg play tent for children (CE marked)
Let the kids play at being knights ruling the big castle with this great toy tent for kids. It's designed with a knight's castle with two windows and a door that can be opened and closed. The tent is suitable for both indoor and outdoor use as it has a base. It measures 105 x 105 x 125 cm. Set at DKK 299. here.
Cheap play tent for children - set at 199 kr.
Here is one of the cheap play tents for children. You can choose between princess - or pirate theme. The tents are easy to fold out and pack up again. Once folded you can store it in the included bag. The tent is one of the cheapest we've looked at, at just £199. It measures 1.4 m in height and 1.04 m in width. The tent can be purchased here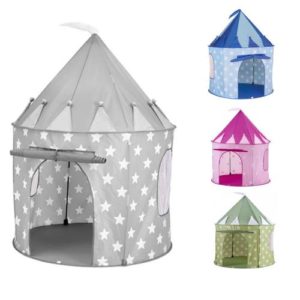 Children's play tent with stars - choose from 3 colours
Good and solid play tent with nice stars. Choose between grey, green, blue or pink. The play tent can be used both indoors and outdoors. Nice play tent for children, where there are for many hours of play and fun. The tent measures 100 cm in diameter and 130 cm in height. You can see more about the play tent right here
Teepee from Nununu
Super nice teepee made in made of pine and eco-Tex certified cotton. The bottom of the teepee is insulated, so the teepee is comfortable to sit in. The tepee takes up almost no space when folded. It is both really cosy and looks nice and decorative in the children's room. Set at lirumlarumleg for 999 kr. Buy it here

Dimensions: L 95 x W 95 x H 170
Nobodinoz tepee
Very nice teepee in black and white pattern. The tipi is assembled with solid wooden poles, and has an opening in the side. This tipi for children has no bottom, and is therefore not suitable for outdoor use in winter. On the other hand, it is super easy to assemble and fold. See more here
Nobodinoz teepee for children - night blue
Very nice teepee in blue fabric with stars - just like the sky. The teepee is made of sturdy 100% organic cotton, and has 4 sturdy wooden poles and an opening on one side. The tipi is big enough to fit several children at once. The teepee has nice details with stars on top. Set at 1.029 kr. Buy the tipi here

A toy tent that is a toy shop - a unique tent for children
This play tent for children is completely different from most other tents. It's made to look like a toy shop. The whole tent is hand-sewn and of incredibly good quality. The toyThe leather is made of a durable canvas, and incredibly stable. It is easily assembled with the included aluminium stand. The play tent comes with a leather bag, which it can be easily stored in when not in use. See more about the tent here.
Play tent - perfect for a cosy corner
Shaped like a house, this play tent is perfect for creating a cosy corner in either the children's room or the living room. The play tent is shaped like a real house, and is guaranteed to create the setting for many cosy hours. When it's summer, you can take the tent out into the garden where it can provide shade. Set at DKK 1,279.95 at Lirumlarumleg. See more here.
Penguin play tent - quick to pitch!
This fun penguin tent will be up and running in seconds. Just turn the handle and the tent is ready for play in no time. This play tent for kids is shaped like a cute penguin that kids are sure to love. The play tent has been tested to the highest safety standards and is recommended for ages 2 and up. Read more about the tent here.
Disney Frost play tent - a real princess castle
Do your kids love Frost too? Anna and Elsa have taken the world by storm, and now you can have their castle in your room! The play tent has towers and a door, and is filled with beautiful pictures. A perfect play tent for children who love to play princesses. Set for 366 DKK at Only4Kids. Go to dealer here
Gurli Gris play tent
Gurli the cute pig and her friends are much loved by many toddlers. This Gurli Pig play tent has great pictures on the side, and it looks just like the house Gurli Pig lives in. Flags hang in front of the door, which decorate well. A really cute play tent for children for 418 kr. Buy it here
Play tent with tunnel
One of the slightly different play tents for children, as there is also a fun tunnel to crawl through. This play tent is a bit more for wild romping than playing den. This tent is therefore good for children who love to play wildly and be challenged motorically. The play tent costs DKK 568. Buy the play tent here.
https://startpakke.com/wp-content/uploads/2017/03/logo.jpg
0
0
Maria
https://startpakke.com/wp-content/uploads/2017/03/logo.jpg
Maria
2017-08-28 09:03:57
2017-09-06 07:06:34
Best play tent and teepee for kids