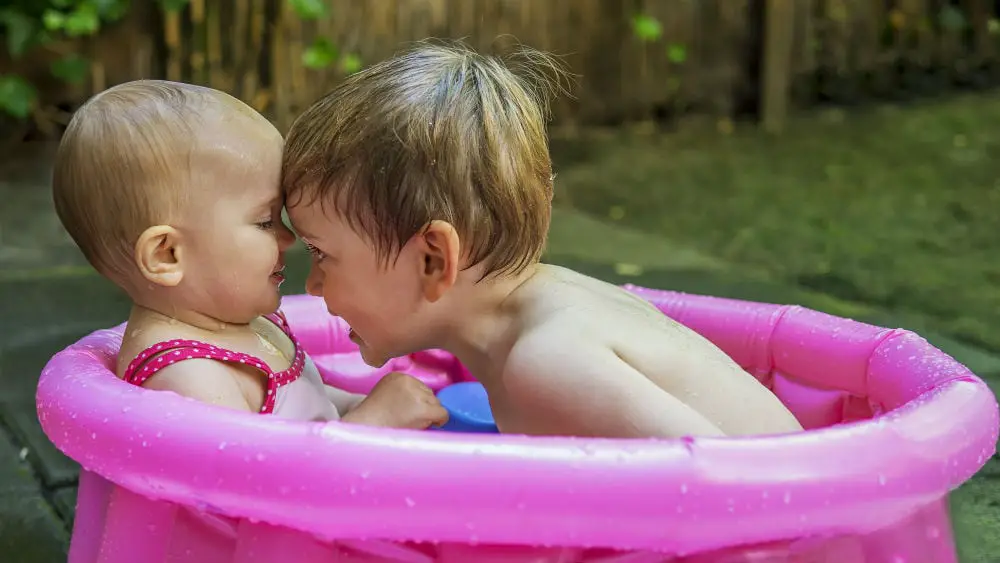 It's great for baby and younger children to have a small pool to play in and cool off on hot summer days. In this article you can read about tips for buying a pool, and at the bottom we've put together a top 10 list of really nice pools for babies and children.
Buying a baby bath for your children, or as some choose to call it, a paddling pool, doesn't require much preparation. If you're thinking of something a little bigger than just a small 50-150 litre baby pool, then you should probably read on, but otherwise you can actually jump down to our suggestions for baby pools at the bottom.
When swimming pools grow to a size of 5000 litres or more, there are some things you need to be aware of. Firstly, in terms of EU directives, if they are intended for children under the age of 3, they must be phthalate-free. Of course, this should also be the case for small pools, but as the larger pools are not necessarily targeted at children and babies under 3 years of age by the manufacturer, this is not always labelled. It is therefore a good idea to always check for phthalates in the pool before buying it. In general, it is a good idea to check whether there are phthalates in bath toys for young children.
For large pools, it is therefore a good idea to go for hard plastic pools. This can be, for example, those made of polyethylene. Besides avoiding silly substances like phthalates, you also get a product that has better durability and greater safety for younger children when you are out playing in the pool.
The smallest baby pools
It's quick fun for the little ones to get out and feel the water, and splash around a bit on a hot summer's day. If you have a little one you'd like to give this pleasure to, here are a few suggestions for some of the best baby pools. You can easily get a nice cheap bath for the little ones.
Cheap baby bath of 21 liters (from 0 years)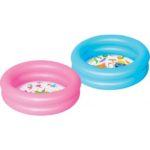 This small pond is a nice inexpensive solution. The pool is 61×15 cm in inflated size and holds 21 litres of water. You can get the pool in a blue and pink version respectively. A nice choice of pool for the little ones aged 0 to 1.5 years old. (Set at only 49 kr)
Baby pool that looks like a fish with inflatable floor (from 0 years)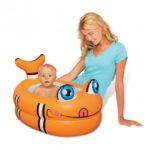 This is an obvious choice of pool for baby. It depicts a funny little fish but what makes it obvious is more so that it has an inflatable floor, which means baby doesn't sit directly on the ground, grass or tiles. The outer dimensions are slightly larger than the former, as it has a slightly larger inflatable section, and is 89x61x58 cm. (Set at 149 kr)
3-ring children's pool of 110 litres (recommended age from 2 years)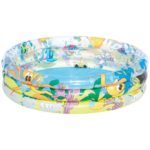 When your kids get a bit older, there'll be a bit more water to splash around in. This 110 litre pool is ideal for babies from around 2 years old. The pool is made of reinforced vinyl. (Set for only 139 kr)
317 litre round pool with sea creatures (recommended age from 3 years)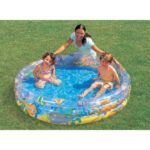 This round children's pool is just the thing on a hot day. It's big enough for more than one child to play in, and great for slightly older children too. The pool holds 317 litres of water and measures 152×30. With a good summer, many hours will be spent in the garden splashing around. (set at 179 kr)
Large children's pool of 937 litres (recommended age from 3 years)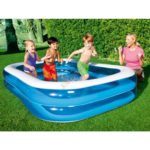 If you need extra space for the kids to play and splash around, here's a really nice pool in heavy-duty vinyl. The pool is big enough for your son and/or daughter to invite the neighbour's child over to play in the water. (set at 279 kr)
https://startpakke.com/wp-content/uploads/2017/04/badebassin-baby.jpg
563
1000
Start package
https://startpakke.com/wp-content/uploads/2017/03/logo.jpg
Start package
2017-04-03 12:07:11
2017-08-22 11:42:11
Swimming pool for baby and youngest children | Find the best swimming pools for the garden and hours of fun!