Here you will find a suggestion of four good Christmas gifts for children 2017. The month of December is a busy month for everyone, but especially for families with children. Not only do Christmas presents have to be bought for the family, but also Christmas presents. Christmas is certainly a wonderful time, but for many the busyness can also feel stressful, because after all there should also be time to have fun and relax. That's why we've put together 4 Christmas gifts in three different price ranges, so you can find the right Christmas gifts for children on this site. Advent presents are opened on Sunday and are something that children really look forward to. That's why they should be exciting gifts, but at the same time they should be a bit smaller than Christmas presents. Scroll down to see more about great advent gifts for kids 2017.
Good Christmas gifts for children 0 - 3 years: from budget to luxury
We've tried to make it easier and more manageable to find out what you can get for your money when it comes to Christmas presents for children. That's why we've come up with 3 solutions in different price ranges. You can easily find some nice and good Christmas presents for children without having to spend a fortune. In fact, you can settle for a total of DKK 129 for 4 great gifts. If you're in the mood for something a little bigger, you can take a look at the other two solutions we've come up with. You can find them by clicking on the links below. All gifts are suitable for children 0 - 3 years.
Good Christmas gifts for children on a budget.
Get all your Christmas presents done for under 600 DKK. 
Luxury gifts for children 0 - 3 years. Spoil the kids in the run up to Christmas
 
When is the 1st, 2nd, 3rd and 4th Sunday of Advent 2017?
As we all know, Advent gifts are to be given on the Sunday of the last four Sundays before Christmas Eve. The 4th Advent thus marks how close we are to Christmas Eve, and serves as a countdown to the cozy evening. Advent marks the last 4 Sundays before the birth of Jesus. If 24 December falls on a Sunday, this is the 4th Sunday of Advent. In 2017, Advent is distributed as follows:
1st Sunday in Advent = 3 December 2017
2nd Sunday in Advent = 10th December 2017
3rd Sunday in Advent = 17 December 2017
4th Sunday in Advent = 24 December 2017
Some choose to give the packages in the morning, and others in the evening. Either way, children are sure to be delighted with great Christmas gifts in December 2017. On the four Sundays of Advent leading up to Christmas, it is traditional to give children a present. When children get Advent gifts, they get 4 good Advent gifts for children which are usually slightly bigger gifts than if they had gotten calendar gifts. Calendar gifts are given every day from 1 December and then the 24 days up to Christmas. See 24 good calendar gifts for boy and 24 great calendar gifts for girl. 
Why we celebrate Advent
The 4 Sundays of Advent is a Christian tradition that has been here for many years. Today, Sundays are known for cosiness and the occasion for Advent gifts and lighting the first candle on the Advent wreath. Originally, Sundays were an opportunity to wait in silence for the celebration of Jesus' birth on 24 December. Today, however, Sundays are mostly used to light Christmas trees around Danish towns and cities, and generally to enjoy Christmas. The lighting of the Advent wreath originated in church activities to celebrate Advent, but Danes really embraced the tradition during the Occupation, when candles and lighting were given extra importance.
Source: Kristendom.dk
Four great advent gifts for children 0 - 3 years : PRICE 129 kr. in total!
↓ Good Advent Gifts on a Budget ↓
Here we have collected suggestions for 4 Christmas gifts for children 0 -3 years for only 129 DKK in total. They are all nice things in good quality, which are also useful in everyday life. All items can be bought at Sundleg, where they only sell healthy toys for children. Go to Sundleg here.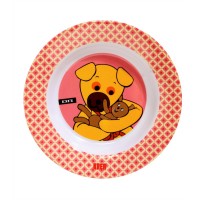 Deep plate with teddy bear
Super good and durable plate for children with a picture of the cute Bamse, known from DR. The plate is made by Krea, which is known for producing quality products. The plate is made of melamine, and can therefore withstand a little bit of everything. Also because it is quite strong in quality. It is of course without BPA and phalates. Price 59 kr. You can buy the sweet plate right here.
Teddy cup from Krea
Why not complement the plate with a cute cup to match? This nice cup, also from Krea, costs 45 kr. The cup is dishwasher safe, which makes everyday life easier for many families with children. Buy the cup at Sundleg right here.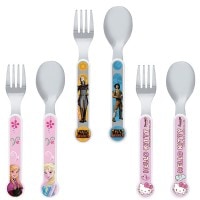 FREE children's cutlery (get the discount code when signing up for the newsletter)
You can get the cute children's cutlery at Sundleg.dk for 0 kr! Receive the gift code by email immediately after signing up for our newsletter. You get the cutlery in connection with your second purchase at Sundleg.dk. (No order size requirement). You sign up for the newsletter in the left menu.
Beautiful wooden play food 
All children love to imitate what adults do, and this is especially true when it comes to cooking. A good Christmas gift for children could therefore be some wooden play food. It can be used for the play kitchen, but can also be used if the children just have a toy pot. The apples shown here cost25 kr. Buy beautiful wooden play food here. 
---
Four great advent gifts for children 0 - 3 years - PRICE 560 kr!
↓ 4 gode adventssgavet til børn 0 - 3 år for under 600 kr. in total ↓
Good Advent gifts for children. All four Christmas gifts can be bought at Børnenes Kartel for less than DKK 600. Here are some great and useful gifts that will bring joy for a long time. Go to the Children's Cartel here.
Jelly cat rabbit - the softest teddy bear
These cute, soft bunnies have become many children's much-loved friends. It is one of the softest teddy bears available and comes in a variety of colours and sizes. A great size for little ones is this 31cm version for £179.95. The teddy bear is a great Christmas gift for children, because who can't always use an (extra) teddy bear? Buy the cute rabbit right here
Fun wooden speedboat - beach toy
Make tubbing more fun with this cute wooden speedboat. It floats on top of the water, so it's great fun for the kids to play with when they're in the bath. The speedboat is made from sustainable wood, which means you use the whole tree, including branches and roots, and then plant a new tree. All colours are fruit colour. The cute speedboat costs DKK 149.95, and can be purchased at Børnenes Kartel right here.
Apron for children
Christmas is a time for cooking. Food, confectionery and biscuits need to be made. It's a good time to let the kids in on the fun. With this apron, no clothes will get ruined because junior is helping to make pepernødder. Available in several colours. The apron is from Smallstuff and is filled with pictures of cute animals. Buy the apron here for DKK 149.95. 
Where's Mr. Lion? - Cute new children's book for the little ones
Very cute children's book for the youngest. The pages are made of strong cardboard so they won't crease. It's a titteø-bøh book, so children can really look for Mr Lion behind the flaps of felt. At the end of the book there is a mirror so the child can find himself. The book costs DKK 79.95 and can be purchased here. 
---
4 luxury Christmas gifts - Price 900 kr.
↓ Masser af luksus i disse adventsgaver til børn 0 - 3 år ↓
All four Advent gifts here are a little extra luxurious, and great suggestions if you're really in the mood to spoil junior this Christmas. The gifts are available at Lirumlarumleg.
Tea set in suitcase with wild animals
The set includes 4 cups, 4 saucers, a tray and a case to store everything in. A really cute set that will give rise to lots of cosiness and play inside during the winter. The test kit costs DKK 289.95 and can be purchased here. 
Lego Duplo Fire Truck
Very nice Duplo fire truck, especially good for children under 5 years. The fire truck has a crane, water hose, flame and a fireman. The whole set costs DKK 229.95, and in it you get 26 bricks and a fireman. The fire truck of course goes with all the other great toys from Duplo. Buy the beautiful fire truck right here.
Microphone with 8 melodies
Fun microphone with 8 tunes to choose from. The melodies can play fast or slow and the microphone amplifies your voice. A really fun toy that can be played for hours. A fun Advent gift for children under 3 years. This Advent gift costs DKK 229.95, and can be purchased right here.
Folder to store drawings
As soon as children learn to draw, it's usually always a big hit. And it only gets more fun when they can look at the drawings again and again. They can do that in this nice folder from Sebra, which has plenty of space to store their first drawings. The folder is A4 in size and comes in both boys' and girls' versions. The nice folder can be bought at Lirumlarumleg here. 
Advent gifts for children: How much should they cost?
Of course, there is no fixed limit to how much the children's Christmas gift should cost. Most parents buy Christmas presents in the 50 - 200 DKK price range. Not all Christmas presents need to be toys. A new hat or a nice blouse can also be a nice gift to get in the run-up to Christmas. No matter how much money you choose to spend on children's Christmas presents, the most important thing is to have fun with it.
How to choose the best Christmas gift for children
When choosing a Christmas gift for children, it is of course important that you first decide how much they should cost. There is a big difference in how much money parents choose to spend on Christmas presents, but the most common amount is probably 5-600 DKK on all four Christmas presents for children. This fits very well with the "middle package" we have shown on this page. You can see it here.
How much should the Christmas presents cost?
Is it appropriate for the child's age and development?
Does the toy match the child's personality?
Also check that the toys are appropriate for the child's age. If it's for a boy or girl under 3, it's important that the toy doesn't contain small parts that could pose a choking hazard. This information can always be found in the information about the toy on various online sites. Also consider whether the toy suits the child's personality.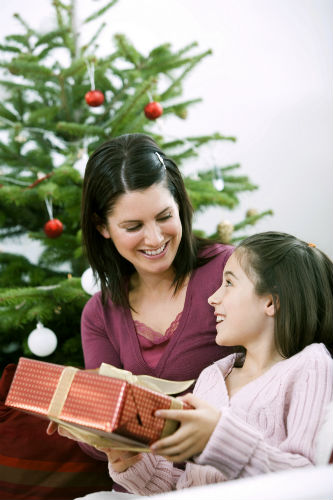 Calendar gifts for children
If you'd rather give calendar gifts than Advent gifts, you'll find a lot of great ideas for your calendar gifts here on Starter Pack.
Inspiration for the calendar gifts
Check out these two articles for lots of inspiration for kids' calendar gifts. We've collected 24 different calendar gifts that are all fun, useful or just plain nice!
The difference between calendar gifts and Advent gifts for children is that only 4 Advent gifts are given, one on each Sunday leading up to Christmas In 2017, Christmas Eve falls on the last Sunday of Advent. When you give calendar gifts, you give a gift every day from 1 December until 24 December, which, as you know, is Christmas Eve. Some children receive their calendar gifts in a Christmas stocking, which they can look into every day. Others hang up the presents so that they can all be seen at once. It's different what you prefer.
Good calendar gifts and Advent gifts are useful and fun. At the same time, they are traditionally somewhat smaller than the real Christmas gifts that are given on Christmas Eve. A good calendar gift could be a play kitchen accessory, if you have one. It could also be a fun idea to give play food as a calendar gift, and then a play kitchen on Christmas Eve.
At Sundleg you will find lots of beautiful wooden toys that will last for years of fun and games. Wooden toys are more durable, and often more environmentally friendly, as they are a natural material. You can find lots of wooden toys right here
Children love to play role-playing games, that is, games where they can do what mum and dad do too. A play kitchen is therefore a great Christmas gift that will undoubtedly bring lots of joy and hours of fun. See the best play kitchens for kids right here.
https://startpakke.com/wp-content/uploads/2017/08/Depositphotos_14963219_udvalgt.jpg
800
1500
Maria
https://startpakke.com/wp-content/uploads/2017/03/logo.jpg
Maria
2017-08-07 07:32:22
2017-08-23 12:36:11
4 Advent Gifts for Children 2017 | Four great advent gifts for children 0 - 3 years