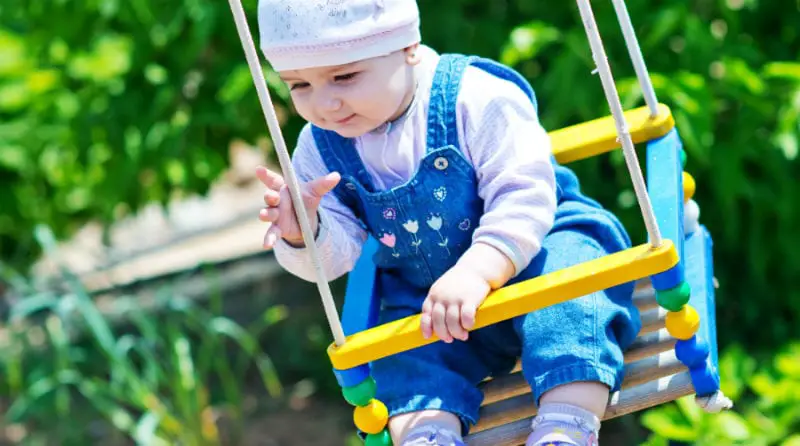 A baby swing can be one of the most fun things for a little boy or girl. We can therefore strongly recommend a good outdoor wooden baby swing for baby! In fact, it's an almost indispensable outdoor toy for the garden once you've seen how much fun a baby swing is for little ones. You can choose to hang an outdoor baby swing from a swing frame, but a tree can often be a really nice solution too.
We have taken a look at some selected baby swings. These are wooden baby swings and are generally made of quality materials. This helps to ensure both a durable swing, but also that it is healthy for your baby to sit in. The outdoor baby swings we show here can of course also be used indoors. For example, you can choose to have them hanging outside in the summer months, and inside in the winter.
Black wooden baby swing from Done By Deer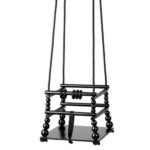 Here's an incredibly cute wooden crib for baby from Danish Done By Deer. The baby swing is super solid and durable. At the same time, the baby swing has a really good back support. All in all, it is a baby swing where you can safely give your baby a lot of fun hours. It can easily be attached outdoors to a swing frame or similar, but you can also choose to install it in the ceiling or door frame indoors.
Baby swing - what age: This swing is approved from 1 year, but we estimate that it is a really nice outdoor toy already from baby is 9 months old.
Price: Set at 499 kr
You can buy the baby swing here.
Colourful wooden baby swing from Maki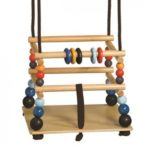 This is in many ways a comparable swing. It is made of wood, but on the other hand it is a bit more colourful than the swing above. It is easy to place your baby in this swing, and then there is also a really good support for the baby when you give him or her a swing ride, which is good the first swing time. This baby swing can also be used both indoors and outdoors.
Baby swing - what age: We would also recommend this baby swing from around 9 months of age.
Price: set at 349 kr
You can buy the baby swing here.
Wooden horse swing from Small Foot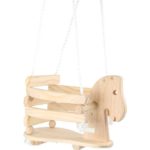 As your baby gets older, you may need a little more to make swinging extra fun. This is again a really solid swing that looks like a horse. This baby swing is a little different in the way you sit. That's why we don't recommend it from before around 2 years of age.
Baby swing - what age: From about 2 years.
Price: set at 429 kr
You can buy the baby swing here.
Baby swing - When can your baby use a swing?
Like everything else, there are differences in how old babies are before it makes sense to place them in a baby swing, whether outdoors or indoors. It's important that your child can sit up on their own before you put them in a swing. Some children can sit up fine by the time they are 6 months old, but most are not ready to swing until they are a little older. That's why we recommend most swings from 9 months or older. If you choose to buy a swing without a seat, your child should be around 3 years old before you place him in it.
A swing can be used in many places
A baby swing can provide fun in many places. You don't necessarily have to buy 27 different swings for all the places where it will be fun for your baby to swing. You can move the baby swing around relatively easily. For example, set up a hook on the patio, in a tree, outside at the cottage, at the grandparents' house and indoors in one or more rooms and/or door frames. In this way, buying a baby swing can provide lots of fun in many different places!
https://startpakke.com/wp-content/uploads/2017/04/babygynge.jpg
446
800
Start package
https://startpakke.com/wp-content/uploads/2017/03/logo.jpg
Start package
2017-04-04 09:32:25
2017-08-22 11:42:35
Outdoor baby swing - 3 of the best baby swings