Knit baby clothes in yarns that add a personal touch to your baby's wardrobe. Here we've chosen to highlight the cutest baby knitting kits, which can even be bought for a cheap price. Yarn has become quite cheap online, and there's a huge selection!
See all the delicious baby knitting kits below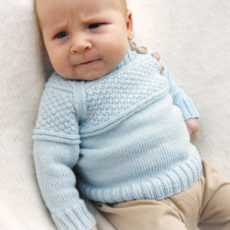 With a knitting kit for baby it is both easy and cheap way to knit clothes for baby. In a knitting kit you buy both pattern and yarn together at a good price. You don't have to buy a whole book of baby patterns, you can just buy the pattern you want. At the same time, you don't have to bother with finding the right yarn in the right quantity. Just choose the colour and size, place your order and you're ready to go when your yarn arrives. You can buy baby knitting kits at Filato or Rito.
See the cutest knitting kits for baby further down in the text
We've collected baby knitting kits and free knitting patterns where you only have to pay for the yarn. The baby knitting patterns are collected from online retailers, as you get a lot for your money.
Advantages of baby knitting
It's quick to knit
Not so much yarn needed = not so expensive
All parents will be happy with baby knitting
And baby knits are just so cute!
Knitted baby clothes
Baby knitting has always been popular. For many generations, people have knitted baby clothes for babies in the family, or good friends. Baby knitting is a very special gift that is extra appreciated because time and effort have been put into it. Knitted baby clothes in soft yarn are a wonderful gift to give to new parents. That's why we've gathered a bunch of baby knitting patterns here, where you can look for inspiration, whether you're knitting for yourself or someone else wants to knit something for you.
Find many baby knitting patterns on this page
We have chosen to collect a big list with lots of baby knitting patterns. Many of the baby patterns are free. A lot of them are also sold as knitting kits, where you buy the knitting pattern for a low price when you buy the yarn at the same time.
The cutest baby knitting kits
Here we have collected a number of baby knitting kits and fine knitting patterns for baby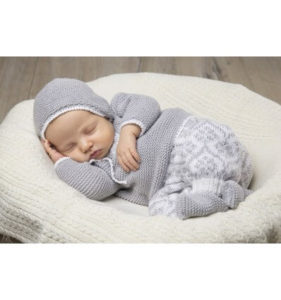 Knitted baby set in size 1 - 24 months.
Knit the cutest outfit. In this baby knitting kit, you get a knitting pattern and yarn for cute pants, hat, blouse and socks. The set is knitted in a cotton and bamboo blend yarn, which is a very soft yarn that is especially good for baby's delicate skin. The yarn is not as warm as wool, but still temperature regulating. It is therefore a good set to knit for a baby who is born in the spring - or summer months.
Icelandic sweater for kids and baby | Size 1 - 4 years
Icelandic wool is a fantastic yarn. It has unique properties, such as being temperature regulating and dirt repellent. This yarn is spun in Iceland from the only yarn company in the country. The wool comes from "real" Icelandic sheep that have been purebred for decades. A real wool sweater that can be used as an alternative to a jacket in autumn and spring.
Blouse in milk yarn for boy or girl
Milk yarn is a relatively new phenomenon, but nevertheless incredibly delicious and useful yarn. It's a great yarn for babies and children. It is super soft and comparable to exclusive yarns like silk or fine wool. This lovely blouse is knitted in milk yarn, and can easily be knitted for either boys or girls, depending on the colours you choose.
Baby skirts with skirt
Cute little romper for girl. Rompers have become popular for baby - partly because they're one of the cutest things around, as well as being practical. This pretty knitted dress for a baby girl is knitted with a fine knitting pattern on the skirt. The knitting kit can be purchased at Filato.
Baby sweater with raglan sleeves
A very useful baby sweater, knitted with raglan sleeves and small buttons on one side for easy on and off. The yarn is the soft and warm baby merino wool, which is lovely and not scratchy. This baby knitting pattern can be knitted in sizes 1 month -4 years. Both buttons and yarn are included in the knitting kit. The knitting pattern for baby is free and from Drops.
A little about knitting patterns for baby
It is obvious to knit for baby and young children. The adults what babies need to wear, and a nice knitted sweater, dress or little baby slippers is one of the most adorable things. If you knit woollen clothes it's practical as it will make sure baby is at just the right temperature, as wool absorbs moisture if baby is sweating and warms if he or she is cold. If you find the best yarn, knitting for baby is one of the best, and that's whether you're knitting for your own baby, or it's for a friend's baby or maybe a grandchild. Home knitted clothes for baby are very fashionable at the moment. There are many fashionable knitting patterns, and you can find knitting patterns for children and baby in all sorts of different shades on this site. If you don't find what you are looking for, try looking at Filato online yarn shop, where there are really many baby knitting patterns to choose from. Find the best knitting patterns for baby and kids on this site.