It can be a super good idea to have a towing vehicle. In this post, we've taken a look at folding towbars so you can easily take the towbar on a trip, whether it's just to the local playground or if you want to take the towbar to the zoo, festival, flea market or something else entirely. A pushchair is simply great to have if you have a child/children who like to walk but also need a break from time to time.
If folding isn't important to you, you can also find several really nice wooden pull carts via the link above.
Small Foot Foldable Trolley - Fantastic foldable towbar!
These are towing trolleys that fit into any luggage compartment. It's simply brilliant, even if you have a smaller car. The towbar from Small Foot is foldable down to a 54 x 20 x 75 cm. At the same time, it's a trolley made of quality material, which means a good sturdy metal frame and heavy-duty nylon, which means it can stand up to being packed in and out countless times. Unlike many other foldable towbars, this one can also handle a lot of weight. As much as 90 kilos, which means you can easily fill it with both children and equipment you want to take on trips. When unfolded, the trolley takes up  93 x 51 x 57 cm.
All in all, perhaps the best towing vehicle for many families with children around the country.
You can easily buy the trolley online here.
Foldable Trolley from Hudora - Folds quickly and easily - easy to carry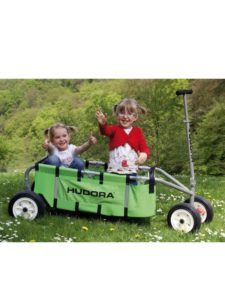 Here's a folding trolley that's easy to pull around when unfolded, and with plenty of space. Large wheels with good ball bearings make it really easy to manoeuvre. When you're on the hunt for a foldable tow cart, it's perhaps even more important that it's lightweight. This towbar is lightweight, weighing only 15kg, which means you can easily take it with you on trips.
Dimensions unfolded: 126 x 63 x 43 cm
Dimensions folded: 60 x 24 x 62 cm
Available in several colours.
You can easily buy the trolley online here.
BabyTrold towbar with removable roof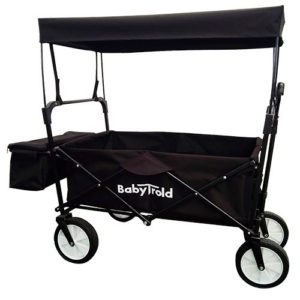 In the summer, it can make a lot of sense to have a towing vehicle with a roof. The BabyTrold towbar has a removable roof, and is an obvious choice if it's important to you that you can still fold the towbar after use, or if it's going to be in the car. This pushchair is also wonderfully easy to drive around and steer wherever you need to. It's also easy to fold, which is obviously important for a folding towbar.
Unfolded: H 69.5 x W 55 x L 118 cm
Unfolded with roof: H 102 x W 55 x L 118 cm
You can easily buy the trolley online here.
Kids love tow trucks!
As well as being really clever for going on trips, pushchairs like the above are generally a big hit with kids. It's possible to transport lots of different things in them. If your child is having a friend over, there's extra space here so both kids can come along. Other days, it allows you to carry many of the things you would otherwise have to carry in a backpack or similar. The children can easily look around when they are in the pull cart, and in this way it also becomes a nice place to be when you are out and about. Here in this post we have focused on some of the great foldable options available, but if it is less important whether it can be folded or not, we would suggest that you also take a look at some of the really good and solid options available in wood and metal.
A good start is for example to take a look at the different carts that are sold here.
Bonus: Use it for more than just kids
It's not just when your children need to be transported around that a good towbar can be useful. Even when it's just the adults on the trip, it can be nice not to have to lug around a bunch of different gear. Here it's nice to be able to put your stuff in a trolley and just haul away with it!
https://startpakke.com/wp-content/uploads/2017/03/logo.jpg
0
0
Start package
https://startpakke.com/wp-content/uploads/2017/03/logo.jpg
Start package
2017-07-10 09:13:35
2017-09-21 12:12:44
Foldable towbar - A good foldable towbar is a huge hit!