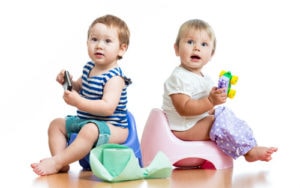 When it's time for potty training, the first step is to find a good potty for your child. The potty is a good place to start, as it's not as big as the toilet, which can seem a bit overwhelming for little ones. But then again, some children never really get used to their potty, and from the start prefer the toilet with a small toilet seat on it that suits their size.
On this page, we have highlighted a number of different solutions for when you need to start potty training. See a selection of potty and toilet trainers further down the page.
First, we've written briefly about when and how best to approach potty training.
How old should your child be when you start potty training?
This is very different from child to child. Some are potty trained as early as 2 years old, while others are over 3 before the interest is there for potty training. The most common is for children to become potty trained around 3 years old, often girls are a bit quicker than boys.
Children often become clean by the age of 3.
Three signs to look for: is my child ready for potty training?
Your child walks away when he/she is nappy changing
Your child tells you when to change the nappy
Child shows interest in potty training
There are several things you can look for when deciding if your child is ready for potty training. The first step is when your baby walks away a little when he or she has to change a diaper. This is a sign of awareness of what is going on. The next step is when your child comes and says it's time for a dry nappy. At this stage the child is aware of what is happening, but she may not be quite ready to drop the nappy. The final, and perhaps most important, step in potty training is when the child herself shows interest in getting rid of the nappy and learning to use the potty or toilet.
Interest in potty training is the most important
It is very important that the child wants to start potty training. Otherwise, the child may feel pressured and it will not be a good experience, which may ultimately make the process longer, which neither the child nor the parents are interested in.
If your child doesn't show interest in dropping the nappy, it can help to read books on the subject and perhaps take your child out to choose a potty and some nice underpants to replace the nappy.
Potty or toilet trainer - which is best?
When teaching your child to use the toilet, you can choose to use a potty first and then switch to the toilet, or you can go straight to using the toilet with a toilet trainer. Which option works best for you depends on your child and when you start potty training. Typically, young children under 2 years old will benefit from starting with a potty, as it is not so big and bulky and the child can easily sit on it themselves. Children aged 2-3 can climb onto the toilet more easily and may also find it more fun to sit where mum and dad are sitting.
A good and cheap pot
If you're looking for a cheap potty, consider this one from Babygear, which costs just DKK 78. The pot is shaped like a little teddy bear, which is fun for the baby to look at. It's a cheap option if you want to start potty training but don't want to invest a lot of money in a pot. >>Read more and buy the pot here.
Potty for children that looks like a toilet
This potty for children is a popular choice as it is designed like a small toilet. This may make it more fun and familiar for the child to use, as it looks like the adults' toilet. The potty is white and even has a small toilet seat that the child can fold up and down. It also has armrests to make sitting more comfortable for the child. When potty training is just starting, it's a good idea for children to sit and read a book or look at a toy while potty training, and it's nice to sit comfortably. The potty costs DKK 249 at Babygear. >>Buy and read more here.
Toilet trainer - a small seat for the toilet
A smart little seat that easily fits on top of the real toilet. The toilet seat can easily be placed on top of the toilet for the child to sit on. The board makes the toilet slightly smaller, so it fits a child better. In a large toilet, the child might fall down or just find it uncomfortable to sit there. Whether you use a toilet trainer or not, it is important to be there while the child is trying it out so that you can help if needed. The toilet drainer costs DKK 149 and can be purchased here.
Stool for toilet trainer
A stool that makes it easier for the child to get up and down from the toilet. As you can see, the stool has two steps so the child can get up and down from the toilet easily. On the step there are two handles which make it easy for the child to hold on and get up and down safely. The stairs from Babydan can be purchased here.