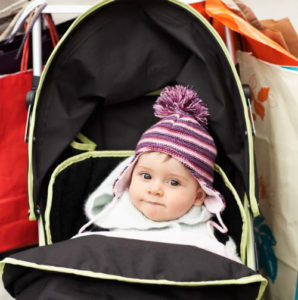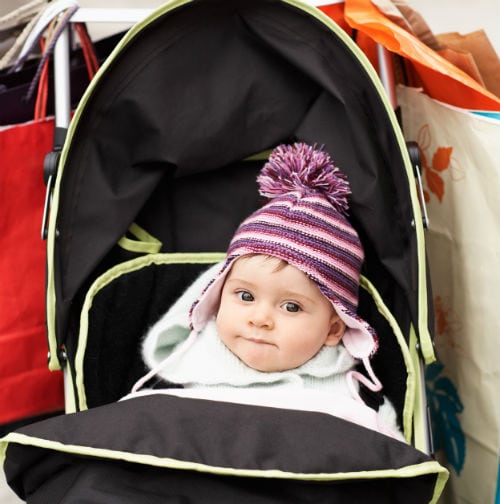 An umbrella stroller is a small stroller that is easy to fold. It's great for carrying in the car and is easy to take out and unfold. It's also easy to take on trains and buses, as an umbrella stroller doesn't weigh much.
There are many different models and qualities to choose from, so we've tried to make the selection clear by making an overview of the best umbrella strollers and where to buy them.
Scroll down to read about the best umbrella strollers we've looked at.
Advantages of umbrella strollers
If you are considering an umbrella stroller, there are several advantages.
Easy to fold
Does not weigh much
Can easily be in train/plane/car
Does not cost so much
Is good as an extra stroller or supplement to the pram
Disadvantages of umbrella strollers
The seat cannot always be fully reclined
Less comfort for baby
Small wheels make it difficult to drive on uneven terrain
Very small and light umbrella stroller - 299 kr.
An affordable umbrella stroller that's super easy to fold and takes up no space if you're travelling by bus, train or plane. This umbrella stroller is also a popular choice as a grandparent stroller that is only used once in a while. The small and practical umbrella stroller has been seen at My Own World and at Coop Strollers. Here you will also find a large selection of both strollers, furniture & other equipment for baby.
Dimensions: seat D 20 cm x 29 cm, back:46 cm
Popular practical and affordable umbrella stroller
The best umbrella stroller if you're looking for a fairly light and small stroller that doesn't take up any space or weight. It doesn't have a lot of fancy details, but it's a good choice for a child who wants to walk by himself a lot of the time, or possibly as a stroller to leave with the grandparents. The stroller comes with a harness to secure the child, and the swivel wheels can be locked if you're walking over uneven terrain. When folded, the baked frame acts as a handle. A clever detail that makes the stroller easy to take on trips. This stroller is also a great choice for an umbrella stroller for planes.
Good umbrella stroller G Luxe
A nice umbrella stroller with a bit more detail than many others. It is therefore not the cheapest umbrella stroller, as it currently costs 2.499 kr. at the big baby - and children's store Lekmer.  The stroller weighs just 7 kg. The stroller has these practical features: adjustable backrest, adjustable footrest, foot brake, lockable front wheels, adjustable sunshade, carry handle and 5-point harness. Read more about G- Luxe stroller here.
Umbrella stroller (test winner in the magazine Vores Børn)
The Babytrold umbrella stroller is a good bet for the best umbrella stroller. This won the test conducted by the magazine Vores Børn. It can lie down completely, so baby can take a nap on the go. There's a front bar for added safety and baby likes to hold on to. It has a good, large canopy that shades or from the sun or shields baby from impressions. The swivel wheels make it easy to manoeuvre around, for example, the shopping centre or the airport. The stroller folds easily lengthwise so it doesn't take up much space. With this test winner umbrella stroller, you get a lot for your money.
Comfortable umbrella stroller with padded seat
Another great umbrella stroller where you get a lot for your money. Hauck Umbrella Stroller is easy to get around with its swivel wheels. The padded seat and large carrycot provide a little more comfort for baby, compared to many other small strollers.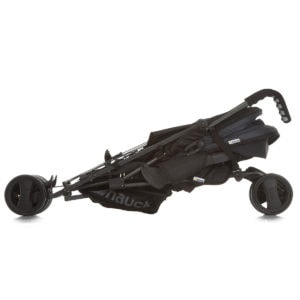 The umbrella stroller folds lengthwise and takes up minimal space in the car. This model also has a storage basket underneath to store a few baby items or groceries. If your child gets tired during the trip, the back can be reclined.The stroller has a long sleeping capacity of 79 cm.
Babytrold umbrella stroller
The Babytrold umbrella stroller is a good choice if you want a small and lightweight stroller that still offers good comfort for baby in the form of a shell, adjustable back and padded harnesses. With its price of 699 kr. at retailers My Own Worldit's still a pretty cheap stroller. It's a great option for an umbrella stroller that has just a few extra details to make baby more comfortable, but is still easy to pack in the car or on the go. The umbrella stroller also has a spacious storage compartment for the changing bag.
Alternative to umbrella stroller | Baby jogger stroller
Technically, a Baby Jogger not an umbrella stroller, as it folds by being folded in half, rather than lengthwise like an umbrella. We've mentioned it anyway as it's one of the lightest strollers on the market that's still really good quality. At the same time, it takes up almost nothing when folded and can easily fit in the boot of almost any car. They are very easy to fold with what they call the "quick fold" method. This involves pulling a strap in the middle of the trolley, and then folding it in half, leaving it quite flat. See different models at Babygear. The Babyjogget pushchair is equipped with a large shell, a good harness and swivel front wheels. It is possible to buy a number of different accessories for the stroller, including a rain cover or cup holder. The price of this pushchair is DKK 2,798.
The baby jogger stroller is also a great alternative to an umbrella stroller for big kids. It has plenty of space and can easily accommodate a large child of 3 years or older. So if you're looking for an umbrella stroller for big kids, or a good lightweight stroller in general, this stroller is a great choice.
Umbrella stroller from Joie 
Umbrella stroller with a few extra details that improve comfort and allow baby to take a nice nap in the stroller. In addition, the shell has ventilation so that it doesn't get too hot to sit in the stroller on a summer's day. This is probably more of a small stroller than an umbrella stroller. Underneath the stroller there is a large storage basket. The stroller is seen at price: 1.999,95 kr.
Best umbrella stroller
To find the best umbrella stroller, you need to consider what matters about the stroller you're buying. As always, it's about assessing what needs you have as a family. If you need a small stroller that is easy to fold and take with you on a shopping trip or to the airport, an umbrella stroller can be a great idea. It's also a cheap option if you don't need the stroller that much. In fact, umbrella strollers generally cost less than other strollers and pushchairs. See our big stroller guide here.
Cheap umbrella stroller
If the umbrella stroller is to be used as an extra stroller, a travel stroller or perhaps only for sporadic use by the grandparents, there is no need to reduce the children's savings. In fact, there's a huge range of cheap umbrella strollers for you to choose from. Especially at online retailers, the selection is great if you are looking for a cheap umbrella stroller.
Is it most important that the umbrella stroller is small and compact so that it is super easy to take along in the car?
Or does it need to be comfortable if your child will be using it a lot and maybe sleeping in it? Should it be able to lie down completely?
All these things matter when it comes to choosing the best umbrella stroller for you. If you're taking the umbrella stroller on board a plane, and perhaps for a slightly older child who wants to walk on their own for part of the time, then it might be worth choosing one of the smaller models. If the umbrella stroller is to be used for a child who is not yet able to walk independently and who also needs to take naps in the umbrella stroller, then it is a good idea to choose one that also provides good comfort for baby.
Umbrella stroller: when?
The main rule is that baby can sit in a pushchair when he or she can sit independently. Typically this is around 6 months of age. This is therefore also the age at which an umbrella stroller can be used. Many parents are happy with their umbrella stroller as an extra carriage. It can be nice to have an extra stroller at the grandparents' house that they can use for short trips. The umbrella stroller is also very useful for the slightly older children around 2 years. At this age, children will usually not sit in their pushchair all the time, but will also walk on their own. The umbrella stroller gives them a place to relax and rest their legs when they are tired of walking. It can also be used for an afternoon nap every now and then when an umbrella stroller is lying down. Choosing an umbrella stroller that can lie down is a big advantage. If you can't find a pushchair that can lie down, it's best to use the umbrella pushchair for older children, or alternatively for children who won't be sleeping in it.
Umbrella stroller for aircraft
Many people are looking for an umbrella stroller for planes, as a small stroller is just super convenient to have with you on holiday. An umbrella stroller for planes also has the advantage that you do not need to rent a so-called airshell for the stroller. Because the stroller just folds up like an umbrella, it obviously doesn't take up much space or is particularly vulnerable to bumps and knocks. Some of the very small and compact pushchairs can even be carried in hand luggage. So if you're after an umbrella stroller for flights, there are many advantages to this.