What does a 3 year old play with: For the 3 year old child, a whole new world of toys opens up. According to the recommendations, the child is now big enough to play with toys made of smaller parts, as they no longer pose a choking hazard. A 3 year old has a well developed language and a much greater awareness of himself and his environment.
On this page you will find great ideas for a birthday or Christmas gift. We've selected toys for 3-year-olds that are both educational and developmental.
Table of contents
Good toy for child of 3 years. Here we have selected the best toys for 3 year olds. You can click on the items to read more and see where you can buy it.
Super cool fire truck
Can light up, make sounds and spray with real water.
599,95 kr.
As one of the coolest gifts for a child of 3 years, we would highlight this fire truck from Drivers. It can both make sounds and flash.
You can even fill the tank with real water and put out the fire with the water hose.
The Drivers brand has created a range of realistic vehicles for children who love rides and construction sites.
How a 3 year old plays
Children at 3 can do many things by themselves. They are starting to dress themselves, speak in longer sentences and are learning about the world. At 3 years old, play begins to revolve more and more around other children. At 3, children start kindergarten, where they play more with each other and make their first real friends. Around the age of 2.5, children begin to have friend feelings for other children, and gradually form real friendships. It is not known exactly how children choose their friends, but it is certain that playing together, rather than alone, is a lot of fun. It is a good idea to start making play dates at the age of 3, to help and support your child in the process of making friends. Although playing with others is fun, children still largely play alone at the age of 3. It is important to play alone too, as this is how children observe and learn how the world is connected. 3 year olds ask a lot why this and why that. That's why it's a good idea to find toys that answer these questions.

Source: our children, Helen Lyng Hansen
Birthday wishes 3 years
A good toy for a 3 year old child could be a toy where the child has to move and thus develop motor skills. Good birthday wishes could therefore be a run bike or a swing set, where the child is challenged motorically. By the time a child turns 3, a lot has happened in development. Interest in playing with other children increases. At the age of 3, it is easier to play more together, and participate in fun role-plays such as mum, dad and kids.
Rocking stand
Walking car / walking bike
Dollhouse
Books
Puzzle game with 6 pieces
Good games 3 years
As I said, children aged 3 are becoming increasingly interested in playing with other children. Good games for 3 year olds could therefore be to play bus, where all the children sit on chairs in a row. It could also be playing ball with other children, or fun role-playing as a doctor or mum, dad and children. The kitchen game is also still fun. To make the games as fun and challenging as possible, it's a good idea to have the best toys for the games. For example, a doctor's set or play kitchen with play food and pots.
List of the best toys 3 years
Here we have collected a lot of suggestions for the best toys for 3 year olds. The list includes lots of toys for both boys and girls, so you're sure to find the best toy for a 3 year old.
Medical kit
Playing doctor is a fun role play and a good way for children to learn more about the body. Children at 3 years old understand much more about the world and its surroundings, and playing doctor can be a part of understanding if they go to the doctor themselves.
Buy a medical or dental kit here.
Perleplader
Laying beads is one of the things that children over 3 can play with. Because of the small parts, it is a toy for 3 years or older. Beading plates really challenge fine motor skills and it's fun to make shapes and other images from the plates. Incidentally, beads are also becoming a popular hobby for older children and adults. In beads, Hama beads are the absolute best.
See the large selection of Hama beads and bead plates here.
Obstacle course
As described earlier, children at 3 years old need to be motorically challenged and find it fun to move. An obstacle course is a great game for 3 year olds. You can play "the earth is toxic" or just jump and crawl around on things.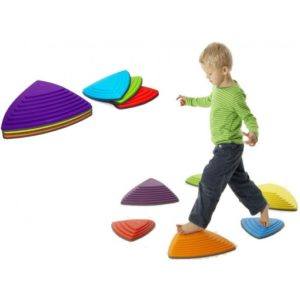 Balance nests
The balance stone is ideal for playing obstacle course. They can be used by children as young as 3 years old, but also by children of virtually all other ages.
It is therefore a great toy that appeals to children's imagination. There are many possibilities for play with the fun balance stones. Price 479 kr. Buy here. 
Outdoor toys to explore nature
Children aged 3 find nature and the animals in it fun and exciting. Exploring nature is a great way to teach your child about animals and nature.
There are lots of toys to make exploring nature more fun. For example, a bug box where children can look at the animals, then put them back where they belong.
The insect box costs DKK 99.95 at Børnenes Kartel, where you can also find many other fun toys to play with in nature. Buy it here. 
See much more outdoor toys here.
Electric car
A 3 year old is big enough to get an electric car for his birthday. The car requires steering and is recommended for children aged 3 or over. Electric cars have become one of the big gift ideas. They come in many sizes, colours and models, so there's something for everyone. It's fun to drive around in your very own electric car. The electric car can be used in the garden for a fun drive. Once he or she has learned how to drive, the pride will never end. See our list of cool electric cars for kids.
Picture lottery and other board games
Board games are a great way to be together as a familyand it strengthens and trains your memory. Picture lottery is an appropriate level for a 3 year old. They can join in, but learn something at the same time.
Buy fun board games for kids here.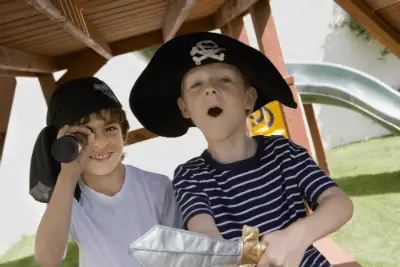 Costumes
For children, it's fun to dress up and play other roles. This way, children can use their imagination and be someone other than they used to be. It's also a fun game to play with other children. A lot of time can be spent dressing up and playing pirate, princess or something else. The game lets the imagination run wild, and that's healthy for the imagination. See great costumes here.
Running bike
A treadmill gives your child a lot of freedom, which is always a hit. Children can "ride away from mom and dad" on their scooters. Riding a bike strengthens balance, and the child has to coordinate arm and leg movements. When choosing a bike, make sure it fits your child's height. You can find wooden or metal bikes and there are many different versions to choose from. Go to the overview of the best racing bikes. 
Black wooden running bike from Krea
This nice running bike from Sundleg is the perfect toy for children aged 3. Very nice treadmill at a good price. The running bike is in black wood, and a good choice for your child's first running bike. It is a running bike in which your child learns to keep balance, and can get off quickly. The bike has non-puncture tyres and a reflector on the front, so your child is visible in traffic.
A swing
A swing set is a great toy for children of many ages. 3 year olds are big enough to balance on the swing themselves. Children can play for hours on their swing set. And not only is it fun, it also develops their motor skills and ability to move. A swing set is also an ideal place for several children to play at the same time.
See the list of the best swing sets for children
Plate swing
A plate swing can be hung in a solid tree. The swing is a great challenge for a child of 3 years old, as you have to hold on and keep your balance. The plate swing requires more balance than a traditional swing.
It can be hung from a tree, so children can swing without having to buy a swing set.
The plate swing is seen at Sundleg. Price 129 kr.
Much more toys 3 years
Here we have collected much more great toys for children aged 3. All the toys are selected and particularly suitable for children around 3 years old. The toys develop children's motor skills and senses, and you can play with them for hours. The toys are perfect as gifts for 3 year olds.
Pippi's Villa Villekulla
Astrid Lindgren's story of Pippi and her beautiful, colourful house is known and loved the world over. Although the story and the film adaptation are some years old, it is still popular with children. If your child has seen Pippi on TV, or has read the book, this lovely house will no doubt bring excitement. Please note that the figures are purchased separately. See the nice house here. 
Large rocket that can be assembled and disassembled
Do you know the traditional stacking towers? This rocket is the same principle, but a bit cooler, as it is shaped like a rocket with a little astronaut inside. The rocket is in great colours and can be assembled and disassembled again and again. Get ready to fly into space with this popular rocket! Buy the rocket here
The cutest wooden testel
Invite teddies and dolls to tea with this cute test piece from Djeco. It comes with a teapot, cups, tea tray, cutlery and everything can be served on a nice tray. In short, you'll find everything you need to create the cosiest testel for your teddies and dolls. Buy the cute wooden testel here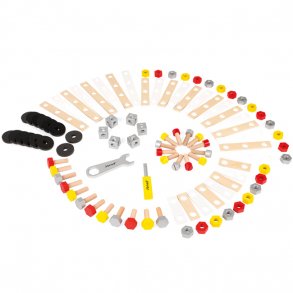 Building set - strengthen fine motor skills
Then it's time to build and construct with this beautiful wooden set. It comes with all sorts of workshop tools, including nuts, screwdrivers and more. Effective for strengthening fine motor skills, the kit also provides an opportunity to imitate what the adults are doing, which is always a fun game. You can find the nice kit here.

Trampoline
Trampolines have become one of the most popular toys for children in recent years. In fact, there are so many trampolines in Danish gardens that they can be seen from across the room. But that's all for good reason - trampolines are fantastic fun for children of all ages to play on. Children love to jump, and it's fair to say that they get plenty of opportunity to do so on a trampoline. Buy the best trampolines here.
The finest dollhouse
A cute little dolls house is the perfect toy for children aged 3. The dolls can do all the things children know from their own everyday lives; cooking, going to work, going to bed and so on. This lovely wooden dolls' house is very durable and can be used for many hours of play. Of course, more fine equipment can be bought for the house. Buy the nice dollhouse here
Luxury dollhouse
Here is the doll's house for the girl who loves to play with dolls. The large dolls' house is multi-storey and made of wood for durability. As well as being a great toy for a 3 year old girl, it is also a very durable toy that will no doubt be played with for many hours. The dolls' house also makes a beautiful decoration in the nursery that can be used for a lifetime. It's not a cheap toy, but in return you get something that not everyone else has. See the beautiful dollhouse here. 
Lego Duplo
For children who love to build and construct, Lego Duplo is the obvious toy. The toy is most suitable for children aged 2 and up. There are many fun Lego Duplo bricks to choose from. LEGO stands for "play well" and the bricks have been voted the best toy several times. Creativity really gets a chance to shine with these popular bricks. See all Lego Duplo packs here. 
Super cool walking tractor
This cool walking tractor is from the French company Falk Toys, who specialise in making really great outdoor toys for children aged 1 - 7 years. The walking tractor has many great details, and is sure to be a hit to walk around with at home in the garden. The tractor is available in several different versions. See them all on Sundleg under the category: walkers - click here
Musical instruments for children
Children love music and it's a really good way to learn lots of new words. The music and rhythm of it is entertaining for children, and even more so if they can make the sounds themselves. At Children in Balance they have a great range of beautiful musical instruments for children to play on. See all musical instruments here
https://startpakke.com/wp-content/uploads/2017/06/3yrsCover.jpg
757
1500
Maria
https://startpakke.com/wp-content/uploads/2017/03/logo.jpg
Maria
2017-06-14 08:07:39
2020-05-26 08:54:34
Toys 3 years | The best toys that develop and challenge