With a prayer doctor kit, your child will never be bored again - nor will dolls or teddy bears stay sick! A children's medical kit contains everything your heart desires to cure and treat illnesses. A plaster on and you're good to go!
A doctor's set for children is a great gift idea, especially suitable for children aged 2 - 4 years. At this age, children are very keen to imitate and play fun role-playing games, so an easy medical kit is just the thing.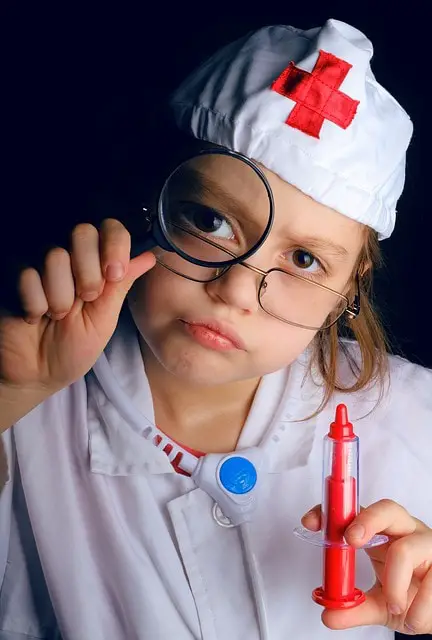 On this page we have collected the best and funniest medical kits for kids that you can buy online at low prices. 
Nice medical bag for children from Haba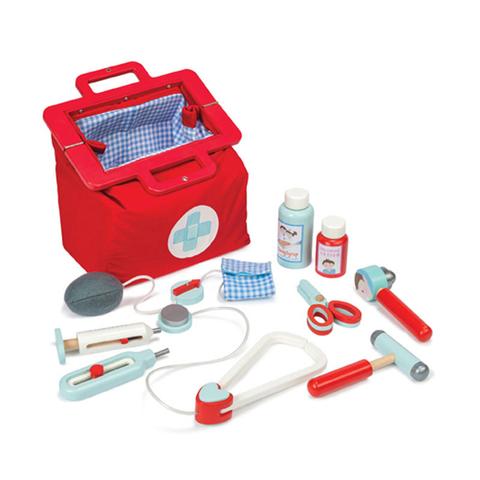 Where does it hurt, teddy bear? I'm gonna put a band-aid on you and listen to your heart!
Incredibly nice medical bag with everything the little doctor needs. Your child can spend hours treating dolls and teddies for illnesses and injuries. Maybe mum and dad need treating too?
The doctor's bag is a perfect gift idea for a 2-4 year old who is beginning to understand what a doctor is.
The bag is designed like a real doctor's bag and contains everything needed in the small practice.
Small medical case
Keep track of the nursing staff with this cute doctor set. The whole set comes in a small case to keep things organised.
The kit includes a syringe, bandage needle and whatever else the little doctor needs to heal his patients. A children's medical kit prevents fear of doctors and helps the child understand what it means to go to the doctor. Buy the doctor kit via the link below and watch your child or grandchild transform into a doctor!

Djeco medical kit in suitcase
Djeco makes the best toys for little ones, always of good quality and suitable for lots of play. This bed is no exception. The case contains everything the little doctor needs.
It all comes in a small suitcase, so the child can carry the medical kit around and take it to the injured.

Plastic medical kit with everything you need
Blood pressure gauge, scissors, plaster, syringe and so on. With this set, your little doctor or nurse can go a long way in treating dolls and teddies.
The doctor's set is made of plastic and therefore has great colours and fun details. Everything is stored in a small suitcase. The perfect gift idea for playful children! The doctor set can also be used in combination with a carnival costume as a doctor or nurse.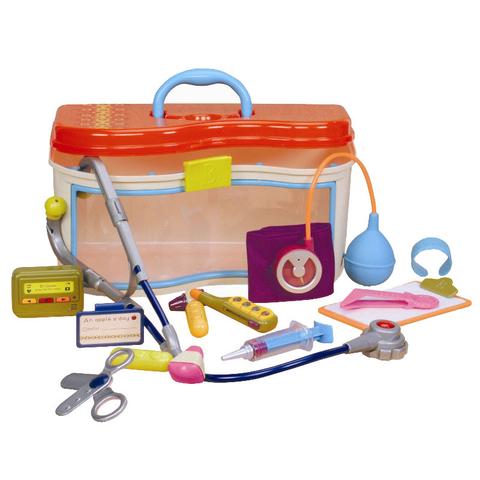 Cheap medical kit for children

Looking for a children's medical kit that doesn't have to cost a fortune? Then you've found it here. Click through here and buy the medical kit today for only DKK 179.95. The doctor set contains everything the little doctor needs!
Doctor set with mica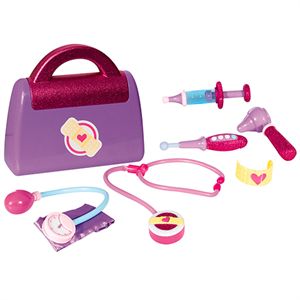 Do you have a child who just loves pretty things that sparkle and shine? Then this medical kit is just the thing for him or her!
All the contents of the medical kit come in a cute purple case with glitter. The doctor's kit includes a hammer for testing reflexes, blood pressure monitor, plaster, stethoscope, syringe and whatever else you need as a doctor or nurse.
Buy a medical kit for children and let the fun begin
For many years, a medical kit for children has been a classic and popular gift idea for children aged 2 - 4/5 years. At this age, children are very enthusiastic about imitating adults and playing role-playing games with their dolls and teddy bears. This is exactly the kind of play they can enjoy with their very own doctor's set.
Nurse or doctor?
With a medical kit, you don't actually have to play doctor. Kids can also play nurse, which they'll probably find fun, especially if they've met a nurse. A doctor's kit provides lots of play opportunities.
Children can heal their teddies and dolls, but you may find that just as often it's mum, dad or a sibling who needs to be listened to or patched up. There are endless possibilities for play with a doctor's set, which is probably why it's such a popular gift idea for children.
Prevent or reduce fear of doctors
Some children are so unlucky that they often have to go to the doctor or hospital. This can be really hard on both children and parents. Often it's good for children to play through the situation, as it's their way of coping.
A children's medical kit can help the child understand what a doctor does and it gives the child the opportunity to be the doctor instead of the patient, which is always a good game.
In this way, the doctor's kit can help to reduce or prevent a fear or dread of doctors, which is particularly beneficial for sick children.
When you buy a children's medical kit online, you can often have it wrapped and then delivered straight to your door or a nearby parcel shop.
Easy and convenient, buy a medical kit today which is the perfect gift idea for children