When it comes to finding Christmas gifts for baby, it can be hard to know what to buy. Babies develop quickly, so a Christmas gift for baby should ideally suit the stage of development that baby is at. Here we have put together a wide range of Christmas gifts for baby. You can use the list as inspiration or buy the Christmas gift for baby by clicking on the products.
Christmas gift for baby 2017
Here is a wide range of the most popular and best Christmas gifts for baby. All the Christmas gifts on the list are especially suitable for little ones under 1 year old.
Lamaze toys for baby
Lamaze baby toys are some of the most popular baby toys. Developed by teachers and educators, the toys are designed to capture and hold baby's interest. Lamaze toys for baby are sensory toys. This means that attention has been paid to stimulating baby's senses, such as touch, sight and hearing. The cute Lamaze Elephant here is one of the best and most popular Lamaze toys. It can play music, and is easy to grab. The cute elephant can be bought right here, where you can also see much more cute llama toys. 
Go-cart - A fantastisk christmas gift for baby
A pushchair is a great Christmas gift for baby as it can be used for a long time. When baby is 7-9 months old, he or she will start to stand up. A stable pushchair is good to lean on and therefore supports baby's motor development. Once baby has learned to walk, the walker can be used to carry toys around, which is always a fun game. The Brio Stroller is a classic stroller that has been popular with children for many years. Buy the Brio stroller here in red or black. 
Books - A Christmas gift that will last for years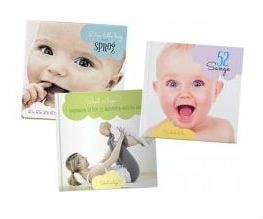 Children love books. Looking at the pictures and talking about them helps develop language and it's also a nice time to spend with your baby. You can get books where the pages are made of strong cardboard so baby can't break them. If you want cheap books for your baby, consider joining the Gyldendal Children's Book Club.When you join, you get a free baby pack (choose from 3 different ones) and access to lots of great children's books at cheap prices.
Bobbles - Thumb toys that develop motor skills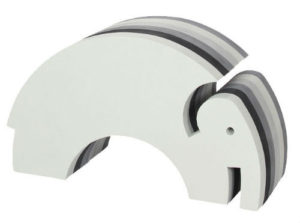 Another great Christmas gift for baby could be the popular Bobbles tumbling toy. The durable toy is made of EVA foam. Bobbles is a great Christmas gift for baby as it can be played with in many ways and therefore can bring joy for many years. The different types of Bobles toys are also great to combine with each other, so you can play in even more ways. See toys from bobbles right here. 
HappyHello Toy Box - New toys every month - try for only 19 DKK per month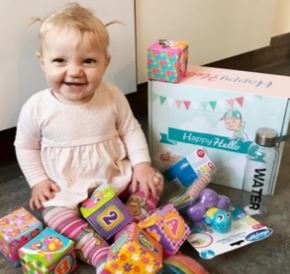 Great Christmas gift for baby and children up to 6 years. Read more about Happy Hello here
A different Christmas gift for baby that ensures you get carefully selected toys every month that are exactly right for your baby's age, gender and stage of development. You get the toys in a cute case and the contents are chosen by experienced educators. When you sign up, you'll receive a baby pack that also includes a gift for mum. You get great value for a small amount each month.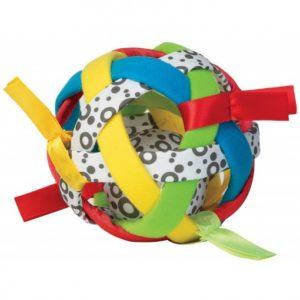 Sensory toys
Sensory toys are toys specifically designed to develop and stimulate baby's senses. Sensory toys are a great Christmas gift for baby as they will capture baby's interest and therefore encourage baby to grab, reach out etc. depending on baby's stage of development. Take this award-winning sensory ball, for example, which is fun to touch, easy to grasp and even rattles when shaken. It's not a cheap Christmas gift, but it's sure to be a hit with baby. Buy the sensory ball right here
High chair - the practical Christmas gift for baby
When babies are 4 - 6 months old, they should start on porridge or other solid food instead of just milk. It's a big day, and it requires baby to come to the table. For this, baby will naturally need a high chair, which is one of the slightly larger inventions. A high chair is a practical Christmas gift for baby. The Tripp Trapp chair shown here can be used up to the age of 12, so you can say that this Christmas present will bring joy for many years to come. Buy here. 

Activity blanket
When baby is around 6-8 weeks old, he or she starts to take a serious interest in toys and also quickly gets better at lying on her tummy for longer periods at a time. From this age, most babies can start to lie on a play mat and enjoy themselves, looking at toys. That's why an activity blanket is a great Christmas gift for baby. The Fisher Price activity blanket shown is full of bright colours and characters for baby to look at. See more play blankets here. Buy play blankets here. 
Baby clothes - the Christmas gift you can always use
Babies grow really fast. In fact, they grow more in the first year than at any other time. That's why new clothes are almost always a good Christmas gift for baby. When you buy baby clothes online, there's often more choice and you can almost always find the size you need. For Christmas, it's a good idea to buy clothes for spring, such as a jacket or a nice hat. At Kids-World they have all the great brands in baby clothes such as Hummel, Marmar, Joha etc. See the large selection of baby clothes here
Sophie Giraffe - the best teething toy
Over 20 million people worldwide have bought this cute giraffe for their babies. It's super soft to bite into, made from eco-friendly materials, and it's just so cute. Kids love chewing on the giraffe's long legs, and the head with ears is also perfect for scratching sore gums. You can buy the popular giraffe with a unique discount if you sign up for our newsletter in the left menu. You can of course also buy the giraffe without the discount right here. 
Doll - The first doll for Christmas
When babies are around 12 months, most start to find an interest in dolls. That's why baby's first doll is a great Christmas gift for baby. Although baby may not have the interest right away, it will definitely come. Doll play is the classic role play game where children play mummy, daddy and baby. Mimicking the situations children know from home is a great and effective way to learn. You can buy cute dolls right here. 
Cherub in wooden box
The Putte in the Box is another classic toy that has been popular for many years. Putte in the box teaches baby about shapes and colours, making it an educational and great Christmas gift for baby. At first, baby can play with the blocks and try throwing them. Then baby can try putting the blocks in the box, which is a game that keeps on being fun. Putt in the box is therefore a good Christmas gift for baby, as it can also be used for many months.
Sandbox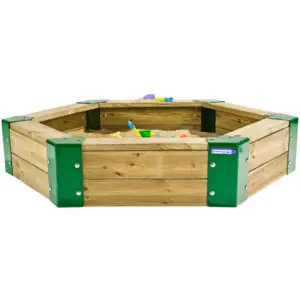 A sandbox is one of the larger gifts you can give your baby for Christmas. The sandbox can be used by children as young as 6-8 months, as soon as they learn to sit up. A sandbox is therefore a good Christmas gift for baby, as it is guaranteed to be used a lot when baby gets a little older. There are many different sandboxes to choose from.
The best sandbox has a lid or cover and is made of wood, as it is resistant to being left in the wild. The edges of the sandbox shown are a great place for mum and dad to sit while your little one plays with sand. You can buy great sandboxes right here.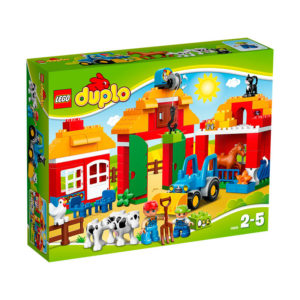 LEGO Duplo
LEGO Duplo has for many years been a popular and very good Christmas gift for baby. The bricks are fun for children as young as 9-10 months and upwards. Later, the bricks can be used to learn colours and, of course, to build and construct a whole lot. LEGO bricks develop fine motor skills. You can choose from a wide variety of Duplo fits. There are farm-themed packs, jungle-themed packs and much more. The packs come in many sizes, so you can choose a Christmas gift for baby that fits your budget. See lots of the popular Duplo right here. 
Teddy - The Christmas gift that becomes baby's best friend
A cute teddy bear has always been a great Christmas gift for baby, and all other children. A teddy bear is sweet and soft to cuddle, and can comfort baby if mum or dad aren't around. Teddy bears can also be great sleeping companions, making it easier to settle down when it's time for bed. Children love teddy bears for most of their childhood. Often the favourite teddy is kept for life, so it makes a great Christmas gift for baby. You can buy the cute rabbit, or other teddy bears, right here.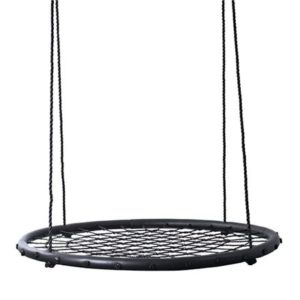 Sansegynge
A sensory swing is a great Christmas gift for baby, as it can be used from newborn and will continue to be fun, even in nursery and kindergarten. The swing is designed to effectively strengthen baby's balance and motor skills through movement. Some babies also settle down on the swing, making it a great place to sleep. Especially if there is also a cushion on it. See much more about sensory swings here. 
Stableblocks
Stacking blocks are a toy that the vast majority of babies find fun. The blocks can be placed on top of each other or pushed into each other, so there are lots of different ways to play with them. Many stacking blocks also have great colours that baby will love to look at. Stacking blocks can also be used to teach counting when he's big enough. You can choose from several different kinds of stacking blocks at Lirumlarumleg here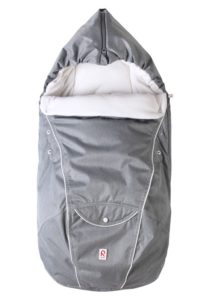 Carrycot - a practical Christmas gift for baby
Christmas is a wonderful time, but also a cold one. And it often gets even colder in January and February. That's why a driving bag is a great Christmas gift idea, which might also be a little different from the tradiotional Christmas gifts for baby. The sleeping bag keeps baby warm in the stroller or pram, and you don't have to wrap baby up in a lot of clothes when you go out for a walk. You can choose from many great carrycots at Babygear, where there's always free shipping
Birthday Train
A birthday train is another great Christmas gift for baby. If baby hasn't had his first birthday yet, Christmas is also the perfect time to give the birthday train as a gift. The train works by putting a new number on it each year, so it's clear how old baby is. It's a nice tradition that children are sure to enjoy. The birthday train is a great Christmas gift for baby that you can take out and enjoy every year. Buy the birthday train here. 
Baby swing
Babies love to swing and it is very effective in stimulating their balance and motor development. The baby swing shown can be used both indoors and outdoors, making it a great Christmas gift for baby. It can be hung up in baby's room, or perhaps on a swing stand in the garden. Buy the baby swing here.
Stroller 
A pushchair is one of those Christmas gifts for baby that also benefits mum and dad. Most people will be happy to use a pushchair when baby is 6-12 months old. By this age, most have learned to sit up and babies don't sleep as much. There are many different pushchairs to choose from. You can check out several different ones at Pixizoo, which always has the lowest prices and great deals. See more strollers here.
Wooden blocks with sound
These beautiful wooden blocks are sure to make a great Christmas gift for baby. Each block is a beautiful colour and looks like a specific animal. When you rattle the blocks, they make a sound, which makes them even more fun to play with. The blocks are great toys as they let your imagination and creativity run wild. The blocks can be stacked in all sorts of ways, making them a fun Christmas gift idea. Buy the fine bricks here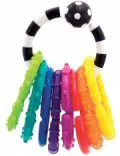 Activity rings
Sometimes the simplest things are also the most fun for babies. These activity rings are easy to grab and they're also great for teething. They can be joined together to form a long chain, or sit together like a bunch of keys. They have nice, bright colours, which are the ones baby sees most clearly. Plus, it's an inexpensive Christmas gift at £49.95. The activity rings are seen at Gucca - click here
Lunch box
When babies start getting more real food, eating rye bread, etc., a lunchbox is needed. Shaped like a Lego brick, this great-looking lunchbox is also good and spacious. It's also great to take to nursery or kindergarten when the time comes. The lunchbox can be purchased at Gucca - click here 
Clutter for the changing table
Babies love to look at things that move. And it can hold their attention while you're changing a nappy or something. A cradle can be hung over the changing table or playpen and is sure to catch baby's attention. You can get many beautiful urns that are not only fun for baby, but also serve as a beautiful decoration in the nursery. See beautiful wreaths right here. 
Doll carriage
The doll's pram is another classic toy that has been a hit with babies and children all these years. You can put your doll in it and take her for a walk. Doll carriages are great for babies who have learnt to walk, as you can push the carriage along. You can buy the beautiful Sebra doll trolley right here. 
Storage for toys
The older baby gets, the more toys he or she will have. That's why buying some practical storage for toys can be a great Christmas present for baby. Most babies keep their toys in the living room, as they want to play where their mum and dad are. It's therefore nice to have somewhere where they can be put away again without taking up too much space. For example, these 3 baskets from Done by Deer. The 3 baskets match nicely in colour and it is easy to tidy up all the toys in the baskets. Buy them here 
Cloud B giraffe - teddy bear with soothing sounds
This cute giraffe is one of the special Cloud B teddy bears made to soothe newborn babies. The teddy emits soothing sounds that help baby relax and calm down. The teddy can make four different sounds: mum's heartbeat, spring rain, whale song and sea breeze. The giraffe can be easily mounted on the cot so baby has it within earshot. The giraffe is seen at Gucca - click here
Night lamp - a cute little cloud
This little lamp is a really cute Christmas gift for baby. The lamp is dimly lit without being harsh, making it a great night light for baby. The lamp is cordless and lights up with an LED bulb that never gets hot. The little night lamp is therefore completely safe to use in the nursery. Many babies settle down more easily when there is a little light, which is why a night light can be a great Christmas gift for baby. Buy the cute night lamp here. 
My first puzzle
Placing jigsaw puzzles challenges the brain to learn colours, shapes and colours. A baby puzzle is therefore a great Christmas gift for baby that is also educational and fun. This fun puzzle is ideal as the first puzzle to learn colours and shapes and see how it all fits together. It comes in a nice package and is made of high quality wood. The puzzle is seen at Sundleg. - click here to see more 
Luxury rocking horse
A rocking horse is a really fun Christmas gift for baby. A rocking horse doesn't have to be a horse, but can also be a rocking sheep, rocking cow or something completely different. What they all have in common is that you can sit on them and swing back and forth. It develops the sense of balance, and it's fun too.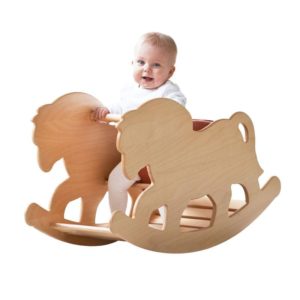 Price 4.595,95 kr.
Luxury and stylish
Ergonomically correct
Can be used from 6 months!
Here you get a rocking horse that must be said to be a unique Christmas gift for baby. The rocking horse can be used from 6 months due to the safe seat. It has a really beautiful design and will look great in any living room or nursery. It is both fun for baby, but also a beautiful decoration in the nursery.

Rocking elephant - can also run on wheels
If you're looking for a slightly more appetising price point than the above, consider this cute Bodil rocking elephant. It is CE marked and costs 949 DKK. The elephant is a popular Christmas gift for baby, partly because it can both rock and roll. It can be used from about 1 year, depending on baby's height.  Buy the cute rocking elephant right here
Activity centre - hours of play in this Christmas gift for baby
If baby really needs to be spoiled with fun toys, this activity centre is a great Christmas gift idea. The activity centre has a ball pit, put in box, hammer board function and is filled with fun colours and characters. There is plenty for baby to explore and although this is not an inexpensive Christmas gift for baby, there really are hours of fun and play. Buy the beautiful activity centre here. Set at 1.049 kr. 
Large sack cushion from Done by Deer
A great beanbag chair that encourages lots of fun and games. Shaped like a large elephant, the beanbag is perfect for creating a cosy corner in your child's room. Like everything else from Done by Deer, the beanbag is good quality and made from durable material. A great Christmas gift for baby. Buy the beanbag chair here for 699. Also available in pink.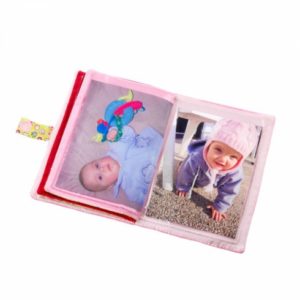 Photo album for baby to look through
Babies love to look at pictures, especially if they are of people they know and love. This cute photo album is made so that baby can't crease or break the pages and can therefore look through it themselves. It's a personalised Christmas gift for baby that's sure to be looked at a lot. The photo album is seen here, at Børnenes Kartel. 
Foam yellow for baby - useful Christmas gift for baby
The older babies get, the more time they spend on the floor. On the floor, baby learns to lie on his tummy for longer periods of time, and from there start crawling and getting up before he gets up and starts walking. When baby is learning to get off, it is important that the surface is not too slippery or soft. A foam floor is a perfect place for baby to play, and therefore a great Christmas gift for baby. The version shown is also available in boys' colours, and has been seen at Børnenes Kartel.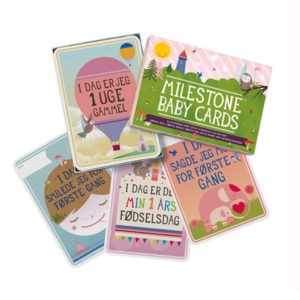 Milestone cards for baby
Milestone cards are a new and fun way to preserve and remember all the most special memories from baby's first year. Milestone cards work by writing a date on the card and then taking a picture of baby and the card. This way, you'll never forget the most important dates, and the photos are also perfect for sharing on social media so friends and family can keep up with baby's progress. A great Christmas gift for baby. Buy milestone baby cards here. 
https://startpakke.com/wp-content/uploads/2017/03/logo.jpg
0
0
Maria
https://startpakke.com/wp-content/uploads/2017/03/logo.jpg
Maria
2017-08-07 12:21:53
2018-12-06 10:59:53
Christmas gift for baby | Good Christmas gifts for baby