A wooden hammer board is a great toy for children to buy for many years. A hammer board strengthens hand-eye coordination as well as fine motor skills. It involves hitting the nails with the hammer, hammering the nails all the way into the board. It's fun and challenging for the child, plus it makes a lovely noisy sound.
A hammer board challenges hand-eye coordination and fine motor skills
Here we have taken a look at the many different sales hammerboards you can get. There are so many to choose from, so you're sure to find one that suits your taste.
Find suggestions for the best hammerboard further down in the text ↓
Hammerboard - when?
Here we have highlighted 3 types of hammerboards suitable for children of different ages.
A cute and fun hen that is sure to delight the little ones. The hen's eggs have to be hammered down and then come out of the stomach.
The hammer hen is good for the little ones as the eggs are easy to hit with the hammer.
Hammerboard with three nails
Very nice wooden hammer board from the good brand Plantoys. This hammer board is good for toddlers and the youngest children from about 2 years. Hitting the nails requires motor skills and they need to be hit more than once to be hammered home. Children will also be challenged by putting the nails back in, so they are ready to be hammered in again.
The hammer board costs 319 kr.
Here's a nailing board that's particularly good for slightly older children from around 4 years old. You can make your own pictures with the pieces, which you simply hammer onto the board. You have to hammer through the holes in the pieces so that they stick to the board. There are 118 pieces in the set, so you can make lots of different shapes.
Best wooden hammer board
Here we have highlighted a lot of examples of a good hammer board for children. They are all made of wood, which is good and durable. Look through the list and see if you can find the right hammer board for you.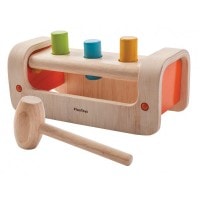 Sustainable hammerboard
A hammer board in really good quality from the brand PlanToys. The board stands firmly on the table or floor when hammering away. It's all made from sustainable wood. A toy you can buy with a clear conscience. The hammer board is made in round shapes and nice colours. The price of the hammer board is 319 DKK.
Why the hammerboard is sustainable
All production is sustainable
A new tree is planted for each tree felled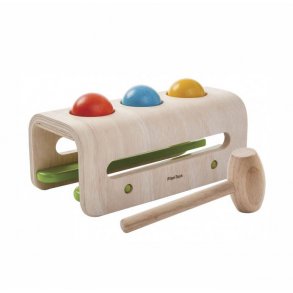 Plantoys Hammerboard with balls
This hammer board is with balls, which makes it a bit easier to hit with the hammer. A hammer board with balls is therefore particularly suitable for very young children of around 1 year. The hammer board with balls would be a great gift for a 1st birthday. When the balls are hammered through, they land on two rails so that they tumble out onto the floor. A fun game that makes noise!
One advantage of a hammerboard with balls is that they don't need to be hammered as many times. This hammerboard is therefore slightly less noisy than those with traditional nails. The board is available from Børnenes Kartel and costs DKK 299.95.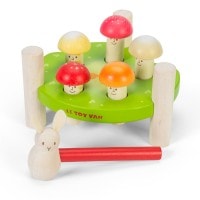 Hammerboard with mushrooms
Very cute hammer board, where the seams are small sponges to be hammered to the bottom. Both the sponges and the hammer have little faces drawn on them, which are sure to delight your child. The whole set is made of wood, and is produced in great colours. The board is painted with non-toxic and waterproof paint.
The hammerboard is from the popular brand Le Toy Van. Every time Le Toy Van cuts down a tree, they plant a new one. You can therefore buy this beautiful hammer board with a clear conscience. The price is DKK 249.
Special features of this hammerboard
Small sweet mushrooms instead of nails
Non-toxic and waterproof paint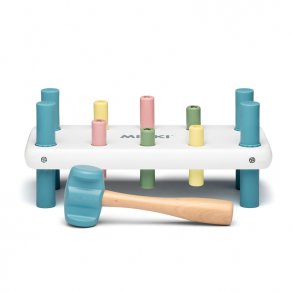 Hammerboard in pastel colours
If you like pastel colours, this hammerboard is the right choice. There are 6 nails to hammer down. The legs of the hammer board and the head of the hammer are made of soft plastic, which reduces the noise level. So if you're looking for a hammer board that won't make the glasses in your cupboard clink, this could be a good option. It costs DKK 229.95.
Advantages of this hammer board
Silent hammer board
Paste colours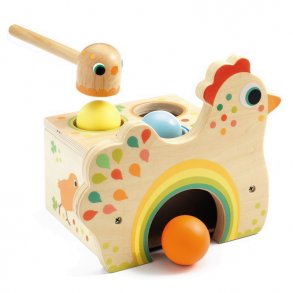 A cute little hen as a hammer board
A different hammerboard made from a hen. When the hen's eggs are hammered down, they tumble out of the hen's stomach. A different design on a classic toy. The balls are very easy to hit with the hammer, and therefore well suited for the youngest children. The hen is fun for children from 1 year. The price of this hammer board is DKK 229.95.
Unique hammer board because
It is shaped like a hen
Painted with great colours
Lays up for fun games with the hen's eggs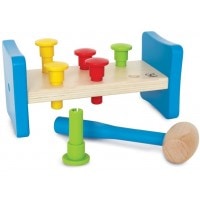 My first hammer board - easy to hit the nails
Very nice little hammer board in nice colours. The nails are shaped like real nails. This means that they have a sun head which makes it much easier to hit them. This hammer board is therefore a good choice as the first hammer board. The hammer board improves coordination and is fun for children to play with.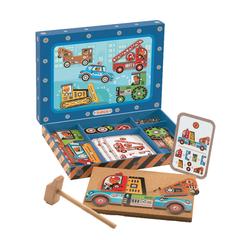 Djeco hammer board - build cars (from 4 years)
Create beautiful cars with this nice set from Djeco. You can hammer the pictures onto a corkboard and design your own cars. A fun version of the hammer board, suitable for children aged 4 and over. A fun gift idea that strengthens children's motor skills and creative development. A great gift idea for Christmas or a birthday.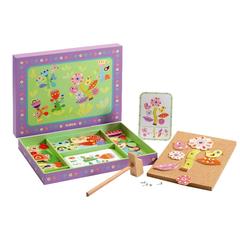 Djeco hammer board - make fine flowers (from 4 years)
With this nice board you can design your own flowers in beautiful colours. The set includes many nice pieces, as well as a book with inspiration for pictures. A great gift idea for children. The hammer board strengthens children's motor skills and creative development. A great gift for Christmas or a birthday.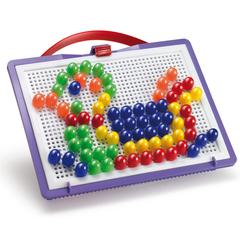 The classic nailing board from Quercetti
This nailing board is one we may all know from our own childhood - Quercetti has been producing the nailing board for many years. It comes with 103 parts and they can all be packed and taken on trips in the bag provided. A fun toy that strengthens creative development, coordination and hand-eye coordination.
Suitable for children from 3 years. The sewing board costs only 89,95 kr.
Why a hammerboard is a popular toy
A hammer board is fun for kids in several ways. Hammering and making noise is always a hit with kids. Watching the nail being hammered down by its own power is a great experience for the child. In addition, it is a game that can be repeated again and again. The hammer board strengthens the child's development, especially hand-eye coordination, when hitting the spot with the hammer. This naturally becomes more difficult the smaller the hammer. In addition, the child's fine motor skills are put to the test when she has to place the nails in the small holes. This can be difficult, so it is a victory for the child when she succeeds. Older children, from around 2 years old, can also practice colour recognition if they are given a hammer board in bright colours.
Classic toys - great gift idea
A hammerboard can be said to belong to the category of "classic toys". A wooden hammer board has been a popular toy for many years, and almost all children love to play with it. That is why a wooden hammerboard is often found under the Christmas tree or among birthday presents. The hammerboard does not take up much space and is easy for most people to find room for in the home.

Hammerboard - when?
Fortunately, there are hammerboards for children of almost all ages. We recommend the easiest hammer boards for children around 1 year old - a hammer board is a great gift for a 1st birthday present. For younger children, we recommend a hammerboard with balls instead of nails. These are easy to hit with the hammer and you don't have to hammer as many times before the ball falls down. Plus, it's easy to put the ball back in place.
For slightly older children from around 2 years, we recommend a hammer board with nails. These are more difficult to hit, and therefore place greater demands on the child's coordination skills.
For older children, we recommend an old-fashioned hammer board. These are much more demanding and there's plenty of opportunity to be creative. This type of hammer board is also known as a nail board. Children from 4-5 years and up to 10-12 years of age will find these nail boards fun and challenging.
Hammer board for the little ones (from 1 year): a hammer board with balls
Hammerboard for toddlers (2 -4 years) Wooden hammerboard with nails
Hammerboard for big kids (4-12 years): old fashioned nailboard