Many parents are looking for Gurli Gris toys as they know Gurli Gris and her family and friends quite well. Gurli Gris is a popular cartoon for the youngest, which is broadcast on DR Ramasjang, available on Netflix and you can also watch some episodes on Youtube.
Children love recognizability, and Gurli Gris toys will therefore almost certainly create excitement and joy in the smallest members of the family. We have gathered here a range of the Gurli Pig toys that you can get. Toys with Gurli Gris are exciting and fun for children, as they know Gurli Gris from TV.
See Gurli Gris toys further down the page
About Gurli Gris and Gurli Gris toys
Gurli Pig is originally a British programme entitled "Peppa Pig". The series is made by Astley Baker Davies and Contender Home Entertainment. It is an enjoyable TV series for children, consisting of many small episodes of about 5 minutes. The episodes are typically about something from everyday life, like brushing teeth or being out playing. These are situations that children know from their own everyday lives and therefore find funny. The series is fairly slow-paced and the drawings are simple, so it's easy to see what it's all about. This makes the series particularly good for the very youngest children aged 0-3.
Since the first episodes were broadcast in the UK in 2004, the series has spread to other parts of the world, and is currently very popular in Denmark. Perhaps especially because the series is available on Netflix, which is used by many families with children. After the success of the series, Gurli Gris toys have appeared on the market, also here in Denmark. Many different toy shops, including online shops, sell the popular Gurli Gris toy.
Gurli Gris toys - Here are the best toys with Gurli Gris
Here we have collected an overview of the best Gurli Gris toys. See all the different Gurli Pig toys by scrolling down, and get to the retailer by clicking on the links.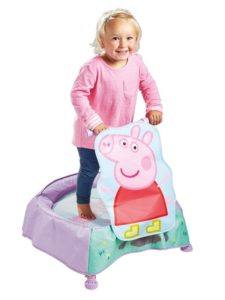 Gurli Gris Trampoline with sound
Go jumping with Gurli Gris. This fun trampoline even makes funny sounds when you jump on it. This trampoline with Gurli Gris is especially good for the youngest children aged around 1 - 3 years, as it has a handle to lean on. The handle makes it easier to keep your balance, so even the smallest children can jump away. Jumping strengthens both balance and motor skills and is a super fun activity for children. The trampoline is not very big, so it can be used both indoors and outdoors. You can buy the Gurli Gris trampoline for DKK 768, right here.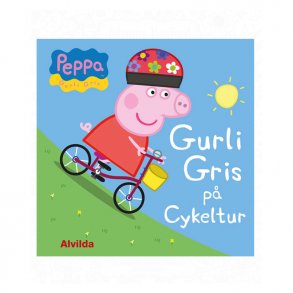 Children's book: Gurli Gris on a bike ride
One of the new Gurli Pig books, so children can read a little story about Gurli the pig before bedtime. The book is really nice with nice colours, and tells a cute story about Gurli who is out riding his bike. As with the cartoon, the story moves at a pace that the little ones can follow. The book can be bought at Børnenes Kartel for 59,95 DKK.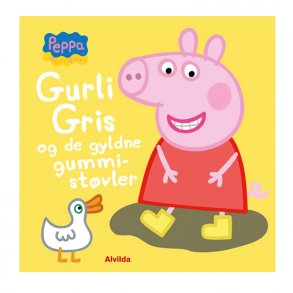 Book with Gurli: Gurli Gris and the Golden Rubber Boots
Beautiful book of 40 pages and even with a gold cover. The book is about a competition that Gurli has to participate in, but her golden rubber boots have been lost. Read the story with the recognizable pig and her friends and have a nice time with your child. The book costs DKK 99.95, and can be bought right here at Børnenes Kartel.
Gurli Gris junior bed
Is your child so fond of Gurli Gris that he or she won't sleep without Gurli? Then this junior bed is the perfect choice. The bed is available with or without mattress. There is a large drawer under the bed with plenty of storage space. The bed has a bed frame so you can't just fall out of bed. Children find this particularly useful when they move from their cot. The bed also comes with a bedside table, where you can keep a book or perhaps a night-light. With mattress, the bed costs DKK 2,568. Buy the bed at Only4Kids right here. 
Toy box with Gurli Gris
A really nice toy box that helps keep track of the toys in your room. The box is in nice, bright colours and has a nice picture of Gurli Gris and Gustav on it. The box is quite spacious, and is made of durable MDF boards. A lid is included to keep the room neat and tidy. Perhaps there will be room for Gurli Gris toys in the box? The model shown costs DKK 618. Choose from several colours and designs here.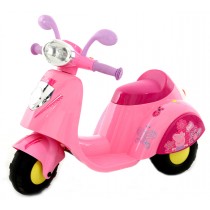 Gurli Gris electric scooter - really fun toy with Gurli Gris
Press the accelerator and go! This beautiful electric motorcycle with Gurli Gris gives the little ones plenty of opportunity to get up to speed. The electric motorcycle can run for about 60 minutes on one charge, taking 8 - 10 hours. Riding the electric scooter strengthens your balance and it's fun to go fast. The electric scooter can go at about 2.5 km/h. You can buy the bike for 1.268 kr. right here
Gurli Gris playhouse
Here is Gurli Gris and her family's house, with four rooms. The house comes with Gurli Gris and her little brother Gustav, so there's plenty of opportunity to start playing. There is a garden to the house, so the pigs can play and have fun outside. The house is practical as it can be folded away when it is no longer needed for play. It also comes with interiors for the house such as a TV, bed, fridge and a seesaw for Gurli and Gustav to play on in the garden. A wonderful playhouse that lets children play in Gurli and her world. The playhouse is seen for 239,95 kr. at Gucca. Go to dealer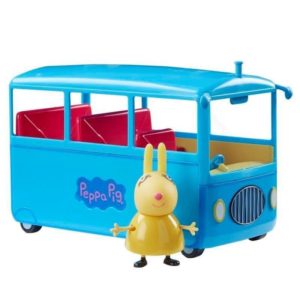 Gurli Gris - school bus
Mr Rabbit's school bus leaves every morning when Gurli Pig and her friends go to school. Inside the bus, there is room for several characters to get to and from school. The pack includes the school bus, Mr Rabbit and Mrs Rabbit. All recognisable characters from the cosy cartoon. The bus is recommended from 3 years. Buy the school bus ho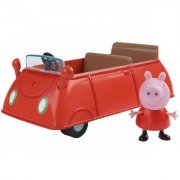 s Gucca for 159,95 kr. 
Gurli Gris' car
Take Gurli Gris for a ride in the beautiful car, which is known from the TV series. The car is red and can go for a spin. A funny detail is that Gurli Gris and her family originally did not wear safety belts in the car, for which the series received criticism in the first two seasons. After that, everyone in the family wears a seatbelt and Gurli Gris and Gustav sit in car seats in the back of the car. From 3 years. Gurli and her car can be bought for 159 DKK at Gucca - click here to go to dealer. 
Gurli Gris toys: on a camping trip
With this fun Gurli Pig toy, Gurli and her family can go on a camping holiday in their very own caravan. The caravan has free wheels and a fold-out awning. The package includes Gurli's whole family: in addition to Gurli Pig, you also get Gustav, Daddy Pig and Mummy Pig. Accessories for the caravans include a picnic table, chairs and a barbecue. Age: from 3 years. Buy the fun caravan for DKK 349.95 right here. 
Grandpa Pig's boat - designed to float in water
Gurli Gris and her little brother are dressed as pirates and ready to take to the seas. The boat is specially designed to float in water, so it's perfect for taking to the bath. In this Gurli Gris toy you get Grandpa Pig, Gurli Gris, Gustav and a boat with a pirate flag and bell. The boat is equipped with wheels so it can move quickly even if there is no water nearby. The figures measure approximately 10 cm, 6 cm and 4 cm. The toy is suitable for children over 3 years. You can buy the Gurli Gris toy at Gucca for DKK 239.95 here
Curly Turtle Book - colour in Gurli Gris and her friends
With this Gurli Gris toy, there is the opportunity to really get started with creativity. The book has 128 pages of pictures from the cute cartoon. So just get out the paints or tufts and start colouring. The colouring book costs 89.95 DKK at Gucca - go to dealer
Toys with Gurli pig - Construction
A lot of toys are made with Gurli Gris and her friends and family. Among them there is a whole series called Construction. These are building bricks that resemble the traditional LEGO bricks that we all know. In Gurli Gris Construction there are the familiar characters from Gurli Gris and her world, they are just made as building blocks,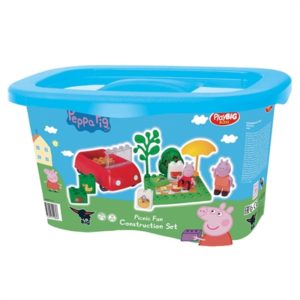 that can be put together as you wish. The toy challenges both imagination and creativity, while allowing children to play with the cute pig they know from TV.
If you want to get started with Gurli pig construction, you can start with a large box filled with blocks. All the blocks come in a handy plastic box that can be used as a suitable storage for the blocks. You can buy this box at Toy Expert for 215 DKK. Go to dealer
Two cute characters: Gurli Pig and Freya Sheep
The two cute figures are here made in Construction version. This means that they can sit down and hold on to things. Gurli and Freja are ready to make lots of trouble. The two figures cost only 68 kr., and can available at Legetøjseksperten - go to retailer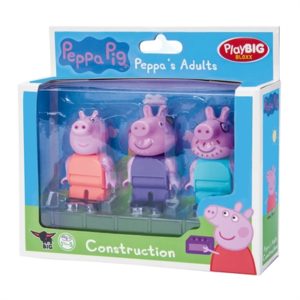 You can also buy Mother Pig, Father Pig and Grandpa Pig as characters. The price for the 3 figurines is 99 DKK. All the construction toys can be put together in a variety of ways, so it's a great idea to have several different construction toys with Gurli Gris.

Gurli Gris and Karen Kat teddy bears
These cute plush teddy bears are especially good for toddlers aged 1 - 2 years. Perfectly sized to fit a baby's hand, they're cute and cuddly. At the time of writing, you can choose between either Karen Kat for €79.95, or Gurli Gris "herself", which costs €149.95. Both cute teddy bears are sold at BR Toys, either in store or online.
Gurli Gris play tent
Gurli the cute pig and all her friends are loved by many toddlers. The Gurli Pig play tent has pictures on the side and looks like the house Gurli Pig lives in. Flags hang in front of the door, which decorate well. A really cute play tent for children for 418 kr. Buy it here
Gurli Gris characters
The main character of the series is of course Gurli Gris and her family. Gurli Pig has a little brother called Gustav Pig and they live with their parents, Mother Pig and Father Pig. They often visit Grandma and Grandpa Pig. The other characters in the series are also mammals, as have a name with the same beginning as their species. For example, Freya the Sheep. All the animals wear clothes, drive cars, and live in houses, but still use their animal sounds once in a while, as well as any of their interests and chores. For example, Gurli Pig and her family love to jump in mud and they grunt once in a while when they talk, while the rabbits live in burrows and eat carrots. Among the various Gurli Gris toys, there are also toys with the other characters from Gurli Gris, including Karen Kat.
Why Gurli Gris toys are so popular
Children love recognisability and that's probably why Gurli Gris toys are so popular. When kids see a character on TV, they love it and will love to play with it, just like you can with Gurli Gris toys. It can either be pictures of Gurli Gris on any of their furniture or toys, but it can also be little figurines with Gurli and her family. The little Gurli Gris teddy bears are also very popular with children. The cute pig has become a brand in itself, and understandably so, because it's a really cute cartoon. If your child/children also love Gurli Gris and her friends, then you can find a great selection of Gurli Gris toys on this site.
https://startpakke.com/wp-content/uploads/2017/03/logo.jpg
0
0
Maria
https://startpakke.com/wp-content/uploads/2017/03/logo.jpg
Maria
2017-08-24 09:12:01
2018-04-10 12:43:20
Gurli Gris toys | Toys with Gurli Gris