Pregnant week by week: What happens inside your belly during your 40 weeks of pregnancy? Here you can follow your pregnancy week by week. From the time your baby is a tiny sprout until he or she is full-term and ready to meet the world.
Pregnant week 2
Ovulation
This week, ovulation occurs. This happens when the egg detaches from the ovary and makes its way down to the uterus. The egg can be fertilised in 12 - 24 hours after ovulation. Sperm can survive for up to a week, so if you have had sex in the days leading up to ovulation, or on the day of, there is a chance of pregnancy.
Signs of ovulation
Mood swings
Stabbing pain in the side
Increased vaginal discharge
Calculate ovulation
If you're not sure when your ovulation will take place, you can calculate it using the Clue app. Here you can enter when you last had a period and the length of your cycle. The app will then give you a good overview of your cycle and fertile period.
You can also buy cheap ovulation tests here.
Pregnant week 3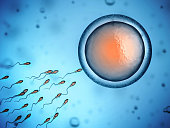 The egg is fertilised and the sex is determined
The egg is fertilised and attaches to the uterus. The sperm cell determines the sex of the baby as soon as it enters the egg. So it's already decided whether it's a boy or a girl.
How fertilisation happens
The sperm are in a race against the egg. The sperm is equipped with a tail, and swims up the fallopian tube. Only one sperm cell reaches the egg and penetrates it. The egg then begins to divide and moves down towards the uterus. Here it arrives within a week and attaches itself to the uterine wall. A pregnancy is underway!
Pregnant week 4 | Supplements
Positive pregnancy test
This week, most people can test positive on a pregnancy test. Every day, the pregnancy hormone HCG rises in the body. Many women can already feel they are more tired than usual.
You can buy cheap pregnancy tests here. It is also possible to be tested for free at the doctor's. If you choose to test at home, the best result will be obtained by testing with morning urine as the HCG content is much higher in the morning.
Absence of menstruation
For most women, missed periods are the first sign that they are pregnant. The tests you buy today are so good that they can detect a pregnancy from the first day your period stops.
Recommended supplements for pregnant women
The Danish Health Authority recommends that pregnant women take these supplements:
400 mg folic acid from the time of pregnancy until week 12
40 - 50 mg. of iron from the 10th week of pregnancy and the rest of the pregnancy
10 mg vitamin D throughout pregnancy
½ litre of dairy products a day or 500 mg throughout pregnancy
Pregnant week 5
Nausea and fatigue - the body is working at full speed
The baby now measures 4 mm and the heartbeat can be detected by ultrasound. The central nervous system involving the brain and spinal cord, along with muscles and bones, is also taking shape. The spine is already formed and nerve bundles between the vertebrae are now branching throughout the body. You may start to feel nauseous and crave foods you don't normally eat.
Advice against nausea
Eat many small meals throughout the day, instead of a few large ones
Eat crackers or crispbread
Eating sour buns
Brush teeth
Bananas
Almonds
Take vitamin B6 (talk to your doctor or midwife first)
Ginger tea (do not take supplements with ginger)
If you feel nauseous in the morning, eat something before you get up
Try acupuncture
Arrange your day so you can rest at the times when nausea is worst
Accept that it is a temporary period
Pregnant week 6
Baby weighs 1 gram
Baby now weighs about 1 gram and during this week the baby will triple its size. It is now possible to see the beginnings of eyes, the outline of the ears, the mouth and sometimes already the nose. In the first weeks of pregnancy, the foetus is very sensitive to alcohol. Perhaps the belly has already started to bulge a little. Especially in the evening, you may become very bloated.
Security scanning
If you feel very unsure and worried, it is possible to have a reassurance scan in this early part of your pregnancy. This is done privately at scanning clinics. Here it is possible to see the heart beating, which is a confirmation that the pregnancy is progressing as it should so far.
Pregnant week 7 | Medical visits
Baby grows 1 mm a day!
Now the baby is the size of an elongated pea and grows about 1 mm a day. The baby's brain is developing rapidly and new connections between nerve cells are constantly being made. The baby can move and its eyes are developing. Some women are very affected by nausea and fatigue during this part of their pregnancy, while others do not yet feel much change. Listen to your body and go to bed earlier than usual if necessary.
Time for 1st doctor visit: what to expect
The timing may vary slightly, but it's about time to get a water record from your doctor. In future, the water record must be brought to all doctor and midwife appointments. You will also need to have a blood test, which will be used to make a combined risk assessment for the neck scan.
Talk about whether you want the neonatal and malformation scans offered by the state
Make water record and set term
Do you have wishes regarding the choice of midwife
Talk about your cycle and any previous pregnancies
Whether the pregnancy is spontaneous or achieved with treatment
Where you want to give birth
Talk about chronic diseases or malformations in the family
Pregnant week 8
The first facial features appear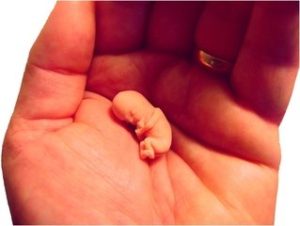 Your baby looks like a really tiny human as facial features start to show. The baby's sensory organs and the basic functions of the primary internal organs are developed. As the uterus grows day by day, the so-called ligament pain may start to increase. They may feel like a nagging pain around the abdomen.
It's perfectly natural if you experience minor pain in the lower abdomen, which can be described as menstrual pain. However, if the pain increases and is accompanied by bleeding, you should contact your doctor or midwife.
Pregnant week 9
Baby is as big as a strawberry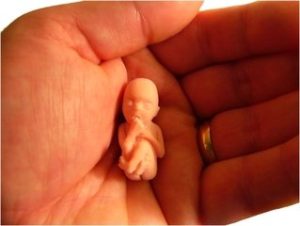 Baby is now the size of a strawberry. The nervous system and brain cells themselves are developing and maturing. The baby's sexual organs are now beginning to form. Big changes are happening in your body and it's quite normal to have mood swings and feel it's all very overwhelming.
Why you should remember iron supplements
During this period, large amounts of blood begin to nourish the placenta. This means that the amount of blood in your body will increase which may result in your blood count dropping. You may therefore feel a little dizzy and unwell, which is why it is important to eat food that contains iron.
Tissetrang
You are entering a period where you may feel a constant urge to urinate It is normal to have to urinate frequently as the uterus grows and puts pressure on the bladder. Make sure you pee when you need to and empty your bladder every time.
Pregnant week 10
Less desire for sex and air in the stomach
Baby now weighs 15 grams and is 35 mm. from head to tail. All the baby's internal organs are now formed and will quietly mature over the next 30 weeks. The heart, brain and nervous system functions are fully developed.
As the pregnant stomach starts to work more slowly, some pregnant women may suffer from constipation and/or gas to a greater or lesser extent. Remember to drink plenty of water. Because of the body's changes, for some it can also mean less desire for sex and mood swings.
40 - 50 g ferroiron
The National Board of Health recommends that pregnant women take iron supplements of 40 - 50 grams daily from the 10th week of pregnancy, and for the rest of the pregnancy. The amount of blood in the body increases, which is why iron is needed. Iron deficiency can lead to fatigue and complications of blood loss during labour. Many different types of iron supplements are available today. Some iron supplements are harder on the stomach than others. If you are in any doubt, consult your doctor or ask the pharmacist for advice.
You can see more about supplements here.
Pregnant week 11
After this week, the fetus' head and body will be the same length. The foetus can now open and close its mouth, and its eyes can distinguish light from dark (not because there is much light in the womb). The baby is now the size of a dried apricot! Even though you're almost over the vulnerable period and first trimester, many people still might not know you're pregnant. Make sure you get some exercise if you're not already doing so. It will be good for your digestion and body changes. Remember to drink plenty of water as you need to produce more blood for the uterus as well as amniotic fluid.
Making the pregnancy public
Many announce their pregnancy around this time. It can feel like a relief to finally tell those around you, and it's a great joy to share the news.
Pregnant week 12 | Neck fold scan
The fetal brain goes through important changes. The teeth are coming in and the baby can now swallow. The foetus is swimming around in the womb, but you can't feel any movement yet. The baby measures just over half a centimetre but has already developed a large part of its body.

The 1st trimester lasts until week 12. All vital organs are formed. The first and most vulnerable trimester ends next week.
Neck fold scan
Around week 13, most people have a neonatal scan. This measures the fetus' nasal bones and the thickness of the neck fold. The scan and the blood test you had earlier then give an overall risk assessment of any chromosomal abnormalities. These may include a risk of Down's syndrome and cystic fibrosis. You will receive an answer to the risk calculation right after the scan.
Pregnant week 13 | 2nd trimester
Congratulations! You are now in your 2nd trimester
The risk of miscarriage is now very low. All the baby's organs now need to be fully developed and working together. The baby is already starting to practise breathing by moving its chest. The foetus measures about 7 cm.
The second trimester is often called the "Golden Period", as nausea gradually subsides for most pregnant women and they generally feel better and more energetic.
Folic acid is no longer necessary
The first three months of pregnancy are now over and you no longer need to take folic acid daily. (Health Authority recommendation).
Pregnant week 14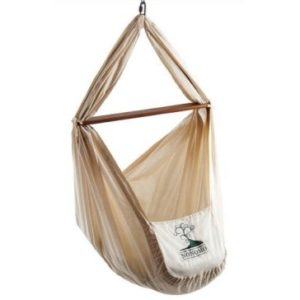 The child is the size of a plum
The child can now both hold and turn its head. Hands can grasp and feet can kick. However, it is still too early to feel life. As the amniotic fluid the baby is lying in increases day by day, it may soon mean that you need to wear looser clothes to feel comfortable. You may already need to invest in maternity pants and slightly looser blouses.
Purchasing baby equipment
Now that you're past the most vulnerable period of your pregnancy, it's time to start thinking about what baby gear you'd like.
Guide to the best pushchairs here
Guide to the best cradle and cot here 
Pregnant week 15
The child is as big as an orange
The eyes continue to move into place and the eyebrows can now be seen. By the end of this week, the child can clench his hand. The cerebellum and spinal cord are formed. In some pregnant women, the belly can begin to be felt, while in others it cannot be seen at all.
It is said that second-time pregnant women tend to get a little bigger, so the belly may already be visible. As the uterus grows upwards and outwards, the urge to urinate will decrease in most people. Some pregnant women may experience palpitations, which are perfectly natural. This is simply because your body needs to cope with the increased blood flow which, along with the baby's oxygen needs, has increased your heart's capacity to 20%.
Sex scan
From 14 full weeks, it is usually possible to determine the sex of the child. Many parents-to-be are curious to know the baby's sex, while others either wait for the malformation scan (it's a free scan provided by the public around week 20) or wait until the baby is born altogether. For those parents who can't wait to have their curiosity satisfied, several private scanning clinics offer appointments for a gender scan. Prices vary a lot and several clinics also offer packages, so it is also possible to have a 3D scan later in pregnancy.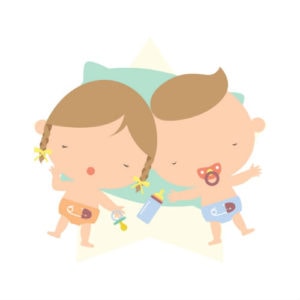 Pregnant week 16
There is still plenty of room for the child to kick and move
The baby can now furrow its eyebrows, suck its thumb and swallow amniotic fluid. The baby's hair grows and the so-called lanugo hair begins to cover the whole body. It is said that the purpose of lanugo hair is to help retain the skin fat that will form over the next month. Lanugo hair will not disappear until the end of pregnancy. It won't be long before you start to feel the first signs of life. Most pregnant women will feel movement somewhere between week 16 and week 20. However, some babies are more active than others.
Find different lying positions
As you get bigger and bigger, lying on your back can become uncomfortable. This is because the baby in this position can press against your aorta, cutting off the flow of blood through your body. You may therefore feel faint. There's nothing dangerous about lying on your back, but if you feel any discomfort, do change position. Some pregnant women may also benefit from having a pillow between their legs if lying on their side, as the pillow can support the body's position when relaxing.
Pregnant week 17 | Midwife visits
The baby is about the size of an avocado.
The child's body is thin and the skin is still transparent. The eyes are now covered by eyelids, but they do not open until around week 27. The baby can now respond to sounds and is aware of its surroundings. This also means that the baby may be startled by loud noises. From this week, the baby now weighs more than the placenta.
1. Midwife visit
The first midwife visit is often around week 17. The first interview is for general information. There is usually also a discussion about diet and other circumstances surrounding your pregnancy. Some midwives check the baby's heartbeat at the first consultation.
Pregnant week 18
The trend continues, but growth is less rapid now
The baby is growing and now weighs about 150 grams. The eyes have moved closer to the front of the face and there is now a hint of eyelashes. The ears are in the right place. The baby can hear mother's heartbeat and it can now drink from the amniotic fluid which can cause hiccups.
Extra iron supplements
As the amount of blood in your body increases during pregnancy, you may need extra iron. It is recommended to take iron supplements during pregnancy from week 10. You can also supplement with foods rich in iron, such as broccoli and spinach.
Pregnant week 19
The child's hearing is now complete
Between weeks 15 and 20, the baby's hearing develops. This means that your baby can now hear your heartbeat, when your bowels bubble, when you sneeze, cough, burp and laugh. Eventually, the baby will even become aware of your voice.
The uterus has become large and this can cause more and more painful ligament pain. Avoid pushing your body, but still make sure you exercise and move around as much as possible. Women who exercise during labour are more likely to have shorter and easier births. Many pregnant women develop pigment spots on their face and body. They will usually disappear after birth. However, remember to use a good sunscreen if you spend a lot of time in the sun, as pigment spots can become permanent.
Advice against swollen and sore legs
The heavy uterus puts pressure on the blood vessels and can make it harder for blood to flow back from the legs. The solution is to lie with your legs up. Preferably on the floor with your legs up on a chair.
Pregnant week 20
Congratulations - you're now halfway there!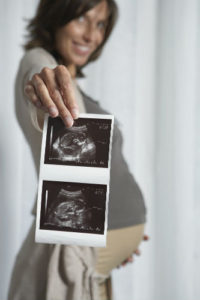 There are now only 20 weeks left until the due date. It's an exciting time you're facing. Even though it's hard to be pregnant, remind yourself to enjoy the time.
At week 20, the baby is estimated to weigh around 400 grams and be 25 cm long. By this time, most pregnant women have gained 3-5 kg. All babies usually follow the same development pattern until week 20. However, from this week onwards, the child's growth becomes more individual in relation to the parents' height and weight. The baby can now suck its thumb and practise the sucking technique.
Some pregnant women may experience recurrent fatigue during this period. This is partly due to the increased amount of fluid in your blood. If you feel tired, continue taking your iron supplement.
Malformation scanning (MD scanning)
In week 20, you will be offered a malformation scan. This is a thorough scan where all the baby's organs are scanned, including the heart, brain and body parts. This can determine if the baby has clubfoot, heart defects, cleft lip/palate or other abnormalities. The sex can also be determined, but this depends a little on how cooperative the child is for the scan.
Pregnant week 21 | Midwife visits
The child can now absorb nourishment
By week 21, the intestines have developed so that the baby is absorbing nourishment from the amniotic fluid. The placenta is still supplying the baby with food, but now it can pass through the intestines and down to the large intestine. The baby is now very active and you will feel life every day.
From this week, the belly really starts to grow and the skin stretches. Many pregnant women benefit from lubricating their skin with oil-based skincare products such as almond oil. If you suffer a lot from heartburn, drinking milk or a handful of almonds (chew them thoroughly) can help.
Midwife visits
It's time again for midwife visits. Here the baby's weight will be estimated and it will be checked if the baby is growing as it should. At all midwife visits, urine and blood pressure will also be checked. This is both to look out for possible cystitis, as pregnant women do not necessarily experience pain from this, and to check that blood pressure is stable.
Pregnant week 22
The child can now be described as a newborn in miniature
The baby is now so big that movements can be felt on the outside of the stomach. Baby's skin is still very thin and slightly reddish. The nerve endings have developed, which means they can now convey the very sensation of touch.
The stomach is getting big and this can cause discomfort in particular in the form of heartburn and pelvic pain. You may feel hotter than usual during this period. This is because the thyroid gland is more active during pregnancy.
Pregnancy Swimming
If you have the opportunity, it may be a good idea to go for a pregnancy swim. Many swimming pools have classes especially for pregnant women. The water can help support your tummy so it doesn't feel so heavy and the pressure of the water in the pool can also reduce any discomfort from water in your body.
Pregnant week 23
The child continues to practice breathing movements
The baby now weighs about 540 grams and the body is now forming pigment. This week the lungs take a quantum leap as the alveoli form. It is believed that the baby can dream at this stage. I wonder what the baby dreams about?
Usually the baby is calm when you walk or move, as this can be described as the baby being lulled to sleep. On the other hand, when you are lying still and relaxing, it is not unusual for baby to think it is time for gymnastics.
Mood swings and pelvic floor training
It's perfectly normal to continue experiencing mood swings, as it's part of being pregnant. Some pregnant women feel it more than others. It's your body's way of preparing you for what you have in store.
Since the uterus is now above your bladder, it can easily be pressed by certain movements. This can result in small accidents if you cough, sneeze or lift something heavy, for example. Remind yourself to do knee exercises now so you can train your pelvis. That way, you can also avoid those little accidents.
Pregnant week 24
The child knows the difference between up and down
The child is now so developed that he/she can recognise voices. The baby will therefore be able to recognise the mother's voice at birth. By this week, the baby's inner ear is developed. It helps to control the baby's balance and therefore the baby can now sense the difference between up and down.
Listen to your body
As the uterus moves further and further up towards your belly button, it automatically pushes your organs up and away. For some pregnant women, this can result in dizziness, heartburn and general fatigue. Also remember to pamper your feet now that there's more and more to carry around. You should certainly find some good, comfortable shoes.
Pregnant week 25 | Medical visits
The child has now developed his fingerprints
The baby weighs about 800 grams, and has developed both small fingernails and fingerprints. The baby is practising exploring its body parts as the hands are fully functional. The development of the lungs is in full swing and the baby is still practising breathing.
During this period, many pregnant women may experience contractions, for example in the calf, also known as cramps. If this happens, you can gently massage the selected area or stand up and stretch your leg with your foot bent against the wall.
Medical visits
This week it is time for the 2nd doctor's visit. Here you will have your blood pressure checked, have a urine test and maybe be weighed. The doctor will also ask you how you are doing and answer any questions you may have.
Pregnant week 26
The child's brain is changing
Baby now has a fighting weight of 850 grams, and the kicks are getting stronger. You can now feel that the baby is taking up a lot of space in the womb. The baby's brain is now making room for all the tiny nerve cells, so it starts to form the characteristic indentations. The baby responds so much to light now that it will be able to hold its hands up in front of its eyes when the light hits it.
The child feels your emotions
Baby can taste when the mother eats something very sweet or sour. The baby also reacts to your stress hormones that the body produces. This means that your emotions also affect the baby if, for example, you are tired, stressed or upset. The baby also responds to the positive things, as all your endorphins flow through the blood and umbilical cord.
Pregnant week 27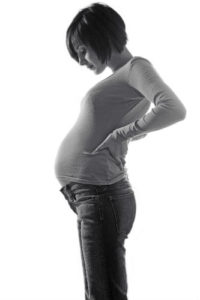 The child is now training the eye muscles
The child can now open its eyes and trains them by opening and closing and looking to each side. It is also said that from this week the baby has a good chance of surviving if a birth should already take place. The baby's systems are not yet fully developed, but it has what it takes to survive.
Most pregnant women are now very labored and you are approaching the last part of pregnancy. You may have put on some weight, but most of the pounds are still extra blood and water in your body. It's still important to make it a priority to relax so you don't get stressed. Many people are starting in earnest to furnish the nursery and buy baby equipment.
Read the guide to pushchairs here.
Pregnant week 28
The child is now building up more body fat
This is the last week of the 2nd trimester. Baby now weighs about 1 kg. and is very lively. The lungs are maturing more and more. In the coming last part of the pregnancy, the baby should mostly just gain weight. You will therefore find that your tummy grows a lot in the last few weeks. The baby has so far increased its weight tenfold in 11 weeks and from this week onwards is increasing its weight by 27 grams every day.
Contact with your child
During this time, you may feel that you are losing your breath faster than usual. This is simply because the baby is growing, making less room for your stomach and lungs. Contact with your baby has become more real. Have you noticed that your baby can now push back a little even if you poke his tummy?
Pregnant week 29 | 3rd trimester | Midwife visits
Congratulations - you are now in the 3rd trimester of your pregnancy!
You are now entering the final stages of your pregnancy. From now on, baby is growing fast, gaining weight every week. Baby now weighs about 1200 grams. Many experience more water in their legs and have to lie with their legs up to relieve the pain. Heartburn is also increasing if you have been suffering from it until now. This is due to the uterus pushing the stomach upwards. You may also be at risk of constipation as your bowels are not working as efficiently due to hormones. The belly grows, the skin stretches and most people eventually feel the discomfort of pregnancy. Continue to relax, but at the same time move as much as you can.
Midwife visits
The second or third midwife visit is around week 29. Here, as always, the midwife will check your urine and blood pressure. She feels your tummy and checks that your baby is lying face down. From now on, midwife visits will be more frequent.
Pregnant week 30
Congratulations - you're now only 10 weeks away from seeing your baby!
The baby now weighs about 1400 grams and its lungs are almost fully developed. The baby is still practising breathing and may have hiccups. You will feel this particularly as small contractions in the womb and this may happen often over the next few weeks. The baby's bones are very soft, so they can withstand being squeezed during birth. The bones do not become completely hard until around 2 years of age.
Plukkeveer
During this period, many pregnant women experience contractions. The contractions are good for "training" the uterus for the right contractions and are usually completely harmless. If you experience many contractions, they are regular and they hurt, you should contact your midwife.
There are now only 10 weeks left until the deadline!
Pregnant week 31
The baby has started to dream
Ultrasound has been used to study babies dreaming while they are inside the womb. It is interpreted that babies move their eyes in the same way as adults when talking about the REM phase of sleep. The baby is now developing subcutaneous fat and the senses are developing rapidly. The baby continues to grow every day.
Talk to your baby, or sing songs to your tummy. Baby can hear your voice and will remember a particular song even after birth. It's the first way you'll form a strong bond.
Water in the body
As the body produces up to 50% more blood and fluid during pregnancy itself, some of the fluid will seep into your body tissues. As the uterus grows, it will gradually begin to push against the veins in your pelvis. This can mean that blood flow in your lower body can become blocked, pushing fluid down into your legs and feet. Make sure you drink plenty of fluids, move around as much as you can and remember to throw your legs up when you rest.
Pregnant week 32 | Medical visits
Weight gain: 250 grams per week!
The baby is now about 40 cm long and weighs about 1700 grams. From now on, the baby gains about 250 grams every week until birth, and by week 32 has usually reached half of its own birth weight. The baby is now drinking about 1 litre of amniotic fluid a day.
Some pregnant women can go on maternity leave now, while others have to wait until 4 weeks before their due date. It is still a good idea to rest, but also to go for walks and exercise as much as you can manage.
Medical visits
This week it's time again for doctor's appointments. The doctor will check if the baby has settled in the pelvis and will check your blood pressure and blood count. At the doctor's appointment in week 32, you can expect:
Urine test (you can't always feel a bladder infection when pregnant)
Measurement of symphysis (how big the uterus is)
Which way is baby facing and is baby stuck in the pelvis
Talk about your well-being
Pregnant week 33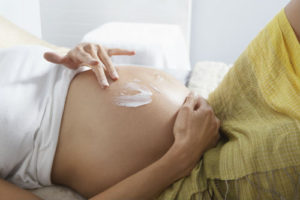 For most pregnant women, the baby has posed with its head in the pelvis
By this time, most babies have positioned their head in the pelvis because it is the natural process. However, some multiple births find that the baby only reaches this position when the birth itself starts. This is very individual. Baby now sucks a lot on his fully developed hands. This is to train the sucking complex. The baby now weighs about 2 kg, and pregnancy is really starting to get heavy. Many find they have to take breaks when they go out walking.
Stomach drops down
At this stage it is quite normal for your stomach to change. As the baby's head moves slowly down into your pelvis, everything will move too. However, not all pregnant women feel this. The drop can also happen in the run-up to or during the birth itself. If it happens to you, then it may become easier for you to breathe. When the baby's head touches the pelvic floor muscles, it can be uncomfortable and cause slight pain. Remember to relax well. You may want to lie on your side, this can reduce the pressure on your pelvis itself.
During this time of growing belly, more pregnant women experience stretch marks to a greater or lesser extent. It's hormonal, but you can apply a good oil-based cream or pure oil. It gives good circulation to the skin and makes it less dry.
Pregnant week 34
The child is now fully developed
The child is now said to be fully developed and the body is endowed with the correct proportions. You will notice that the child has become stronger when kicking. The pupils have also developed and the child can now tell the difference between day and night. Every day, the child is now increasing its weight by 25-30 grams. The head, which is the size of a coconut, should now be settled in the pelvis.
Remember your pelvic floor
Since your uterus is really big at this time (it increases at least 10 times and its volume at least 50 times), it's natural if you feel sore under your chest and possibly when you breathe. Also remember to train your pelvic floor with good exercises to maintain your abdominal muscles.
Pregnant week 35 | Midwife visits
Only 5 weeks to term
It's a good idea to prepare for the birth now and remember to enjoy the last time with the big belly. You're sure to miss it when it's gone, even if it's hard to imagine right now.
Midwife visits
Again, it's time for a midwife visit. Here the baby's weight is checked and the midwife gives an estimate of how much the baby will weigh at birth. At this midwife visit, you can expect the following, among other things:
Measurement of blood pressure
Urine test
Target symphysis
The midwife feels the belly, and may listen to the baby's heartbeat
In addition to the following, you need to talk about the birth. Here you will discuss your wishes and ideas about the forthcoming birth, and perhaps life as parents. If you wish, you can also go to antenatal classes.
Considerations about the birth
Do you want painkillers, and what forms?
Who is coming to the birth?
Will you stay in hospital for a few days, or go home 4 hours after giving birth?
How do you get to and from the hospital?
If you are giving birth at home, you can read about preparations here.
Pregnant week 36 | Pack your birth bag
The child is now as fully developed as a newborn
Most babies are now deep in the pelvis and the body is preparing for birth. Many are noticing the body's signs and are excited about the approaching birth. But baby decides its own birthday. 🙂 Baby measures about 45 cm, and will be full-term next week.
Maternity leave
Now is the time for maternity leave, so you can take extra care of yourself and baby.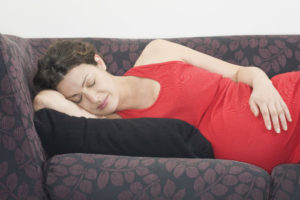 Time to pack your birth bag
It's good to be prepared for when the birth starts. So pack a birth bag ready to go when it's time.
To mother
Health insurance
Water Journal
Birth Wishes Note - Write down if you want painkillers etc.
Lanolin cream for sore nipples
Lip balm (you get dry lips from breathing during contractions)
Nursing pillow
Ammebh
Comfortable clothes and underwear
Slippers
Ties (not always the ones in the maternity ward suit your needs)
Hand sanitizer
Soap (you'll love it)
Toothbrush and other toiletries
Delicious snacks and something to drink. Preferably fruit, or something else that is easy to eat and gives energy.
Camera
Mobile phone + charger
For baby
Little clothes for baby
Special "Home from the hospital set"
Baby duvet or blanket that smells of mum and dad
1-2 cloth diapers
Lift or car seat for the journey home (you can pick this up after the birth)
Possibly a small cuddly cloth or teddy bear
Consider whether to bring a pacifier (pacifiers are not recommended for the first 14 days for breastfeeding reasons, but some parents choose to bring them anyway)
Father
Food and drink (food will often not be served to dad in hospital)
Earplugs (if you're going to be in the sharing room)
Toothbrush and toothpaste
Pillow
Change of clothes
Pregnant week 37 | Midwife visits
Congratulations - baby is full term!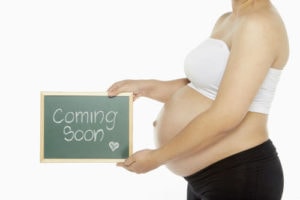 The baby is now full-term and ready to be born. However, most give birth a little closer to term. Baby is gathering nourishment for the upcoming birth. Weight is often just under 3 kg.
The baby is now preparing for the birth itself by sucking in nourishment. It does this by drawing amniotic fluid into its lungs and then pushing it out - again and again. The last water in the baby's lungs will be squeezed out during the birth itself.
Midwife visits
Again, it will be time for a midwife visit. So a very ordinary visit that involves:
Measurement of blood pressure
Urine test
Target symphysis
The midwife feels the belly, and may listen to the baby's heartbeat
As at the previous visit, we will again talk about the birth itself and if you have any questions about it.
Pregnant week 38 | Signs of labour?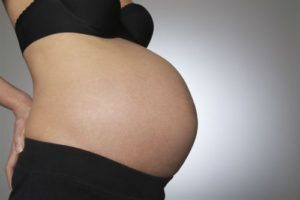 5 % of all pregnant women give birth this week. The baby weighs more than 3 kg but continues to gain 30-40 grams daily. It is a good idea to have your bag packed for the birth. Read herewhat to bring to the hospital.
Signs of childbirth
In the last weeks before your due date, it's normal to pay extra attention to your body. There may be various signs that indicate labour is underway. Every birth is different, but there are some signs you can look out for.
Menstration-like pain
More frequent picking
Character bleeding (a minor bleed leading up to birth)
Source: Hvidovre Hospital
Pregnant week 39 | Midwife visits
The child sleeps to gather strength
The child doesn't have much room to move now. It sleeps to gather strength for the birth and to grow. Your body is getting ready for the birth and you may experience small spotting. Contact your midwife if you bleed a lot. You should continue to feel life every day!
Midwife visits
Up to the term, midwife visits are more frequent. At this stage, the baby should be turned upside down and should settle in the pelvis. Some babies settle in the pelvis first during birth. This is particularly common in second-time mothers.
Pregnant week 40 | Due date
Congratulations - you made it to term!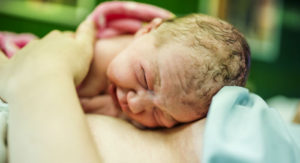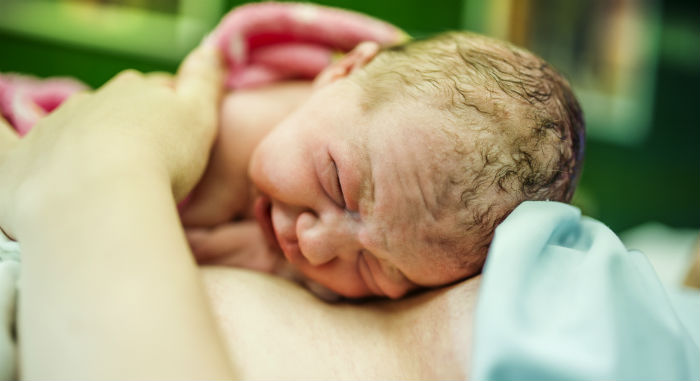 Baby is now fully baked and you/they will soon be parents! This is an exciting and new time for you. Baby weighs between 3-4 kg, and is 50-53 cm long. Prepare for the birth by doing breathing exercises daily.
Soon you'll have your little baby in your arms.
Vitamin D, folic acid, iron, vitamin pills.... There are many supplements you need to take as a pregnant woman! See the Health Authority's recommendations.
Pregnant week by week
Here you can follow your pregnancy week by week. The city develops and grows at a rapid pace during the 40 weeks from conception to birth. It's an exciting journey that can also be tough to get through.
Here we have written about what happens in each week of pregnancy. The overview is divided by the three trimesters.
How far along are you in your pregnancy?
Pregnancy is divided into three trimesters.
1st trimester (Weeks 2 through 12)
The 1st trimester of pregnancy is up to and including week 12. In this part of the pregnancy, the egg is fertilised and the foetus develops all its vital organs. During the first 12 weeks, the heart is fully developed, the tail shrinks and the baby looks like a real little person.
In this part of the pregnancy, the baby is most sensitive to alcohol and the risk of miscarriage is highest until week 7-8.
You may experience nausea, gas, nausea, decreased sex drive, mood swings and many thoughts about the future as a parent.
2nd trimester (weeks 13 through 28)
From week 13 - 28 you are in the second trimester of your pregnancy.During this part of your pregnancy you will be offered both a neonatal scan and a malformation scan.
Baby grows from the size of a plum to a baby of about 1 kg. The stomach grows and the body may hurt. Remember to rest, but also make sure you keep moving, for example with pregnancy swimming.
3rd trimester (week 39 until birth)
From week 28 until term is the last part of pregnancy and is called week 40.
Most people eventually experience some discomfort from pregnancy in the form of contractions and pelvic pain. It is necessary to slow down a little, as you lose your breath more quickly.
Week 36 is the start of the maternity period, when you can slow down and prepare for the baby's arrival.
It can be hard to sleep because of the big belly, so you can be really tired and long for the baby to be born.
When does pregnancy start?
The first day of your last period before pregnancy counts as "week 0" of pregnancy. The day of your almost expected period is therefore week 4+0 (4 weeks and 0 days). On this date, for most people, the pregnancy test will be positive. For others, it will be a little longer before the test shows two bars. It depends on when ovulation and fertilisation took place.
How many weeks pregnant?
The due date is at week 40+0. This means that you are pregnant for 40 weeks. However, babies born from week 37+0 up to 42+0 are considered full-term. It is therefore a good idea to be ready for baby from week 37.
What week am I pregnant?
Many mothers-to-be probably wonder about this, especially at the beginning of pregnancy. You can work out how far along you are in your pregnancy from the first day of your last period. From there, count the weeks until today.
When you e.g. enters week 13, it is called 13+0. The next day you are 13+1, and then you are in the 14th week until 14+0, when week 15 starts.
Sources:
The Baby Institute
Libero
Health.dk
Personal experiences