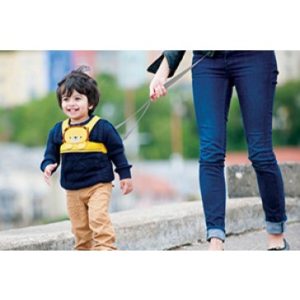 A baby walking harness was popular and common in Denmark in the 1950s and is now, after a long hiatus, slowly making a comeback.
Here is a smart walking harness from Trunki - read more here.
A walking harness can be used as a "walking trainer" for children who don't want to hold hands, or may run away without warning. A walking harness is also useful in families with several children, especially parents with twins who sometimes need a hand, and a walking harness for children can come in very handy.
As an alternative to an actual walking harness, it is possible to buy a backpack with an accompanying gallows line, combining a smart backpack for your child with the ability to keep track of him or her when needed. See examples of these further down in the text.
What you should be aware of when using a baby walking harness
When using a baby walker, you should ensure that the walker fits comfortably on your child and is not tight or otherwise bothersome. Choose one that can be tightened to fit your child as well as possible. In addition, it is a good idea if the walker has a nice colour, a nice picture or similar, so that it will be a good experience for your child to wear the walker.
Most parents use the walker as a kind of extra safety in case the child runs away or falls without warning. The harness is therefore not used to pull or correct the child, as you would with a dog, but simply as an extra safety measure.
Walking harnesses have unfortunately been rather vilified, as many believe they are used as a substitute for teaching the child to walk nicely. But in reality they can be used for walks where the child will enjoy walking on their own. In other countries, including the UK, it is quite normal to use a walking harness for your child.
Cute and colourful goose harness
Goose harness for children with nice design, good fit and attached reflectors. Set at 248 kr. here.
This fine walking harness from the brand Trunki suitable for children from 6 months up to 4 years of age. It is precisely at this age that children have great mobility, but still have difficulty understanding the dangers around them. The harness is very easy and quick to put on the child, as it is adjusted with clips to fit the child's body. This child walking harness is made of breathable material and has a very low weight, so children hardly notice they are wearing it. The goose harness has a fun design with a face on the front. At Babygear you can choose between two designs in either green or purple. The harness also has reflectors for extra visibility in traffic.
Practical and affordable baby walking harness
For just £8 you can buy this smart baby walking harness to easily give your children more peace of mind.
The harness here is very easy to put on the child. The wide strap goes over the belly, while the two shoulder straps sit well over the shoulders. It is possible to tighten the harness with Velcro straps so that it fits comfortably and snugly without being tight. It's an inexpensive walking harness at just £78, so it's a great choice if you're not sure yet whether a walking harness is right for you and your child. It has been seen at Babygear.
Goose harness & stroller harness in one (Universal harness)
Can be used both as a baby walking harness and as a harness in a stroller, pram or lift. 74 kr at babygear
This harness is extra smart as it has multiple uses. It can be used as a harness in a pushchair or pram, and can easily be converted into a walking harness by attaching a line. This is great for children who want to alternate between sitting in the stroller and walking on their own. With this harness, both can be done safely. It's also the cheapest walking harness we've looked at here, as it costs just £74.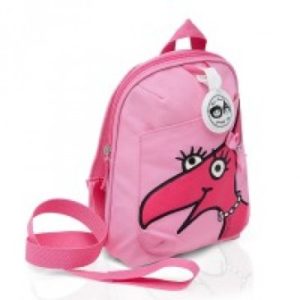 Backpack with harness
Backpack with harness - 248 kr.
With this cute backpack, you can combine a practical and fun gift with the ability to keep track of your little one. The backpack comes with a walking harness that can be attached when needed. That way you get two products in one. The harness can be easily attached with a handy carabiner, for example when you are in crowded places. Take off the harness and you have a normal backpack. The backpack has a nice motif and a nice colour.
Alternative to the walking harness - practical handle for the stroller
If your child won't hold your hand, or you have more children than hands, this handle can be a good solution. It attaches easily to the stroller handlebar without the use of tools, but with just a simple click-lock. Then you have a good handle for your child to hold on to when walking. Your child may find this handle fun and pressurised to hold, and will stay with the pushchair instead of running away. It can be bought at Coop for 139,95 kr.
In these situations, a baby walking harness is practical
If you are walking along a busy road, a walking harness can provide great reassurance for parents. Sometimes children are just lightning fast, and a harness can prevent and stop a very dangerous situation where the child runs out in front of a car.
At large markets or busy streets abroad, a baby carrier is also a great reassurance as it prevents the child from suddenly running away and getting lost in a crowd.
If you have several children on a trip, and simply do not have enough hands, then
Who can use a harness?
A baby walking harness provides extra reassurance for many parents. Both for children who have a lot of energy and spunk, so they may find themselves running away from their parents and not wanting to walk next to mum or dad and hold hands. It can also be very helpful for parents of children with special needs, for example children who are very borderline or otherwise need a little extra guidance and firm boundaries.