The cold and darkness have come over Denmark. This makes most people long for the warmth and the bright evenings. But what do you do in this dark time, apart from leaving the candles burning, getting out the blankets and making a nice cup of hot cocoa with whipped cream together with the children? You can always head for warmer climes and forget the Danish cold for a while.
Autumn holiday with the kids
The kids are sure to love a holiday. A holiday where you can sleep in, a holiday where you don't have to do anything, a holiday where you can eat one or more ice creams a day. All in all, a holiday where you are together and can enjoy each other. A holiday where you forget everyday life, where there is no work, nursery, kindergarten or school. This is guaranteed to improve your mood and make the winter a little shorter.
If you have very young children, it's often more comfortable to travel outside during the summer season, as temperatures don't reach quite so high and therefore the little ones can cope better with being outside, even during the midday hours when the sun is usually too hot for even the adults to bear. The weather in many places will be like a warm autumn day here at home, where all you need is a cardigan over your summer dress.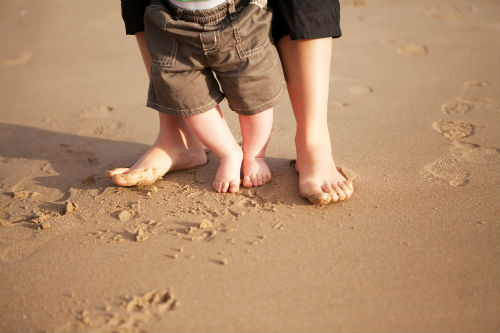 Here we'll give you the best possible guide to a great autumn holiday with kids if you're heading south. That way, you'll be better equipped to know what to pay most attention to, what to pack and other tips.
The weather plays a big role when we go on holiday. Because with the warm air, instead of the heatwave, there's also a better chance that the kids will be able to take in the sights. Whether the children are so big that they walk around, sit in a pushchair or lie in a pram, it's not the heat that stops them taking part. So make sure you've checked what the weather is like at the time you want to go - some places can be too cool to feel any difference to the Danish weather.
Life and activity also vary greatly from place to place - and there can be marked differences from summer to autumn. So a place that's buzzing with life and activity during the summer can be completely dead and shut down as soon as the summer season ends. So it's important to check whether it makes sense to go to that destination if it's completely closed down and deserted, leaving you with nothing to do but sit in your hotel room or walk on the beach. At least not if you want to experience things. That way you know what you're going to see, what you want to focus on and what kind of holiday you want to get out of it.
One place that could be nice for an autumn holiday is Turkey, which in many places has temperatures above 20 degrees. Turkey has a lot to offer and the flight is not too long. So why not go on an autumn holiday with the kids in Turkey? If this has piqued your interest, you can read more information about Turkey at Sunnyferie.
However, if you are a family that is looking for warmer climes or a destination other than Turkey, you can quickly get an overview of several other destinations at Sunnyferie. This way, you can create the holiday that best suits you as a family and thus create the best autumn holiday for the children and yourself.
The things to pack for your holiday are in some ways very similar to what to pack for a holiday in the south during the summer season. But here are the things you might not have thought about taking on autumn break, beyond the usual passports, clothes and toiletries.
Watch out for the sun:
Even if the sun isn't as strong, it's still important to slather yourself and the kids in sunscreen. A factor 30 will be fine. That way, you'll protect the delicate skin of your child as best as possible. Sun hats are also a good idea. The body is often more covered than on a holiday with 40 degree heat, but it's important that the skin isn't exposed too much under the stronger midday sun.
Transport:
If the children are not big enough to walk around for a long time, a pushchair is definitely preferable. You can get several models that fold up completely like an umbrella stroller, but can also lie down and have a big enough shell to shade from the sun. This way, you don't have to be at the hotel when it's time for a nap.
Clothes:
You'll want to bring a thin overcoat and some sweaters so you can cover up more, especially in the evening. Because although temperatures can rise well during the day in some places, they often drop a lot as soon as the sun goes down. And then it can be cold to walk home from town or the restaurant. You may also want to pack a blanket to put in the stroller.
A small bag:
There you can put some snacks, something to drink and other important small things. It may not be as open as during the summer and with small children it is important to be prepared for the little hunger, thirst or to be able to put a plaster on a small scrape.
Do you have unused holiday money?
If you were on daily benefits during the holiday year, it might be worth looking into whether you have a surprise lying around in the form of holiday pay that you might be owed. This can give you a little more surplus, so that the holiday days are already ready to be used and don't have to be paid out of your own pocket.
You can always contact your unemployment insurance fund for more information. If you are not already a member of an unemployment insurance fund or if you want to find a new unemployment insurance fund, you can read more at Danske A-kasser. There you can find information about the different unemployment funds available on the market. They can guide you to the unemployment fund that suits you best and also keep you updated on what is happening in the market. With a good unemployment insurance fund behind you, you're covered if you ever find yourself out of work. They'll help you financially with daily benefits and also guide you back into work.
An autumn holiday in the south is a break from everyday life, a little light and warmth is something that is good for the whole family. So don't hesitate to take a little trip south, now that the cold has arrived here in little Denmark. It helps the mood, makes memories, creates unity and a good experience.
https://startpakke.com/wp-content/uploads/2017/03/logo.jpg
0
0
Anette
https://startpakke.com/wp-content/uploads/2017/03/logo.jpg
Anette
2018-10-03 07:51:59
2018-10-03 09:35:47
Autumn holidays in warmer climes