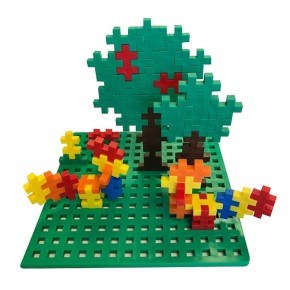 Plus Plus blocks are a popular toy, especially for children who love to build things and be creative. Plus Plus blocks can be bought cheaply online, and here you will often find that prices are a lot lower than in store. You can see a selection of cheap Plus Plus blocks at Pixizoo or Lirumlarumleg.
The Plus Plus blocks come in a wide range of colours, and there are packs in colours more for boys and some for girls. But of course both boys and girls can play with all the blocks, as it is the children themselves who create the play with these blocks.
Build yourself or use the guide
All Plus Plus packs come with a guide with suggestions for great projects to build with your blocks. It can be anything from a nice big knight's castle to a small funny animal. When using the guide, most children will need the help of an adult, but this must be considered in relation to the child's age and ability.
But perhaps the most fun thing about Plus Plus blocks is that kids can use them for whatever they want. There's no limit to what you can build with them. They can also be used for all sorts of other things, possibly in combination with other toys.
The perfect gift idea!
The blocks are in many ways the perfect gift idea, as they do not take up much space, but still give the child many opportunities for play.
Plus Plus kloder Mini - With plate
This Plus Plus Blocks Mini set includes a bag of blocks and a fun plate on which to place the blocks. This gives better opportunities to build imaginative creations with lots of colours. The pack contains 70 bricks. Please note that it is for children from 5 years and up, as the blocks are quite small. The blocks can be put together in all sorts of ways, but one of the suggested ways is the tree as seen in the picture. Seen at Pixizoo.
Build a house with Plus Plus blocks
With this pack you get enough blocks to build a whole house and more. It contains 220 bricks. The blocks are challenging for children aged 5 - 12 years. Plus Plus blocks challenge imagination, creativity and fine motor skills, and can provide the opportunity for many fun games. They are great to play with alone or with other children. The Plus Plus blocks here are seen cheaply at Pixizoo.
Large Knight's Castle with Plus Plus pieces
If your child needs to be challenged, this knight's castle is a good idea. It needs to be built with the 760 Plus Plus pieces included in the pack. Instructions are included with the castle, of course. Once you get started with the fun bricks, there's no stopping it. A fun game that will challenge both boys and girls aged 6 - 8 years. Seen at Lirumlarumleg.
What are Plus Plus tiles?
Plus Plus pieces are a hit with children and are often seen in nurseries and schools as a tool for play and fun. Plus Plus pieces are colourful and can be put together in a variety of ways, allowing you to build all kinds of characters. A Plus Plus piece looks like two plus symbols sitting together and its shape allows it to be put together with other Plus Plus pieces ad infinitum. Plus Plus pieces can help to strengthen a child's creativity and motor skills, and have therefore won many awards all over the world.
Which Plus Plus tiles to choose?
The great thing about Plus Plus pieces is that no matter what colour or pack you buy, the pieces match. However, there are two sizes of pieces, a medi and a mini. The medi size is best suited for preschoolers, as the medium size is easier for children to work with. The mini size is suitable for children from the age of 5, and of course fits all the same size pieces. With Plus Plus, you have the option to make shapes in both 2D and 3D, which means you can work with the pieces flat on a table, or build them up in multiple dimensions. In shops and online, it is possible to buy the pieces in large and small portions, they are also sold in different colours and the different sets can be used across each other, with the proviso that they are the same size. You can also buy Plus Plus pieces with different designs to help your child get started with the pieces and then easily take them apart and put them together in a new way, once your imagination is free there are no limits to what you can build with Plus Plus.
It's smart because..
The Plus Plus pieces are easy for children to use and can be taken apart as easily as they are put together. Therefore, the pieces can get lost between many hands and may need cleaning. This is easily done by placing the pieces in a bra bag, or other bag that can withstand the washing machine at 30 degrees. Plus PLus is a great toy that is both challenging and fun for the child to play with.