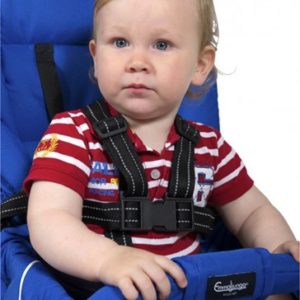 A stroller harness is necessary for babies as soon as they can turn from side to side. They can get up and sideways quickly, and they don't want to fall out of the pushchair. Here, we'll tell you what to look for when choosing the best pushchair harness for your child.
Safety and comfort are the most important
A good stroller harness keeps your child securely fastened in the stroller, but without being too tight or bothersome in any way.
When you're looking for the best stroller harness, it helps if it's easy to install in the stroller. For example, carabiners that are easy to open and close and can therefore be easily moved if needed. Other harnesses are fastened with buckles, which is also both easy and practical.
In addition, the stroller harness should be easy to adjust to fit both a small baby/child of around 6 months, and a child up to 2 or 3 years, which is the age at which people most often stop using the harness. Some harnesses are zipped and fit the child like a small vest. This is smart and comfortable, but can feel very hot for some children. On the other hand, they are very safe because they are difficult for the child to get out of.
On this page we've highlighted the most popular and best stroller harnesses, and a few alternatives you might not have thought of.
Thorn pram harness - very popular pram harness
This popular stroller harness is available at Babygear for 369 DKK. The harness has been on the market for many years, and meets all requirements for safety and the like. It attaches to two rings at the bottom of the stroller. It is easy to adjust to the size of the child, from around 6 months up to 3 years. A good offer for the best stroller harnesswhose first priority is safety.
Babydan stroller harness - harness like a vest
Very good stroller harness from Babydan, which is a popular choice with many parents. The harness sits well on the child and is closed over the body with a zipper, so it fits like a vest. The harness can be tightened in and out to fit the child's size. It is not the cheapest stroller harness, but it is a safe choice. Buy here.
Pram / Stroller Harness & Walking Harness in One
This harness is smart because it has several functions. It can be used both in the pram and as a walking harness. However, it is best for older children as the harness does not go down between the legs, which is the safest option. On the other hand, it is both smart and cheap. The harness is smart because it has several uses. It can be used as a harness in a pushchair or pram, and can easily be converted into a walking harness by attaching a line. This is great for children who like to sit in the pushchair and walk on their own. With this harness, both can be done safely. It's also the cheapest harness we've looked at here, as it costs just £74. here.
Smart and practical stroller harness
Here's an inexpensive solution for a good stroller harness. It costs DKK 118, and can be bought at Babygear right here.  The harness meets safety requirements. It can also be used as a walking harness, which is a smart feature when travelling with your child. The harness fits all strollers - so it's a great buy if you're looking for a versatile harness.
Harness for the pram
In the following section you will be able to read a little about the use of a stroller harness. Most new parents are often wondering whether they need a baby car seat for their child when they go to the baby equipment store to buy baby equipment for the first time. Not many months of naps in the pram go by before parents realise that a pram seat is a very popular and almost indispensable purchase for the pram.
Why a stroller harness?
With a baby car seat, parents don't have to worry about their child waking up, getting up and falling out of the pram. This is because the harness ensures that the child is securely fastened so that your child remains safe in the pram. The child can sit up in the pushchair, but cannot fall out. A stroller harness is fastened with hooks at the bottom of the stroller. When the child is put down, it is fastened by a zipper or a clip. There are models that consist only of the harness and other models that consist of a breathable vest. The function of the harness is the same whether you buy a harness or a harness vest.
The harnesses provide great security and are easy to fasten. All in all, a safe and pressurized everyday life with the baby harness in the pram.
When should you use a baby car seat?
A stroller harness should be used as soon as the child begins to be able to raise his or her body, sit up unaided or becomes heavy enough to tip the stroller over. This is usually from around 6 months of age. The stroller harness can be purchased at Babytorvet.dk or onskeborn.dk, which carry well-known brands such as Basson, Tille, Jens Thorn, Snup easy, Babydan Lux and many more.
Best in test
The Basson stroller harness has been voted the best stroller harness by the Consumer Laboratory. The harness is adjustable according to your child's size, so you can enjoy it for a long time. The harness is suitable for children aged 0-3 years.