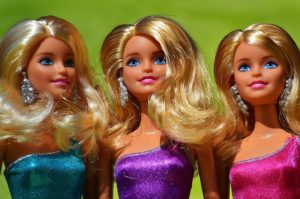 Baby dolls for children have been popular toys for children for many decades, and many children enjoy playing with them. Over time, Barbie has changed its appearance several times and there are really many variants to choose from. When the child wants a Barbie doll, it can therefore be a bit of a jungle to find the best Barbie.
Here we have chosen to highlight different Barbie dolls so you can get an idea of what there is to choose from. In general, the prices of Barbie dolls are cheaper online, where you will also find a large selection of different types of Barbie dolls for children at a good price. You can find cheap Barbie dolls at Gucca.
Barbie with dog
If your child loves both dogs and Barbie dolls, then this set is perfect to play with. It includes a beautiful Barbie doll with blonde hair, striped shirt and smart denim shorts and her dog. To complete the set, it also includes the dog's leftovers and a broom to sweep it up. Perfect for teaching your child about having an animal. Barbie with dog has been seen at Gucca.
Barbie and Ken
The Ken doll is Barbie's boyfriend, and here you get both a Barbie doll and Ken. The two allow for more fun role-plays about family constellations. The dolls are dressed up and ready to go on adventures.
Barbie Skipper with baby and accessories
Then it's time to play mom or babysitter. With this set, the Barbie doll can feed baby in the high chair and then put the little one in the cot. Here's a chance for many hours of play and fun. Many more accessories and other Barbie dolls can be purchased for this theme.
House for Barbie
If Barbie needs a place to stay, this house is very obvious. There is plenty of room for Barbie and her friends. The house is full of details and there are plenty of opportunities to make playing with Barbie dolls even more fun. The house for Barbie has been seen at Gucca.
Barbie - the world's most popular toy doll
The Barbie doll was manufactured in 1959 by the American toy company Mattel Inc. Barbie was invented by the American Ruth Handler, who was inspired by the German Bild Lilli doll during a trip to Germany in 1956. Ruth had also drawn inspiration from her daughter's dress-up dolls. She discovered that her daughter, Barbara, gave her dolls adult roles, which was unusual in the toy market at the time. So she set about developing the doll and the result was a real-life fashion doll, named after Ruth's daughter's nickname "Barbie". The toy doll is the best-selling ever.
What does Barbie stand for?
The whole universe around Barbie was built around the fashion and media world's worship of the female ideal. It was big movie stars like Elizabeth Taylor, Brigitte Bardot, the First Lady Jacqueline Kennedy and model Twiggy and stars from the 80s TV series 'Dallas' and 'Dollars' that inspired the universe. Barbie's universe expanded with the addition of her boyfriend Ken in 1961, her friend Midge in 1963 and her boyfriend Allan in 1963. Then came little sister Skipper, friend Skooter and boyfriend Ricky. The Barbie doll reflects children's serial consumption, where consumption automatically triggers the need for more.
For doll-loving girls and boys
Barbie recommended for children from 3 years. Barbie is both loved and hated for her reflection of girls' dreams of princess identity, wasp details, long legs, big breasts and adulthood.
The classic Barbie has the slender body shape, but today there are lots of dolls produced with different body types. Barbie has had 125 different careers over her lifetime. You can get Barbie as a bride, a model, a pop star, a horse trainer and much more. The doll is created in many different designs with different hair colors, skin colors, eye colors, attire and more.
The Barbie universe has everything children need. There are a myriad of accessories for the dolls, such as houses, cars, horses, bikes, swimming pools, summer houses, beauty salons, gyms, bicycles and so on. There are also colouring books, school bags, lunch boxes, pencil cases and DVDs.
All of these accessories make for great play for your child, who can expand their play and universe to infinity.