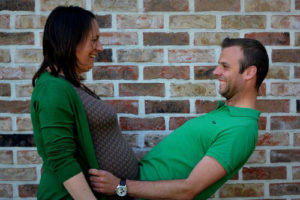 There are good reasons why a woman's tummy grows as her baby gets bigger. If your husband or boyfriend's belly is growing in sync with yours, it means he's become sympathetically pregnant. Your dear partner is simply so involved in the pregnancy and the unborn baby that he is experiencing increased appetite and may even be experiencing morning sickness and mood swings.
Here we look at how to take extra care of your husband during this period of his life.
As a sympathy pregnancy, cravings for cream puffs, liquorice or another particular food can be so strong as to be almost unpleasant. If you're serious about relieving your husband's discomfort, give in to his cravings and serve the snacks he's been craving.
Don't forget a toast to him when you chat...
It may be that baby wants strawberries and you therefore find it necessary to consume a whole tray on your own. But this situation is certainly no fun for your husband, who in sheer sympathy, is now craving the sweet, red berries too. Therefore, remember to serve an extra bowl to husband when you snack yourself.
Foot massage is the way forward
The weight gain is hard on the body, and especially the feet which can swell and become sore. Give your sympathetic husband a nice foot massage every night before bed - this will certainly relieve his symptoms and make him feel better.