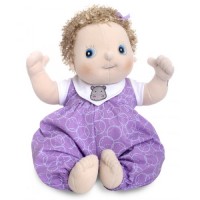 Rubens child dolls are the popular Swedish produced dolls. All dolls are handmade and have the cutest details like eyelashes, freckles, red cheeks and each their personal expression.
The dolls each have their own name and are either boys or girls. The dolls have a mouth so they can suck their thumb. Rubens Barn dolls are great to cuddle as they are soft and lovely.
This makes Rubens Barn special
All dolls are handmade
Cute details, like eyelashes and freckles
Available in several skin tones
Each have their name
Are either boys or girls (and what belongs to)
The dolls have a weight in them, so they feel like a "real" child
Are incredibly soft to hug!
Different kinds of Rubens Barn dolls
There are several different kinds of Rubens Barn dolls. Here we have written a little about the different kinds, so hopefully you can find out which doll is the best. All the dolls are super soft, and handmade.
Rubens Barn baby
This version of Rubens Barn is made to look like babies. They can suck their thumb and have short, baby-like hair. The doll is made of polyester fleece. The doll is very lifelike, and has a cute expression. Rubens Barn Baby measures 45 cm. They can be used from newborn, but it is typically around the age of 1.5 that children start to play with the doll a lot. The doll comes with the clothes it is wearing, but more accessories can be purchased. Rubens Barn Baby costs DKK 499.
Rubens Barn Kids
These dolls are meant to represent children who are a little older. That's why they have longer hair and a less "babyish" expression. Rubens Barn Kids are slightly smaller than the baby dolls, and measure 34 cm. in length. Their clothes have many fine details, and must be hand washed. The model shown is called Jonathan, and is cute with his red hair, freckles and cap.
Rubens Barn Cutie
Rubens Barn Cutie dolls weigh 32 cm. long, and are the smallest of Rubens Barn's dolls. They are approved for use from 0 years, and are a good size for the very youngest children. Like the other dolls, the Cutie dolls have embroidered eyes and are handmade. The doll is made of high quality soft fleece. Here we see Adam who is a cute cutie with straw hair. He is wearing matronly clothes.
Rubens Child Ecobud
This doll from Rubens Barn looks a bit different from the others. It has long arms and legs, and is more like a slouchy doll. In addition, the doll is organic. It is handmade just like the other dolls from Rubens Barn. There are currently 3 different kinds of ecobuds, and they are all really adorable.
Rubens Barn dealer
If you are looking for a doll from Rubens Barn, you can find them at either Sundleg or Coop. Both places sell Rubens Barn dolls, and there are many different ones to choose from.
How to wash Rubens Barn?
All Rubens Barn dolls are washable. It is extremely practical to be able to wash children's toys, as they can quickly become dirty or cuddly. Rubens Barn dolls can be hand washed, or machine washed on the hand wash/rinse cycle.
Rubens Barn doll clothes and accessories
There are many beautiful doll clothes and accessories for Rubens Barn dolls.
Dining set - for Rubens Baby
Then it's time for food and drink. Keep Rubens Barn baby full and happy with this fine dining set. Includes a bib, cup and spoon. The set costs DKK 199.95.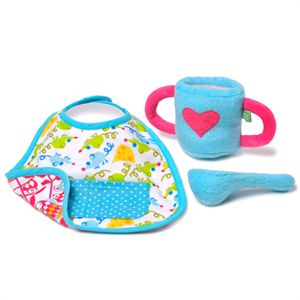 Other popular toys
If you need a good toy for your child, grandchild or something else, here are a few ideas for a Christmas or birthday present.
Krea doll carriage - time for role play
Almost every child loves a cute little doll carriage. This red Krea doll carriage is the classic model that can be used for many hours of play. Great for younger children. Price 369,95 kr.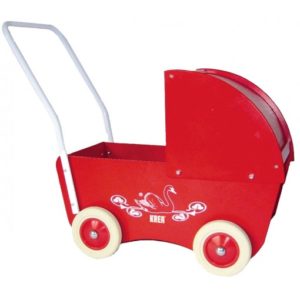 Hoppeko - hop hop hop!
The bouncer is really fun to bounce on, and will be a hit especially for the 1.5 - 2 year olds, where motor skills are more under control. Jumping is good for development, and it's just plain fun. The bouncy castle shown is available at Pixizoo.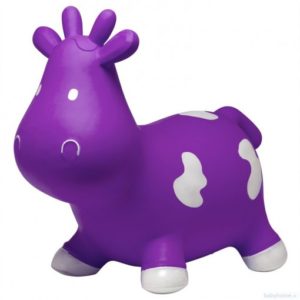 What is Rubens Child?
The dolls are designed by Swedish artist Ewa Jarenskrog. She named them Ruben, after her own father.
The cute dolls were first produced in 1995. They are all Swedish made and handmade. That's why the dolls cost a bit more than many other dolls. They are handmade, which gives them each their own expression. The Swedish dolls embrace several cultures and genders, and therefore the dolls are available with several nationalities and skin colours. They also have a gender and what goes with it. The dolls provide ample opportunity for child-adult conversations about boys, girls, nationalities and more. This type of toy promotes empathy in young children, thus supporting their development.
Good for children with special needs and dementia
Because the dolls are of a certain size and weight (they have a weight built into them so they are heavy), children with special needs and dementia find a special peace when sitting with these dolls. They are lifelike and have a sweet and gentle expression. The handmade dolls all have their own personality and name.
Choose from many different
If you're interested in special dolls, there's plenty of opportunity to find the one that's right for you. There are many varieties to choose from. The dolls are also available in several sizes. The two largest are Rubens Baby and Kids, which you can see described at the top of the article. The names of the dolls include Anna, Clara, Emil, Emma, Eric, Maria and Molly. It's not often you can find the dolls on sale, but you might get lucky on either Black Friday or after Christmas.
The page contains affiliate links.