What does a 6 year old play with: There really are a lot of great toys for 6 year olds. It's an age when a child is developing at a rapid pace, and in many ways goes from being a small child to a big child. It's time to start school and there's less time for play. It is therefore important for the child to have some good toys at home that she can play with alone or with her friends. Read on and get inspired about the best toys for 6 year olds.
Click here and see toys 6 years
Toys 6 years
At the age of 6, role play becomes more advanced and children are more concerned with the rules of their games. Therefore, many children take a greater interest in board games and other toys that require following certain rules. This could also include games where you have to put sentences together and learn new words.
6-year-olds also gradually become better at distinguishing right from wrong, so it's important that children play a lot with other children, which usually comes naturally. In terms of toys, it makes sense to choose toys where several children can join in the play. For example, dolls with accessories.
Also think about having space for playmates in the room. Maybe it's time to sort through the toys and remove those that no longer show interest.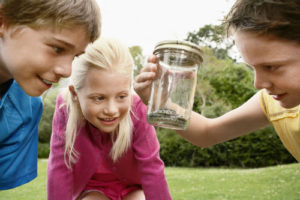 Toys for boys and girls
Children aged 6 start to split up more according to gender. This is why we are starting to talk about boys' toys and girls' toys. Although it is important and natural for children to play with all kinds of toys, there are still toys that are mostly for boys or mostly for girls. Find examples of this further down in the text.
Toys 6 years: concentration and projects
6-year-olds are now good at concentrating for long periods at a time, and often have several major or minor projects under their belts. Again, playing a game together to figure out the rules is an obvious choice. Good toys for a 6 year old could be paints, drawing books etc, which practice the sedentary activity.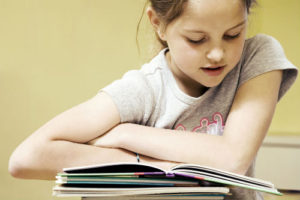 Time to start school
Starting school is a big change and children need to make new friends. The 6 year old child is most likely to have started school. Here, the child gets a lot of new impressions and has to concentrate much more on one activity at a time. This is a big change for the children, but fortunately it is something that has to come gradually. At school, children need to learn more about right and wrong, so it's a good idea to practise this with toys at home.
If your child has just started school, read the article: How to give your child a good start at school 
What do 6 year olds play with? Singing, music and dancing!
Singing, dancing and music encourage your child to move, which is of course healthy for the body. Playing music and singing songs is fun for children aged 6 and a great way to play. That's why we've put together a number of options for toys where children can play with music and dance.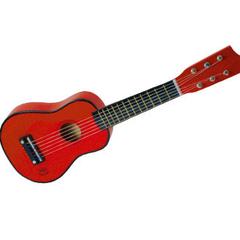 Vilac guitar - challenging for a 6 year old
A fun gift that will bring much joy to the children. Learning to play the guitar is a big challenge, which is why it makes a great Christmas or birthday gift for a 6 year old. This guitar is seen for 249,95 at Lirumlarumleg.
Xylophone - play melodies
A xylophone is good for learning to play melodies. The different colours help the child to learn the notes. The xylophone can be used on its own, but also works well with other instruments, perhaps in a band. Musical instruments are great toys for 6 year olds.
Games for Playstation or Wii 
There are many great games for kids on a PlayStation or Wii. Not least lots of games that encourage play and movement. You can also find games such as. SingStar, where it's all about singing along.
Drums for children
Learn the rhythm with these great drums for kids. Choose from 3 different colours. A drum is great toy for 6 years old, especially if he or she loves music!
Toys for girls 6 years
At the age of 6, girls start to gather in groups. Often, one or two girls dominate and control much of the play, while the other girls take on different roles. It is important for girls to be able to continue to play role-playing games, both on their own and especially in groups. Particularly popular toys for 6 year olds are dolls' houses and dolls, drawing, painting and decorating, building blocks and perhaps knitting or sewing. At this age children really start to find their own place in relation to their friends and the two sexes, so it is a good idea to encourage girls to play a variety of games so that they are free to find their own place.
Dollhouse - Lavender House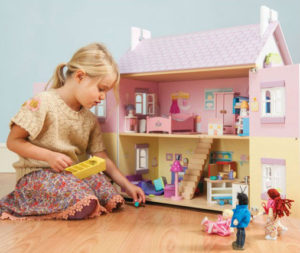 Large dollhouse from Le Toy Van. The Lavender House is the name of this beautiful house. The house is painted in a beautiful lavender colour, and has fine details on the front. Among other things, a hedge is painted that goes up over the front door. The doll's house is on three floors, has pink bricks. Windows and shutters can be opened and closed, depending on whether air is needed. The main door can also be opened and closed, of course. To open the house, the front can be removed. A beautiful house that will look great in a girl's room. A doll's house is a great toy for 6 year olds. Accessories to be bought separately. The dollhouse is seen for 1.599 kr. at Sundleg. Buy the dollhouse here.
Furniture for dollhouse
This fine wooden furniture matches the Lavender House. It's a large furniture set with a bunk bed, kitchen, tables and chairs, a cot for baby and much more. All the furniture you need to get started with doll play. The furniture is top quality and has many details that make it fun to play with. The furniture set can be purchased right here
Doll family for the lavender house
If you're looking for dolls to match the Lavender House, head to Children's World. It's an online toy store where they have lots of dolls and accessories from the Le Toy Van brand. The cute dolls are available as a family in two different versions. See the families here
↓Click and see more dollhouses! ↓
Dollhouse - sustainable production
A super modern dollhouse that is produced sustainably throughout the production process. It is made of wood, and has several floors with the possibility of all kinds of activities. Outside the house there is a staircase, so you can easily and quickly get up to the second floor. The house is perfect for the modern family who lives sustainably. If you like a different dollhouse with great details, you should have a look at this one here.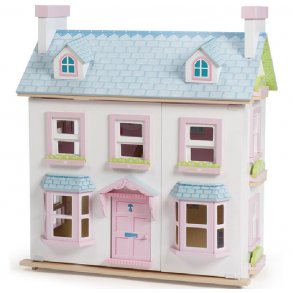 Luxury dollhouse
Another beautiful wooden doll's house. The house is in delicate colours, and has beautiful details like roof tiles and doors and windows that can be opened. The house will be great for hours of play, as well as being a beautiful decoration in a girl's room. If you want to read more about the dolls' house, you can see it right here.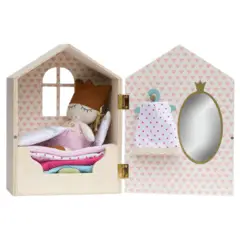 The princess on the pea
If you prefer a simpler doll's house that doesn't take up too much space, this cute doll's house is a good choice. It's based on the classic fairy tale, The Princess and the Pea. The fairy tale is about a real princess who is so delicate that she can feel even the smallest pea through many mattresses. The dollhouse costs DKK 499.95 and can be purchased here.
[collapse]
Play tent
Going into a tent where you can be yourself is a great game at this age. In the play tent, girls can be themselves and immerse themselves in books or something else. The tent is also a good play area when there are several children. Then you can play den, where secrets can be shared 🙂

Pink Princess tent with insulated roof (keeps out the heat)
Very nice tent, perhaps especially for the little princess. This tent is a quality version with insulated roof. The tent is therefore well suited for outdoor use, even on a hot or chilly day. The tent is seen for 399 kr.
Ridderborg tent for children

If your children love to play role-playing games, this knight's fortress tent is brilliant for it. The tent has a bottom, so it's great for both indoor and outdoor use. The tent has windows and a door that can be opened and closed. Set at DKK 299 at Children in Balance.
↓ Many more tents here ! ↓

Play tent - set at 199 kr.
A good but cheap play tent where you can choose between two colours; blue or pink. Once folded, the tent is easy to store in the included bag. The tent is one of the cheapest we have looked at, at only 199 kr.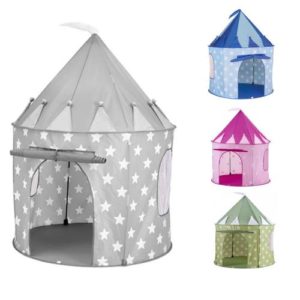 Children's play tent with stars - 4 different colours
A beautiful tent with stars on it, where you can choose from four different colours depending on your style and taste. The tent has a door and a window and is suitable for both indoor and outdoor use.
See more about the play tent right here
Teepee from Nununu
A tipi differs from a tent in that it is assembled as a spire. It is supported by wooden poles. A tipi takes up almost nothing when folded up, so it looks great in the living room or room. This model is pink and white. Set at lirumlarumleg for 999 kr.
Nobodinoz tipi in black/white 
Very nice teepee in black and white pattern. The tipi is assembled with sturdy wooden poles, and has an opening in the side that can be closed. The tipi has no base, and is therefore not suitable for outdoor use in winter. On the other hand, it is super easy to assemble and fold. See more here
Nobodinoz teepee for children - night blue
Teepee in blue fabric decorated with stars to resemble the sky. It creates a cosy atmosphere in the tepee. This model is a good size and can easily accommodate several children at once. Buy the tipi here

A toy tent that is a toy shop - a different tent for children
Handmade tent! Here's a tent with lots of great details, plus it's hand-sewn and really durable. The play tent comes with a leather bag that it can easily be stored in when not in use. A tent that can be used by several generations, as it just lasts. See more about the tent here.
Play tent - perfect for creating a cosy corner in your room or living room
Beautiful and stylish tent shaped like a real house. It is guaranteed to create the setting for many cosy hours. When it's summer, you can take the tent out into the garden where it can provide shade. Set at 1.279,95 kr. at Lirumlarumleg. See more here.
Penguin play tent - quick to pitch!
This fun penguin tent will be up and running in seconds. Just turn the handle and the tent is up and ready to play in. The tent is shaped like a cute penguin that kids are sure to love. The play tent has been tested to the highest safety standards and is recommended for ages 2 and up. Read more about the tent here.
Disney Frost play tent - a real princess castle
Do your kids love the Disney film Frost? Anna and Elsa are popular all over the world, and now you have the opportunity to have their castle in your room! The play tent has towers and a door, and is filled with beautiful pictures. A perfect play tent for children who love to play little princesses. Set for 366 DKK at Only4Kids. Go to dealer here
Gurli Gris play tent
The cute pig Gurli and her friends are loved by many children. This Gurli Pig play tent has great pictures on the side, and it looks like the house Gurli Pig lives in. Flags hang in front of the door, which decorate well. Buy it here 
If you like Gurli Gris, you can see more Gurli Gris toys here.
Play tent with tunnel - motor challenge
A tent that also has a fun tunnel to crawl through. This play tent is more for wild romping than playing den. This tent is therefore good for children who love to play wildly and be challenged motorically. The play tent costs DKK 568. Buy the play tent here.
[collapse]
Dolls
Many children continue to play with dolls until they are about 10 years old. Doll play is a super fun role play activity that can easily develop as the child gets older.
Our Generation dolls - very popular
The beautiful dolls from Our Generation have become very popular. They come with a wide range of equipment and accessories to make playing with dolls more fun. The dolls have long beautiful hair and are quite ornate. They are therefore perfect toys 6 years.
More dolls for 6 year olds
Big doll
A slightly larger doll, good for older children aged 5-7. The doll is available with or without hair. Clothes and equipment can be purchased separately. Choose between 3 variants.
---
Baby Born
Baby Born has been popular for many years. Maybe you had a Baby Born yourself when you were a child? The dolls are interactive and have many features that make them fun to play with. Comfort babies when he cries, feed him when he's hungry, give him water when he's thirsty, help him pee on the potty and give him a nice bath when he feels like it. Also available as a girl!
The Baby Born dolls have 8 features that are fun to role play with. Available as both boy and girl. When you buy a Baby Born at Coop, you get the following:
BABY BORN comes inclusive:
- pot
- plate
- Ske
- Friendship Bracelet
- Suture Chain
- feeding bottle
- lead
- sut
- Porridge
- birth certificate
For baby born, you can choose from a lot of equipment that suits the doll. For example, a pushchair, car seat, stroller, pram, baby carrier and lots of doll clothes.
[collapse]
Toys for boys
You often see boys aged 6 playing very wildly. They typically play pirates, pirates and other wild games. Boys play a lot with each other, and especially at the age of 6 they start to make more friendships. Like girls, boys aged 6 are looking for toys that can challenge them motorically and where they can imitate the actions of adults.
Tools for children
Toy tools are good toys for 6 year olds as they allow the child to imitate adult behaviour. Tools are often given as gifts to boys. Here we review a small selection of the tools available for children.
Brio toolbox
A really nice toolbox from the brand Brio, which contains many parts. Brio is known for making quality wooden toys. The toolbox includes a hammer, board and screws, so there's plenty to get started with. The toolbox is suitable for children aged around 6. Buy here
Sleep sweet little pirate - super cool pirate bed
Here is the bed for the child who loves pirates and perhaps especially pirate ships. The bed is made of wood and has both sails and decks. In addition, there are exciting details on the side. The bed can be used both during play and when it's time to sleep. If you want to read more about the bed, you can see more details at the retailer right here 
Good toys 6 years - both girls and boys: board games
Board games start to become more fun for the child at this age. It is challenging and exciting for the child to follow the rules, and it is a great way to spend time together as a family, or perhaps as an activity with friends.
Pirate - strategy game (from 5 years)
Super fun and entertaining game for kids. A great way to gather around the table as a family. Board games are a great Christmas or birthday gift for children aged 6.
Hama Maxi beads
Hama Maxi beads are the largest Hama beads. They are popular toys for children, as children find it a little easier to get hold of Hama Maxi beads than the smaller versions of Hama Beads. Hama beads are fun toys for 6 year olds. You can choose from many colours. Shown here is a mix bag of different Hama Beads in pastel colours.
The mix bag contains 500 beads and costs 65 DKK.
Remember that you need to buy the special Hama Maxi bead plates that fit the large beads. You can perpetuate the bead board by gently ironing it with baking paper. Do not press too hard as this may melt the "tips" of the bead board and make it unusable again.
https://startpakke.com/wp-content/uploads/2017/03/logo.jpg
0
0
Maria
https://startpakke.com/wp-content/uploads/2017/03/logo.jpg
Maria
2017-09-06 11:18:58
2017-12-04 11:28:51
Toys 6 years | Educational toys for 6 year olds