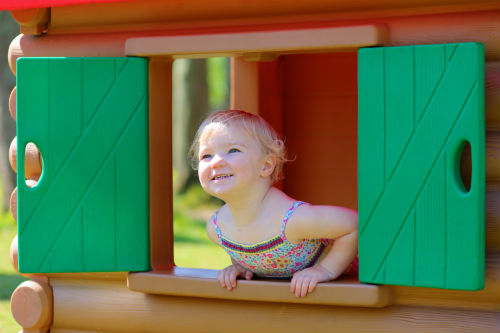 A children's playhouse in the garden is hugely popular and enjoyable for both children and adults. The right playhouse graces the garden landscape and gives children a lovely space to play.
Before buying a playhouse, however, it is a good idea to make some careful considerations first. There are many different playhouses on the market, both plastic and wooden, and in many different price ranges. The most expensive is not always the best, but on the other hand, it pays to find a playhouse of decent quality so that it lasts nicely for several years. Read more about plastic and wooden playhouses here.
On this page, we have written about considerations you should make before buying a playhouse, as well as suggestions for the best playhouses for children.
Buy playhouse online - Get a quick overview
If you're looking for the best playhouse for your kids, it's a good idea to start by looking online. Here you can easily browse through several retailers and see where you'll find the best selection and prices. You may also be lucky to find the best playhouse on offer. For example, you can start by looking at playhouses at the 10-4 construction marketwhere they often have very good prices - click here.
Coop Shopping also has a selection of playhouses of excellent quality - see here.
Wooden playhouse - sustainable production and made of quality cedar wood
Playhouse in wood for 2.999 kr. at Sundleg
Robust and sustainable wooden playhouse that is beautiful and aesthetic. The playhouse is from the brand Axi Playhouses, which manufactures sustainable playhouses of fantastic quality. The playhouse is made of high quality Asian cedar wood. Cedar is a flexible and durable wood that is naturally protected against fungi, insects and rot.
With the right maintenance, the house can stay beautiful for many years. The playhouse has waterproof roof panels and is covered with waterproof varnish from the start. You can buy this playhouse with a clear conscience - for every tree felled to produce the playhouse, a new one is planted.
Modern playhouse with bench

&

mailbox
Nice playhouse in a different and modern design. Costs 4.204 kr. at Only4Kids.
A modern wooden playhouse with lots of fun details to keep the kids entertained. The playhouse is built with reinforced wooden panels, so it can stand outside in the Danish weather. The house is quite quick to set up as it comes with partially assembled. The windows are painted white, giving the playhouse a nice look that will adorn the garden landscape.
This playhouse is probably the best wooden playhouse if you want one with cute details. This playhouse has a bench to sit on, a nice mailbox, skylights and a blackboard for children to write on. The window doubles as a small grocery counter. It's all set up for lots of fun games for the kids.
Wooden playhouse with covered terrace
Buy the nice wooden playhouse with terrace here for 3.395 DKK at Coop
With this cute garden playhouse, your child will have their very own place to hang out in the garden. The house is made of solid FSC-certified wood. The playhouse has a design very similar to a "real" little house, which makes this playhouse very nice and will decorate the garden.
The playhouse is made of good materials. The windows are plexiglass so there is minimal draught from them. It is recommended to cover the roof with roofing felt (not included, but can be purchased at Coop Shopping) for better durability. The roof and floor are delivered partially assembled, the rest unassembled. In the assembly instructions you will find detailed instructions on how to assemble the house.
OBS: The playhouse is delivered in untreated wood, so it must be primed or painted immediately upon receipt. This will make it more durable and better able to withstand the Danish weather.
Wooden playhouse with plastic doors -with possibility of extension!
Charming playhouse in pine with oblique angles
Cute little playhouse with charming and quirky angles
Nice playhouse from the building market 10-4. It is made of pine and has the right certifications for play and when used by children. The playhouse is not very big and is a good choice for those who want a wooden playhouse but do not have much space. The size also puts the playhouse at the cheap end, with a price of 2,719 DKK. The playhouse has a door and two windows, one of which has shutters. A fun detail for the kids.
Wooden or plastic playhouse? Advantages

&

disadvantages
If you're not sure whether a wooden or plastic playhouse is the best choice for you, here's a look at the pros and cons of both.
Playhouse in wood
Wooden playhouses require maintenance, but look better in the garden landscape. It often requires a little more space, but is a durable product that children or grandchildren can enjoy for many years. Wooden playhouses are more environmentally friendly, which is why it is possible to make sustainable wooden playhouses. In addition, it is possible to extend, paint and repair the playhouse over the years.
Benefits

Wooden playhouses look great and blend into the garden landscape
Wood is more environmentally friendly
Wooden playhouses have a very long durability
Wood holds up well to Danish weather
You can hang things on the wall
Possibility to build, paint and personalize.

Disadvantages

Wood requires maintenance at least once a year
Maintenance costs time and money (but can also be an enjoyable activity)
There may be splinters in wood
Wooden playhouses are often more expensive than plastic playhouses
 Playhouses in plastic

Plastic playhouses have great colours that kids will love. Plastic does not require maintenance in the same way as wood. Just wash the playhouse with a good soap and water every spring to keep it nice and clean. Plus, a plastic playhouse is easy to assemble. And there are no splinters or the like for children to scratch. A plastic playhouse is a lot cheaper than a wooden one. This is mainly because plastic is cheaper to produce. Therefore, the price of the playhouse will be lower.
Another very big advantage of plastic playhouses is that they can be used indoors in winter. This way, children can enjoy their playhouse all year round. All you have to do is wash the house, take it apart and put it up in the living room or children's room.
Benefits

It's cheap
Has nice colors
Can be used both indoors and outdoors
Requires minimum maintenance
Easy to assemble
No splinters or the like.

Disadvantages

Over the years, plastic gets bleached by the sun and becomes dull to look at
Cannot really be repaired
Shorter durability than wooden playhouses
Plastic is not environmentally friendly
The best packing of the playhouse
If possible, place the playhouse somewhere in the garden where the children can be on their own, but where there is a good view of them. Also think about where the playhouse will blend naturally into the landscape, so that it is integrated into the life of the garden. Remember that if the playhouse is placed under a tree, the roof should be cleaned thoroughly of fallen leaves and the like. It is important that the house is positioned so that water can drain away from it. Otherwise, the life of the house will be significantly reduced. Also make sure that the playhouse is placed on a flat surface; either with tiling underneath or just a piece of flat ground.
Sources:
Bolius
Playhouse
Carsten Nielsen, gardener for 42 years, and experience with garden landscapes
How to maintain your playhouse - so it stays nice for years
In order for the playhouse to last for many years, it is a good idea to maintain the wood. Time is well spent as the wood is protected from moisture and algae, which can eventually cause fungus and rot, making the wood dull to look at. The wood should be maintained at least once a year. The tree will look both more beautiful and healthier. The playhouse must not get wet during the treatment, so carry out the maintenance on warm days without rain or damp.
If in doubt, your local DIY store can give you advice. Make sure you get your advice where the professionals are trained, for example in Silvan.
Cleaning and grinding
First, it's a good idea to clean the wood and wash it with some wood cleaner. If you find any splinters, sand them away with some sandpaper. The wood should be cleaned even if it has been treated before. The wood will be freshened up when you sand it, and will be more receptive to oil treatment.
Oil treatment and painting if necessary
The best oil treatment for wood contains a bit of colour to protect against the sun's UV rays. Then the wood won't be so easily dull and grey to look at. As a rule, wood benefits from being painted once a year, but sometimes it's enough to refresh where the paint has worn off. For example, you can use Gori 100 wood preservative, which is suitable for outdoor wood preservation. You can read more about Gori 100 wood preservative here.
The playhouse: a great place to play
A playhouse in the garden looks cosy and is a great place for children to play. In the playhouse, children can be themselves, and it's a lovely sanctuary where children can be themselves. If you choose the right wooden playhouse, it will last a long time with the right maintenance. In fact, a wooden playhouse can last outside in the Danish weather for up to 20 years. If you're more into a playhouse that's largely maintenance-free, you can opt for a plastic playhouse. A plastic playhouse almost only needs to be wiped down once a year, but its durability is also slightly shorter than a wooden playhouse. Buy great playhouses here!
A playhouse is a good investment, as it is one of those things that can be played with for many years to come. Most children love to spend time in their playhouse and it provides the opportunity for many fun games. It is a sanctuary where adults are not in charge. 🙂
When choosing which playhouse to get for your children, you obviously need to consider how much money you want to spend on it. You can get cheap plastic playhouses, which can work very well. They are not as durable, of course, and the colour is likely to fade in the sun. A wooden playhouse usually costs a bit more, more that said also more durable. A wooden playhouse also requires some maintenance to keep the wood strong and free from rot and excessive moisture.
Buy a new wooden playhouse
If you know that the playhouse will be used for many years, it may be worth buying a new wooden playhouse. On this page we have listed several different wooden playhouses for you to consider. The playhouses come in several sizes, so it's easy to find one that fits well in your garden. A wooden playhouse blends in well with the garden landscape, and is designed to be used outside in the garden. In a wooden playhouse, children can play for hours.
Playhouse in plastic
Plastic playhouses are usually slightly smaller than wooden playhouses. This means that there is room for them, even though the playhouse may be in the front yard, or a small garden. A plastic playhouse also has the advantage that it can be used both indoors and outdoors. Buy plastic playhouses at Heaven4kids right here.
Buy playhouse used
If you're thinking of buying a playhouse second-hand, you can get a lot for your money. You may be lucky enough to find a fairly new second-hand playhouse that is being sold due to a move or other reasons. If you buy a used wooden playhouse, the wood can be made beautiful again with a bit of work. Start by washing down the wood and removing dirt and algae. Then treat the wood with some paint or primer. Ask at your DIY store if you're unsure. If you're willing to invest a little time, you can save a lot of money by buying a used playhouse.