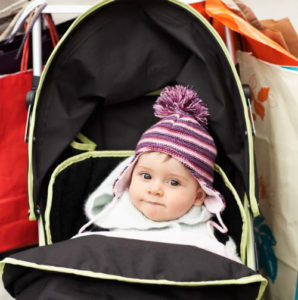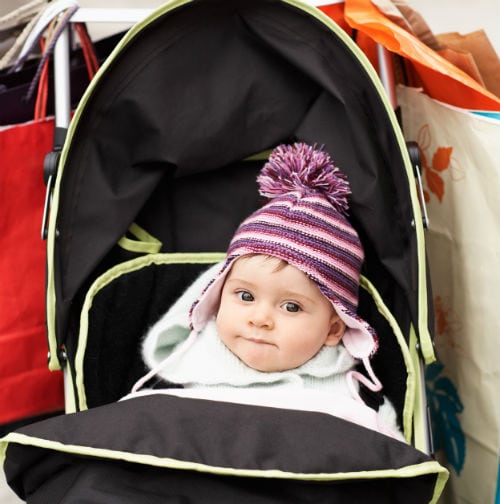 As baby gets bigger, and doesn't sleep as much, many parents find it more convenient to carry baby around in a pushchair rather than the big pram. This of course begs the question; when can baby sit in a pushchair?
The answer is that baby can sit in a pushchair when he or she can sit up independently.
In a pushchair, baby is held in a sitting position, which can be hard on the back if the child is not strong enough to sit on its own. Most babies start using the pushchair at the age of 1.
However, if the stroller can be fully reclined, baby can use it before he or she can sit upright on their own.
Choose a stroller that can lie completely down
When the day comes to find a stroller for your little one, it's a good idea to choose one that can lie down completely. That way, baby can take a nap in the stroller without any problems. It is both more comfortable and more ergonomic to lie down completely when sleeping. Sitting upright in a cheap umbrella pushchair is a strain on the back when you're sleeping.
Britax Römer stroller
Super stylish, compact stroller for kids. It has good suspension to ensure a comfortable ride for you and your child. The stroller can be fully reclined if baby needs a nap. It can be used for babies from 5 - 6 months and up until the child no longer needs a pushchair. However, it can hold a maximum of 17 kg. It has three wheels, the front one being a swivel wheel. This makes it super easy to manoeuvre. A really good choice of pushchair - it doesn't cost a fortune and it's practical and comfortable for baby.
Choose the best stroller for you

&

your baby
When looking for a new stroller for your baby, it's important to consider your needs.
Advantages of small stroller
If you are considering a small one, there are several advantages.
Easy to fold
Does not weigh much
Can easily be in train/plane/car
Does not cost so much
Is good as an extra stroller or supplement to the pram
Advantages of a larger stroller
Baby sits more comfortably
It's warmer in winter (room for a driving bag)
It rides better on uneven terrain (e.g. in the woods)
More space for goods / bags
As always, it's about assessing what your needs are as a family. If you need a small pushchair that's easy to fold and take on shopping trips or to the airport, a smaller one might be a good idea. It's also a cheap option if you won't be using the pushchair that much. Of course, small pushchairs generally cost less than other pushchairs and prams.
If you choose a large stroller like the Emmaljunga Super Nitro, it can actually replace the pram straight away. It lets baby sit and lie super comfortably, and it can go on all kinds of terrain. On the other hand, it takes up more space in the car and can be harder to get around in shops.