When you're about to become parents, you'll naturally need to buy clothes for your little one. But it can be difficult to know how much clothing to buy. Many parents find it convenient to buy everything together in a baby starter pack of clothes. Then you have everything you need for the first few months.
Great baby starter pack
Baby starter pack with wool clothes:
All baby clothes in the starter pack are 100 % pure merino wool from the popular Joha. Merino wool is super soft for baby to wear and has a tempering effect. Newborns can't regulate their own body temperature, so wool clothes can be a good idea.
(Normal price 2595 kr.)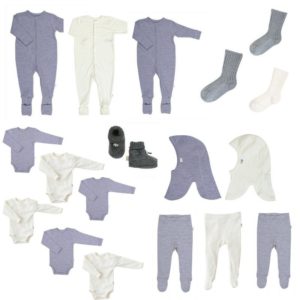 The Baby Starter Pack contains: 
6 Bodystocking with long sleeves.
3 full suits with double closures at the feet
3 leggings with feet
2 elephant hats
3 wool socks
1 pair of wool booties
You save DKK 595 by buying the starter pack of baby clothes. All clothes are in grey and white colours and can be worn by both sexes. When you buy the pack, you can choose which size you want from the menu on the right. The pack can be bought from size 60 - 90.
Baby starter kit with clothes: girl
If you're expecting a girl, this starter pack of white and pink clothes is perfect. All the clothes are made from soft wool and can be machine washed on a delicate cycle. The baby pack includes a romper suit with feet, which is great for a newborn who sleeps many hours a day. A onesie is easy to put on, and nothing is tight or ill-fitting. Because it has feet, the socks won't fall off.
The Baby Clothes Pack contains:

3 Bodystocking with long sleeves.
1 overall with feet
1 pair of leggings with feet
1 elephant hat
1 pair of wool socks
1 pair of wool lining
Baby package with cotton clothes
Buy a baby package with soft cotton clothes
The package contains clothes for a newborn baby and costs DKK 749. All clothes are labelled with the EU Ecolabel.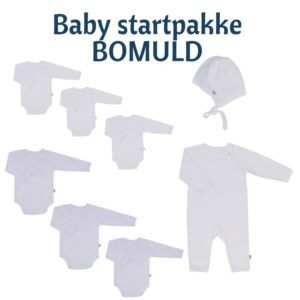 The baby pack contains:
3. Joha bodystockings with long sleeves.
3 pcs. wrap-around bodystocking with long sleeves.
1 pcs Joha baby hats with tie.
1 pcs. overall.
---
Organic baby clothes or maternity clothes on subscription - environmentally friendly, easy and cheap!
Did you know that you can buy baby clothes and maternity clothes on subscription? You'll get new packs of clothes as your baby or belly outgrows them. The old clothes are collected and recycled. It saves you a lot of time and hassle, and it's good for the environment too.

Have new clothes sent to you by post in the right size - the old ones are taken back
With Vigga children's and maternity wear you get a soft basic wardrobe for yourself or baby at a fixed price. You automatically get new clothes when the old size no longer fits. There's even insurance included if the clothes break. The clothes are organic and washed in a swan-labelled laundry. All in all, it's an exciting option if you want to save money while doing something good for the environment. Read more about Vigga here.
---
How much clothing for newborn?
It is not uncommon for babies to be cleaned 2-3 times a day. It's nice to have a change of clothes so you don't have to wash all the time. Remember, though, that babies grow quickly. Some babies only fit the smallest size for a few weeks, and then it's not worth having a whole wardrobe in that size. So think economically when buying clothes for baby.
Most full-term babies wear size 50 when they are born. But pretty soon they grow longer and wear size 56 or 62. So consider buying a size 56 to start with and add a little cuff to the sleeves. It doesn't matter if the clothes are a little loose for the first few weeks, when baby will be sleeping most of the day anyway.
It also matters what time of year your baby arrives. That's why we've divided it into summer and winter baby clothes.
Clothes for summer baby
5 short-sleeved bodysuits in size 56
5 short-sleeved bodysuits in size 62
2 thin sweaters
3 full suits
2 pairs of trousers size 56
Cotton socks size 17/18
Clothes for winter baby
5 long-sleeved bodysuits in size 56
5 long-sleeved bodysuits in size 62
5 pairs of trousers size 56-62
2 thick sweaters
Helmet hat / devil hat
Vanter
How much clothing should a newborn baby wear?
Of course, the answer depends on your baby, the weather and the temperature in your home. For the first while, many newborn babies are wrapped up in their duvet or close to their mother, where it quickly gets warm. Babies should not get too hot as this increases the risk of cot death, as well as general discomfort for your baby. Always check the temperature of your baby's neck. If it's wet and sweaty, baby is wearing too many clothes. If it's cool, your baby will be cold. Hands and feet can be cold without baby freezing.
https://startpakke.com/wp-content/uploads/2017/03/logo.jpg
0
0
Maria
https://startpakke.com/wp-content/uploads/2017/03/logo.jpg
Maria
2017-03-23 11:36:06
2017-08-22 11:38:10
Baby starter kits with clothes!