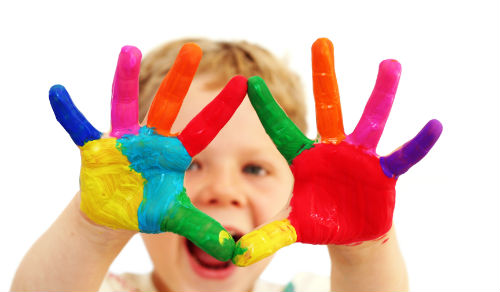 What does a 4 year old play with: When a child turns 4, development really takes off and the desire to learn, explore and ask questions. Therefore, toys should be educational, such as puzzles with numbers and letters. 4 year olds demand realistic and simple explanations of everything around them, and therefore enjoy being read stories to learn more about the world. Children aged 4 love to run, climb and use their bodies.
Scroll down to see much more of the best toys 4 years
Outdoor toys like trampolines, swing sets and climbing frames are therefore good toys for 4 year olds. In addition, children at 4 years old start to play more and more with other children. They set rules in their play, but do not always follow them. Toys should also encourage children to create their own stories, letting their imaginations run free. For example, a doll's house, or dolls in general.
When children turn 4, they are of pre-school age. Therefore, in this category we have suggested toys that help the child learn letters, numbers and the time. Although children don't need to be able to write a 2 page English essay, it's a great idea to prepare them for all the excitement that awaits when they start school.
The best toy 4 years
Motor skills are challenged and developed to a high degree for the 4 year old child. Balance is gradually very good and the child starts to try jumping off the swings to see how far she can go. Here we have listed the best toys for 4 year olds that both develop and challenge.
Rocking stand with climbing wall
Climbing on climbing frames and sliding down high slides is also a big hit at this age. Good toys for a 4 year old could therefore be a swing set with the possibility to climb too. This will allow the child to develop their motor skills further. This swing set has two swings and a climbing wall, which is perfect challenge for the 4 year old child. The swing set is 2 meters high and is made of strong pressure-treated wood that can last for many years. The swing set is produced in Sweden by the family business "Hörby Bruk". The company produces only quality products that meet current requirements for safety and quality. See more about the swing set here. 
Grocery store
Playing shopkeeper is one of the role-playing games that really hits the spot for 4-year-olds. It's a game that mimics the adult world, where children get to be the boss and can play the role of the cashier or the adult doing the shopping. Several children can also easily play shop together. It is important that children are allowed to play together as it strengthens their social skills and relationships. This nice grocery store is the perfect setting for this. This grocery store costs 499 kr., and can be purchased here. 
The big grocery store
If you love the idea of a grocery store gift for the 4-year-old, consider this, the ultimate version. It's a big grocery store with really lots of accessories. The grocery store game can be played out to the fullest here, as there's plenty of opportunity to shop big.The grocery store counter is made of unfinished wood, and includes plenty of food items as well as a grocery store counter and plenty of shelves for both fruits and vegetables and produce. It also comes with a nice shopping basket. It's not an inexpensive gift, but for the most part, not one you see every day. You can buy the grocery store here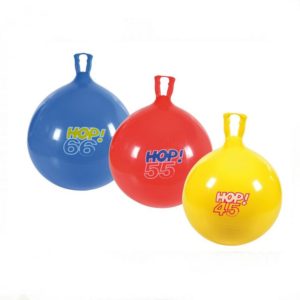 Bouncing balls
Bouncy balls are a great gift for a 4 year old. It can be either a Christmas gift or a birthday gift. The bouncy ball challenges motor skills and the child can bounce around both indoors and outdoors. When children play on a bouncy ball, they get to move a lot and strengthen both balance and coordination. There are many hours of play on bouncy balls, for example who will cross the finish line first or who will jump the highest. At Kids in Balance you can choose from classic bouncy balls in different sizes. They all have a good and stable grip that children can hold on to. Buy bouncy balls at Children in Balance here. 
Dollhouse
Here is the doll's house for the child who loves to play role-playing games. The large doll's house has several levels and is made of wood, so it is durable and of good quality. As well as being a great toy for 4 year olds, it is also a very durable toy that will no doubt be played with for many hours. Children can imitate everyday situations in play, which helps to develop their skills in the world. The dolls' house also serves as a beautiful decoration in the children's room that can be used throughout life. It's not a cheap toy, but in return you get something that not everyone else has. The dollhouse might be especially good for girls. See the beautiful dollhouse here. 
Toys 4 years
List of great gift ideas with educational and fun toys. Click on the items to read more.
The most beautiful dollhouse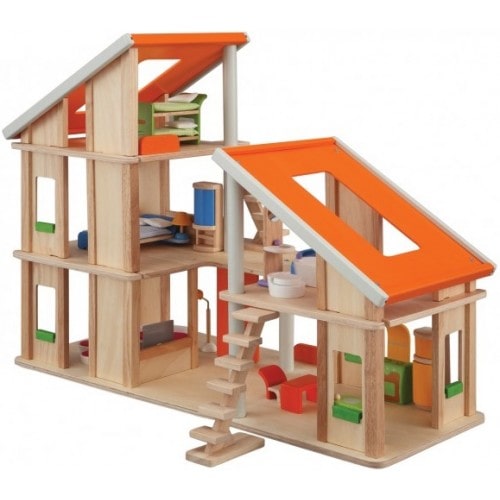 Looking for a special gift that may cost a little more than the usual gifts?
Then you might have found just the right gift here 🙂
This beautiful, detailed dollhouse is made of 100% durable materials. The dolls' house has a huge skylight window and two staircases that can be moved around. The price also includes 5 sets of modern dolls' furniture, so there's plenty of scope for redecorating.
Of course, many beautiful furniture and dolls can be purchased for the dollhouse.
The price is 2.499 kr.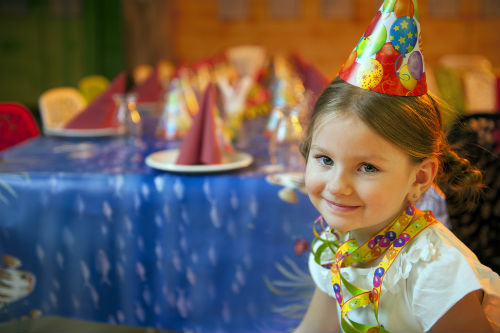 Gift ideas for child at 4 years
If you need ideas for a birthday or Christmas present for your own child or grandchild aged 4, take a look at our list of the best toys for 4-year-olds. I think we can all agree that good gifts, in general, are something that the child doesn't already have and that will appeal to their interests and tastes.
Of course, you should always think about which child you are giving the gift to. If it's for the little engineer who loves to build, then some toys for fine motor skills are a good idea. If, on the other hand, it's for a wild child, you could choose some fun outdoor toys that offer a real chance to play. Good gifts for a 4-year-old could typically be a doll's house, bouncy ball, electric car, grocery store or books to learn about numbers and letters.
Good games 4 years
A 4 year old has gradually got into the swing of playing with other children. At this age, children start to have friends with whom they do different things. Children are inspired by each other and their toys. Good games for 4 year olds are hide and seek, mommy and daddy, grocery shopping, climbing/running outside, exploring things in nature, playing bus or chair games.
A tepee
A teepee or tent for children is a great way to create a small space where children can be themselves. Inside the tent you can read books or just snuggle up with pillows and duvets. Children as young as 4 will eventually get good at playing by themselves, or with their friends, which this tipi creates the perfect setting for. These days, a teepee is popular. It's gathered at the top, so it looks great as well as being cosy and decorative in the nursery. A good teepee could be this one from Bloomingville, for example, which is a nice and decorative teepee for children to enjoy themselves in. There are pictures on the sides, so the teepee has a real fairytale atmosphere. It measures H160 cm and 130 cm in diameter. See more about the tipi here
Reading aloud: why books are a big hit with 4-year-olds
Books are good for children of 4 years. At this age, books are not only suitable for reading aloud, but children are beginning to want to read books themselves and may even recognise some of the letters in the book. At the same time, you can learn new things together by reading exciting books about, for example, the universe or the sea.
Reading books prepares him for school, and you can learn a lot of new things from books. If you're looking for inexpensive books for children, consider joining the Gyldendal Children's Book Club. They have a great selection of the best books for children. If you join, you'll even get 2 books for only 9 DKK. See more about the offer on our front page here. 
Model Wax
Modelling wax can be moulded into fun shapes. Children aged 4 and up will try to shape something they already know from their everyday life, for example a bike or a dog. At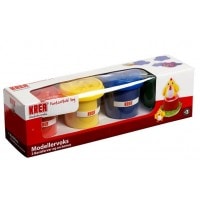 This way they get plenty of challenge in the game. Did you know that you can make your own modelling wax, and that it's even really easy. See a recipe for modelling wax here. 
Retailer: Sundleg
69,95 kr.
If you buy modelling wax from Sundleg, you can be sure that the product is tested, healthy and approved. Play can be complemented with tools to make playing with modelling wax more fun. For example, cake moulds so you can make little shapes out of the modelling wax. If you're more into organic modelling wax, you can find it here.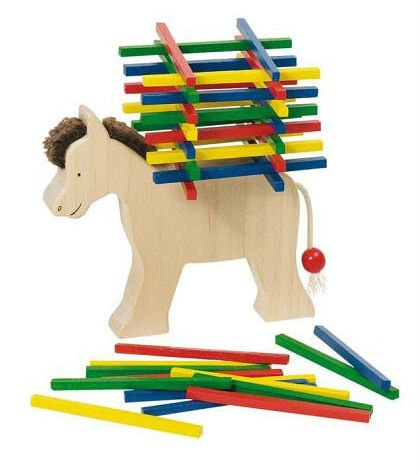 Board games: be together as a family
Board games are a great way to spend time together as a family. By the age of 4, the child is also getting big enough to understand the rules of the game, so it can be a fun challenge. A good board game could for example be this balancing game, where you have to stack the pegs on top of the donkey. The balance game costs 59,95 kr, and can be bought at Lirumlarumleg right here
Barbie doll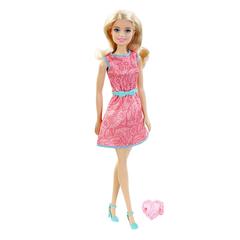 Barbie dolls are great for older children because role play can get a little more complicated. It is possible to get all kinds of equipment for the Barbie dolls. For example, a car or a horse.
Another thing that makes Barbie dolls fun to play with is all the great clothes you can get for the dolls. So they can really get dressed up for everyday and parties. The Barbie doll is the "original" doll that has been around for many, many years. In fact, the first Barbie doll appeared in 1959. Since then, the doll has undergone countless changes, and today it looks, for all intents and purposes, like a human being. There are also many other dolls on the market that are similar to Barbie, but look slightly different. Find the one you like best at Lirumlarumlegwhere you will find a large selection of baby dolls.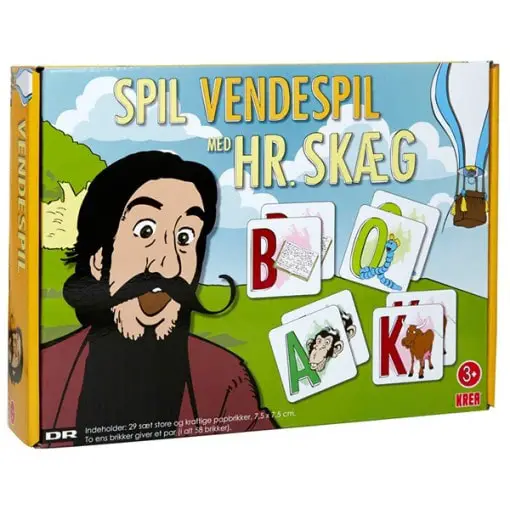 Playing with language and numbers
The 4 year old has gradually a developed language, and can form fairly complex sentences. Rhymes, rhymes and swear words are often a hit, and are repeated over and over again. At this age, everything is still a game. Take advantage of it and include letters and numbers in play. You can play games where you have to count or spell something.At Sundleg you will find a whole category of toys just aimed at pre-schoolers. For example, this reversible game with Mr Beard, where children can learn words and letters.. See more about the Mr Beard game here. 
Play and learn: learn the bell
All children need to learn the time sooner or later. This is useful and useful knowledge that parents also benefit from. The age of 4 is a good time to introduce it, if the child shows interest in it. A good way to learn the time is with a toy clock. Here you can move the discs and talk about what time it is, as well as the difference between the large and small hands. The toy sow can be bought at Sundleg - click here

Dolls and accessories
Good toys for children aged 4 let them play the fun role-playing games. It's especially fun if you can play several children together. Dolls and their accessories are particularly useful. You can get many dolls that are especially suitable for slightly older children. We recommend Our Generation dolls, which are currently some of the best-selling dolls. They are good for children aged 4, as they have a bit more detail than the soft dolls, which are mostly suitable as the first doll.
One of the things that makes Our Generation dolls a great gift is that you can buy lots of accessories for the dolls. Children can then wish for these later, which helps to make play more fun all the time. A wide variety of clothes and equipment can be bought for Our Generation dolls.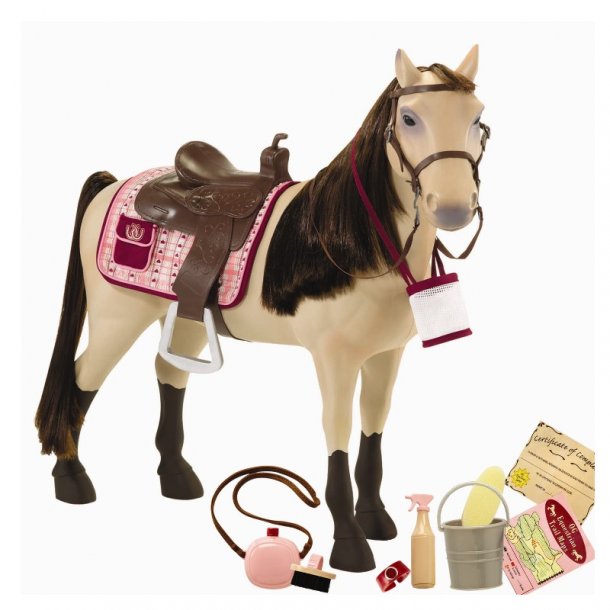 Horse for Our Generation dolls
Let your Our Generation doll go for a fun ride. The horse comes with a saddle, broom, bucket, mule bags and other equipment useful for going for a ride. The horse is, of course, perfectly sized for the dolls. The horse can be purchased here.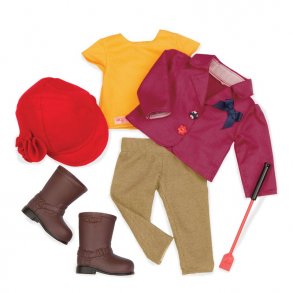 When the doll goes riding, riding clothes are of course necessary. You can get a complete set of riding clothes for Our Generation dolls, including riding boots, hat, trousers and whip. The set costs 199,95 kr., and can be bought here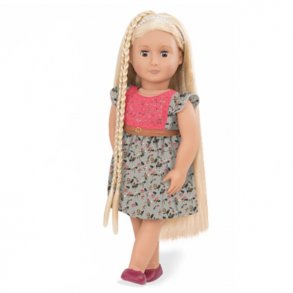 Why Our Generation dolls are so popular
The dolls are among the best-selling dolls for slightly older children aged 3 - 4 years and up. They are especially good toys for 4 year olds as the dolls can do different things to the soft dolls that children often play with as their first doll. Firstly, the Our Generation dolls each have their own personality and are all unique in their appearance. In addition, they can all do something special. This version has hair that can grow! Finally, there are all the great accessories you can buy for the dolls that make play extra fun, and really allow you to get started with role play.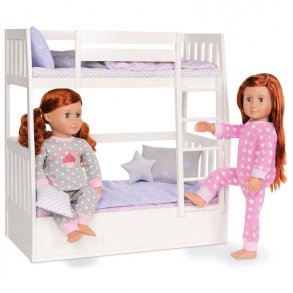 Bunk bed for Our Generation dolls
Let your dolls sleep safe and sound in this beautiful bunk bed that's perfect for them. The dolls' bed is made of good quality, just like all the other accessories for the beautiful dolls. The bed measures 55 cm in height, and costs 699,95 kr. See the bed, and all the other great accessories for the dolls right here. 
Outdoor sports: what to play outside
Playing and moving at the same time is a hit at this age. A child of 4 is getting big enough to understand the rules of a game, such as football. A good gift idea is therefore balls and other things that can be played with outside. You can either use the things in your own garden, or take it for a walk in the playground.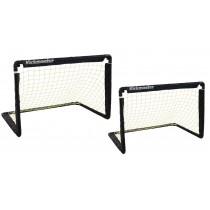 Football goals
For example, there could be two football goals, providing hours of play for young and old alike. The football goals shown do not need to be assembled, but simply unfolded. Then it doesn't get any easier. Buy the football goals at Only4Kids for 313 DKK. Go to dealer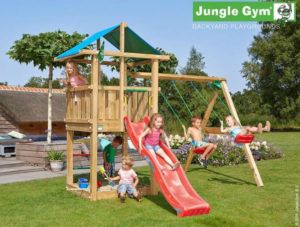 Rocking chair with slide and play tower
Great wooden swing set with both slide and play tower. Under the tower there is a lovely shaded area where you can choose to make a sandpit. A very popular play structure that provides many fun moments. The play structure is at the affordable end, and costs 2.149 kr.  Read more and buy it here.
The most fun toy 4 years: to be able to explore nature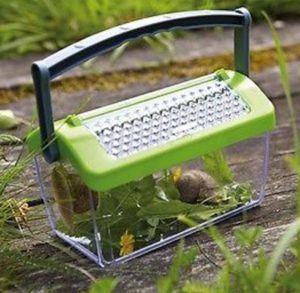 Children aged 4 love to explore, and ask a lot of questions about everything. It's therefore an ideal age for exploring nature. Nature is a great place to learn about animals and plants. This fun box is made for exploring nature. Children will certainly love looking at the animals and then putting them back where they belong. Insect box with handle for 99,95 kr. at Børnenes Kartel. Buy it here. 
Musical instruments: best toys 4 years!
Music is something that virtually all children love! And it's even better if you can make the music yourself. Besides being a super fun game, it also teaches kids a lot of things. Children as young as 4 can put many words together and speak in quite long sentences. So this is an age when children can also get really good at singing songs. Children aged 4 usually sing songs in kindergarten and will therefore love playing with musical instruments. There are really many to choose from that will be fun for a 4 year old, whether or not the child shows a particular talent for music.
Drum
Follow the rhythm and make loud noises. A drum is a classic toy that is especially fun for children aged 4. You can make your own tunes, songs and more. Beating the drum strengthens coordination, and it's just a fun game! The drum costs DKK 245 and can be purchased here 
Guitar - strengthens coordination
The guitar really demands coordination. You have to control both hands, and that's a really good motor challenge. This great guitar for kids is available in 2 colours, both with pretty stars. Set at 299 kr. at Børn i Balance - Buy here
Harmonica
One of the smaller toys for children of 4 years old, and it is even a cheap toy, but nevertheless it will bring a lot of joy. Just blow into it and a nice sound will come out, which you can learn to make melodies out of in time. A great birthday or Christmas present. The harmonica costs just DKK 39.95 and can be purchased here. 
Toys 4 years: drawing and painting
Drawing and painting is a great game for the 4 year old child. It's a chance to really use your imagination and tell lots of stories. Creativity is also given free rein when drawing and in general it strengthens the child's concentration and fine motor skills. A great game that develops and strengthens the child's development.
Chalkboard from Viga 
On one side there is a chalkboard, and on the other side there is a magnetic whiteboard for markers.
The board comes with a whiteboard, chalk, magnetic letters and a sponge. The board costs 499 DKK at Sundleg - buy here 
Large painting board from Hape - Perfect for the little artist
The easel is adjustable in height and has a table under the board with space for 3 cans of paint. A roll of paper can also be placed at the top of the board. Challenging and creative play for the little artist who can spend hours painting beautiful pictures. The painting board is seen at Sundleg for 649 kr. - buy here
https://startpakke.com/wp-content/uploads/2017/03/logo.jpg
0
0
Maria
https://startpakke.com/wp-content/uploads/2017/03/logo.jpg
Maria
2017-06-15 10:42:42
2020-05-26 09:12:46
Toys 4 years | Good toys for children at 4 years