You might be in it right now - you're a new mom, have your golden nugget and POST-GRAVITY HAIR! What is it and what can you do about it?
There are various products on the market, both of shampoos, supplements, etc., which can help you reduce hair loss, thin and brittle hair.
Read on for inspiration on how to help your post-pregnancy hair and get rid of the mommy bun on top of your head.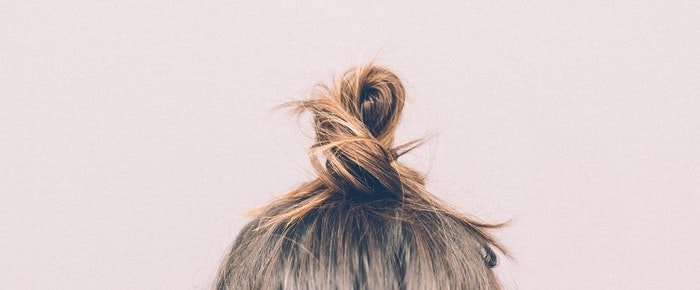 Why do we get post-pregnancy hair?
Some women find that they start losing hair after they have given birth. Some women already experience hair loss during pregnancy. But no matter when you experience hair loss during pregnancy, it is due to hormonal influences.
In addition to the hormonal influences, many new mothers tend to eat something quick, easy and something that is just there anyway. This does not provide the basis for the healthiest nutrition. Without the right vitamins and minerals, your body can't function fully. This affects your hair, among other things, so you get post-pregnancy hair.
What can help for a healthier hair?
Something that is important for healthy hair are vitamins B and C. These two types of vitamins help your body to restore a healthy scalp and give hair new life. The minerals magnesium and iron help to form the protein collagen, which is found in the hair and hair follicles. Plus iron helps stop the possibility of hair loss.
It is important to point out that a dietary supplement can never replace the importance of eating a healthy and varied diet. Supplements are, as the word suggests, a supplements to your regular diet. A diet that should consist of whole grains, seeds, fruits and vegetables, and healthy proteins such as lentils, beans, peas, nuts and dairy products.
It can be a good help for your scalp and thus hair follicles to massage your scalp with oil. Use coconut oil if you like. Leave on for at least 30 minutes, preferably overnight, then wash off.
One important thing when it comes to maintaining healthy and strong hair is to go to the hairdresser regularly. Just to get cut tips. You'll find that your hair will start to grow faster and may appear thicker when you remember to get the broken hair trimmed off. But going to the hairdresser regularly isn't always easy when you're a mum on maternity leave. At first, your little bundle of joy may be napping in the lift, but soon it may not continue. This depends on how active and curious a baby you have. Of course, you can also choose to let daddy take the golden nugget while you go to the hairdresser or have a friend come along to take the pram for a walk in the meantime.
Dietary supplements
Always remember to consult your doctor if you start taking supplements, whether during your pregnancy or while breastfeeding. That way, you avoid taking anything that could be harmful to you or your baby. 
There are several different manufacturers that make supplements for hair, skin and nails. Some brands are more well-known than others, but essentially they do the same thing - provide your body with more vitamins and minerals to help your hair, among other things, grow healthy and strong.
Shampoo and other hair products
There are many different shampoos and other hair products on the market that promise you healthier and stronger hair. With some products you will definitely notice a difference and with others you will not notice any difference.
Many hair products will only be able to help your pregnancy hair if it's already healthy on the inside. So the most important thing when we talk about building healthy hair is getting the right amount of vitamins and minerals. Then you can start using the various hair products that can give that very last jolt. With hair products alone, you won't be able to achieve the optimal healthy and luscious hair that you dream of.
But what about afterwards?
You'll soon find that when your hair starts to grow out again, you can be one of those people who gets fairy hairs, baby hairs, tufts - the dear child has many names. This new hair often grows out in larger quantities, but of course doesn't have the same length as the rest of your hair. So you'll suddenly find yourself with bangs, even though you haven't had a haircut. Long live pregnancy hair - and all the other little things no one tells you about before pregnancy.
Having gone through a hair loss due to pregnancy or otherwise, is a process that takes months to get over. But if you help your body along the way, you'll find it goes faster. So with these 4 little tips, you'll get to your desired result much faster. The 4 tips: go to the hairdresser regularly, eat a healthy and varied diet, take supplements and give yourself a weekly scalp massage with a good oil.
https://startpakke.com/wp-content/uploads/2017/03/logo.jpg
0
0
Anette
https://startpakke.com/wp-content/uploads/2017/03/logo.jpg
Anette
2018-11-09 11:43:20
2018-11-19 11:56:03
HELP - what's happening to my post-pregnancy hair?